Every product is carefully selected by our editors. If you buy from a link, we may earn a commission.
The Best Mesh Shorts to Wear to the Gym or the Grocery Store
These breathable bottoms can be worn for more than just workouts.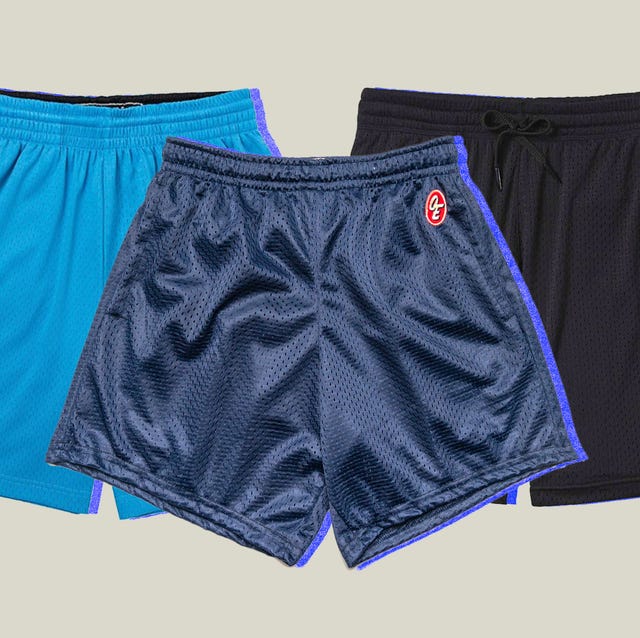 It's time to dig up those mesh shorts you used to put on for practice; the kind you were forced to wear for gym class; the kind NBA players wore well into the late '80s. They're the right mix of streetwear and sportswear, modern and vintage, fatherhood and first-grade gym class. With the right top — say a T-shirt from your favorite streetwear brand or a plain one you buy in packs — they're elevated from bottoms you'd pack for a workout to something you want to be seen wearing. Plus, they're both easy to print or riff on and available in an array of colors, making them ripe for customization by independent labels aplenty.
Why Are Mesh Shorts Popular?
With mesh shorts, fledgling fashion brands short on cash can make a statement without emptying their first round of funding — aka its founder's own savings account. (Big fashion houses can, too, but they're clearly biting off what's selling elsewhere.) I for one think a mix of both is what elevated the style. But, it's been mostly due to the smaller brands making pairs people want to buy. Look no further than polarizing fashion figure Virgil Abloh, the late head of Louis Vuitton. He started his career building a brand called Pyrex, which mostly sold Champion mesh shorts covered in logos. Then there's New York designer Eric Emanuel, who turned his popular "EE" short into a full-on label capable of sneaker collaborations with Adidas and cap collections with New Era.
Why Are Mesh Shorts Back?
But how'd we get here, to an era where something as ordinary as the mesh short warrants a write-up like this?
Well, the story starts with Champion, technically. The same company that invented the sweatshirt and subsequently the hoodie also conceptualized the modern mesh short, which, at the time, was merely meant for uniforms. Like most other menswear, it seems, mesh shorts bounced between military branches, universities, and sports teams before reaching the general public.
They stayed slim and short — five-inch inseams and shorter— up until the late '80s. Then Michael Jordan appeared in a Nike commercial alongside known basketball super-fan Spike Lee. In it, Lee, played his popular character, Mars Blackmon, asks Jordan what makes him "the best player in the universe?" It's a shoe commercial so obviously Nike's paying him to say it's the shoes, but Jordan doesn't. Lee asks if it's the long shorts, which, at the time, were way baggier than those worn by other professionals. Why'd Jordan wear his like that? He was superstitious. Supposedly, for his entire career, he wore his University of North Carolina shorts under another pair and therefore needed them to be both longer and baggier to hide the second pair underneath.
Hip-hop as a whole picked up on the trend, and the rest is history. Baggy shorts were everywhere — and on everyone. Some, however, latched onto the look and can't seem to let it go. Cue Sandlercore, the eponymous style of actor/director/professional dingbat Adam Sandler. He dons them well, but mostly because they seem more a part of him than not by now.
How to Wear Mesh Shorts
You shouldn't start wearing baggy shorts if that's what you're wondering. Instead, get a pair from this list. They'll fit better, hit higher and keep you cool in even the most sweltering summer heat.