Every product is carefully selected by our editors. If you buy from a link, we may earn a commission.
The 22 Best T-Shirts to Buy Now
These tees are perfectly plain.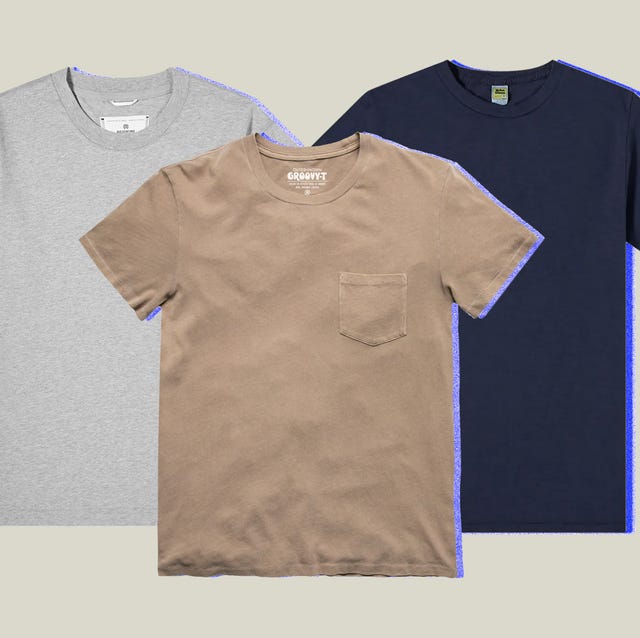 There's nothing like an old, faded, incredibly comfortable T-shirt. It carries years of stories in its washed-out threads. While it takes years to get there, the process is well worth it.
What Makes a Good T-shirt?
The best T-shirts are uncomplicated, but because of their simplicity, the smallest details have substantial effects. The material, the knit, the seams, the silhouette, the hem, the neckline — all these parts (and more) come together to create a garment that transcends social and economic divisions. So if you invest in a quality tee now — our favorites are below — you're sure to be rewarded in coming years, as the garment will just keep getting better.
A contrarian would say the best come in those little plastic bags — in packs of five, six or eight. And while they certainly are no marvel of manual labor, they get the job done, and prove the most economical for a lot of people. I won't go as far to recommend buying those basic bulk-made ones, but I will offer options in the middle ground between them and a few of the $120 or even $150 dollar options out there.
But even these won't endure like the expensive versions. "No one really wants to invest in quality sewing because the more time you spend on the garment, the more expensive it gets," Bayard Winthrop, of American Giant, says. But "you need the highest-quality materials (such as fabric, yarn) to produce a quality garment," he adds.
The Best T-shirts for Men
This content is created and maintained by a third party, and imported onto this page to help users provide their email addresses. You may be able to find more information about this and similar content at piano.io