Every product is carefully selected by our editors. If you buy from a link, we may earn a commission.
13 Great Rings for Men
It doesn't matter which finger or style you favor. You're sure to find one that fits you.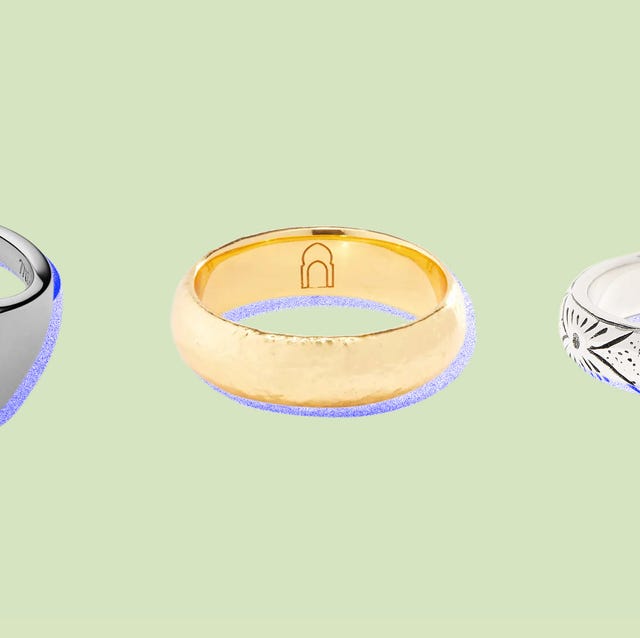 Rings can be traced back to Ancient Egypt, when the circle, more so than silver or gold, held significance. It's why people then exchanged or wore them — to represent eternal life or that they were from the upper echelons of society. Then, the circle meant endlessness, although the first modern instance of rings signaling marital status wasn't until 900 AD in Europe.
What a Ring Can Signify
Today, rings remain a way to say you're married. But, they're also more than that. They're a pretty popular method of self-expression, and an option that's visible nearly 100 percent of the time, too. It's probably why people so often shy away from them, I think. It's also why, on the contrary, so many love them so much.
Rings blend bravado and beauty, as well as symbolize status or allegiance to a significant other. But word of mouth's made up a number of other things rings can represent, too. There are entire sites dedicated to decoding what a certain type of ring on a particular finger could mean — with the pointer finger meaning affiliation and the pinky meaning personal statement and so on and so forth. Then there are gems and jewels, which warrant entire discussions on their own.
So, unless you prescribe to (or study) ancient ways of wearing rings, or dabble in spiritual realms that manifest as ready-to-wear accessories, stick to my simple advice: Beyond the left ring finger (one to the right from your pinky or the third in line if starting with your pointer), none of them really mean much. (That one means you're married.) Find a ring that you like, make sure it fits you (and your style) and wear it everywhere. Admittedly, putting a ring on for particular occasions or to match select outfits makes the accessory feel more like costuming than a cornerstone of your wardrobe. Be consistent and you'll feel super confident no matter how many you have on (but maybe stick to three or fewer).
More Jewelry for Men
Rings for Men