Every product is carefully selected by our editors. If you buy from a link, we may earn a commission.
The 11 Best Lightweight Chinos to Buy Now
Breathable bottoms by Todd Snyder, Madewell, Bills and more.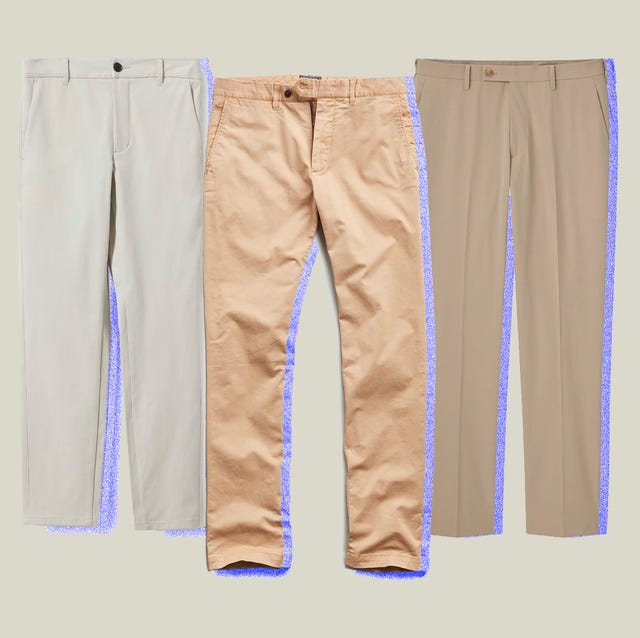 You might not call raw denim a warm-weather staple. So, as temperatures rise, consider lighter chinos — a cooler alternative to heavyweight jeans. Chinos, like denim, are made from cotton-twill fabric, which typically ranges in weight between 7 and 10 ounces per yard. Lighter weight summer options, meanwhile, are exactly that — lighter — and they provide a more flexible, less-insulating pant.
What Counts as a Lightweight Chino?
While there are the straight-ahead chinos some know simply as khakis, the range of this classic pant goes a bit wider than sandy-tones and twills. You'll find options fit for the rising temperatures, both in hue and total weight. While most chinos range from 7 to 10 ounces, or occasionally even higher if you're buying something for work, these lightweight chinos rarely hit 10, promising a total weight of, well, way less.
You'll also find that most of these options feature an internal cooling mechanism like COOLMAX fabric or four-way stretch. If your pants give, they won't stick to sweaty legs, creating room for moisture to evaporate and a breeze to blow through. Naturally, chinos aren't all that bad in regards to breathability, but these brands make improvements nonetheless.
The Best Lightweight Chinos for Men
We've got a full spread of chinos ripe for the rising mercury and here are what we consider to be 11 of the best options out there.
---
This content is created and maintained by a third party, and imported onto this page to help users provide their email addresses. You may be able to find more information about this and similar content at piano.io