Every product is carefully selected by our editors. If you buy from a link, we may earn a commission.
The Best Hawaiian Shirts to Buy Right Now
Say aloha to peak vacation drip, courtesy of shirt-makers that are actually from Hawaii.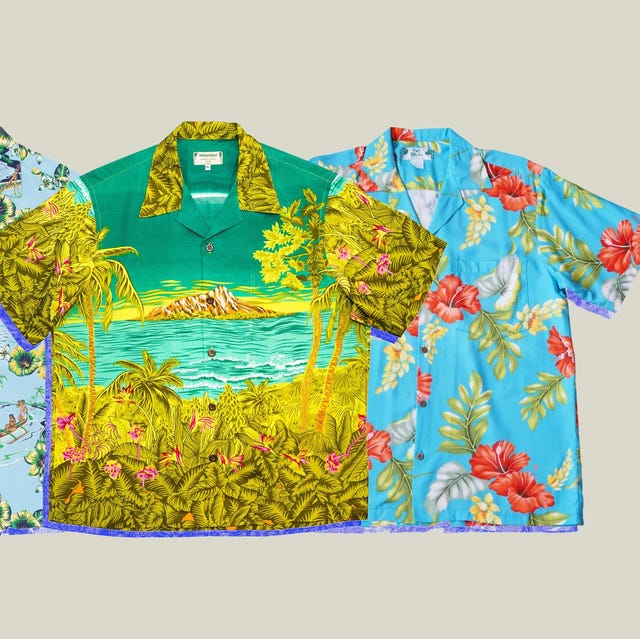 When the sunshine hits, so do warm-weather fits, and no other wardrobe piece says tropical locale quite like the classic Hawaiian shirt. (Well, maybe a pair of linen pants.) Decked out in vivid colors and allover prints, the Hawaiian shirt, or aloha shirt, signifies vacations and weekends alike. But you may not know about its complicated history.
What Is a Hawaiian shirt?
This is a question full of a rich, complex history that, frankly, requires more context than we can provide. But, here we go. The Hawaiian, or aloha shirt, sits at the crossroads of tradition, migration, history, and cultural exchange. It is the direct result of several cultures immigrating to the pacific islands during a late plantation-era Hawaii to work on prosperous sugarcane farms.
Chinese workers came with silk; Japanese with rayon; barong style shirts came from Filipinos; and the United States brought collared shirts. This assortment of cultures birthed the earliest versions of the aloha shirt. No one is sure who the definitive inventor of the Hawaiian shirt is, but there are a few shirt makers we can credit.
Who Invented the Hawaiian Shirt?
First is Kōichirō Miyamoto, a man who ran his father's dry goods shop, Musa-Shiya Shoten, for over 10 years before solely focusing on shirt-making. According to his wife, Dolores Miyamoto, actor John Barrymore visited their shop in the early 1930s and asked if they could use kimono fabric, known as yukata cloth, to make him a shirt. Afterward, Miyamoto started advertising yukata-made tops for his shop, deeming them "aloha" shirts. Miyamoto is typically credited with the first documented use of the term due to an ad that ran in the Honolulu Advertiser on June 28, 1935.
Elsewhere, Ellery J Chun, a Chinese merchant, sold Hawaiian shirts out of his store in Waikiki, King-Smith Clothiers and Dry Goods. He claims he started selling shirts made out of Japanese rayon, typically used for kimonos, in 1932 or 1933. His idea came after seeing Japanese youth dressed in rayons and local Filipino boys wearing traditional barong shirts. Chun was the first to trademark the term "aloha shirts" in 1936.
As the years went on, several other shirt makers — like Surfriders Sportswears Manufacturing, Kamehameha, Waikiki Reef, and Branfleet — began offering their Hawaiian shirts made with Japanese patterns and fabrics like rayon and silk. These shirts were made to combat Hawaii's hot, humid conditions — they fit oversized to allow airflow. The garments became popular with locals, vacationers and veterans who served in World War II, which came back from the pacific wearing them. By the end of the 1930s, Hawaiian shirts made the city $600,000 annually, historians tallied.
But as the decades went by, so did the number of shirt-makers who claimed they originated the Hawaiian shirt or coined the term "aloha shirt." Aloha patterns were sometimes hand-painted or drawn and derived from imported kimono fabrics. Designs often depicted the rich histories of the creators themselves, illustrating migration experiences of immigrants and the local land of Hawaii — hence why so many Hawaiian shirts vary in iconography. Some may carry Japanese symbols like Mt. Fuji and cherry blossoms, others with native Hawaiian icons like orchids and rainbows.
How Do I Know if My Hawaiian Shirt Is Authentic?
If you're worried about cultural appropriation, understand that the birth of this shirt stems from the practice. Today, the shirts represent an exchange of cultures exported around the globe and commercialized to the masses. You'll likely encounter floral and all-over print shirts in the style of traditional Hawaiian shirts, but that doesn't mean it's authentic or a story told through its imagery.
That said, in 1981, the Department of Agriculture enabled a law requiring all products labeled "Made in Hawaii" to have 51% of their value through manufacturing, assembly and production in the Islands. They later amended this rule to include labels such as "Produced in Hawai'i" and "Processed in Hawai'i." If you'd like to support local producers, look for this tag. It helps the local economy and supports the practice of storytelling via shirt-making.
The Best Hawaiian Shirts
More Collared Shirts for Men
---