Every product is carefully selected by our editors. If you buy from a link, we may earn a commission.
The Best Flip-Flops to Buy Right Now
Put these thongs on your feet when you're poolside this summer.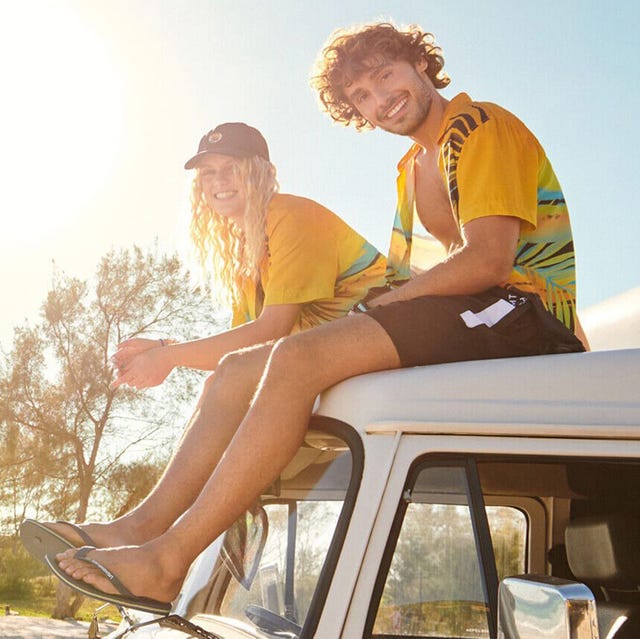 Ask anyone in the southern hemisphere and they'll tell you the best way to beat the heat is to dress for it. Shedding layers of clothing is a must for warm days, and when it comes to footwear, less is also more. Underrated and hated for far too long, the flip-flop is an essential shoe for the summer — just make sure you've got a tasteful pair that can shift between beach trips, barbecues and grocery runs alike.

Why Flip-Flops Over Sandals?
By definition, flip-flops are flat soles that the feet grasp via a Y-shaped strap, also known as a toe thong, between the first (big) and second (index) toes. Sandals, by comparison, have a strap that goes over the instep to hold the feet in place. In most cases, flip-flops lack any backing for added stability and heel support, which causes them to "fishtail," or slip, in wet conditions — likely your experience if you haven't worn a pair since visiting a waterpark as a youth.
Of course, choosing to wear flip-flops depends on the occasion. Going to the beach? They'll likely help sand and water pass through the underfoot better than a sandal. Headed to a bar? Unless it's in the tropics, we'd advise against it. Flip-flops are best suited for casual situations, water activities, and short-term wear — quick errands, backyard get-togethers, poolside hangouts and beer runs. Because flip-flops are usually flat-soled and lack support, you'll want to limit relying on them for long-term use.
Is Buying an Expensive Pair Worth It?
If you're a fan of having breezy toes and putting on footwear in a manner that's almost thoughtless, a pricey flip-flop is a wise investment. In most cases, expensive means leather, and that'll look nicer and provide better support for your feet. Leather flip-flops are stylish and durable, and they're a great option for a warm day when paired with denim jeans, short shorts and chinos alike. With proper care, they'll outlast their rubber or plastic brethren.
However, if you're wearing flip-flops for the beach or poolside, leather can quickly break down due to moisture, sand and water, and unless they're waterproof or you use some sort of leather wax beforehand, they'll need to retire in a matter of months. If you're looking for flip-flops to wear for a waterside trip, rubber, plastic or some other synthetic material is the way to go. Synthetics are cheaper, and if you don't expect to wear flip-flops outside of the spring and summer seasons, it's a smarter purchase. Wear them too often though, and their soles will crease, flatten, and crinkle through use — much like a pair of Crocs or Merrell Hydro Mocs.
The Best Flip-Flops of 2022
This content is created and maintained by a third party, and imported onto this page to help users provide their email addresses. You may be able to find more information about this and similar content at piano.io