The Ford Maverick Is a Whole New Kind of Pickup Truck
With truck versatility, 40 mpg in-town and a starting price of $20,000, this Ford could have Civic and Corolla buyers going pickup.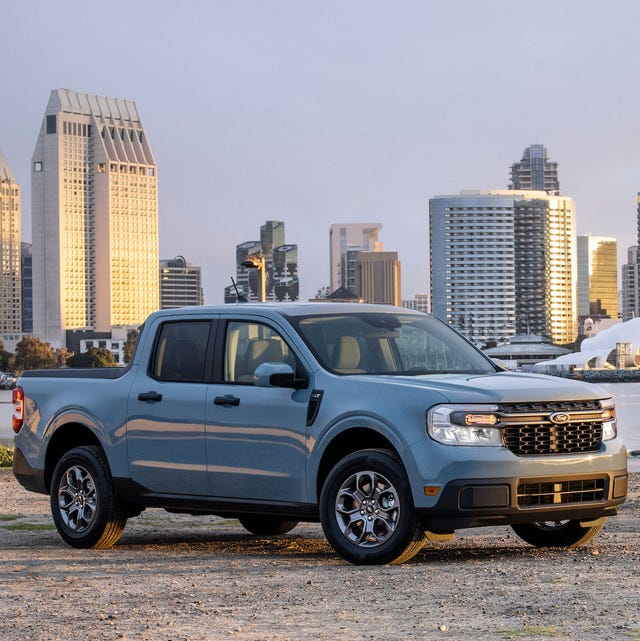 A couple of years back, when Ford announced that it would be effectively giving up on traditional cars in America (apart, of course, from the Mustang), there were plenty of people who thought Ford was giving up, period. After all, cars like the Focus, Fusion and Taurus might not have roamed the plains in the mighty numbers they once did, but they were hardly going extinct; why forsake all those buyers who prioritize fuel economy and affordability over ride height?
Of course, as the old saying goes, when God closes a door, he opens a window — and the axiom also applies to automotive product planning. With Ford's sedans having followed its minivans and station wagons into American retirement, the carmaker saw something of, as they put it, "a white space" in the market.
""We wanted to [show up in the affordable product space] in a way that Ford uniquely could," Jim Baumbick, Ford's vice-president of global product planning and strategy told us. "We've had fits and starts in [the car] product spaces, but our fundamental strategy is to lean into our strengths."
And as the F-150 has shown, if there's one thing Ford does well, it's build trucks.
So, the brand set about creating a new type of entry-level vehicle — something that could leverage Ford's truck-and-SUV skills but also appeal to buyers who previously hadn't shopped for pickups. Something with the price point and fuel efficiency of a compact car, but also with the flexibility that only comes with a truck bed. ("Think of all the things you can do in a truck that you would have to struggle, or can't do, in a sedan," as Baumbeck put it — or simply ask one of the millions of pickup truck owners in the United States today.)
And so, Ford created the Maverick.
The 2022 Ford Maverick is a 40-mpg hybrid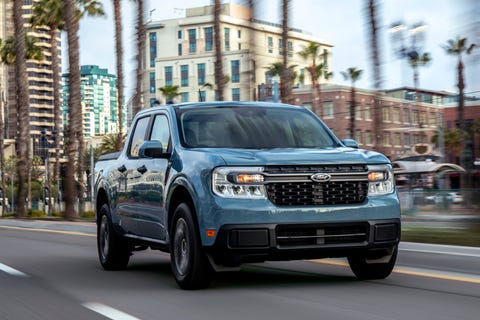 And that's not an optional engine; that's the base version. The Ford Maverick comes standard with a 2.5-liter inline-four hybrid powertrain, delivering 191 horsepower and 155 lb-ft of torque. Ford predicts that should be good for around 37 miles per gallon in the combined cycle; drive in the city alone, and that should climb to around 40 mpg.
At launch, the hybrid engine only comes paired with front-wheel-drive, and the only gearbox that links engine to wheels is an electronic CVT. If you really want all-wheel-drive and the hybrid, though, it might be added down the line; as Baumbick put it, "we'll be looking at the opportunity down the road to expand the offering."
Need more power? There's an engine for that too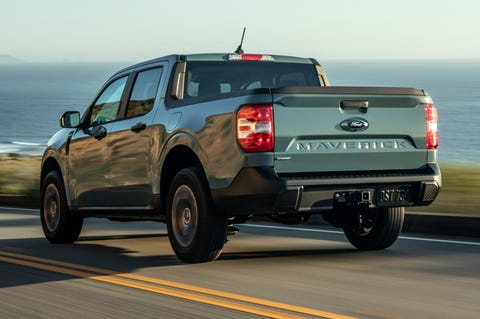 If you're like many of us, however, you probably want your truck to have four driven wheels, not two. Or maybe you just want a little more power out of your ride. Or maybe both. In either case, Ford has something for that, as well: an optional 2.0-liter turbocharged inline-four that makes 250 hp and 277 lb-ft of torque. It's connected to either the front wheels or all four via an eight-speed automatic.
It's no Focus RS, but the Maverick shouldn't drive too much like a truck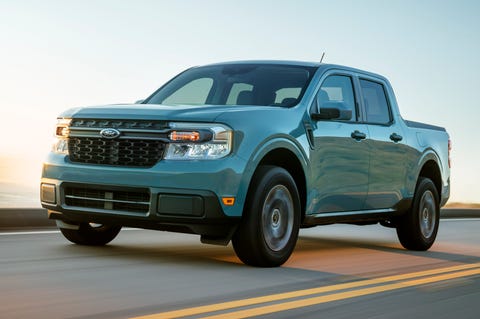 The Maverick uses the same C2 platform as the Bronco Sport — which is to say, the same platform as the Escape and the no-longer-sold-domestically fourth-generation Focus. That means it joins the Honda Ridgeline and the forthcoming Hyundai Santa Cruz among the thin-but-growing ranks of unibody pickup trucks — as opposed to the burlier body-on-frame chassis used by the rest of the pickup world.
What's that mean for buyers? Well, we won't know until we drive it, but we expect the Maverick should drive much like the Bronco Sport, albeit with the added high-speed stability that comes with a longer wheelbase. Every Maverick comes in crew-cab short bed configuration, as well, so they'll all boast the same wheelbase length.
Advanced driving aids and safety features can be yours, of course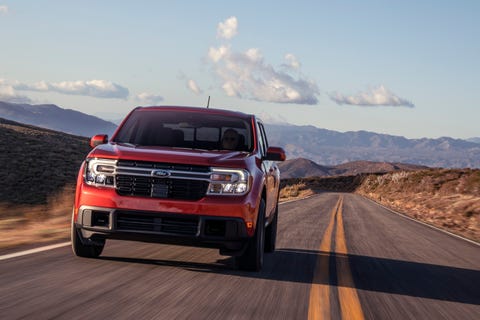 Every Maverick, from the basic XL model that starts under $20K before destination through the mid-level XLT to the fully loaded Lariat, comes packing automatic car- and pedestrian-detecting emergency braking, automatic headlights and automatic high beams. Five drive modes — normal, Eco, Sport, Tow/Haul and Slippery — also come standard.
Tick the right boxes, and you can also add stop-and-go adaptive cruise control, lane departure warning, lane centering, blind-spot warning sonar, hill descent control and other such active safety features. Opt for the FX4 off-road package on the AWD versions, and you get all-terrain tires, an upgraded cooling system, skid plates, a tow hitch and exposed tow hooks, among other upgrades.
This little truck can handle 1,500 pounds of payload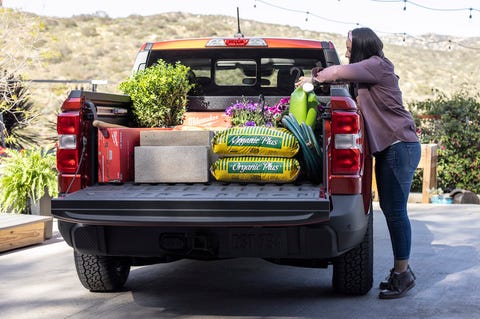 Granted, that includes the interior capacity and the weights of all your passengers. Still, even if you manage to cram a quintet of 200-pound adults inside, that means you still have roughly 500 pounds of leftover capacity to lug whatever you can toss into the bed. (And, thanks to a lower bed height than other trucks, it's easier for everyone to put stuff back there or dig it out.)
The Maverick can tow up to two tons, depending on model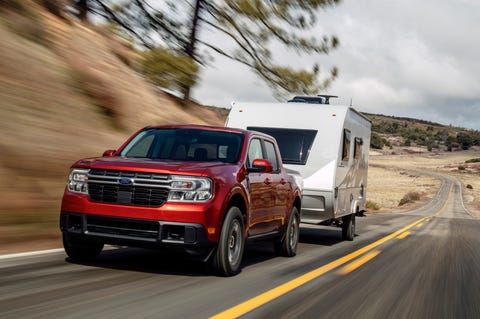 Every Maverick is capable of lugging around 2,000 pounds on a trailer hitch, according to Ford. However, if you want maximum towing potential, you'll want to level up to the 2.0-liter engine, as that's the only way to level up to the 4,000-lb towing capability.
The FlexBed is what Ford calls a "maker space"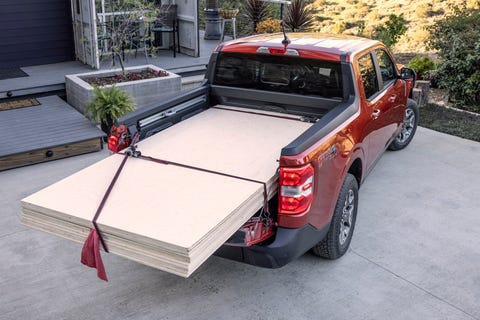 Stripping away the marketing jargon, that means Ford wants owners to customize their Mavericks' beds however they want. Six tie-downs mean it's easy to secure objects inside if the 4.5-foot-long bed doesn't have enough space with the tailgate closed (or also if you simply don't want your items bouncing around).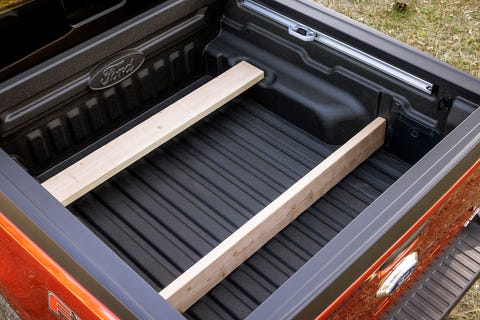 Ford even went so far as to make it easier for owners to rig up their own bed storage and usage solutions by designing the FlexBed to use 2x4s and 2x6s as vertical and horizontal dividers. Plus, it comes pre-wired with two 12-volt, 20-amp electrical hookups, making it easy to rig up cargo bay lighting or other powered devices that can run off the truck. (If you'd rather have Ford handle that sort of thing, though, you can also spec the Maverick with 110-volt AC power outlets and LED lights in the bed from the factory.) And if you're hard-up for ideas on how how to make your Maverick your own, there's a QR code in the bed that provides suggestions.
There's storage in there, too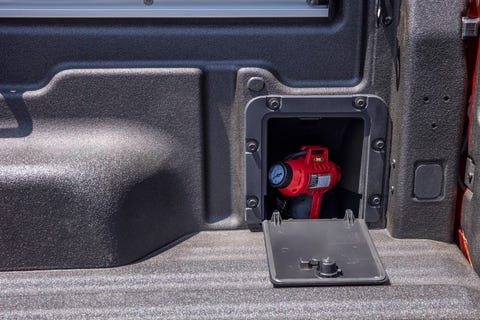 Unlike, say, the Ridgeline or Santa Cruz, the Maverick doesn't have a trunk in the bed — and unlike the F-150 Lightning, it needs the space in front for the gas engine. Still, the FlexBed even includes storage cubbies in the sides, giving owners a bit of hideaway space back there.
Tech and convenience are central to the Maverick interior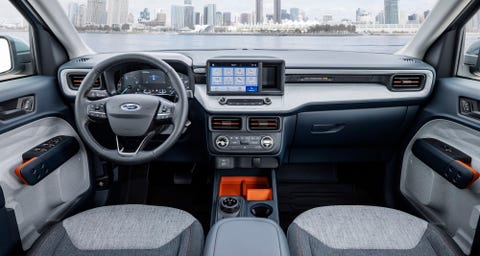 These days, even affordable rides need to pack plenty of modern tech into their interiors. The Maverick may be a new entry-level model for the Ford family, but it still comes standard with an eight-inch infotainment touch screen, Apple CarPlay and Android Auto, on-board wifi capability and a pair of USB ports, on top of the usual suite of features that were optional on cars not long ago but now come standard pretty much everywhere (keyless entry, power locks and windows, automatic climate controletc.)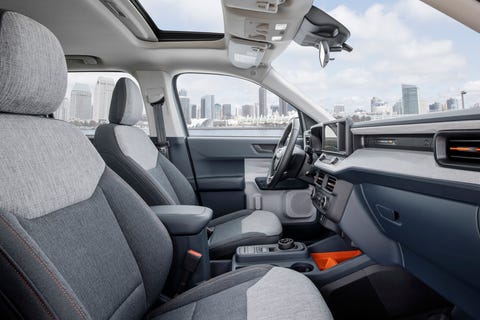 Depending on trim level, the Maverick comes with either cloth or ActiveX leatherette upholstery. Either way, though, Ford made sure to use interesting contrasts and dashes of accent color beyond the traditional gray/beige/black combos traditional found in many a car.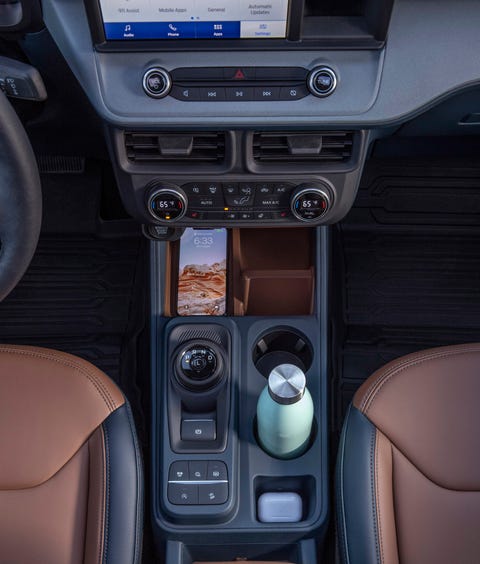 A wireless charger is available, as well as up to four USB ports. And if you're the type of person who considers their car their primary stereo, you might want to level up to the Lariat just for the optional Bang & Olufsen-sourced eight-speaker stereo.
Ford made sure to pack the Maverick's interior full of places for gear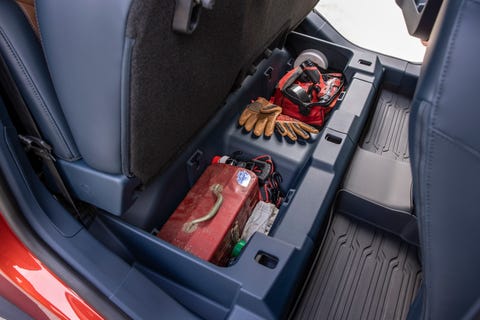 If there's one advantage cars and SUVs have over pickup trucks when it comes to storage, it's that they have covered, inaccessible places to store cargo. To help compensate for that deficiency, Ford made sure the Maverick offers lockable storage under the second row of seats, giving owners a place to store many of the knick-knacks that usually roll around their trunks.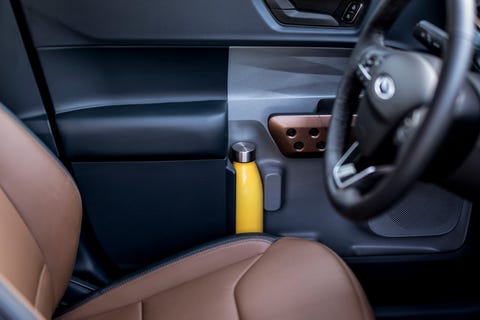 Likewise, the doors have been designed with pockets tailor-made to hold large water bottles in an upright position — or, if you prefer, to let tablets lay flat on their side without falling out when you hit your first cloverleaf.
The Maverick starts at $19,995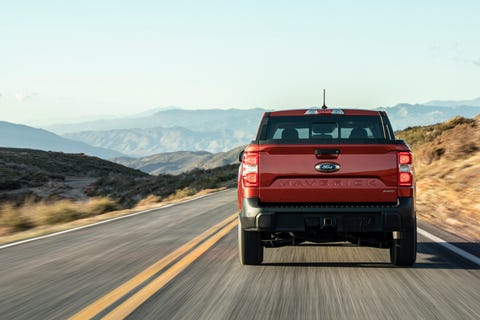 When the Maverick goes on sale this fall, it'll do so with a starting price of $19,995 before destination, making it the most affordable vehicle in the company's lineup (and, presumably, putting another nail in the coffin of the little-loved EcoSport that currently holds that role). That's more affordable than a Honda Civic or Toyota Corolla, if only by a little — and, as Ford is all too happy to point out, neither of those cars will get 40 mpg in the city, let do any of the truck-specific things the Maverick can do. We have a sneaking suspicion that Ford is gonna sell a lot of these.
The Best Cars to Buy in 2021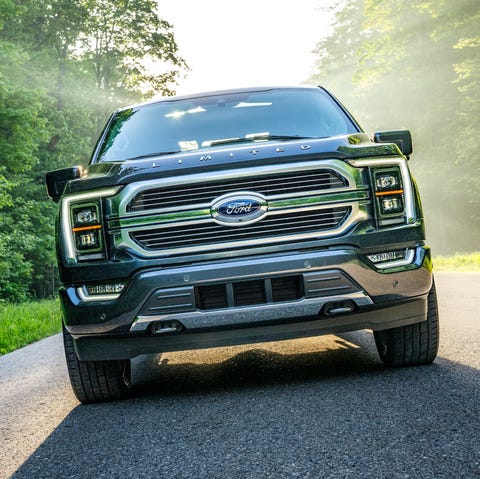 The results may surprise you.
This content is created and maintained by a third party, and imported onto this page to help users provide their email addresses. You may be able to find more information about this and similar content at piano.io