The 2021 Mercedes-AMG GLB 35 4Matic Is Tiny, Practical and Ferocious
Don't let that staid crossover body fool you.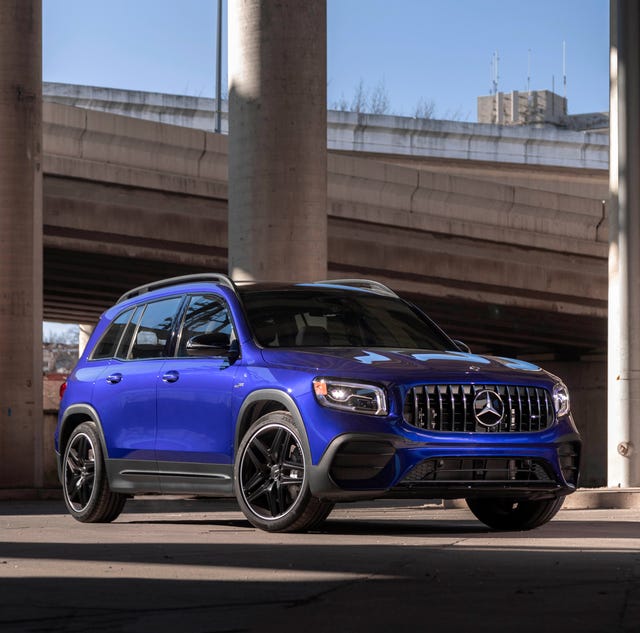 The Platonic ideal of a Mercedes-Benz may be an E-Class or S-Class sedan — but we live in 2021, not Ancient Greece, and most buyers who enter a car dealership are searching for a crossover. So, unsurprisingly, Mercedes is obliging them with more options, and one of them is the GLB. Boxy and upright, it slots — as one would suspect by the letter — between the subcompact GLA and the compact GLC. Appearance-wise, well, it looks like Rick Moranis shrunk the flagship GLS.
On top of the base model many small families seem likely to choose, Mercedes has now added an upgraded AMG version, the Mercedes-AMG GLB 35 4Matic. I drove the hot new GLB around Detroit doing car journalist and dad stuff for a week — and thoroughly enjoyed it. AMG took the practical, does-a-bit-of-everything well GLB and made it sporty — without altering its comfortable character. Hell, it's more fun than some of its hulking, AMG V8-powered brethren. Read on for the full report.

What is the Mercedes-AMG GLB 35 4Matic?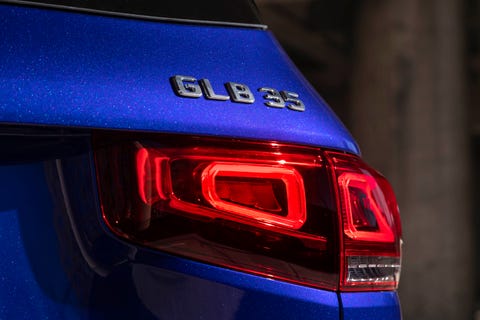 The GLB is Mercedes's second-smallest crossover. The Mercedes-AMG version gets a 302-horsepower, 295-lb-ft-of-torque version of the turbocharged 2.0-liter inline-four. 4Matic, in turn, is Mercedes's all-wheel-drive system. (Fun fact: My test vehicle included the AMG Night Package with aggressive black detailing, which made it come off sort of like Batman's tiny crossover.)
Is the Mercedes-AMG GLB 35 4Matic new?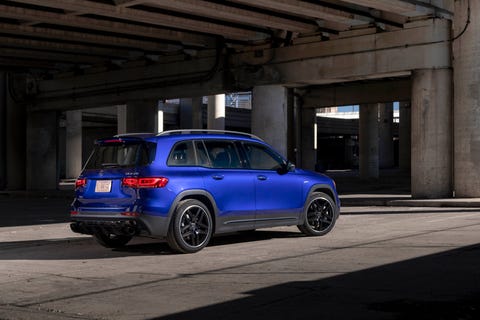 Yes. The GLB arrived for the 2020 model year, and the AMG version is new for 2021.
Why is this Mercedes special?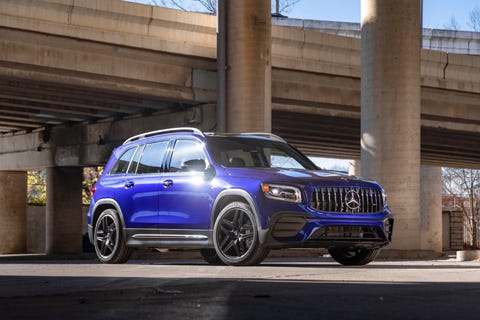 Efficient use of space. Two rows of passengers fit comfortably in the GLB. Mercedes even squeezed a little third row in there, fit for very tiny people or a dog. Up to 62 cubic feet of cargo space means the GLB beats out the larger GLC for storage; the AMG version, in turn, keeps that practicality and ramps up the power, handling, and exhaust crackles to create a strong all-around package.

How does the GLB 35 drive?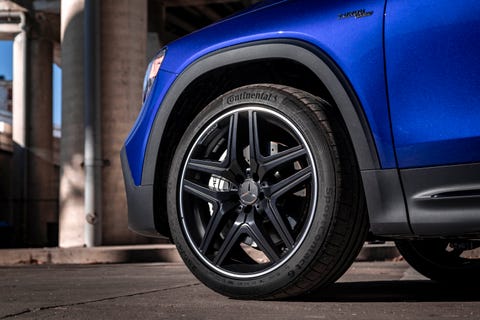 The AMG GLB 35 4Matic's appearance may give off strong empty-nester vibes, but — if you can get past the appearance — it's an absolute riot. It accelerates from 0-60 mph in 5.1 seconds, handles nimbly when you chuck it into corners, and it makes a delightful racket in Sport Plus mode. With the standard AMG Ride Control Sport Suspension, the ride is stiffer than the standard GLB, but still quite supple by AMG standards; the fact that my tester had the smallest available (if still 19 inches in diameter) wheels no doubt helped.
With strong outward visibility and a tiny footprint, the AMG GLB 35 4Matic is super-easy to park. (I kept tucking it into the front corner of relatively cavernous spaces while parallel parking.) One could see it being a serviceable city car for small families. One drawback may be the fuel economy, though; it's EPA rated for just 23 mpg combined, lower than the GLA 35 4Matic's 25.

What is the GLB 35 like inside?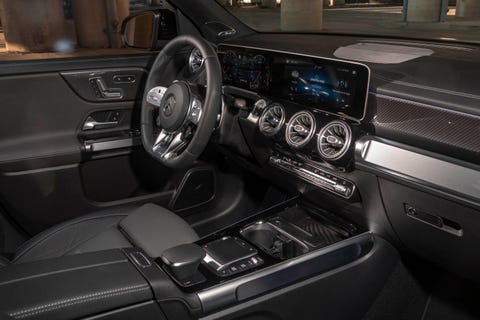 As I noted, the AMG GLB 35 4Matic is spacious. It's also easy to get in and out of. Beyond that, the interior is standard Mercedes-AMG fare; it feels both fancy and tech-forward, thanks to the standard 10.25-inch infotainment and instrument displays.
My tester seemed well-appointed with titanium grey/black leather, natural grain black linden wood trim, a Nappa leather AMG steering wheel, a panoramic sunroof and an upgraded Burmeister sound system. But — as can be common with a Mercedes-AMG effort — all of those features were costly add-ons to an already not-cheap vehicle.

What are some Mercedes-AMG GLB 35 alternatives?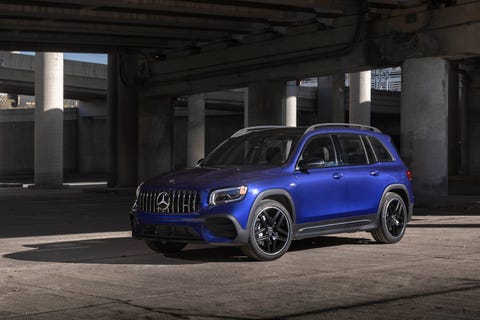 How much does the Mercedes-AMG GLB 35 4Matic cost?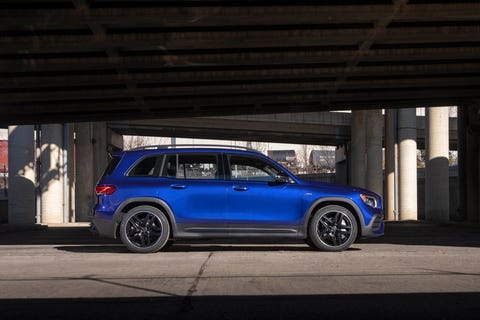 Pricing starts out at a somewhat reasonable place, with a base MSRP of $49,500 — around $9,000 more than the GLB 250 4Matic. But things get steep swiftly with options — some of which you need. Want heated seats in your luxury Merc? That's an extra $500. Do you want Sirius XM radio? That's another $460, which is just for the hardware. Wireless phone charging? That'll be another $200.
Add up all the packages, upholstery upgrades, and destination and delivery charges, and my test vehicle came out to $61,485. That's not so unreasonable by Mercedes standards, but still — you could get a midsize Genesis GV80 SUV with AWD and the fancy Advance Package for around the same price.
The 2021 Mercedes-AMG GLB 35 4Matic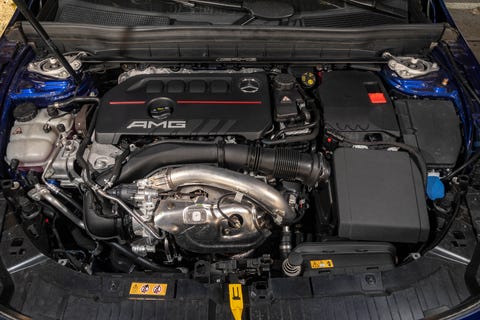 Powertrain: Turbocharged 2.0-liter inline-four, eight-speed automatic, all-wheel-drive
Horsepower: 302
Torque: 295 lb-ft
EPA Fuel Economy: 21 mpg city, 26 mpg highway
Seats: up to 7
These Are the 16 Best Cars to Buy in 2021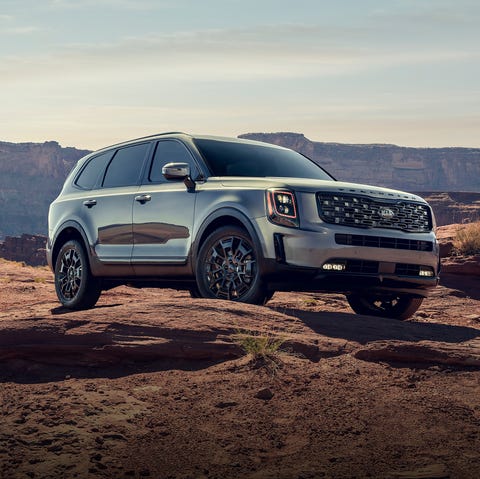 Kelley Blue Book has revealed the best cars to buy awards for 2021. The results may surprise you.
This content is created and maintained by a third party, and imported onto this page to help users provide their email addresses. You may be able to find more information about this and similar content at piano.io