Jeep's New Grand Cherokee Packs the Wrangler's Best Option
The Wrangler 4xe's hybrid heart and a Grand Wagoneer-like interior bring added substance to the all-new Grand Cherokee.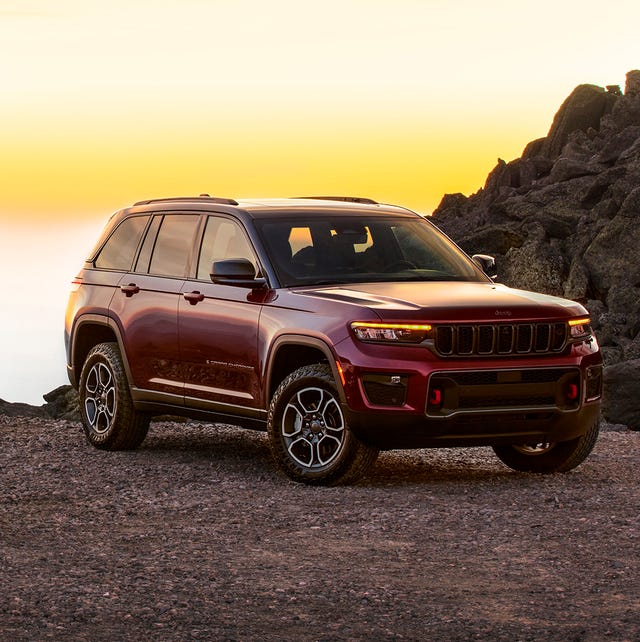 Okay, fine — if you want to be a party pooper, there's nothing all that shocking or surprising about the all-new 2022 Jeep Grand Cherokee. That's because, well, we basically already saw it; Jeep rolled out the three-row version, the Grand Cherokee L, several months ago — and much like the GMC Yukon and Yukon XL or the the Ford Expedition and Expedition Max, that variance in length
Still, the new two-row version of Jeep's massively popular family SUV does have plenty of sweet features — including one or two that we hadn't yet seen previewed on the three-row version. Here's what you need to know about the L-free 2022 Grand Cherokee.
The new Grand Cherokee packs three engines, including a plug-in hybrid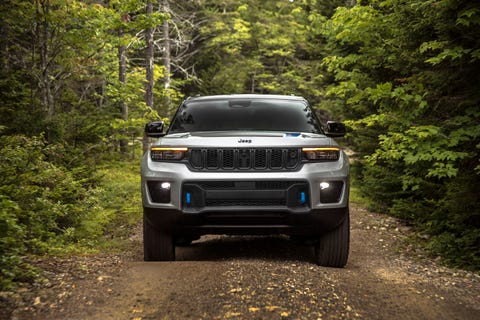 Viewed from an old-school mindset of simply counting cylinders, it would seem as though Jeep is offering three escalating levels of powerplant for the 2022 Grand Cherokee: a turbocharged four-cylinder, a V6 and a V8. But this is 2021, and cylinder counts no longer reveal all. In fact, the four-cylinder is arguably the best engine of the lot.
That's because it's actually a 2.0-liter turbo four connected to an integrated transmission traction motor supplied by a 17.3-kWh battery — the same powerplant found in the Jeep Wrangler 4xe. As there, it cranks out 375 horsepower and 470 lb-ft of torque — more power than either the V6 or V8. It also offers the ability to travel up to 25 miles on electricity alone when the battery is fully charged.
The 5.7-liter V8 is no slouch, though; it spits out 357 horses and 390 lb-ft of torque, giving it the best towing capacity of any 2022 Grand Cherokee – up to 7,200 pounds. The 3.6-liter V6's 293 horsepower and 260 lb-ft of torque should be enough for most mall crawlers, though you're not likely to lust after it.
You can combine the hybrid engine with the Grand Cherokee's best off-road options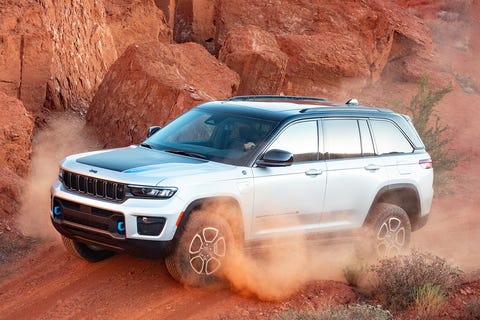 The new 2022 Grand Cherokee comes in five different trim levels — Laredo, Altitude, Limited, Trailhawk, Overland, Summit and Summit Reserve — but anyone actually planning on doing serious off-roading ought to consider the PHEV 4xe powertrain and the terrain-conquering Trailhawk model.
To earn its "Trail Rated" bona fides, the Trailhawk boasts just about every off-roading-minded feature Jeep had in the toy box: air suspension (delivering up to 11.3 inches of ground clearance), a sway bar disconnect, terrain-specific drive modes, the Quadra-Drive II full-time 4x4 system, off-road cruise control, steel skid plates, all-terrain tires, off-road camera, rear electronic limited-slip differential and more. Combining that with the hybrid powerplant does reduce ground clearance by 0.4 inches, but that's a small sacrifice to make for the thrill of silent, electric off-roading (and, of course, the added power and torque of the 4xe).
The 2022 Grand Cherokee looks fresh, but familiar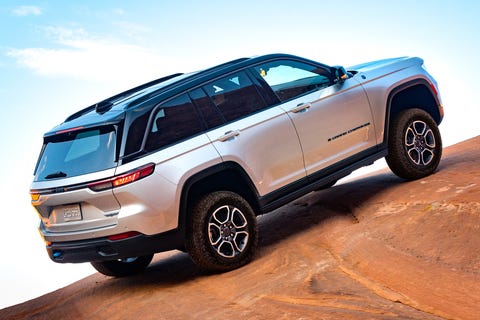 The new Jeep's design is already familiar, thanks to the fact that, well, we've seen it as the Grand Cherokee L. Whether the slightly shorter area between C- and D-pillar of the two-row model makes it more or less attractive than its sibling is up for debate, as is whether the blacked-out roof treatment warrants a thumbs-up emoji or a see-no-evil monkey one.
Regardless, the blocky, angular lines of the new Grand Cherokee certainly project power, even if the jutting front bumper gives it a bit of a bulldog underbite. The blue accents of the 4xe model add a splash of color to the otherwise-serious design; if you don't care for them, well, we happily direct you towards your nearest Home Depot for a can of Krylon.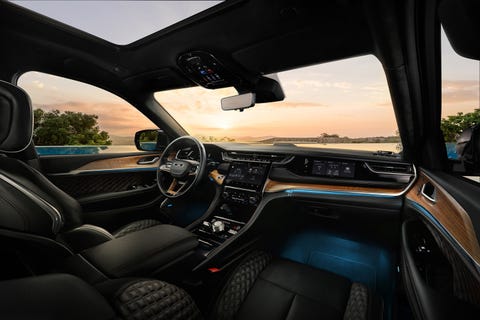 The familiarity continues inside, where the new Grand Cherokee boasts an interior basically identical to the Grand Cherokee L – minus the third row of seats, of course. On higher trims, the plethora of leather, wood and touchscreens evokes the new Grand Wagoneer's palatial guts; like that giant SUV, the new Grand Cherokee even offers a passenger's-side touchscreen that the shotgun rider can use to plot navigation directions or watch videos.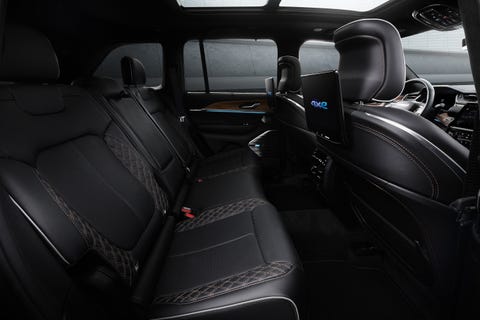 Anyone consigned to the back may be a tad envious of folks riding around in the second row of the Grand Wagoneer — or even the folks up front and their 16-way adjustable seats — but they'll still have plenty of comfort features and space to take advantage of. Heating and ventilation functionality is available for both first and second rows, and back seat riders can also while away the hours watching videos.
This Jeep has tech for days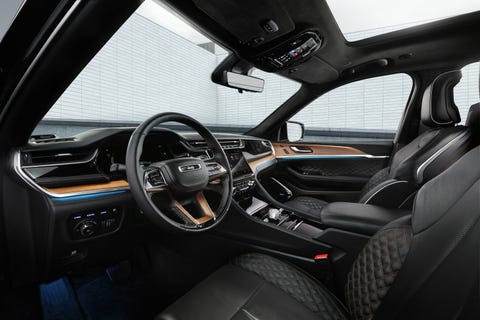 The new Grand Cherokee comes loaded with a bevy of standard tech treats: adaptive cruise control that works even in stop-and-go traffic, active emergency braking with car, cyclist and pedestrian detection; rear cross-path detection; lane departure warning and lane-keep functionality; rear parking sensors; blind-spot warning; and, of course, a rear-view camera, as is required by law.
Depending on your options and trim, you can add to that roster, too. Additional tech includes a night vision camera that can ID people and warm-blooded animals alike; intersection collision assist, which should help keep you off r/idiotsincars; 360-degree surround-view cameras; automatic parallel and perpendicular parking; and a drowsy driver detection system. Wireless Apple CarPlay and Android Auto, a digital rearview mirror, a 10-inch head-up display, a wireless phone charger, and a 4G LTE wi-fi hotspot with the ability to stream Amazon Fire TV and use Amazon Alexa are also standard or available.
Oh, and of course, as with the Grand Cherokee L and Wagoneer / Grand Wagoneer, there's an available McIntosh audio system — in this case, a 950-watt, 17-channel system with 19 speakers.
The 2022 Grand Cherokee will hit the streets any day now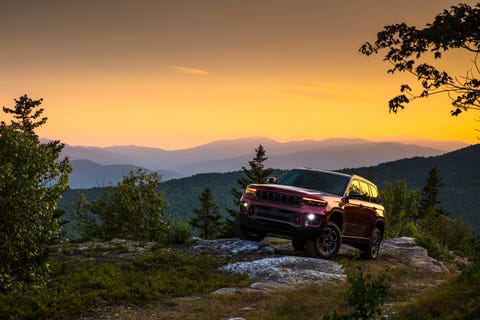 The new two-row Grand Cherokee will be joining its three-row sibling in Jeep dealerships in the fourth quarter of 2021 — which is to say, the chunk of the year that starts October 1st. If you're jonesing for the PHEV version, you'll have to wait a little bit longer; that one should reach us early next year.
This content is created and maintained by a third party, and imported onto this page to help users provide their email addresses. You may be able to find more information about this and similar content at piano.io