The Audi RS E-Tron GT Is a Spectacular Grand Tourer, With an Electric Twist
A car made for taking the back roads across a country...with stretch breaks built right in.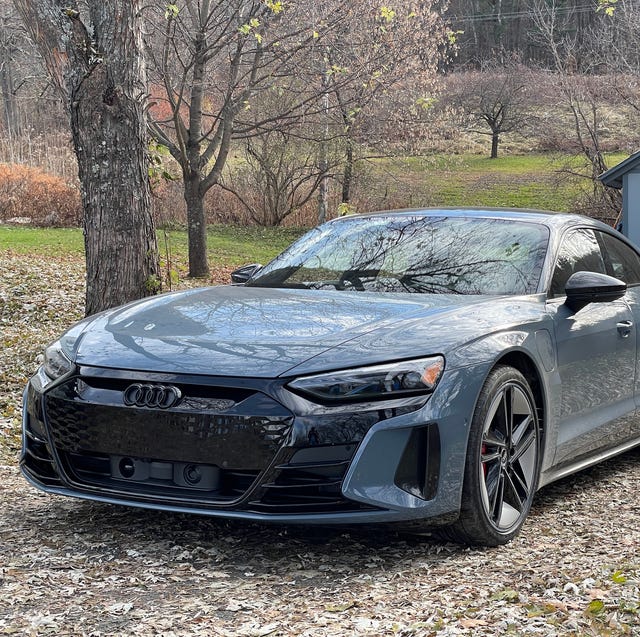 If there's one car company that you'd expect to lead the charge into the future, it'd be Audi. After all, the German carmaker's slogan is Vorsprung durch Technik — progress through technology — and time and again they've demonstrated their motto is more than just marketing speak. They were making all-wheel-drive luxury cars decades before it became cool, building sedan chassis out of lightweight aluminum back when environmentalists were more concerned about the ozone layer than global warming, and hitching their star to Tony Stark since the Marvel Cinematic Universe was but a twinkle in Kevin Feige's eye.
So it's not super-surprising that Audi is also going hard in the paint for electric mobility. It only debuted a few years ago, but the Audi E-Tron crossover managed to be the first electric luxury non-Tesla SUV to successfully make it to people's driveways; it's easy to forget now just how big a deal that was. Today, the brand already sells three different types of electric cars in different styles at different price points; in a few years, electric Audis will outnumber gas-powered ones before taking over for them entirely.
But much as the R8 defined the company during the gas-powered heyday of the late Aughts and Twenty-teens, Audi today is defined by a car that serves as a halo car statement of intent: the E-Tron GT, whose traits are best revealed in uber-powerful RS E-Tron GT form. Like the R8, it didn't have to be great in order to succeed; all it needed to do was look good and be quick. But again, like the R8, Audi went ahead and made something spectacular anyway.
The Audi RS E-Tron GT looks sensational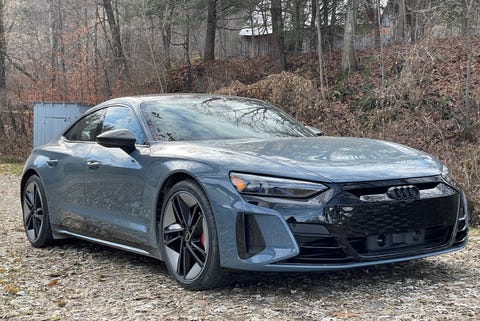 Audi has long defined itself in part on style, from its Bauhaus days of yore to its sharp-headlight, menacing-maw current design language — and the RS E-Tron GT continues that trend with panache. The sheetmetal bulges with implied strength, like muscles beneath a running back's compression shirt. The hips stretch wide just as the roofline slopes downward, making the car constantly look crouched and ready to fire off a launch control dash. Even the blunt, elevated nose — a concession to pedestrian crash standards, perhaps — works well here, bringing to mind the business end of a .45 caliber bullet. This car looks dynamite.
Perhaps the only complaint one can level at the car's design is its darkened front fascia, which almost seems like an automotive interpretation of a COVID-fighting face mask. It's gray on the regular E-Tron GT and black on the RS version, and while you can opt to have the "grille" rendered in body color, the visual connective tissue remains dark. (It seems as though, if anything, the grille should remain blacked-out and the surrounding areas painted to match the rest of the body.) While not nearly as off-putting as the BMW M3 / M4's front-end treatment, it's still curious enough to consider covering it up by painting the car black — which would arguably be a shame, as other colors are much better at revealing the E-Tron GT's sexy lines.
The RS E-Tron GT drives like a sports car, but packs the room of a sedan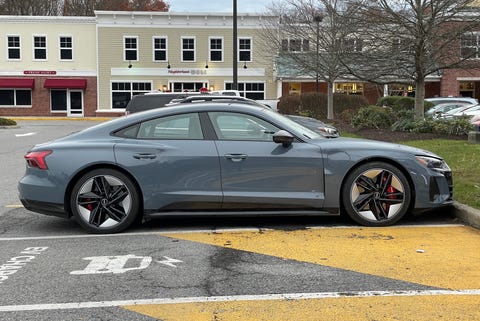 With a weight of around two and a half tons before a passenger climbs aboard, you might not expect this Audi to slice and dice winding roads with ease — but then again, the RS 6 Avant weighs a similar amount, and no one's levying complaints about it not being fun to drive.
Especially seeing as how the E-Tron GT whips up an RS 6-beating 631 horsepower and 612 lb-ft of torque. Granted, maximum power is only available during short "Boost Mode" burst — but even in daily driving, you still have 94 percent of those ponies available right meow. That's 590 horsepower available on the spot, with no need to wait for a transmission to downshift four or five gears or for the engine to rev up. Think of it as driving that RS 6 Avant at its power peak of 5,500–6,500 rpm all the time — except without the racket.
As a result, it accelerates ungodly quickly. It feels like putting the world on fast-forward — not just off the line or at low speeds, but even at highway velocity. Indeed, its otherworldly nature is arguably more pronounced when you mat The Pedal Formerly Known as Gas when you're already making rapid progress; 60 to 120 flicks by in what feels like the blink of an eye.
But super-brisk EVs aren't all that novel, not in an era when Rivian builds a four-ton electric pickup that can almost keep up with a Porsche 911 Carrera in the 0-60 sprint. The RS E-Tron GT, though, isn't just quick in a straight line; it's quick through corners. The low-slung, evenly-distributed weight of the car (and, of course, the all-wheel-drive grip and fat tires) gives it quite the aplomb, making it feel locked down as it slices around hairpins. Plus, the steering is direct and natural — though not surprisingly for a modern car, not exactly heavy on the feedback.
Range isn't a huge issue, but it's not ideal, either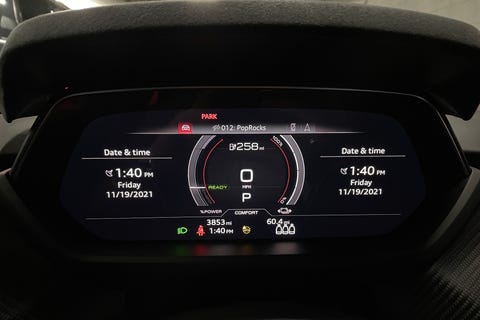 Range anxiety isn't what it used to be for electric cars; these days, just about every new EV that rolls into dealerships can comfortably do somewhere between 200 and 300 miles on a charge.
After charging it up to full overnight, the RS E-Tron GT's estimated range display showed 258 miles to empty — 26 miles more than the official EPA range estimate, and pretty much in line with what I'd expected based on real-world research and my time with the Taycan 4S. That, however, was with ambient temperatures in the mid-fifties — a happy climate for both humans and lithium-ion batteries. As I drove north into Connecticut and Massachusetts and the sun went down, temperatures started to sink closer to freezing; a stop outside Springfield, MA brough the battery back to 100 percent, but this time, the car said that was only good for around 220 miles to empty.
As I reached Vermont and the temperatures fell further, however, that range remaining figure began dropping quicker than the miles to my destination were ticking away. Speed and climate control being the enemies of range in an EV, I cut the heater as much as possible — much to the chagrin of my partner, who was stuck trying to nap in her winter coat beside me — and dialed the cruise control from 75 mph down to 70...then 65...then 60...and finally 55.
It didn't fix the problem. While I'd left the charging station with a 30-mile cushion between claimed range remaining and distance to my destination, after about two hours of driving, the Audi's computer now said I'd run out about five miles short of where I needed to be. I had to make an unscheduled 20-minute pit stop at a 50-kW charger in the middle of nowhere in order to safely make it.
It's possible the E-Tron GT was simply being overcautious with its range estimate as it tried to juggle the competing changes in temperature and driving styles. Subsequent overnight charges in unheated garages in Vermont resulted in the car suggesting a max range, again, of around 220 miles.
Then again, the physics are simple: batteries don't function as well in cold weather, and unlike internal combustion engines, EV powertrains don't generate much waste heat — certainly not enough to counter the effect of low ambient temperatures. Based on my own calculus, it seems as though the E-Tron GT had about 85 percent of its sweater-weather range at 32º F — and I'd guess that would decline further as temps kept falling.
The RS E-Tron GT leaves you excited for the EV future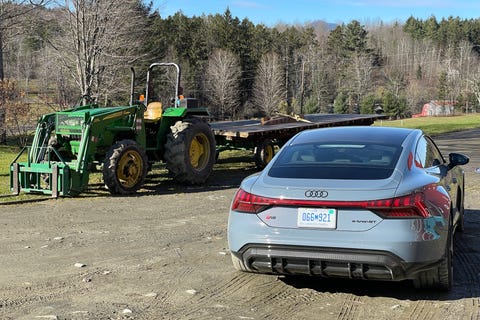 But the RS E-Tron GT is so good, even those issues don't feel like dealbreakers. Sure, long trips involve more planning than they would in, say, an RS 7 — which, with a 19.3-gallon fuel tank and real-world highway fuel economy of around 25 mpg, can knock out around 475 miles on a fill-up (and offers far more places to power back up once its fuel is exhausted).
But the E-Tron GT's power delivery makes it a whole other type of speed machine — instantaneous, ballistic, mind-bending — at the same time as it coasts along emitting little more than noise (and microscopic particulates from its tires, but let's not think too hard about that). Like the Taycan, it splits the line delightfully between sports car and sedan; while its steering may not be quite as sharp as the Porsche, you do get more power for your dollar with the Audi, and its button-rich interior is arguably easier to use. Plus, as much as I like the looks of the Taycan sedan, the E-Tron GT's appearance manages to be even more arresting from most angles to my eyes. (If only Audi would do an Avant version to go along with the Taycan Sport Turismo...)
In an odd way, the RS E-Tron GT reminded me of a car that never existed but I always wished did: a four-door-coupe version of the Bentley Continental GT, something to split the difference between the two-door grand tourer and the brilliant-but-limo-esque Flying Spur. Like that hypothetical Bentley, this Audi offers both occasional room for four and ample cargo space, a comfortable ride, mind-bending acceleration and a level of driving fun you don't expect from a car weighing more than 5,000 pounds; it just so happens to be electric, too.
Now, President Biden: how soon can we get all those new fast chargers you promised?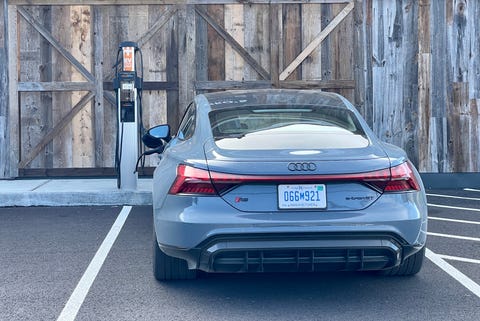 Base Price: $143,445
Powertrain: 93-kWh battery and dual electric motors; single-speed gearbox in front, two-speed gearbox in rear; all-wheel-drive
Horsepower: 590 (637 for short bursts in Boost Mode)
Torque: 612 lb-ft
Efficiency: 79 mpg-e city, 82 mpg-e highway
Seats: Two adults and two more small people
The Porsche Taycan GTS Sport Turismo Is a Station Wagon Stunner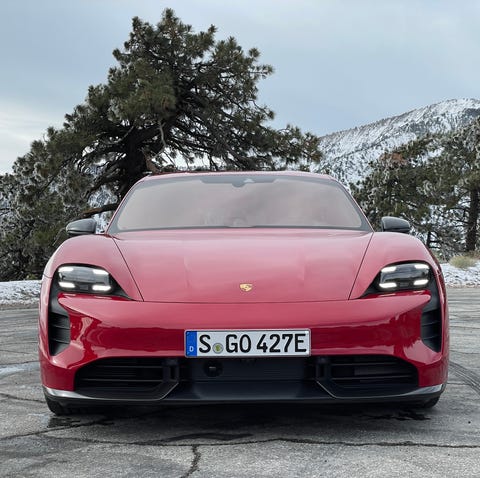 The fact that it's electric is just icing on the cake.