The E-Tron GT Is a Taste of Audi's Tomorrow
Audi's new electric sport sedan isn't qute what you might expect, but it is a preview of what's to come.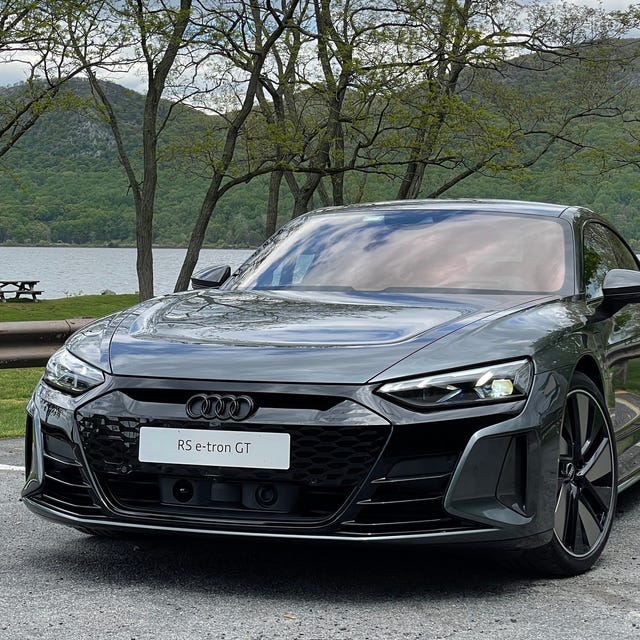 At first, the Audi E-Tron GT's name might lead you to believe it's a version of the E-Tron all-electric crossover. After all, adding a suffix is usually how carmakers differentiate different sub-models and trim levels; Audi already offers its EV SUV as the E-Tron and E-Tron Sportback, so why not an E-Tron GT?
Alas, your gut would be misleading you. The E-Tron GT is, in fact, an entirely separate model — a low-slung sedan with the looks of a sports car concept. (Indeed, it's almost identical to the concept version that debuted at the 2018 L.A. Auto Show and had a brief cameo in Avengers: Endgame.) And unlike the E-Tron SUV — which can easily be confused for one of Audi's other, internal-combustion crossovers at a glance —once you see it, there's no mistaking the E-Tron GT for anything other than what it is.
The E-Tron GT's two flavors parallel the Taycan's trims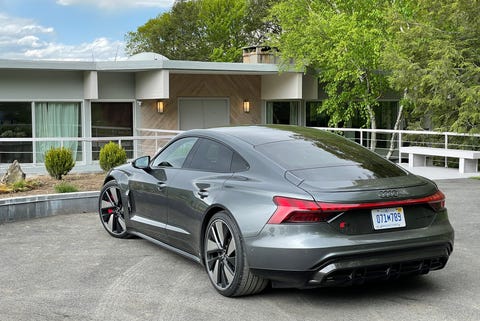 At launch, the Audi E-Tron GT comes in both regular and RS versions: the former makes 469 horsepower and 465 lb-ft of torque with 522 hp and 472 lb-ft in boost mode; the latter spits out 590 hp and 612 lb-ft, with the former figure temporarily climbing to 637 hp in boost. Either way, power flows to all four wheels via two electric motors (one for each axle), with the source of it all a 93-kWh battery.
If that sounds vaguely familiar, well, that's probably because it's close to the Porsche Taycan 4S and Taycan Turbo. The 4S Porker with the larger battery pack (which, let's face it, everyone is likely to choose) makes 482 hp and 479 lb-ft in normal operations and 562 hp in launch control mode; the Turbo makes 616 hp and 626 lb-ft in continuous use, with 670 horses available for a few hot seconds of launch control. Likewise, while the EPA ranges differ a tad, the Audis and Porsches will likely turn in similar real-world results; expect around 230-250 miles in mixed use as a ballpark estimate.
Opting for the Audi does bring with it a slight price break in return for its slightly diminished power; the base model E-Tron GT Premium Plus starts at $101,530 to the Taycan 4S Performance Battery Plus's $110,720, while the E-Tron GT RS's $141,540 is more than $10K less than the Turbo's $152,250.
But this Audi is no Porsche clone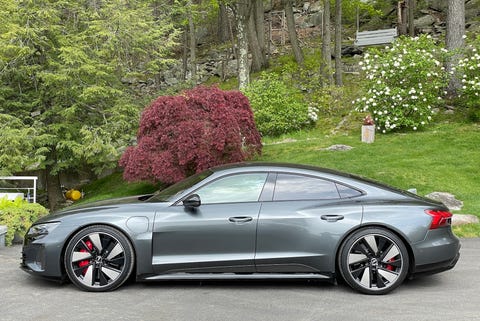 If that has you wondering why we even bothered driving the Audi since the Porsche exists, well, hold your horses. The bones may be the same, but these two electric cars have very different characters.
Two or three sharp turns is all it takes for the Audi to reveal itself as a softer, more cosseting car than the Taycan. While the Porsche has the sharp-edged reflexes and super-responsive handling you'd expect of what amounts to a four-door electric 911, the Audi feels more in line with an S8 than an R8 — capable and grippy beyond the limits most would explore on the street, but more compliant than combative. The body bobs and rolls more than the Taycan's; the nose dives more under braking and rises more under thrust. (And, for the record, I was driving the E-Tron GT RS, whose sporty mission is made clear by those last two letters on its name.)
That said, you'll be bobbing back and forth under the sheer amount of acceleration force produced by the motors, too. You don't even need to call up launch control and squeeze every last pony out of it to feel the thunder; shove the accelerator to (hell, just towards) the floor at any speed you'll encounter in daily driving, and the E-Tron GT RS shoves you back into your seat hard and fast enough to stun. Indeed, after 45 minutes of very spirited driving pushing the car as close to its limits as I'd ever dare do on a road, I had a bit of a headache from so many blasts of instant acceleration. Clearly, electric cars of this performance level require a bit of sensory recalibration. (And damn if doing so isn't fun.)
The interior is surprisingly low-tech, but no complaints here
If you just saw the interiors of the E-Tron GT and, say, the current A6/S6/RS 6 Avant family berefit of other context, you could be forgiven for thinking that the latter, not the former, was Audi's new technological flagship. After all, while the Sixes boast a pair of shiny touchscreens that handle almost every control, the new electric four-door has but one touchscreen and a complement of good-old-fashioned buttons. The control for the volume and tuner is even more dated-looking; it bears an awful resemblance to the old iPod Click Wheel.
That said, apart from that slightly fidgety stereo clicker, the rest of the secondary controls are easy to figure out and quick to recall. Those hard buttons mean you can depend on muscle memory to, say, adjust the temperature, turn on the defroster, change drive modes, etc. Your mileage may vary, but personally, I find these sorts of layouts superior to the all-screen-everything tact being chosen by more and more carmakers these days. Even the best touchscreens can't match the physical feel of individual buttons. Going back to the button-stravaganza of cars of the late Aughts isn't ideal, but a compromised proposition like the E-Tron GT — where controls that are touched the most still get real buttons — seems an ideal solution.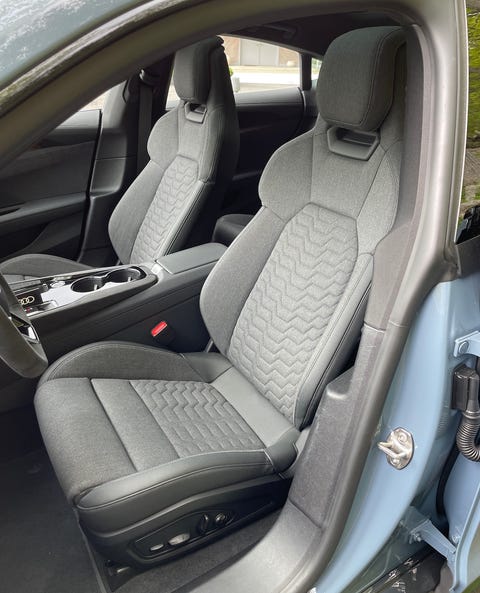 The rest of the cockpit is the usual Audi-chic mix of elegant, slightly futuristic design and quality materials. Sadly, the sweet cloth seats on this European-spec E-Tron GT aren't bound for the U.S., but the expanse of unlacquered walnut across the dash comes standard.
No matter what upholstery they're wrapped in, though, the front seats are comfortable and supportive. The feel from the driver's seat is cockpit-like, with all the controls at easy reach, even if there's still decent legroom for the tall folks out there.
It may have four doors, but the rear seat is, uh, compromised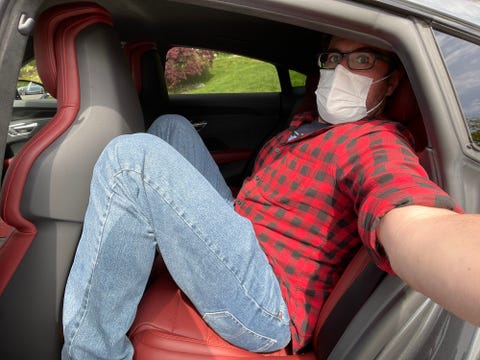 That said, like the Taycan, rear seat room is not exactly expansive. Anyone considering trading in an RS 7 for an E-Tron GT RS thinking it'll be an electric replacement will find the second row more restrictive; if they're tall enough that they need to push the driver's seat all the way back, the space behind them shrinks to the point of being largely unusable by adult humans.
The E-Tron GT points one way, but the path forward may another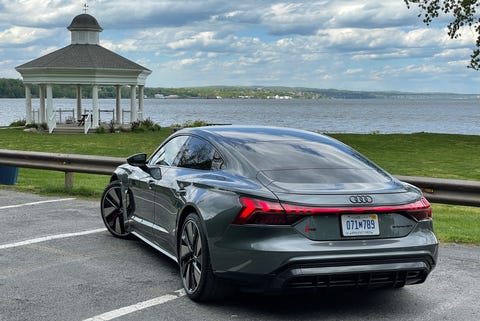 The E-Tron GT represents the tip of the spear for Audi's electrification efforts — yet at the same time, the carmaker has seemingly begun to indicate that it might plan on wielding a poleaxe instead. While it and the E-Tron SUV both suggest a world where Audi's EV models would have their own identities, the carmaker has since already moved on to rolling out new electric models that exist in the same ecosystem as the internal-combustion models. The Q4 E-Tron may be more closely related to the VW ID.4 than the gas-powered Q3 or Q5, but the name leaves no doubt as to where it lies in the hierarchy.
So where, then, does that leave the E-Tron GT? While the E-Tron sport-ute twins seem destined for a rebranding as the Q6, the new four-door doesn't quite fit into the lineup so neatly. It's too small inside to be an electric A7, too big outside to be a battery-powered A5 Sportback, and too soft to be an EV R8. It feels more like a new interpretation of a gran turismo than anything else; more than once, I kept thinking how well it would work as a Bentley Continental GT four-door coupe.
But ruminating about the future generations of a brand-new car — especially in this turbulent day and age — means getting way out over your skis. Here in 2021, at least, the E-Tron GT is what it is: an incredibly stylish four-door coupe that celebrates what electric cars can be and gives people something new to lust over that just so happens to be powered by batteries instead of a screaming V10 or several turbocharged cylinders.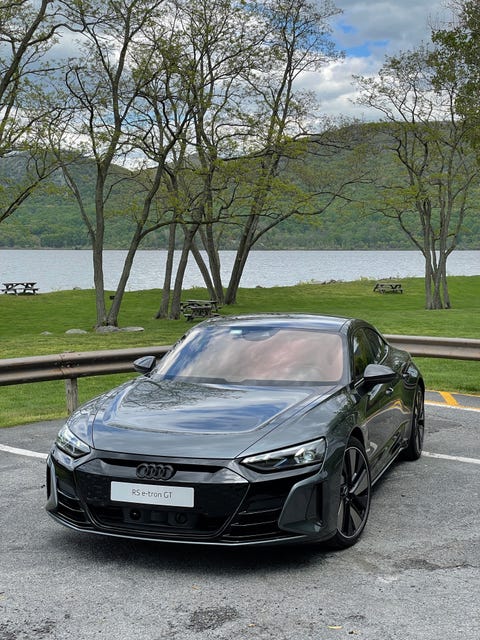 Base Price: $101, 540
Powertrain: 93-kWh battery pack; dual electric motors; single-speed gearbox up front, 2-speed gearbox in rear; all-wheel-drive
Horsepower: 469 / 522 in boost (base model); 590 / 637 in boost (RS)
Torque: 465 lb-ft / 472 lb-ft in boost (base model); 612 lb-ft (RS)
Expected EPA Range: 238 miles (base); 232 miles (RS)
Seats: Let's say four if two are short
Want to Buy a Camper Van? Here Are the Brands You Need to Know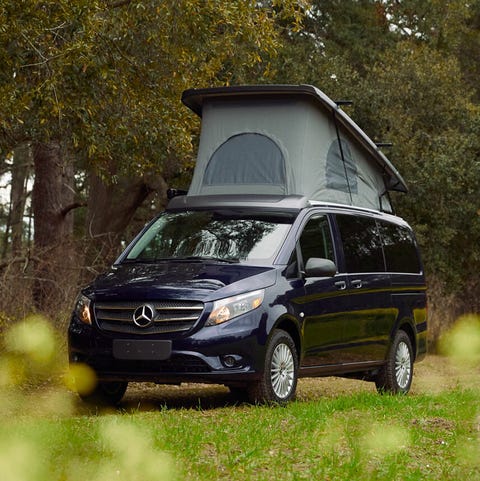 Europeans and Aussies get many of the best camper vans. But there are still some great options you can buy in the United States.