Rolls-Royce's Black Badge Models Are the Rollers You'd Buy If You Could
The perfect seventh car for your garage.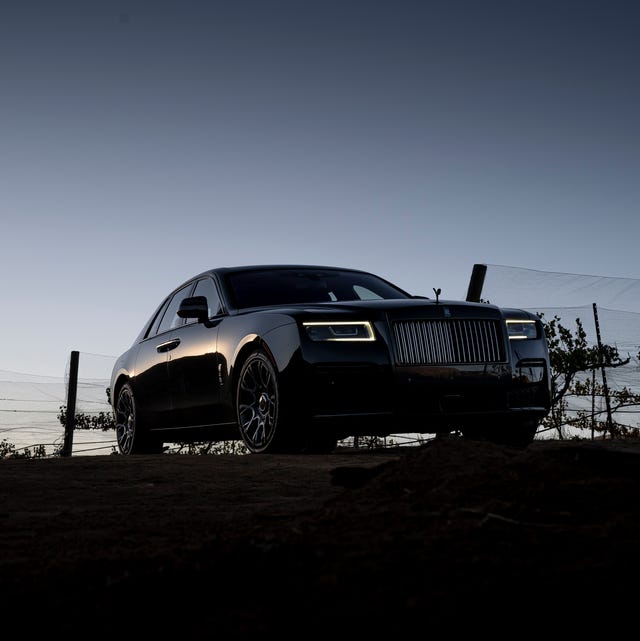 Let's face it: Odds are good you're never going to buy yourself a new Rolls-Royce.
Even if you have the money, well, they're rare. In 2021 — the company's best year for sales ever, mind you — Rolls-Royce sold just 5,586 cars to buyers from all around the world. In other words, for every one Homo sapiens who had a new Ghost, Phantom, Cullinan, Dawn or Wraith parked in their driveway, there were 1,387,934 who didn't. Break it down to simple statistics, and you're more likely to be hit by lightning in a given year than buy a new Rolls-Royce.
Of course, that never stops people from dreaming. (Hey, the odds of winning the Powerball are still way, way less in your favor, and we still buy tickets.) That, however, brings up the second point about why you're unlikely to buy a Rolls-Royce: if you're a Gear Patrol reader, you probably don't think about the brand all that often. Even if you have half a million to splurge on a ride, you're more likely to covet something super-speedy (a Ferrari 812 GTS, a Lamborghini Aventador SVJ, a Porsche 911 Turbo), sleek and sporty (a Bentley Continental GT Speed, an Aston Martin DB11) or burly and badass (a heavy-duty pickup and an off-road camping trailer, a killer overlander, a Rivian R1T and $420,000 in home solar panels) than a rolling bank vault with a magic carpet ride designed for smooth cruising and imperious entrances.
There is, however, a type of Rolls-Royce that has much more appeal to folks like you — a younger, hipper clientele than the Grey Poupon, House of Lords set: the Black Badge collection.
To show off what Black Badge is all about, the kind folks at Rolls-Royce brought a group of journalists out to San Diego to take a spin in the new Ghost Black Badge — the latest Roller to boast the collection's leminscate-bar ornament, otherwise known as an infinity symbol over a line. (I took to referring to it as "infinity and beyond," a joke the Rolls-Royce people did not take kindly to.)
"Black Badge" doesn't mean "black car"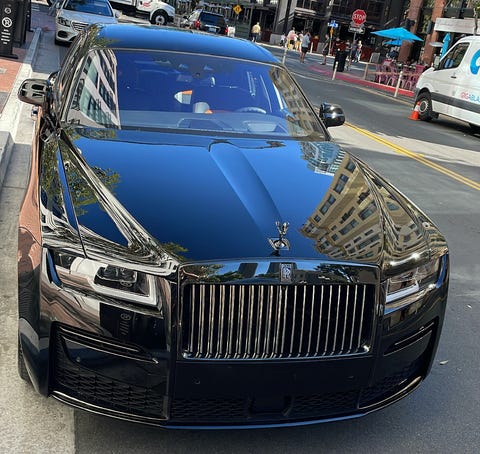 The Ghost Black Badge that I spent a day with notwithstanding, Rolls-Royce's Black Badge cars come in all sorts of colors. Indeed, many of the boldest shades in the brand's portfolio of 44,000 paint colors are found on Black Badges. (Or, of course, you can design your own color for a price. You can do almost anything at Rolls-Royce for a price.)
Still, should you opt to make your Ghost Black Badge une voiture noir — as most buyers so far have — you'll wind up with a car covered in 100 pounds of paint to create what Rolls calls "the motor car industry's darkest black."
Instead, Black Badge means an edgier Rolls-Royce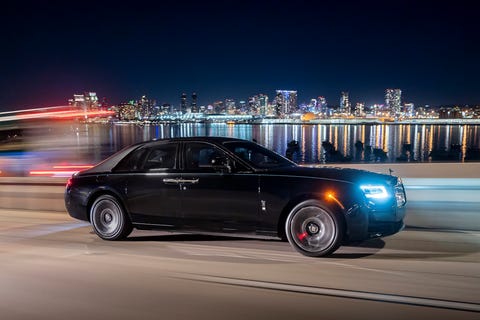 What is blacked out, however, is the chrome, courtesy of a chrome electrolyte one-hundredth as thick as a hair applied on the trim. The mighty Parthenon grille and the Spirit of Ecstasy ornament that pops out of the hood are both rendered in dark metal, a change that looks way more menacing and impressive than in pictures, where the shine can obscure the darkened nature of the reflective material. (In spite of Rolls-Royce's remarkable levels of customization on offer, there's no way to get that blacked-out chrome on non-Black Badge models, according to the carmaker...though I imagine they could be convinced with a ludicrous amount of cash, of course.)
The Ghost Black Badge even offers carbon-fiber wheels, made from 22 layers of the wonder material that are then folded back on themselves like the steel of a samurai sword — not for weight-saving performance reasons, of course, but just because they look bitchin'.
Black Badge cars are (a dash) sportier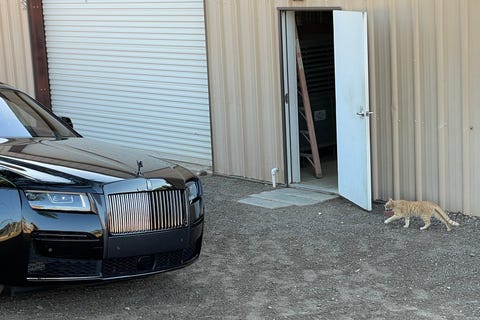 No Rolls-Royce is liable to have cat-like reflexes, but then again, there are plenty of other car dealerships to bring your Halliburton full of cash if you desire a car like that. What the Ghost Black Badge does offer is a more dynamic feel from behind the wheel, thanks to its ever-so-slightly stiffer, faster-responding air suspension and a little extra power from its twin-turbo 6.8-liter V12 versus the regular Ghost.
There's a trick to making the most of the Ghost Black Badge's capabilities: clicking the pencil-thin gear selector into "Low" mode. If, like me, you grew up on a car with an old four-speed automatic, your first thought likely is, Wait, why would I want to lock the car into low gear — well, worry not, because that's not what Low mode does. Think of it instead as a less-gauche Sport mode — one that prompts faster shifts and more aggressive responses. It doesn't make the Ghost into a Flying Spur, let alone an M5, but it does make for a bit more driving excitement than you'd probably expect.
A Black Badge Rolls-Royce is still a Roller inside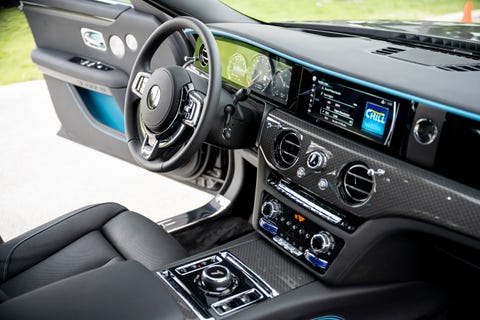 As I found during my brief first drive of the Ghost back in 2020, it's much more of a driver's car than most folks would expect from a car bearing the Spirit of Ecstasy on its prow. So it's not too surprising that the driver's seat is, in fact, the best of the bunch. You sit a bit higher than you might expect, but that's offset by the surprisingly high beltline; plop the seat down low, and you feel like a cat sitting on the floor of a canoe.
Every surface your fingers touch feels like it's made from cold-pressed money, from the hectares of cowskin (fun fact: there are no new Rollers without leather, not because they couldn't do it, but because buyers have never asked) to the oily perfection of the movement of the controls. If your environmental sensibilities somehow consider hide acceptable but wood trim an affront to Mother Earth, Ghost Black Badge offers "Technical Carbon veneer," which so far as I can tell is very nice carbon fiber.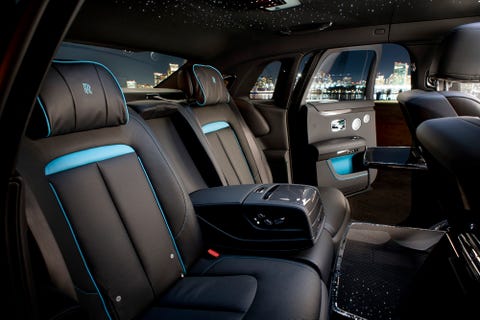 The backseat, however, is still very much the delightful place to stay. (Rolls made sure we journalists noticed as much by making sure to chauffeur us from the airport and to and from dinner in the same cars we were driving.) Legroom, surprisingly, isn't first-class palatial — you should buy Phantom for that — but it's still copious enough that long trips will be more pleasure than pain, especially if you pop off your shoes and sink your toes into the thick-pile carpet.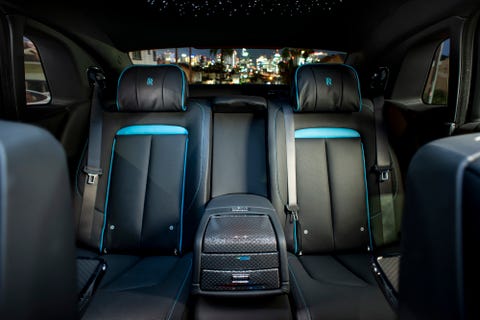 Luxury is all about the details, and Rolls-Royce excels at nailing them. Opt for accent trim, and the pops of color hidden to and fro add depth to the interior. Fit and finish is as impeccable as you'll find in any passenger car; it would take more space than I care to use to share all the examples, so I highly suggest reading the brand's own description of it.
The Starlight Headliner seen here may seem like a silly indulgence, but from the backseat, it adds a touch of delight to the ride at night — especially when you notice that it even has simulated shooting stars flying across the skyscape. (Plus, you can have the "stars" arranged into any constellation you want, which makes me hope some nerdy owner has used them to draw the starship Enterprise.)
Cullinan, Ghost are the only two models to currently offer Black Badge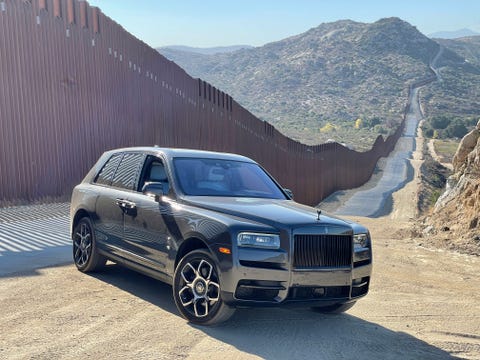 As of 2022, your options for buying a Black Badge Roller have diminished to two: the Ghost sedan and the Cullinan crossover. The Wraith coupe and Dawn convertible are no more, having gone over to the other side now that the previous Ghost they were based on has been succeeded (don't worry, they'll be back in some form eventually). The Phantom, by Rolls-Royce's own admission, isn't the sort of car that warrants a Black Badge version. The forthcoming Spectre EV coupe seems likely to offer it, however.
The Cullinan does indeed kick dirt off-road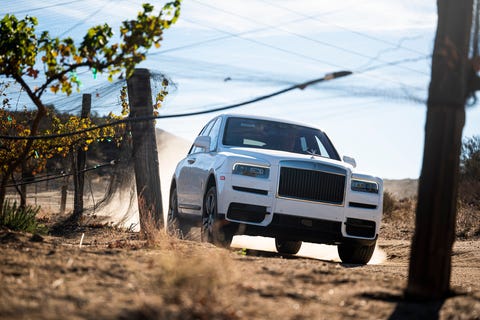 I only had a brief chance to take the Cullinan past the beaten path, at a winery abutting the border wall between the United States and Mexico. Still, that burst was enough to prove that the Cullinan was plenty capable of navigating the whoops and hillocks, including a couple of steep climbs and descents — which, in all honesty, is probably about as far off-road as any owner will actually take it.
Rolls packs plenty of technological wizardry into the SUV to help make that happen — including forward-scanning cameras that help the suspension preventatively compensate for road imperfections, even when there isn't a road — but ultimately, it's the good old-fashioned combo of four-wheel power and ride height that matter most. It's worth dialing up off-road mode on the drive controller just for that extra 1.6 inches of height it prompts the air suspension to offer.
In a nutshell: the Black Badge cars are Rolls-Royces for cool kids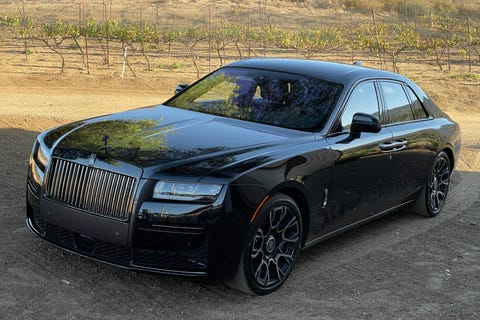 In a statement, Rolls-Royce CEO Torsten Müller-Ötvös described the Black Badge collection in delightfully hyperbolic terms: its customers are "rule breakers" and "risk takers" who "reject suits for streetwear, use blockchain not banks and influence the analogue world through their digital endeavours," who demand an "alternative, more edgy Rolls-Royce persona;" Black Badge, in turn, was "[the only] way to capture the lifeforce of this mysterious identity," "a color so powerful that many artists, engineers and scientists believe it is so much more than just a color, that it should not be referred to as a color at all. BLACK."
Sift that through your pan long enough, and you'll find the truth of the matter: Black Badge is how the carmaker aims to capture a new generation of luxury buyers. Remarkable as it may sound, Black Badge customers have the youngest average age of any brand in the BMW group — including Mini.

It's hard to say what the future holds, these days seemingly more than ever. Suffice it to say, though, that whatever comes next for Rolls-Royce, it'll involve plenty of Black Badges to help reinvigorate the 115-year-old brand for the next century. You may never own one...but the more Black Badges there are going around to draw the gaze, the more you might want to.
2022 Rolls-Royce Ghost Black Badge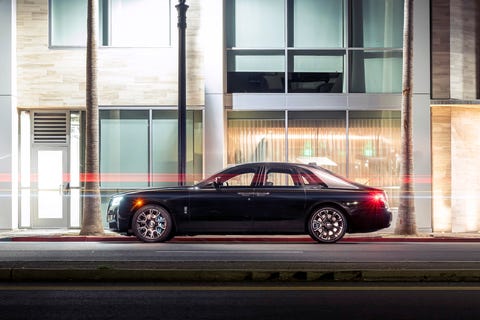 Base Price: $376,350
Powertrain: 6.8-liter twin-turbo V12; eight-speed automatic; all-wheel-drive
Horsepower: 591
Torque: 664 lb-ft
EPA Fuel Economy: Pssh, that's irrelevant
Seats: Four
2022 Rolls-Royce Cullinan Black Badge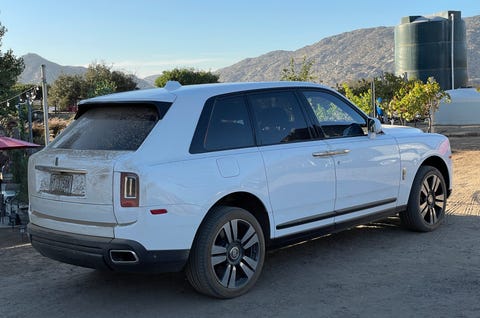 Base Price: $382,000
Powertrain: 6.8-liter twin-turbo V12; eight-speed automatic; all-wheel-drive
Horsepower: 591
Torque: 664 lb-ft
EPA Fuel Economy: Let's just say it's good you own ExxonMobil stock
Seats: Four, and two facing backwards on the trunk lid at a polo match