Every product is carefully selected by our editors. If you buy from a link, we may earn a commission.
The Rivian R1T Is Everything You Hoped It Would Be
Capable on- and off-road and loaded with clever ideas, Rivian's new pickup redefines what a truck can be.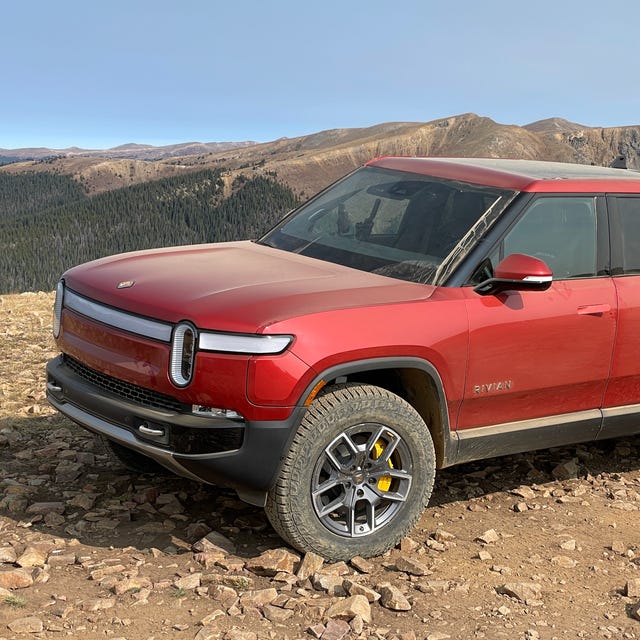 Normally, when it comes to reviewing a new car or truck (or really, any other product), the first thing you have to ask yourself is, what else could I buy that does the same thing? After all, a big part of evaluating something is judging its value — and doing value inherently tends to involve comparing it to other methods of performing the same task.
But how, exactly, does one review something that doesn't have any direct competitors? Something that doesn't just find a new niche, but redefines an existing paradigm?
How, for example, do you evaluate a pickup truck that makes more power and torque than a Ferrari 812 GTS or McLaren 765LT, and can sprint off the line like them — but can also keep up with a Land Cruiser off-road? One that offers more closed lockable storage space than most sedans? One that offers a built-in kitchen? One that can travel from New York to Boston in a straight shot without using a drop of gasoline — or ever use fossil fuels at all?
Now do you see just how interesting the 2022 Rivian R1T is?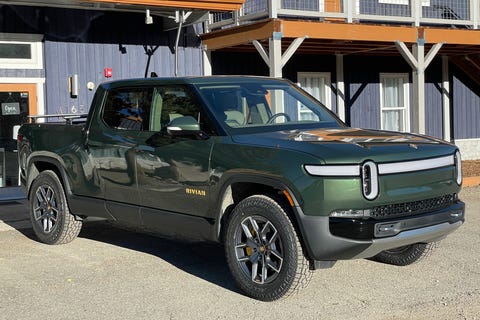 From stem to stern. As Rivian's first product to hit the streets, the R1T introduces the world to the company's design language, its technological savvy, its clever packaging ideas and its all-electric powertrain — all the traits that, if the company has its way, will enable it to become to the adventure vehicle market what Tesla has become to the premium car world.
What makes the Rivian R1T special?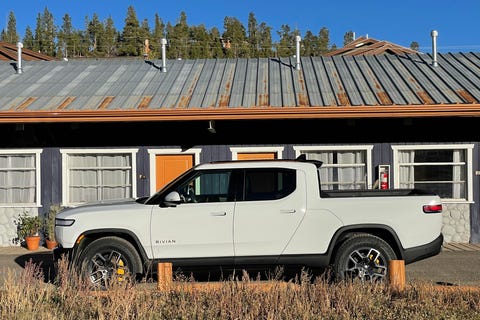 Well, uh...basically everything. Starting from a clean sheet of paper meant Rivian was able to think about things differently than other carmakers, unburdened by existing platforms or parts or suppliers or architectures. There's one electric motor per wheel — twice the number most all-wheel-drive electric cars boast. Not only does the EV design mean there's room for a frunk big enough to hide a person where an ICE motor would go, but Rivian squeezed in a hidden pass-through between cabin and bed that's big enough to hide a second human — and added yet another space under the bed floor to stash a full-size spare.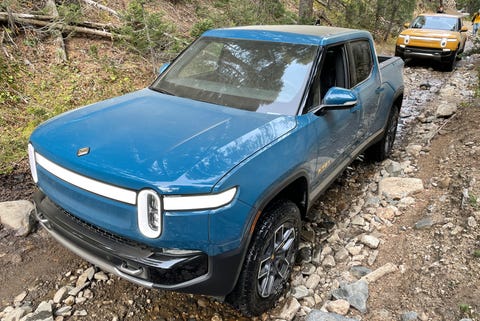 That expansive LED light bar stretching across the front? It's not just there as a daytime running light; it doubles as a charging indicator when the R1T is plugged in, so you can know with a glance from the house when the battery has been topped up. The bed is on the short side, but the tailgate extends on gooseneck hinges to stretch further back in order to make it long enough to carry a dirt bike.
Hell, the key fob has a built-in carabiner loop. It's almost easier to catalog the ways the Rivian isn't unique than the ways it is.
What's the Rivian R1T like to drive?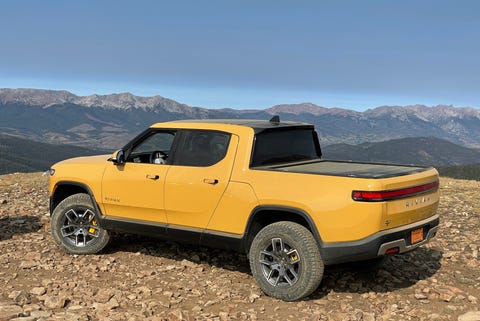 Let's start with on-road driving — because while our first drive experience was mostly spent off the beaten path, the vast majority of R1T drivers will spend the vast majority of their time driving on pavement.
With 838 horsepower and 908 lb-ft of torque whipped up by the combined output of four electric motors capable of snapping to full attention at zero rpm, you'd expect the R1T to be, well, beastly quick. I certainly did — only to then be reminded that the truck weighs in at about 7,000 pounds before even a soul climbs aboard. Electric motors might be more compact than internal combustion engines, but battery packs are still a long way from matching the energy density of gasoline — and the R1T's giant power pack weighs as much as a NA Miata.
Still, much like a Nimitz-class aircraft carrier, there's enough power here to make that mass seem inconsequential. Rivian claims a 0-60 mph time of three seconds flat; my one brief launch from a standstill resulted in an informal time of about 3.5 seconds, but that was with off-road tires, up a slight incline, with four adults and their carry-on luggage aboard. I have little doubt that, shorn of 600 extra pounds of human and cargo and wearing stickier road tires, it could close in on that three-second figure.
As with all super-potent EVs, though, the rolling acceleration impresses just as much as the jump from a stop. Goose the go pedal at any speed from a crawl to highway motion, and the R1T leaps forward like a dog after a flying tennis ball. It's thoroughly addictive — the sort of feeling that'll likely lead many a buyer to wonder how their remaining range dropped quite so quickly.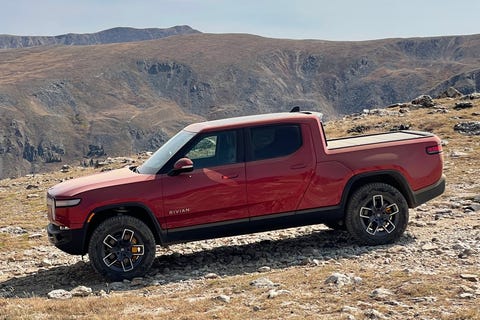 Speaking of range, as that's still the million-dollar question when it comes to EVs: the EPA claims the R1T Launch Edition (which I drove, and, while sold out, is basically identical to the upper-trim Adventure model) can do 314 miles on a charge. That said, I didn't come anywhere close to being able to see that for myself, because every R1T I climbed into started out with around two-thirds of a full charge. Upon starting out, the R1T I spent most of the time in registered 147 miles remaining with 63 percent left in the battery; extrapolated out, that worked out to 233 miles of total range. The on-board computer, meanwhile, suggested that, at full charge, the R1T would pack about 270 miles of range. Rivian has promised they're going to send the trucks out for journalists to test at home soon; once they do, I'm planning to try a real-world range test and see just how far it'll travel in real life.
(One note: after the battery dips below roughly 40 percent, the R1T will start reducing max power to the motors, so your acceleration may start to wane. It's never enough to make the truck feel outright slow — just less peppy than at full power.)
The R1T also impresses when the road starts to bend — at least, its responses are impressive for a pickup truck wearing mud-ready tires that weighs in close to four tons with people and cargo aboard. Credit goes to the combination of air suspension — which also has the benefit of raising and lowering the truck from a little more than eight inches of ground clearance to as much as 15 inches above the ground — and the cross-linked active hydraulic dampers that replace a conventional active roll bar, which enable both the tamped-down body motions you want on the road and the articulation needed for off-roading. And if "cross-linked hydraulic dampers" sounds familiar, well, that's because it's the same type of system McLaren uses in lieu of an anti-roll bar in cars like the 720S.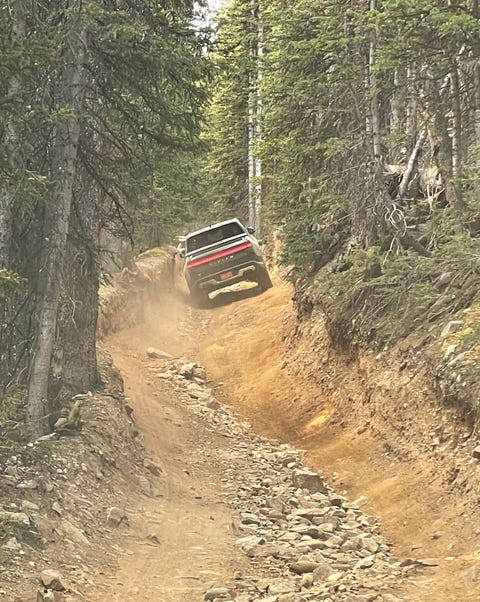 Going off-road reveals a whole new set of tricks, however. Traditional off-roaders might think, at first blush, that the R1T seems ill-equipped for taking the road less traveled by; after all, it doesn't have a low-range transfer case, solid axles, a disconnecting anti-roll bar or any number of other pieces of gear long considered a requisite for serious off-roading.
But as we found during several hours of navigating up, across and down the peaks around Breckenridge, the R1T's combo of electric motors and clever programming basically means, well, you don't need any of that. Just switch it to Off-Road Mode, feather the accelerator and try to keep the sidewalls from being punctured by anything. That's it. No fussing with features or feathering clutches or guessing when to shift or loading up torque converters; just point and squeeze. What Tesla did for on-road performance — humbling conventional carmakers with the potential of electric mobility — Rivian does for off-roading.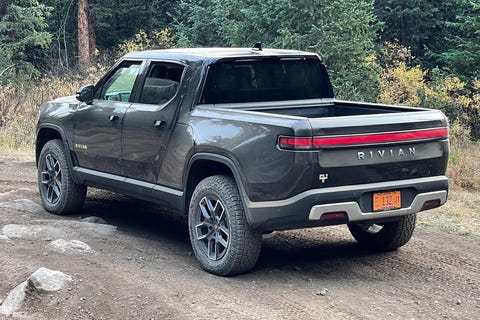 As I pointed out in the first drive of the Jeep Wrangler 4xe, there's something rather magical about off-roading under electric power; without the distractions of revving engines and the stink of exhaust, it's easier to feel immersed in nature, rather than just humanspreading across it. Of course, with the Rivian, that's true to a greater degree, because it's always without internal-combustion clatter or stink. Sitting at "idle" on a trail or crawling along at low speeds, a group of R1Ts makes no more racket than a group of mountain bikers.
Our pre-production test vehicles even lacked the added low-speed pedestrian warning sounds that most new EVs have, which meant the only sounds of low-speed driving were the same sort of crunching noises you'd get while hiking. (Should Rivian wind up being forced into adding this, as I'm betting they will, I'm hoping they'll find a way to disable it for off-road use.)
Indeed, our convoy of seven or eight Rivians proved so quiet, we managed to sneak up on a pair of extremely fluffy mountain goats who were hanging out atop a 12,000-foot peak, getting close enough to snap decent iPhone photos of them from inside the truck. I can only assume that wealthy mountain lions will soon begin lusting after Rivians as a way to stealthily close in on their prey.
What's the Rivian R1T like inside?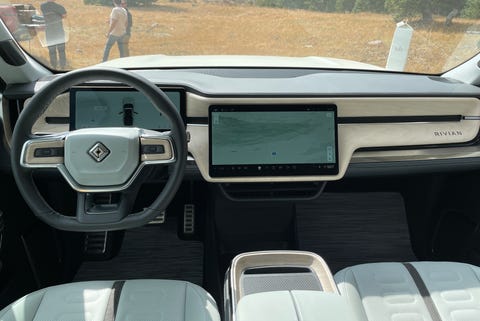 Futuristic — but not aggressively so. Like most high-end new vehicles today, climb aboard and you're greeted with high-resolution screens for instrument panel and infotainment system alike. The latter is a 16-inch touchscreen designed largely in-house, with crisp, clear displays and intuitive menus. I wouldn't hate it if buttons for the climate control and other key features were a bit larger — trying to poke them while on the move involves taking eyes off the road for longer than I'm comfortable with, especially if the truck is bouncing around — but overall, it's one of the better such systems on the market.
One big whiff, though: the R1T lacks both Apple CarPlay and Android Auto. When asked about it, Rivian reps demurred — before pointing out that the R1T does offer both Spotify integration and full Amazon Alexa capability. Which you'd expect...given Amazon's massive investment in Rivian. I'm not sure whether Jeff Bezos laid any pressure on the carmaker to leave Google and Apple's car-centric tools off the R1T, but regardless, here's hoping it's something Rivian corrects with an over-the-air software update before long. There's a reason almost every car today offers CarPlay and Auto: they're extremely helpful, and people want them.
Storage is ample, as you'd expect of a pickup truck today — especially one without a transmission tunnel or driveshaft hump intruding into the cabin. I was able to cram several jackets into the slot on the floor between driver and passenger; you could likely squeeze a small Yeti soft cooler in there without much trouble. And if you need to power up your phone, fear not, as the R1T is laden with chargers and power ports: six USB-Cs, four 120-volt three-prong outlets, three 12-volt cigarette lighter-style ports, and an inductive charger on the center console that can juice up two phones at once.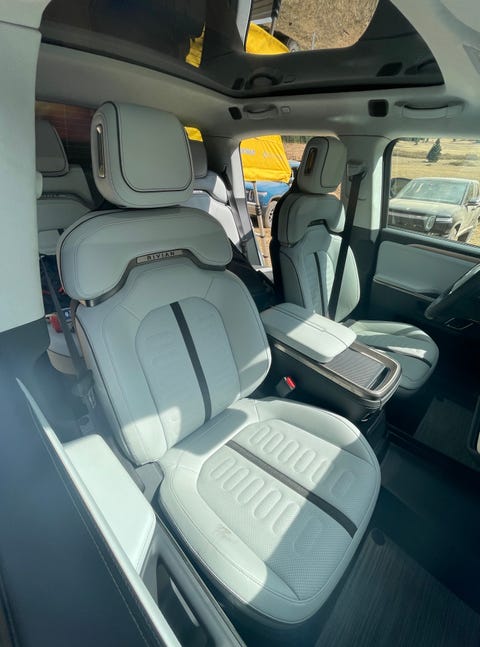 The seats are covered in animal-free material, but you wouldn't know it to sit on them unless you interned at Schott back in college; they feel as soft and comfortable as the sort of leather you'd find in most pickup trucks today. The seats are supremely comfortable, apart from the spot between shoulder and torso where the design-forward lack of soft material pokes into your back a little.
And remarkably, in spite of the R1T's tweener proportions — it's somewhere between a midsize and full-size truck — the back seat is big enough for someone of my six-foot-four height to sit behind someone else of my height. Admittedly, it's not as cavernous as a crew cab half-ton or heavy duty rig, but then again, the second rows of those trucks equal or surpass S-Classes in terms of space; the R1T is more in line with what you'd find in a midsize crossover. Combine that with the full-length all-glass roof, and you get a back seat that feels comfortably open and airy.
Wait, hold up — can we go back to that part about the kitchen?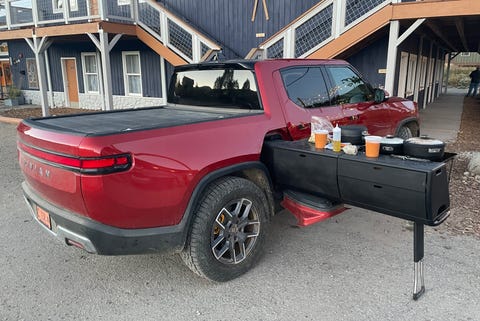 It's called the Camp Kitchen, and it'll run you $5,000. Opting for it means you also score the Gear Shuttle that slides in and out of the Gear Tunnel behind the cabin (otherwise a $1,500 option), but you're not locked into always using the two simultaneously; the kitchen breaks down into a couple pieces around the size of midsize speakers — small enough to be lifted up fairly easily.
The twin burners of the stove pack up to 1,440 watts of power, enough for most cooking tasks, while the sink packs four gallons of water in reserve (and yes, there's a pump to run the sink). Plus, the kitchen also comes with a gorgeous 30-piece Snow Peak cookware set, with custom-designed cork slots for all 30 items to keep them secure. Point is, five grand might seem like a lot, but if you're actually the kind of person who likes to cook while camping (or tailgating, or whatever), the Camp Kitchen seems likely to make life much, much easier.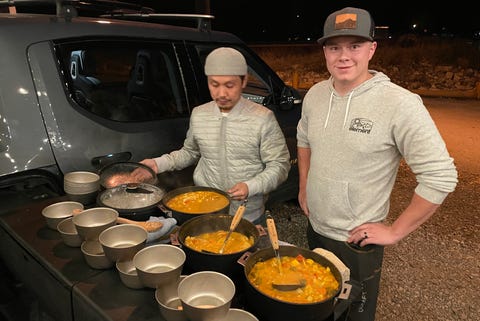 To prove the validity of the concept, Rivian's PR folks put their money where their mouth was and made both lunch and dinner for the assembled mass of journalists on the kitchen. Granted, they brought along a couple of excellent chefs (as pictured above) to prepare the food, but the point remains: the kitchen's dual induction stovetops were more than potent enough to whip up big, bubbling pots of chili and taco filling for 20-plus hungry journalists. (And trust me: automotive journalists can eat.)
What does the Rivian R1T compete against?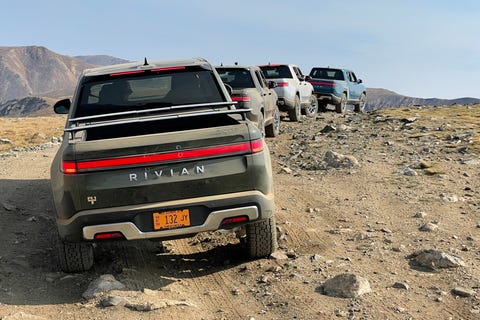 Aye, there's the rub: as mentioned at the beginning of the story, the R1T doesn't really have anything that it goes directly against. In size and body type, it almost seems like a Honda Ridgeline competitor; in price, comfort and technology, its closest foe would seem to be a Ford F-150 Limited PowerBoost; in power, it smacks straight up against the likes of the Ram 1500 TRX. But none of them can really match the innovative nature and electric powertrain of the R1T.
The closest rivals in the near future are likely to be the other two most-anticipated names in electric pickup trucks: the Ford F-150 Lightning and the Tesla Cybertruck. But the former is at least half a year away, and seems aimed more at winning traditional pickup buyers over to electric power than trying to battle Land Rovers and Jeeps (and Broncos) in the adventure vehicle realm, while the latter...well, only God and Elon know what's happening there.
How much does the Rivian R1T cost?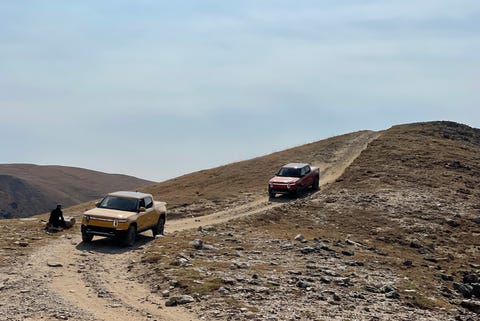 If you simply want to bring home an R1T for as low a price as possible, you'll want the Explore trim, which starts at $67,500 versus the Adventure's $73,000 starting price. You won't be lacking for power or tech; both trims of the R1T deliver identically on those aspects. The differences are aesthetic and cosmetic: the Adventure swaps in elegant open-pore wood trim for the matte black plastic of the Explore, adds a Meridian-developed audio system, and brings heating and ventilation functionality for the vegan "leather" seats.
Of course, keep in mind that starting price is before any federal or state tax credits come into play. Unlike Tesla, Rivian's models are still eligible for the $7,500 nonrefundable federal tax credit, which could bring the Explore down to an even $60K. Buy it in California or New York, and you can knock an extra $2,000 off that; get it in New Jersey, and you'll bring it down to $55,000 (and also manage to escape sales tax).
Even at full retail, though, the R1T feels like a bargain. No other truck packs quite such a combination of features — insane on- and off-road performance, zero-emissions capability, remarkable storage capacity, cutting-edge tech — so being able to get all that for the price of a well-equipped F-150 or a midrange Land Rover Defender seems downright remarkable. How history judges Rivian remains to be seen, but if the R1T represents what they can really do...well, odds are good we'll be speaking their name a whole lot for the next decades to come.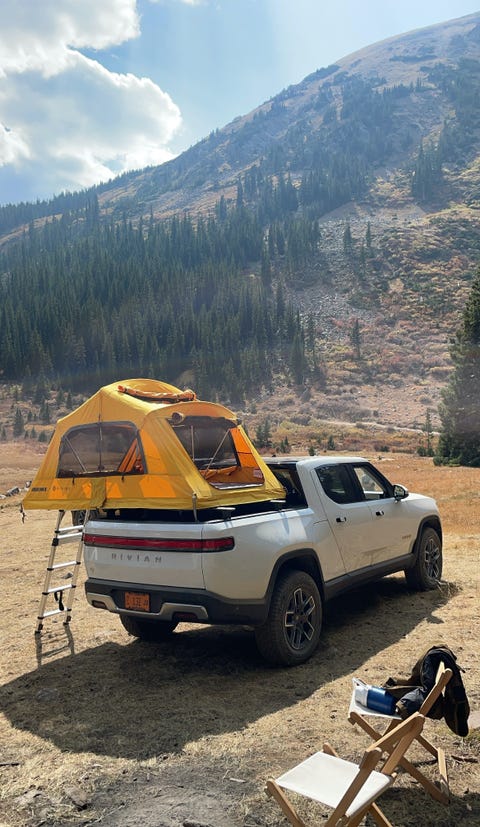 Base Price / Price as Tested: $67,500 / $77,300
Powertrain: Quad-motor electric drive; single-speed transmissions; 135-kWh battery pack
Horsepower: 836
Torque: 908 lb-ft
EPA Efficiency: 74 MPGe city, 66 MPGe highway, 314 miles of range
Seats: Five, plus several more in the gear tunnel, frunk and bed when parked
The Electric Cars We're Most Excited to Drive in the Future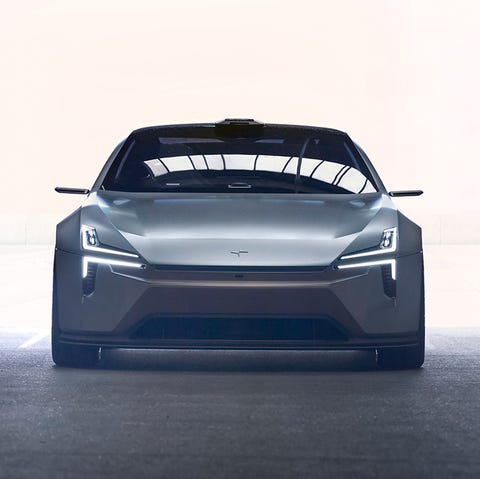 The next few years will be packed with new EVs. These are the ones that have us jazzed the most.