The 2022 Nissan Frontier Pro-4X Review: Modern Style, Old-School Charm
Nissan's midsize pickup leaves the Dane Cook era behind...mostly.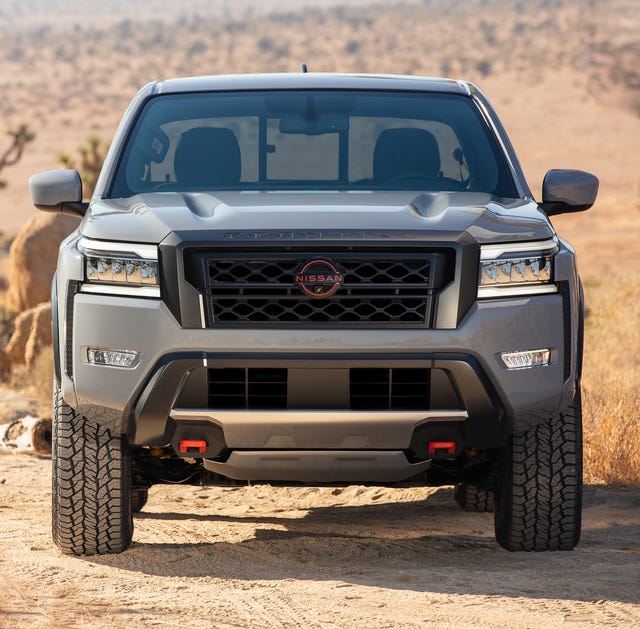 What is the Nissan Frontier?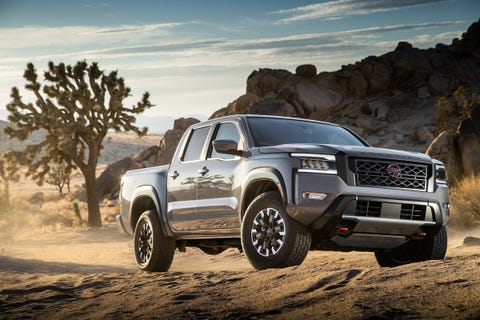 The Frontier is Nissan's body-on-frame midsize pickup truck. It's smaller and cheaper than Nissan's full-size Titan — and outsells it by a wide margin.

Is the 2022 Frontier new?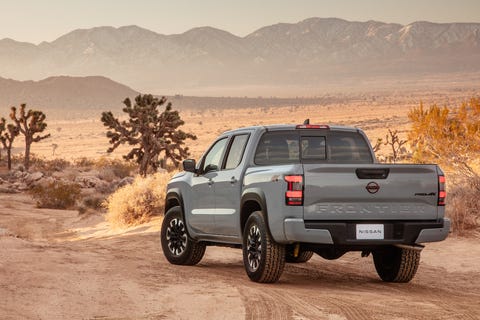 Nissan's new Frontier is here, whether you were seeking it or not. It's officially an all-new third generation, but calling it "all-new" may be a bit of a stretch.
Sure, Nissan modernized the superficial components to make occupying the Frontier feel less like you traveled back in time and one of your flared jeans-wearing buddies is going to pop in a Dane Cook CD. But the Frontier carries over the same platform as the previous model — which, again, is ancient.
And that new 3.8-liter V6 is not technically new. Nissan trotted that engine out as a late second-generation facelift back in 2020.

Why is this Nissan special?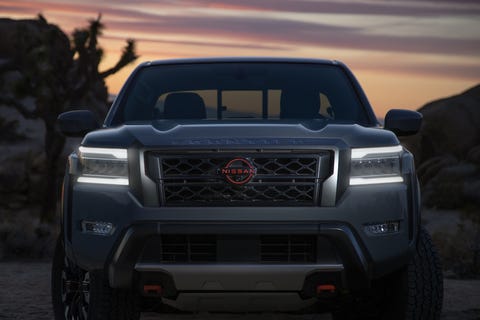 The Frontier's appeal has long been, well, not being overly special. For decades, it has been a dependable, reasonably capable, affordable, and not fussy pickup. It's still that. But for 2022, it looks cooler, with boxy good looks cribbed from
the refreshed Titan and a modernized interior.
Throw in a better powertrain and transmission than the Toyota Tacoma and you've got a competitive truck — if not a revolutionary one.
How does the 2022 Frontier drive?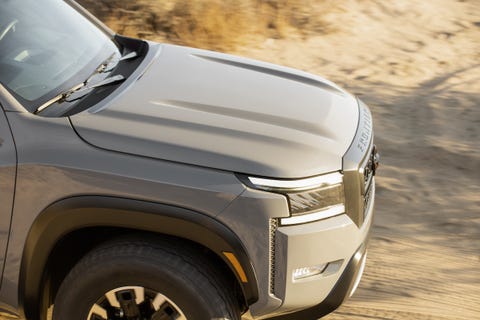 The Frontier is very much a traditional truck. But given that constraint, it drives pretty well. Nissan rushed out that new engine and transmission before the new model was ready — because it's game-changing. You get substantial power, compared with the anemic old motor, and the nine-speed automatic operates imperceptibly — whereas, in an automatic Tacoma, the transition clunks are the most notable part of the drive.
The Frontier's on-road ride feels composed, if not overly polished. It cruised smoothly down the highway during a family trip to downtown Detroit without undue road noise. It was the perfect size for maneuvering on tight side streets that would have been iffy in a full-size rig. I didn't get the chance to thoroughly test the Pro-4X's Bilstein shocks, skid plates and locking rear differential. But I did plow assuredly through two significant snow events in 4-Hi.

My only real complaint was the steering, which felt a touch or three too heavy. And that naturally aspirated V6 is thirsty; the fuel economy is still below 20 mpg combined.
What's the new Nissan Frontier like inside?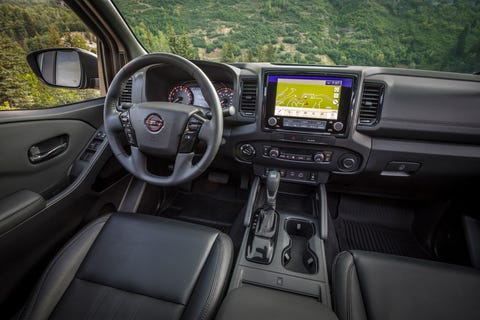 The third-gen Frontier brings the interior up to code for a modern midsize truck. The steering wheel looks about two decades newer than the old one, while the center console receives a larger touchscreen and a cleaner layout. Multiple family members also commented on the optional Pro-4X leather seats.
There are some disappointments when you dive in. The steering wheel doesn't telescope, which left me with sub-optimal arm extension for the week. And godspeed to the Pro-4X buyer who spends $40,000-plus and gets to explain to their partner why only the driver seat has power adjustment.
The back seats are quite vertical and not overly comfortable; I wouldn't want to sit back there for a long drive. The climate control system can also get loud, which I found out trying to take a work call while defrosting my windshield.
How much does the Nissan Frontier cost?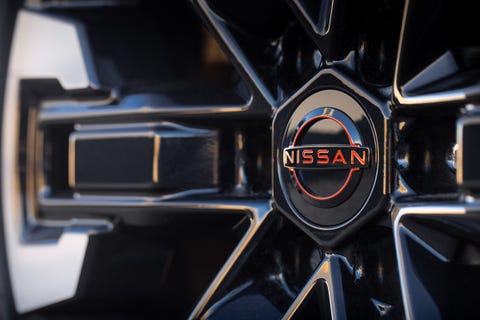 Starting MSRP for the new Frontier is now $28,840, after ditching the cost-saving four-cylinder version and the manual transmission. The PRO-4X trim starts at $37,240; my tester came out to $46,570 with the destination charge included.

Much of the added expenditure was essential, in my opinion. The Pro Premium Package ($2,790), Pro Convenience Package ($1,990) and Technology Package ($990) added necessary features. For some savings, I would skip the silly-looking Sport Bars ($1,095) and the Off-Road-Style Step Rails, which will be glorified mud and snow collectors.
What are some Nissan Frontier alternatives?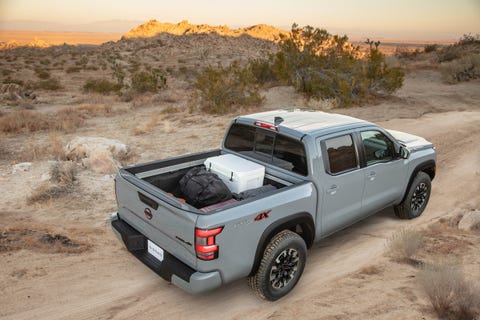 2022 Nissan Frontier Pro-4X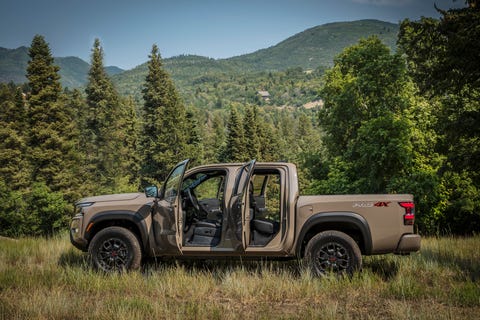 Powertrain: 3.8-liter V6, nine-speed automatic, 4x4
Horsepower: 310
Torque: 281 lb-ft
Ground Clearance: 9.4 inches
EPA Fuel Economy: 17 mpg city, 22 mpg highway
The 2024 Toyota Tacoma: Here's Everything You Need to Know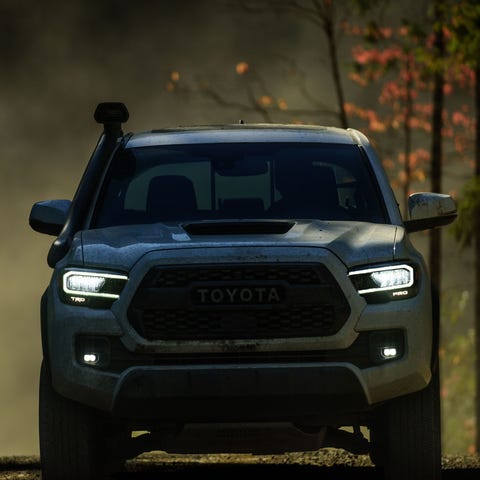 What we know so far about the most-eagerly-awaited midsize truck.