The 2022 Toyota Tundra Is All New and Far Better for It
At last, there's an all-new Tundra.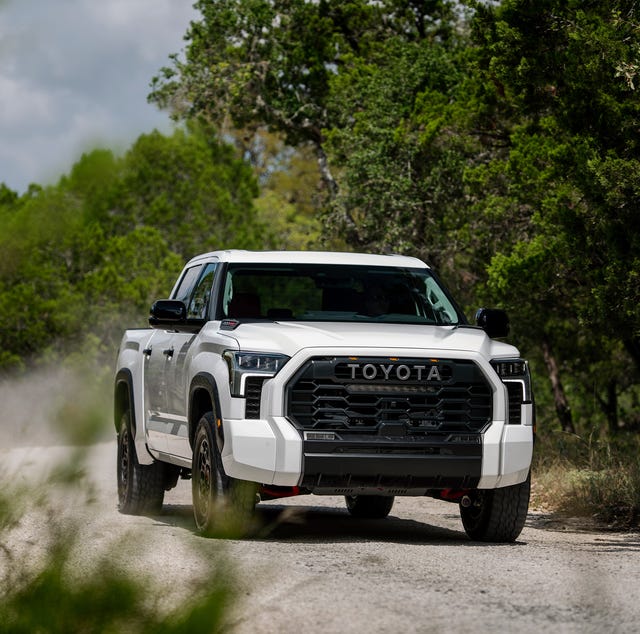 After many, many years of letting their full-size truck rest on its laurels, Toyota has finally overhauled the Tundra. The brand's third-generation half-ton pickup is all-new for 2022.
Seriously, it's been a while since "all-new" was uttered in relation to that truck. The second-generation entered production way back in November 2006 — the same month Microsoft launched their long-awaited iPod-killer, the Zune. Those of us paid to expend words about the Tundra have long since exhausted their thesauri coming up with novel ways to call it ancient and outdated.
The Tundra has been an anomaly for Toyota. Unlike much of the rest of its lineup — RAV4, Corolla, Camry, Highlander, Tacoma, 4Runner — the Tundra hasn't been a completely dominant sales success. It has earned high marks for its toughness and durability, with multiple vehicles hitting a million miles, and its throwback ride quality was not without its charms. But the mid-2000s were much simpler times, for both life and truck production; the aging Tundra had been lapped multiple times by its competitors. Ford, it should be noted, has revamped the F-Series three times since we last received a new Tundra.
Toyota invited me out to San Antonio, Texas to sample the new Tundra in its natural habitat. As one would anticipate with a complete redesign after so long, the new generation is a night and day improvement. The Tundra is not the F-150, but it is a damn good, legitimately competitive modern truck. And with the way Toyota branding can resonate with truck buyers — the 4Runner and Tacoma are some of America's best-selling vehicles — the Tundra could finally make an impact beyond its niche audience.
The 2022 Tundra ditched the V8. The V6 engines are better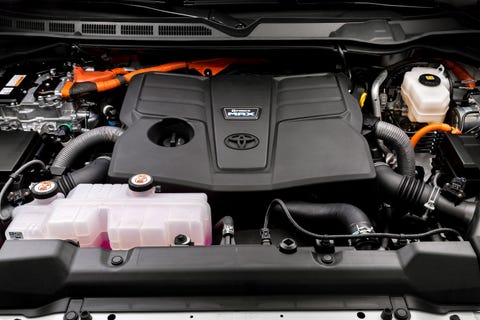 The Tundra, believe it or not, is now ahead of the curve on engines. The Japanese brand has become the first major truck manufacturer to abandon the V8 completely — Ford still offers a nominal one for the F-150.

The base model Tundra plant is now a twin-turbocharged 3.5-liter V6, which puts out 389 horsepower and 479 lb-ft of torque, a bump of 8 hp and 78 lb-ft from the departing V8. The i-Force Max hybrid upgrade ratchets that peak torque up more than 100 lb-ft to 583 lb-ft, delivers it at just 2,400 rpm — and eliminates the turbo lag.
Both engines deliver ample grunt. The 10-speed automatic transmission is so smooth and intuitive it shifts nearly imperceptibly. I can't recall it putting a foot wrong over a full day of driving. Both V6s even offer a bit of a growl, though that may come with a dash of artificial enhancement. If you're thinking the hybrid will behave like a Prius, don't. It's basically a powerful low-end performance enhancer.
Turbocharging may be the more controversial change than losing the V8. Central to Toyota's quality, durability and reliability reputation has been using simple, well-trodden, naturally-aspirated powertrains. Adding turbos naturally adds stress and complexity. What that will do over time is an open question.
The counterpoint is, Toyota seldom if ever does anything rashly. They understand what their buyers want. And this isn't an untested engine; Toyota has been working on a structurally similar 3.5-liter V6 since it began developing the fifth-generation Lexus LS sedan, which arrived for 2018. Rolling the twin-turbo V6 out in the Tundra, the new Land Cruiser and (potentially) the new Lexus LX now suggests it's ready to meet Toyota standards.
A new frame and suspension dramatically improve the Tundra's ride quality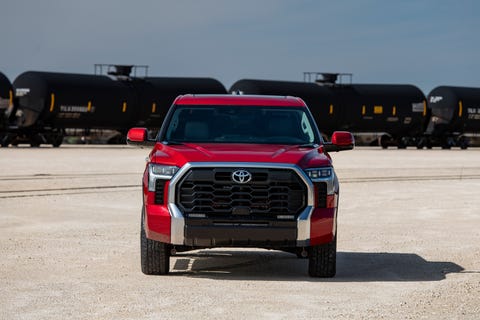 The second-gen Tundra was not unpleasant to drive, but by 2021 standards, it was sloppy. Soft steering. A lot of body roll. A palpable heaviness ladened much of the driving experience.
The new third-generation Tundra cleans all of that up. Toyota switched the Tundra to a new fully boxed ladder frame that is 20% more rigid. They also followed Ram's lead with a coil-sprung multi-link rear suspension that dramatically improves ride quality. The new Tundra steers, drives and rides like a completely different truck on the road — and that was noticeable from my first turn out of the parking lot. If the old Tundra was your classic meaty, road-grader style offensive lineman, the new Tundra is a 2021-style, super-athletic guard who was all-state in basketball in high school, has great footwork and specializes in pulling out on option plays.
Toyota made a leap forward on efficiency...to catch up with everyone else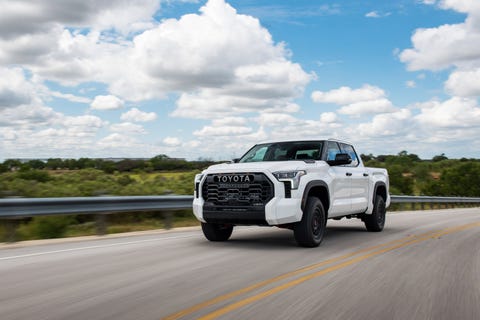 The Tundra and every other Toyota vehicle packing the old 5.7-liter V8 had something in common: they were some of the least efficient vehicles you could buy. Switching to a turbo V6 and a hybrid should yield considerable improvement, but we don't have the official EPA numbers yet. Toyota expects a 20-mpg combined rating for the base engine, which would see the Tundra slide in just ahead of the V8 Silverado and Ram 1500.
I spent a lot of time in multiple stints driving the base engine, mostly on 55 mph Texas farm-to-market roads. I averaged around 18 mpg, mostly in normal roads. Toyota only had a few hybrids available and our time in them was rationed; I averaged about 16 mpg with the i-Force Max in two half-hour spells. Not transformational efficiency improvements, but better.
The Tundra seems characteristically handy off-road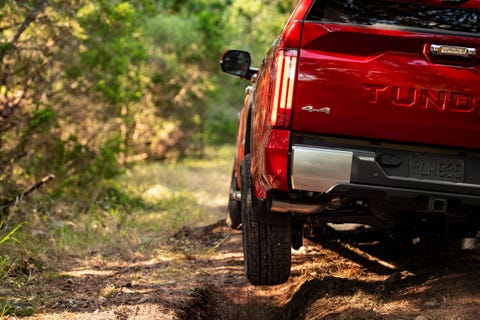 Off-road performance is an inherent part of Toyota truck enthusiasm, and the Tundra brings it. Toyota gave us a short off-road course for testing: there was an uphill rock event, logs, some uphill and downhill grades and a brief articulation section. Only one part required a spotter. Nothing required locking the differentials. It wasn't enough to give the trucks a true challenge, but it showed they could handle far more than the terrain could offer them. Events looked more impressive when watching other trucks on the course than they felt while doing them yourself in such a large stable vehicle.
I drove the course twice, once in the flagship TRD Pro and once in a mid-grade Limited trim with the TRD Off-Road 4x4 package. Like the 4Runner and Tacoma, the TRD Pro offers higher-performance FOX shocks instead of Bilsteins and nifty features but you don't need it to have a capable off-roader. The new crawl control and the descent control work very well. The terrain camera will be a must-have option if you want to do vigorous off-roading. I felt very blind on my second run without it.
In a disappointment to some, Toyota sticks with 33-inch all-terrain tires on the TRD Pro. You don't get the 35-inch or 37-inch tires becoming common on other flagship super trucks. But Toyota says they will be offering a 3.0-inch dealer-installed lift kit for the Tundra in the near future.
The Toyota Tundra interior is all technical muscle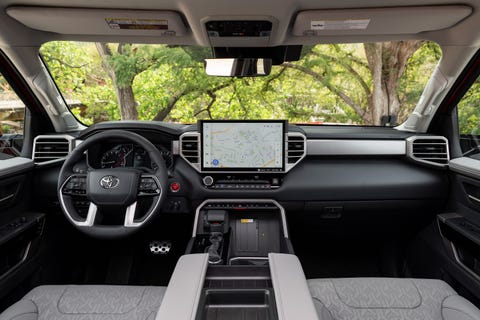 Toyota modernized the interior with a new motif they are calling "technical muscle," which presumably won out over "specialized beefiness." It's a solid, unobtrusive layout, with the controls in rational places. (The wireless phone charger is nifty.) The interior stays the same throughout as you level up, though the fancy tech features and materials improve along the way.
Admittedly, Toyota doesn't get as opulent as competitors — the highfalutin' Ford F-150 and Ram 1500 trims have some of the most sumptuous interiors on the road. But buyers of the high-volume SR5 and Limited Tundras won't feel gipped.
The Tundra welcomes you to the future of Toyota infotainment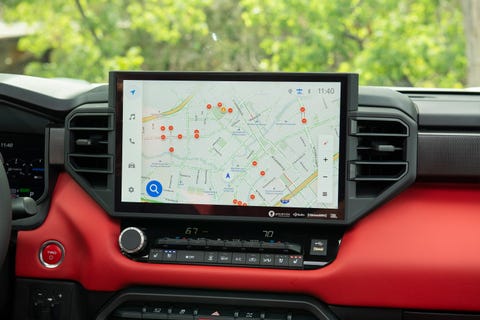 Toyota's infotainment has been laughably bad in the past — to the point Toyota employees crack jokes about it. The Tundra rings in a new era with the generically-named Toyota Audio Multimedia system — developed in-house in America by Toyota's Connected Technologies division. Toyota says the system is distinct from the new Lexus Interface system in the NX. However, it was designed by the same engineers, the features are similar and the distinctions are subtle.
The system features cool, futuristic cloud-based features, like portable user profiles. (I used it for...navigation and switching the radio station.) The 14-inch touchscreen display and maps are a light-year from Toyota's older models. Voice controls work precisely. The truck guided me "home" on more than one occasion and even routed me onto some access roads to avoid Interstate traffic. And all I had to do was yell at it.
How much does a 2022 Toyota Tundra cost?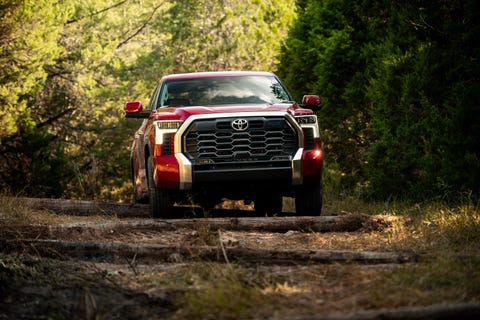 Short answer: we don't know yet. Toyota says it will get into those details closer to the launch, which will be in December 2021 for combustion V6 and spring 2022 for the hybrid. Expect a higher base price than the F-150 — the Tundra doesn't have a single cab work truck version — with a price point topping out below the F-150's $70,000-plus Limited trim.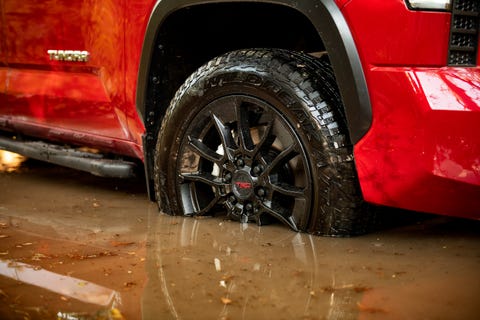 Powertrain: Twin-turbocharged 3.5-liter V6 (V6 hybrid), 10-speed automatic, 4x4
Horsepower: 389 (437 hybrid)
Torque: 479 lb-ft (583 lb-ft hybrid)
EPA Fuel Economy: TBD
Max Towing: 12,000 lbs
Seats: 5
The 2024 Toyota Tacoma: Here's Everything You Need to Know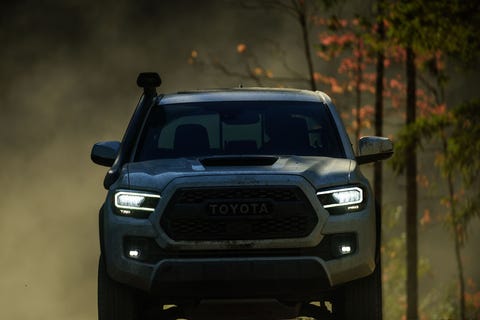 What we know so far about the most-eagerly-awaited midsize truck.