Bentley's Newest Bentayga Is a First-Class SUV for Second-Row Passengers
Even with 542 horsepower on tap, you might still prefer to sit in back.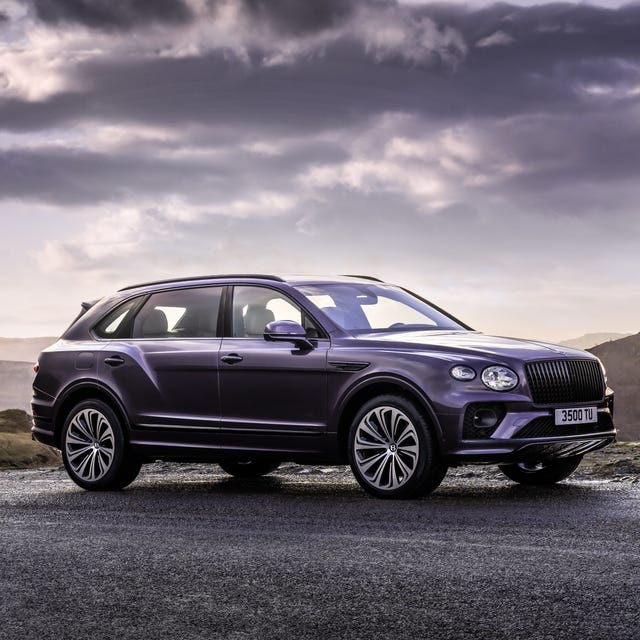 Unlike their once-twinned Rolls-Royce counterparts, Bentleys are really made to be driven. However...that's not to say that they don't also make excellent cars to be driven in. While the Mulsanne sedan may be gone, the Flying Spur makes for an exceedingly delightful chauffeured ride — and so does the Bentayga SUV, the brand's most popular model.
Still, mid-sized and right-sized for many as it is, the Bentayga has a back seat isn't quite as palatial as some who prefer to ride in back might hope. So, to combat that — as well as hopefully keep on the record year-over-year growth that sees the company constantly reaching new heights of sales success — the crew from Crewe is rolling out a new version of their crossover: the Bentayga EWB.
The Bentley Bentayga EWB has been stretched by more than seven inches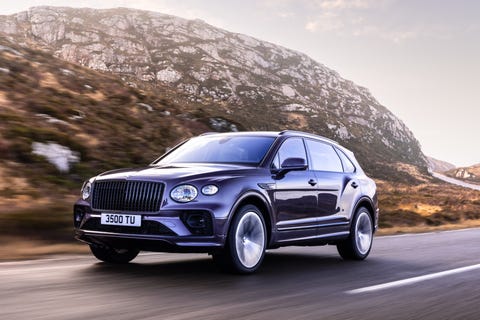 EWB, in case it weren't obvious by now, stands for "extended wheelbase." More specifically, a 7.09-inch stretch, all of which is visible from the outside in the embiggened rear doors.
This Bentayga should still be good fun to drive, though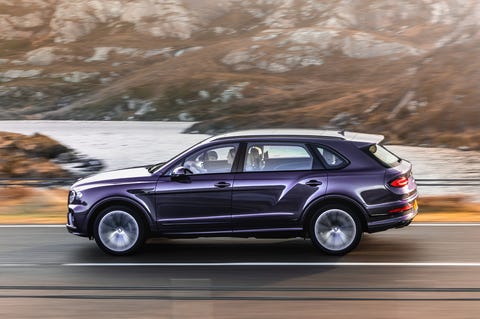 The extended wheelbase model may have some added mass, but it shouldn't slow it down much. Power comes from the familiar 4.0-liter twin-turbo V8, here making 542 horsepower and 568 lb-ft and sending it to all four wheels through an eight-speed automatic gearbox. The 0-60-mph sprint takes a claimed 4.5 seconds; stay in it five and a half seconds more, and you'll be at 100 mph. Keep on the throttle long enough, and you'll stop accelerating at 180 mph. (Oh, and don't be shocked to see a hybrid version follow suit.)
The Bentayga EWB packs plenty of handling tech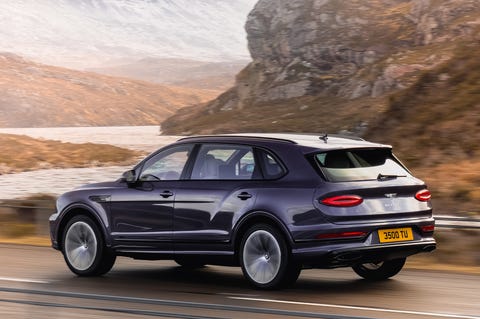 You won't likely confuse this elongated Bentley with a Lotus in the curves, but thanks to its array of clever chassis tech and smart tuning, it should be able to whip through bends quickly enough to unsettle anyone in back. 48-volt-powered electric anti-roll bars, a self-leveling height-adjustable air suspension, four-wheel steering — a first for the Bentayga — and continuously adjustable dampers all join forces to help make it surprisingly agile. (Bentley claims that, thanks to the rear-wheel steering, the EWB version actually has a tighter turning circle than the regular Bentayga.)
Up front, it's the modern Bentley usual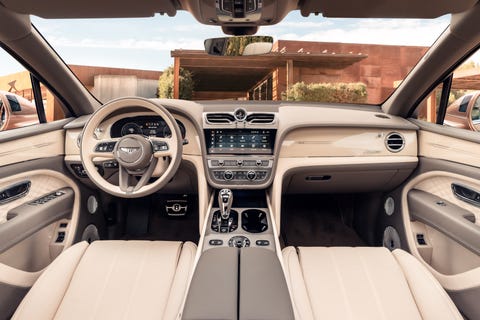 Bentley claims that the Bentayga EWB is available with 24 billion trim combinations alone, and seeing as how we don't have an eternity to check their work, we'll take them at their word. Whichever you choose, however, the front of the cabin will be a delightfully comfortable place.
The Bentayga EWB launches a new type of diamond quilting for the company's leather trim, complete with remarkably tiny perforations, finer threads even smaller micro-stitches. (Bentley's press release boasts a section on leather that's almost longer than this whole article, so if you really want to read more about it, you can here.)
In back, it's first-class cabin all the way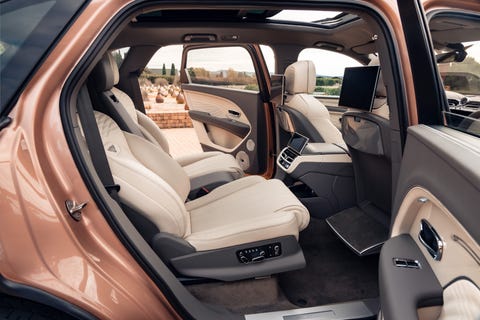 Or rather, private jet cabin, because even Delta One isn't as nice as it is in the rear of this Bentley. With the Airline Seat Specification, the outboard thrones in back each recline up to 40º, making them comfortable for roadgoing naps. When you set your climate control in back, the car constantly monitors your temperature and the humidity to make sure you're at the optimum temp; the seats also constantly, subtly change shape to prevent you from growing sore, helping prevent you from getting stressed.
Of course, there's also the more traditional bits of backseat luxury, like heated, ventilated and massaging seats, ridiculous amounts of legroom and available power-closing doors — y'know, in case you don't have Kareem Abdul-Jabar arms.
Three different rear seat choices are available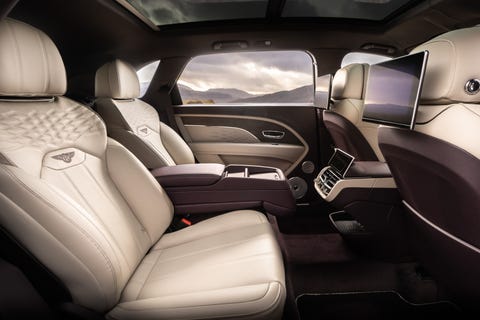 The standard setup for the Bentayga EWB is a four-plus-one configuration, where the center armrest can be deployed as a seat if you're forced to drive around someone you really don't like. If you prefer something a little more traditional — i.e. you want to use your SUV as an SUV and fold down the rear seats — there's a regular five-seat setup on offer; there's also a strict four-seater layout that enables you to spec the on-board champagne cooler and crystal flutes, because let's face it, you deserve it.
The Bentayga EWB is designed for the new world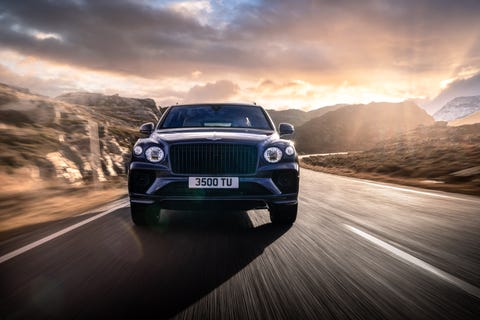 Once upon a time, not so long ago, the masters of the universe rode in the back seats of giant, elegant sedans — like the dearly departed Bentley Mulsanne — and nothing else. While many still choose the likes of the Mercedes S-Class and BMW 7 Series and Rolls-Royce Phantom, like buyers as a whole, they've largely transitioned over to SUVs, and for similar reasons: they soak up increasingly bad roads better, they're easier to climb in and out of, and, simply put, they make you feel more imperious.
The Cadillac Escalade and Lincoln Navigator led this charge, but in recent years, they've been leapfrogged by even fancier big SUVs. The Mercedes-Maybach GLS 600, Rolls-Royce Cullinan and the new extended-wheelbase Range Rover have all led the way to create a more elevated class of high-riding transport for back seat riders. With the Bentayga EWB — which the brand expects will make up around 45 percent of Bentayga sales — Bentley is aiming to prove that it has no intention of giving up on the master-of-the-universe market with the demise of the Mulsanne.
This content is created and maintained by a third party, and imported onto this page to help users provide their email addresses. You may be able to find more information about this and similar content at piano.io