The 2022 Ram 1500 Laramie G/T Packs 2 Features All Rams Should Have
An ode to a better exhaust note and a proper shift lever.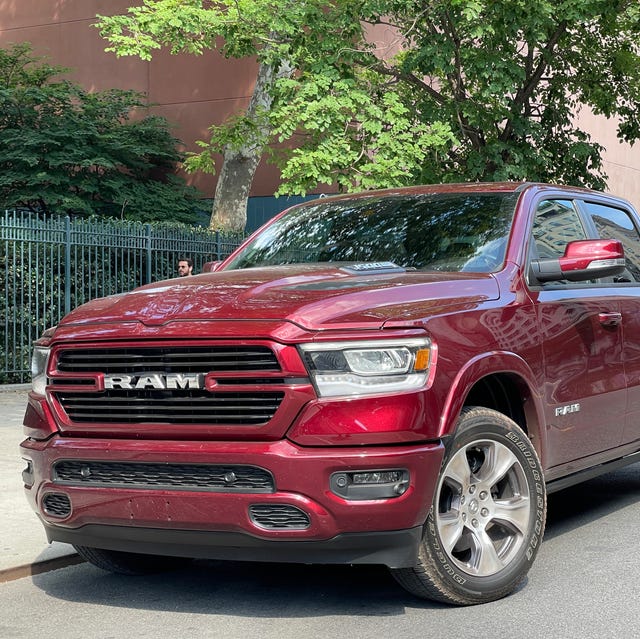 Perhaps no carmaker does quite so exquisite a job finding fun new ways to keep their lineup fresh then Stellantis. Be it Dodge, Jeep, Chrysler or Ram, The Company Formerly Known as FCA is constantly zhuzhing up its cars, trucks and SUVs with bundles of colorways, features and badging that salute everything from first responders to the battle against AIDS to...being outside, I guess.
Take the noble Ram 1500, for example. While it certainly could have simply coasted on its many class-leading qualities (and, y'know, its 702-hp dinosaur themed halo truck) until the new electric Ram shows up to claim supremacy, Ram (the company) has been rolling out tasty treats to keep buyers looking at their showrooms and not those of Ford, Chevrolet, GMC or Toyota.
Sidle over to the brand's website and you'll find six special edition variants listed...but if you read closely, you'll realize that's actually more like eight, as some of them double up across the lineup. Two of those bear the letters G/T at the end of their name...and one of those is the truck I recently spent a long weekend with.
The G/T package brings welcome aesthetic and functional improvements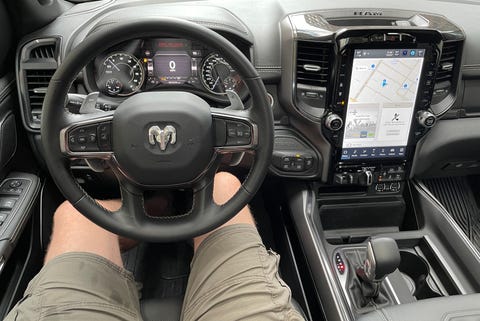 The G/T package — available on both Laramie and Rebel trims, only on crew cab short-bed versions — is, like many of these special editions, largely comprised of bits pulled from the corporate parts bin. The mechanicals are mostly familiar: a 5.7-liter V8 with mild hybrid capabilities, four-wheel-drive, an eight-speed automatic, an optional four-corner air suspension — but the truck also benefits from a few performance-minded add-ons: aluminum paddle shifters and a gear lever with a manual shift gate; Mopar-sourced cold air intake and performance exhaust; an aggressive hood that ostensibly helps the Hemi run cool; performance gauges built into the infotainment screen to track 0-60 runs and the like; and, of course, G/T badging inside and out.
All that is to say, of course, that it drives just like other similarly-equipped Rams: with unexpected smoothness for a full-size pickup truck, both in ride and power delivery. The Hemi V8 is a potent lump, but still not quite equal to the top-shelf motors from GM or Ford in terms of absolute power. And the design — from the inside or out — still stands as perhaps the most handsome-looking truck on sale today.
That said, while the leather bucket seats are certainly nice and the vent-laden hood is fine, two G/T features stand out: the sporty exhaust, and the the sturdy shift lever that rises from the center console. The former brings a bit of old-school muscle car burble to the Ram's exhaust note, which in turn pulls a smile onto your lips every time you tow into the gas with purpose; it doesn't change the way the truck drives, but it might change the way you do. It really ought to be standard on every Hemi-powered Ram.
The shift lever, however, is an improvement in terms of ergonomics. In recent years, carmakers from Audi to Volkswagen have moved away from traditional shifters in favor of electronic ones that use circuits, not physical motion, to manipulate the gearbox. Ram is no exception: the brand moved over to a rheostat-style shift knob nearly a decade ago for most of its trucks. It saves space, and is likely cheaper, too — but there's no disputing the physical lever (taken from the Ram 1500 TRX) is ergonomically superior. You can tell from touch what selection you've made, and there's no groping around when you need to shift in a hurry — say, when making a three-point turn in the middle of a busy street. Plus, while the G/T also comes with paddle shifters, you can use the shifter instead to slam through gears like a rally car driver if you'd prefer; the upshift/downshift gate is even oriented in the proper direction for sporty driving, with upshifts to the rear and downshifts to the front. Sometimes with cars, the sportier choice is also just the sensible one.
2022 Ram 1500 Laramie G/T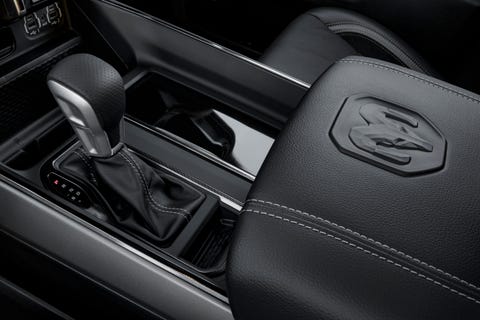 Base Price: $67,760
Powertrain: 5.7-liter mild hybrid V8; eight-speed automatic; four-wheel-drive
Horsepower: 395
Torque: 410 lb-ft
EPA Fuel Economy: 18 mpg city, 22 mpg highway
Seats: Five
The 2022 Toyota Tundra Is All New and Far Better for It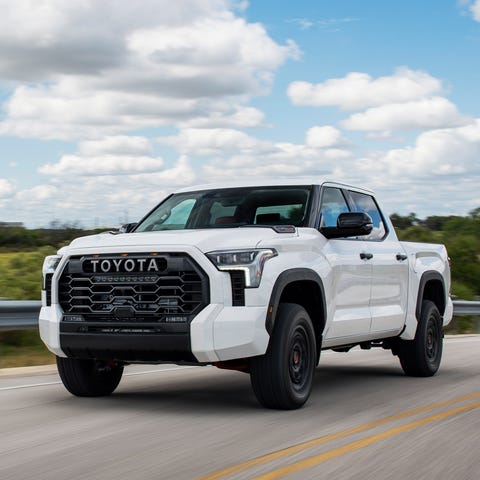 At last, there's an all-new Tundra.