2023 Genesis G90 Review: Stylish, Fancy and Supercharged
All the luxury you want for $10,000 cheaper than an S-Class.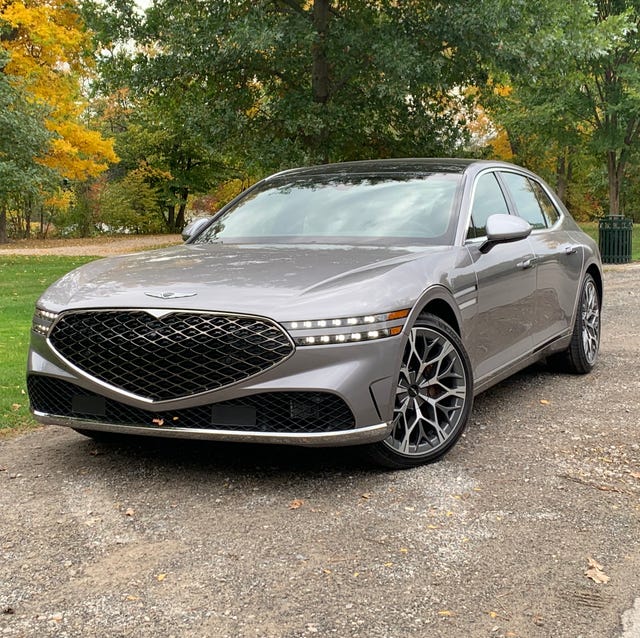 Genesis does not have a full-size, three-row pleasure barge SUV — at least, not yet. So, their flagship model — a bit old-fashionedly as we turn the page to 2023 — is a sedan. The second-generation G90 debuted for the 2023 model year; Genesis brought its style and up to code with vehicles like the midsize G80 sedan and GV80 SUV. (Check out that expansive grille.) And it swapped out the old available V8 engine for a new "e-supercharged" (i.e. it uses electricity, not the engine, to run the supercharger) 3.5-liter V6.

The brand loaned me a full-pelt, supercharged G90 to drive around my home in Michigan for a week, and I would gladly have kept it for a few more. The new Genesis G90 is a great value play and is outstanding at almost everything...well, everything except consuming fuel efficiently.
What's the G90 like to drive?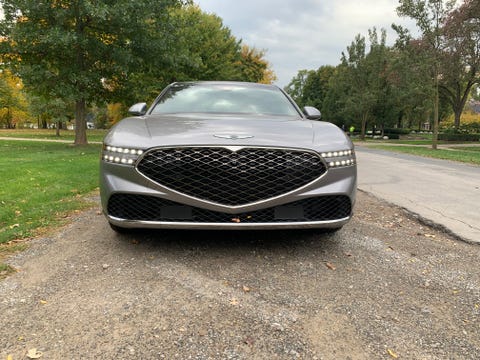 Excellent. The G90 is not particularly sporty, but sportiness is not what a full-size luxury sedan is for. The point is to feel comfortable and insulated while reserving the ability to drop the hammer if required. The G90 delivers on all fronts. And you don't need to cycle through 72 different drive modes to find its best characteristics.

The supercharged engine is potent and smooth, with 409 hp and 405 lb-ft of torque. The eight-speed transmission shifts quickly and nearly imperceptibly. Fitted with the optional air suspension, the G90 eats up rough pavement. Rear-wheel steering makes the G90 feel more nimble in tight spots than expected.
What's the Genesis G90 like inside?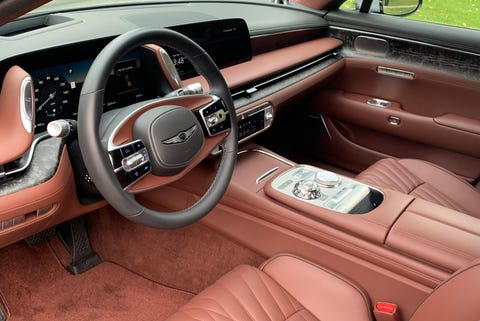 A Genesis must be flashier than its German competitors to capture your attention. And capture your intention the G90 interior does. There's copious leather everywhere. Switches are physical, and almost all textured metal. I stopped and marveled at how much attention went into features like the door sill that would be afterthoughts on other cars.

I had to do the driving, but I'd argue the rear seats may be the best place to experience the car. The rear passenger seats are full-service (heated, ventilated, power-adjustable and massaging) and designed for being chauffeured in — there's even a chauffeur drive mode — with sound-insulated glass stretching through the rear quarter panel. Those features were lost on my kids, who were still in their familiar car seats.
Okay, so what's not perfect about the G90?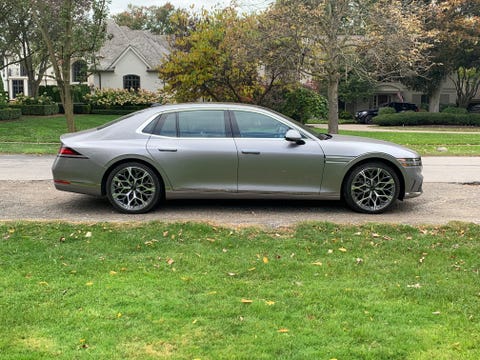 Fuel economy is a concern. The EPA rates the supercharged G90 for about 17 mpg in city driving — a one mpg improvement over the outgoing 5.0-liter V8. I averaged around 14–15 mpg driving around town. The consumption felt decadent, but not in a pleasant way — even if the greater issue for the G90 owner will be climate guilt rather than expenditure at the pump.

Genesis also put too much effort into reinventing the doors with pop-out handles, a push-button exit and a soft-close system. It's a mild annoyance, but one you experience each time you enter and exit the vehicle.
How much does the Genesis G90 cost?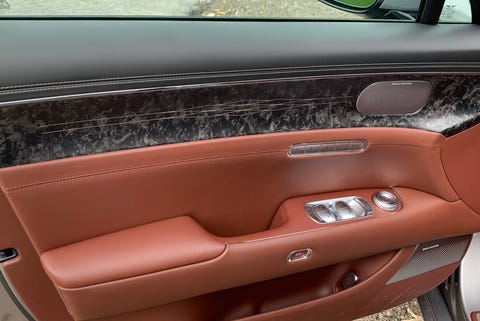 My wife, mid-massage on the way to my son's soccer game, asked me how much the G90 cost. Before looking at any documentation, I gave a rough answer of $100,000 — a wee bit above our next family car budget. I hit it almost on the nose.

The G90 starts at $88,300; going supercharged is an additional $10,000. Both trims come pretty much fully loaded. My tester, with the added $575 for Saville Silver paint, came out to $100,370. It's a lot for effectively a fancy Hyundai. But it also starts at $10,000 cheaper than the comparable S-Class.
Verdict: Genesis G90 Supercharged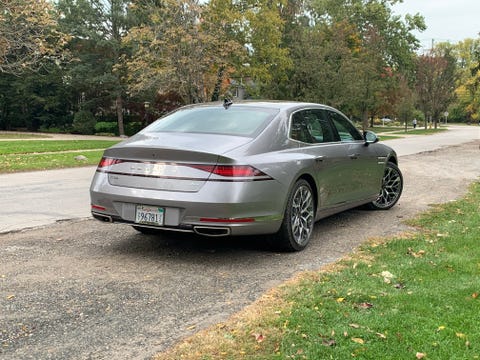 No one needs a full-size luxury sedan. You buy one to make a statement. If you buy a Mercedes S-Class, a BMW 7-Series or an Audi A8, the badge does much of the talking. With G90, you'll spend a lot of time explaining what Genesis is. But with the style, luxury and advanced tech Genesis throws at you, you'll be explaining that it's not a Bentley.

The supercharged engine alone may not be a must-have upgrade. But the myriad of luxury features on the upgrade model make the added expenditure worth it. If you've come this far, you might as well go supercharged.
2023 Genesis G90 3.5T E-Supercharger AWD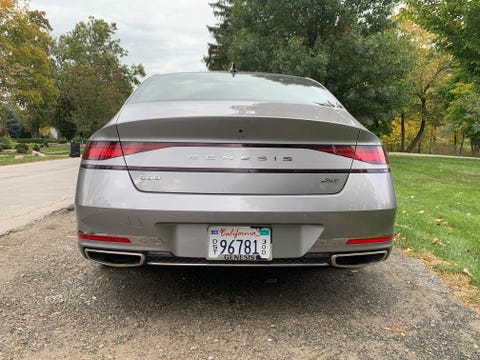 Powertrain: Supercharged 3.5-liter V6; eight-speed automatic; AWD
Horsepower: 409

Torque: 405 lb-ft
EPA Fuel Economy: 17 mpg city, 24 mpg highway
Seats: 5 (4 in full-on luxury)
The 33 Electric Cars We're Most Excited to Drive in the Future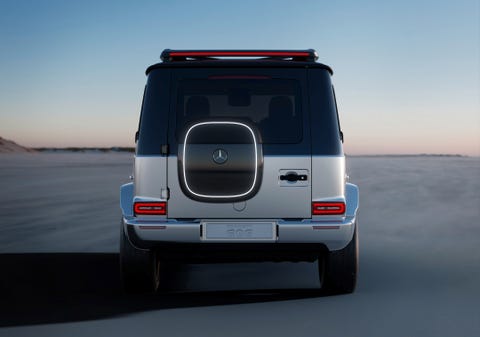 Mercedes-Benz AG - Global Communications Mercedes-Benz Cars & Vans
The next few years will be packed with new EVs. These are the ones that have us jazzed the most