2023 Audi RS 3 Review: a Tiny Sport Sedan that Demands You Push It to the Limit
Be prepared to walk along the razor's edge to reveal the RS 3's potential.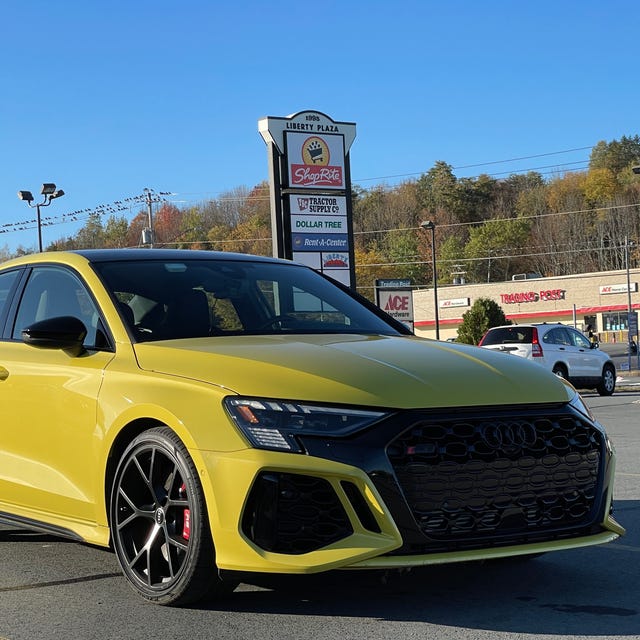 As much as the tide of history might feel as though it's rushing the wrong way to fans of traditional internal-combustion performance cars these days, when you stop and look at the facts rather than the narrative, it's safe to say we still live in a golden age of gas-powered excitement. (I refuse to acknowledge times are bad for fuel-burning fun when the Hellcat still exists and GM just spent untold millions developing a revolutionary V8 for the Corvette Z06.)
That's especially true for those of us who love German speed machines. Just a couple decades back, there were just a handful of such cars available here — one or two BMW Ms and Mercedes-Benz AMGs each, maybe three variants of the 911 — and they often came in compromised form; the iconic M3 was detuned for American use back in the '90s, believe it or not. Smash cut to now: Porsche offers an entire multiverse of performance models, M is cranking out more powerful, more thrilling (if not more attractive) cars than ever, and while AMG's line may have been temporarily weakened due to supply chain issues, they're all back in force for 2023, with a new plug-in hybrid S-Class AMG cracking into new levels of power.
And, of course, we have Audi's RS line, too. While RS models were rare occurrences in grunge era America, today, Audi offers seven so-called Audi Sport vehicles at once — eight if you choose to call the RS 5 coupe and RS 5 Sportback separate models, as the four-ring brand does. While the most exciting development in RS-land in recent years was arguably the U.S. debut of the Rs 6 Avant, the arrival of the RS 3 on these shores back in 2017 was a close second. Now, the itsy-bitsy sport sedan is back for a second generation, looking angrier than ever.