2023 Kia EV6 GT Review: Quicker than a Porsche, Less Than Half the Price
It may not be the EV you want. But it's the EV Kia needs.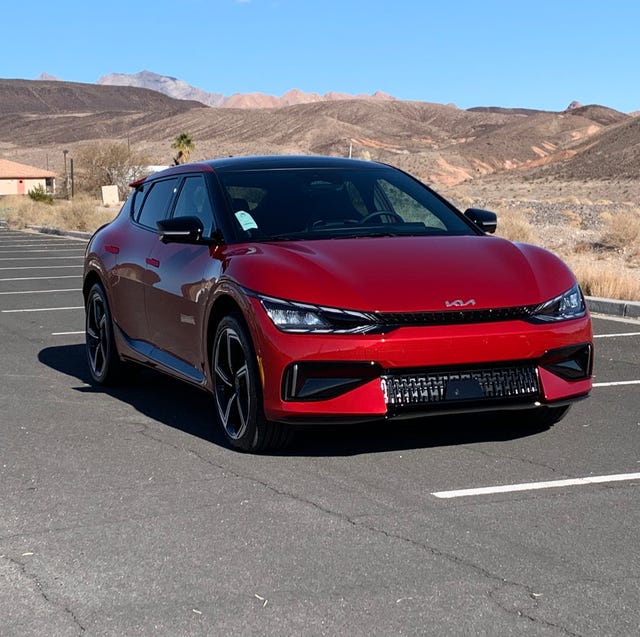 If you watched the World Cup, the only sight more ubiquitous than Lionel Messi slithering through much younger defenders was Kia's inscrutable logo blazoned across the advertising boards. That promotion was global and no doubt expensive. The car Kia promoted with it was the new EV6 GT, their new super-powered electric crossover.
I loved the standard EV6 when I drove it last January. It's a cool-looking sporty wagon (even if no one at Kia will call it that). It's quick. It's well-balanced. It's tuned a bit more for business than the Ioniq 5. And factoring out the dealer markups, it offers great value. The EV6 GT is less a range-topper and more — on paper at least — an entirely different animal.
The EV6 GT packs 576 horsepower and 545 lb-ft of torque — a substantial bump up from 320 hp and 446 lb-ft in the GT-Line AWD. It also gets sporty features the standard EV6 does not, like far grippier Goodyear Eagle F1 tires, bigger brakes with neon green calipers, an adaptive suspension and an electronic limited-slip differential. Its blistering 3.4-second 0-60 mph time — faster than at least one new Ferrari and one new Lamborghini — puts the EV6 GT in a new league where no one would ever expect to find a Kia.
At Kia's invitation (not a tough sell), I drove the EV6 GT around Las Vegas for a day, on track and off alike. The new super-crossover is brilliant in some ways, flawed in others — and sparks innumerable discussions. And getting Kia into those discussions — more than outright sales — is probably the EV6 GT's point.
Wait, a Kia can accelerate from 0-60 mph in 3.4 seconds?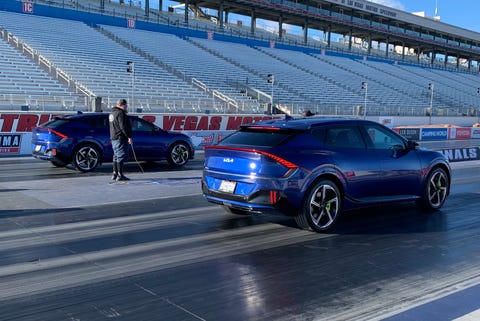 Probably a bit quicker, actually. 3.4 seconds is the EV6 GT's official time from independent testing. Kia says they have clocked quicker times. Car and Driver said it hit 60 mph in 3.2 seconds. In a straight line, that makes the EV6 GT faster than a Ferrari Roma or Lamborghini Huracan Evo Spyder RWD. Perhaps more relevantly, it's a tick faster from 0-60 mph than the Porsche Taycan GTS — and the Kia starts at less than half the price.
I tested the EV6 GT on a few drag strip runs at Las Vegas Motor Speedway with other colleagues. I can't vouch for the 0-60 mph time; we blew well past 60, hitting about 118 mph on the drag strip (even with my sloth-like reaction times). But I can confirm the EV6 GT is astonishingly quick off the line.
The EV6 GT does need to be in a special Maximum Power Output mode to do the drag strip run. I presume Kia warmed up the cars beforehand, and performance will dip a bit when the battery falls below 70 percent. But beyond that, the acceleration run is something the EV6 GT can do repeatedly — and without dumping a huge amount of range. Kia said it ran 250 employees and dealers through the drag strip using six cars without recharging them.
It's impressive. But we also need to recalibrate our brains for electric vehicles. Almost every EV will be surprisingly rapid in a straight line. And we have multiple electric pickups that can hit 50 mph in three seconds flat.
What's the Kia EV6 GT like to drive?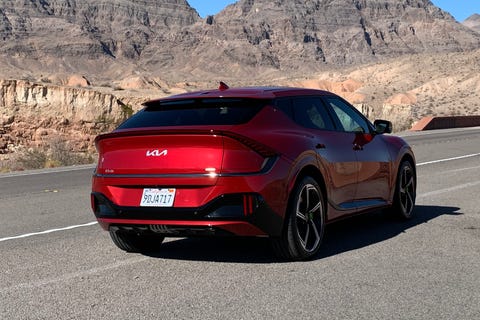 On the road, the Kia EV6 GT exhibits many of the same characteristics I loved from the standard EV6. It's perky. It has a low center of gravity. It holds a line well. And even in GT Mode, it has a pliant suspension. Power is limited unless you are in GT Mode; Normal and Sport top off at 429 hp.
Even in the GT Mode — accessed by a lime green button on the steering wheel — it will be nearly impossible to deploy the EV6 GT's full potential on public roads. Even driving with vigor on some curvaceous, nearly vacant desert roads, I would look down to the torque meter and see just how little of the oomph on tap I was using.
I did get to sample the EV6 GT for a few laps on a road course at Las Vegas Motor Speedway as well. I wouldn't call the EV6 GT a track car. But like on the road, it's super quick, agile and well-balanced. It weighs in at nearly 4,800 lbs — more than the AWD EV6 and as much as a Toyota 4Runner, but the heft felt remarkably controlled. I do wonder whether that would hold up on a track with sharper corners or an autocross setting.
The EV6 GT did have me questioning what future track cars will look like. Kia didn't lade the EV6 GT with extra noises or attempt to simulate a transmission. They let an EV be an EV. But I could see why other manufacturers are considering enhancing the experience artificially. Hearing utter silence punctuated by loud tire squeals is more "nails on a chalkboard" than invigorating. And with the precise linear acceleration and lack of combustion vibrations being read by your butt, the experience can feel a bit disconnected.
We need to talk about the EV6 GT's lack of range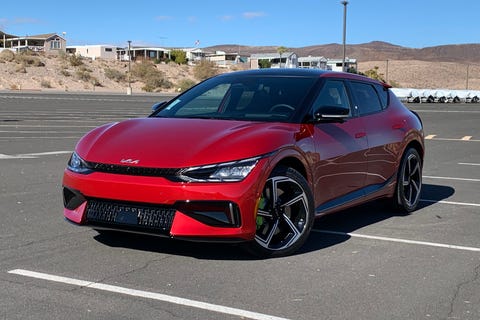 The EV6 GT performance does not come without a sacrifice: it destroys the range. The RWD EV6 earns a commendable 310 miles on a charge. The AWD version is rated for a decent 252 miles. The EV6 GT only has a 206-mile EPA range, which is not ideal.
On the positive side, that range should hold up in normal driving. I started with a 100-percent-filled car in decent 50º Fahrenheit sunny day conditions in Las Vegas. The total trip was about 140 miles — enough to leave the Strip, hit Lake Mead, travel through the Valley of Fire to the race track and return — with much of that spent going for it in GT mode. The EV6 GT still showed more than 50 miles of juice to go when I handed it back in at the hotel.
However, most road trip charges will be to 80 percent, which dips the potential paper range for the EV6 GT to about 165 miles. Cold weather could dip that range even further — think 130-ish miles. That would be enough for almost all commuters. But it's low enough to keep range forever on the mind, even if you're not quite anxious about it.
Kia does have some of the best 800-volt charging tech on offer, which, theoretically, can deliver a full 10-80-percent charge in about 18 minutes on a Level 3 charger. Their other supposed defense is that the EV6 GT buyer probably isn't buying it as their only car.
What's the Kia EV6 GT interior like?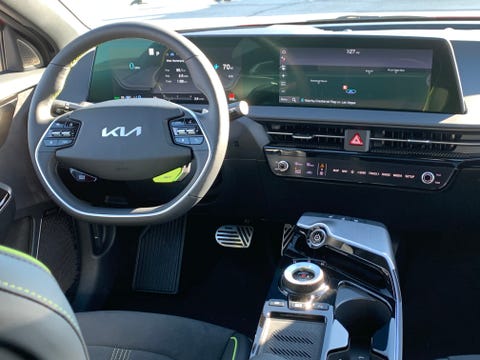 Very much like the standard EV6. Like all the new E-GMP platform vehicles, the EV6 makes solid use of the space created by the short overhangs and flat floor. The cockpit is oriented to the driver, well laid out ergonomically and looks futuristic. Material quality leaves a bit to be desired; you can knock on the rock-hard plastic dash if so inclined.
The biggest changes for the EV6 GT are the neon green details and the switch to sport bucket seats. The sport seats help support you well enough. But they are also manually adjusted and — this may be a bigger issue in Las Vegas when it's not December — unventilated.
I'm also not a huge fan of the haptic bar that flips between the climate and stereo controls. It reduces clutter, but it's also distracting to use. The benefit to physical stereo controls is to adjust the volume without looking. In the EV6, you have to look to make sure you aren't turning the heat up five degrees.

How much does the EV6 GT cost?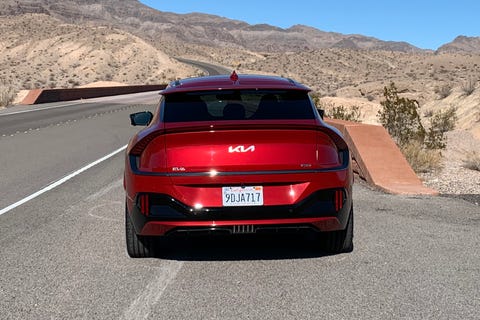 You'd expect Kia dropping an extra 250 horsepower on you like it's hot would cost you. But starting at $61,400, the EV6 GT is only $4,000 more than the GT-Line AWD model. And when you factor in the sort of dealer markups the EV6 has been getting, it may end up being nearly the same price. Plus, the EV6 GT comes basically fully loaded. Hit the configurator and you can add white, black or grey paint for a few hundred extra and floor mats.
I haven't driven the Porsche Taycan GTS yet — check out my colleague Will Sabel Courtney's review — but the EV6 GT starts $73,000 cheaper.
What are some EV6 GT alternatives?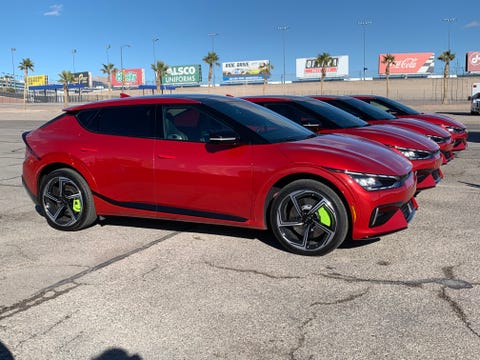 Externally, the EV6 GT's biggest performance-oriented compact crossover rivals are probably the Ford Mustang Mach E GT (a little cheaper, less power, more range) or Tesla Model Y Performance ($10K more expensive, 100 miles more range, nearly as quick to 60 mph). Within the Hyundai Group, this buyer may be considering an Ioniq 5 (and waiting for the eventual N model), a non-GT EV6 with more range — or taking some more luxury with the Genesis GV60.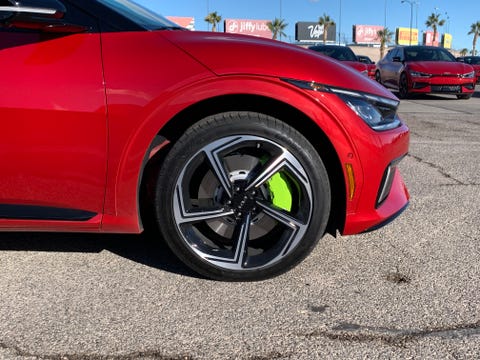 Kia framed the EV6 GT buyer as a niche within a niche. Every EV6 buyer is affluent, well-educated and electric car curious. The EV6 GT may be the daily driver for the person with a fleet of cars; there's a reason Kia launched the vehicle at the Quail. Kia anticipates selling about 2,000-2,500 Kia EV6 GTs per year (about 10 percent of the total volume).
Like most people, I would probably level down to the 320-hp EV6 for the added range or sidle over to the Genesis dealership to nab a GV60 with a nicer cabin and more range before buying an EV6 GT. I would use those features every day and probably never hit the drag strip or engage the track-only drift mode.
But the EV6 GT isn't a car for me or most people. It's a car to draw attention and get people talking about Kia in a more elevated context. And with Kia's potentially game-changing Telluride equivalent EV9 arriving next year, those are the exact discussions Kia wants people to be having.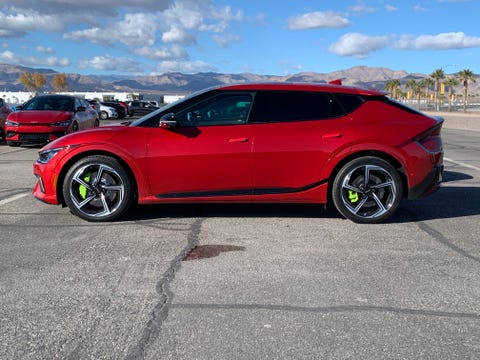 Pros: Blistering acceleration, sophisticated and sporty looks, comfortable ride quality
Cons: Low range compared to competitors, manually-adjusted seats

Powertrain: Dual-motor EV; AWD
Horsepower: 576
Torque: 545 lb-ft
EPA Range: 206 miles
0-60 mph: 3.4 seconds
Seats: 5