2023 Hyundai Palisade Review: As Good as Ever, But Much Better Looking
Hyundai's flagship three-row SUV refresh goes down smoothly.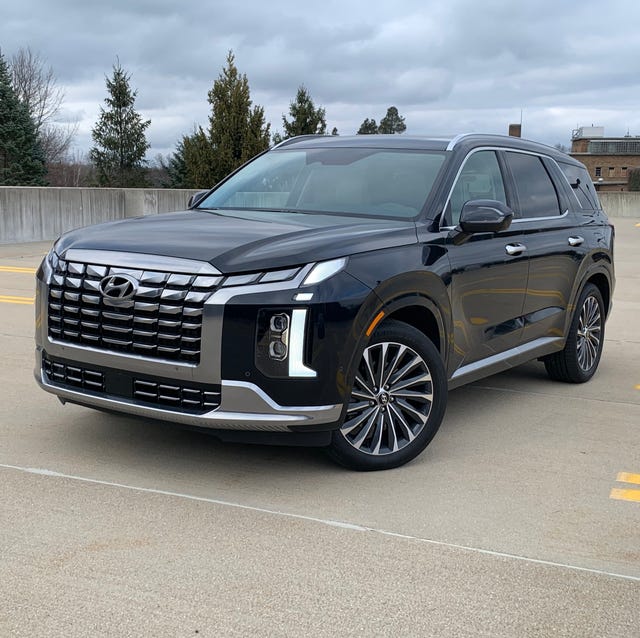 Time flies amidst a pandemic and political turmoil. While it feels like the Hyundai Palisade (and its Kia Telluride cousin) just stormed the three-row SUV scene, it's actually receiving a mid-cycle refresh for the 2023 model year, providing another excuse to review what is — by just about any account — a thoroughly excellent SUV.
Hyundai loaned me a full-bore, Calligraphy AWD-trim 2023 Palisade to drive around as my family car for a week in southeast Michigan. Its superpower: still being an outstanding, 10/10 version of a family car with a luxury bent that makes it perhaps the definitive luxury SUV for less (perhaps because there's also the Telluride).
The revamp for 2023 hews to the "don't mess with success maxim." But it does address what was the Palisade's most glaring flaw.
The 2023 Hyundai Palisade is more handsome to look at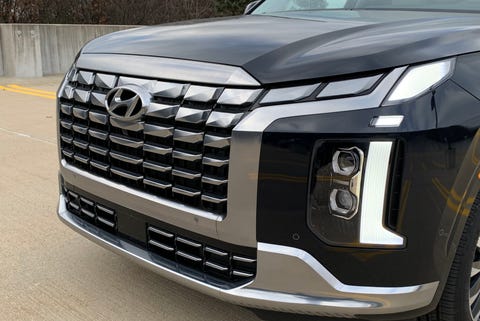 Hyundai's website calls the 2023 Palisade modifications a product enhancement. The more colloquial "facelift" would have been an apt term, though, because the Hyundai Palisade received some major aesthetic surgery up front.
The Palisade received a new grille, which is large and shiny, and makes the Palisade feel more squared-off, truck-like and premium. And it's a lot of look. But like its Genesis cousins, the big grille is a look the Palisade can pull off. It reads as stately and confident, rather than showy. Importantly, the new visage is a definite upgrade over the previous mug, which my colleague Will Sabel Courtney likened to "a French bulldog genetically engineered with the eyes of a spider."
The Palisade remains outstanding to drive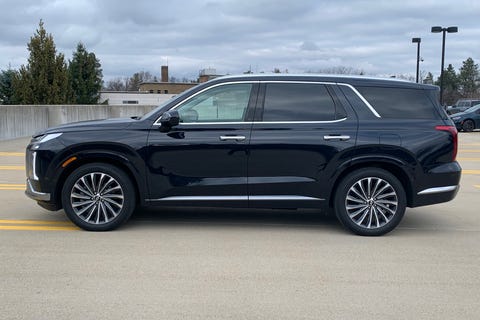 Most car owners — especially three-row family hauler owners — are not pushing the limits of their vehicles. They drive within a specific moderate band of the car's capability — one that overlaps very little with characteristics required for the Nürburgring. And that moderate zone is where the Palisade excels. It's smooth, quiet and reasonably quick. It rounds turns nimbly, if not precisely. It's relaxing and pleasant without aiming to be much more than that.
Rough edges will show at the Palisade's limits if you start mashing the pedal, late braking into corners or sounding out how that auto-box handles climbing an intense grade. The 3.8-liter V6 is mediocre and can groan under duress. The cabin can turn a bit noisy if you're really booking it on the highway. But stick well within sensible limits, and the Palisade will go down like a dram of Auchentoshan Three Wood.
The Palisade feels like a luxury car inside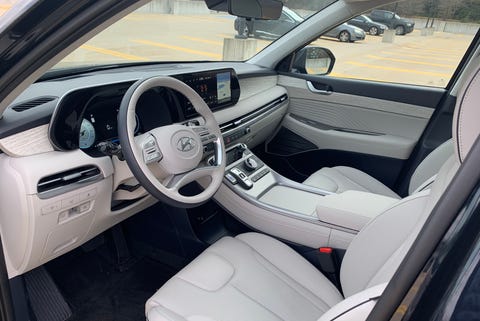 I drove the fancy pants Calligraphy AWD Palisade trim, which accomplishes what every $50,000 car aspires to do: feel like a $70,000 one.
The Palisade's spaciousness stands out. So do the comfy Nappa Leather seats. And while the Palisade doesn't go full-on Genesis with the knurled buttons, it has large well-spaced ones to easily adjust everything without being distracted from the road. The high, horizontally-aligned touchscreen is also more usable than before, and less distracting while driving.
There has to be something wrong with the Palisade, right?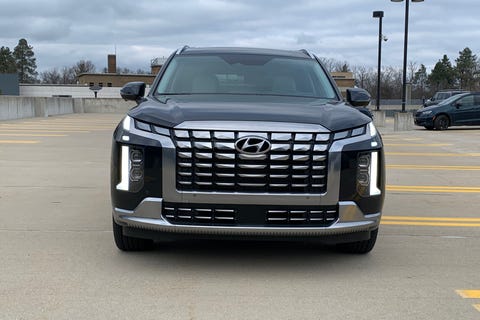 Yeah: fuel economy. The EPA rates the Palisade AWD at 21 mpg combined; I was struggling to hit the 19-mpg mark over a week. That's not notably bad for the segment...ut getting potentially twice as much run from a tank of gas in a Toyota Highlander Hybrid would still be mighty appealing, even if the Palisade is better looking, fancier and nicer to drive.
I'd love a Palisade Hybrid — Hyundai does offer a hybrid powertrain that might work with the Santa Fe, which my family owns — but it looks like Hyundai may take their three-row straight to battery electric.
What are some Hyundai Palisade alternatives?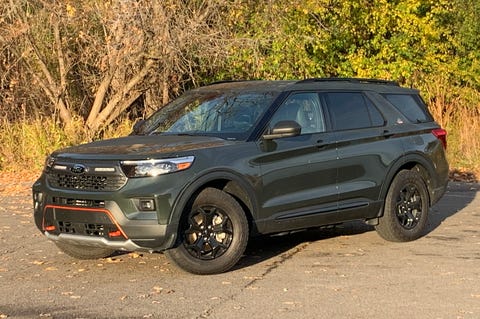 If you want something a little more adventurous-looking, you can still get pretty much the same things with the Kia Telluride. Top sellers in the segment include the Toyota Highlander and Ford Explorer. The VW Atlas could be another quasi-luxury option for about the same price range.
Verdict: The Hyundai Palisade remains a strong value play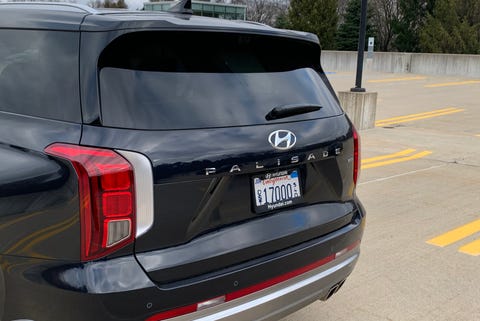 You want your family car to be stress-free and seamless; as a parent, the rest of your life often isn't. The Palisade delivers. In Calligraphy spec, it was impressive enough for the valet to park it up front with the fancy cars when we went to Santa Brunch at my inlaws' country club. And you can fully load it — in theory, without dealer markups — for a little over $50,000, which is not much more than the average new car price right now.
The 2023 Hyundai Palisade AWD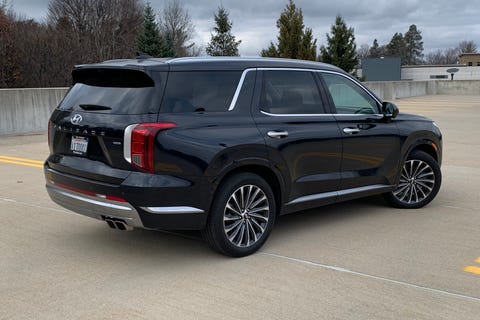 Powertrain: 3.8-liter V6; eight-speed automatic; AWD
Horsepower: 291
Torque: 262 lb-ft
EPA Fuel Economy: 19 mpg city, 25 mpg highway
Seats: 7
Starting Price: $35,250 ($49,200 for Calligraphy)
The New Cars We Can't Wait to Drive in 2023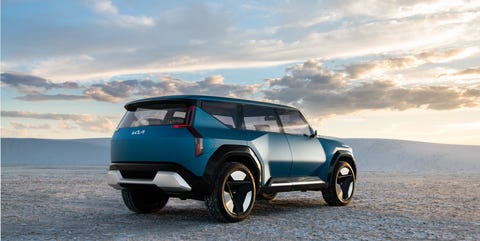 Fancy new electric cars? Naturally-aspirated sports cars? We're here (and excited) to judge.