2023 Mercedes-Benz EQE 500 Review: All We Can Do Is Smile Back
Automotive electrification, like death, is inevitable. The EQE shows Mercedes is trying to make the best of it.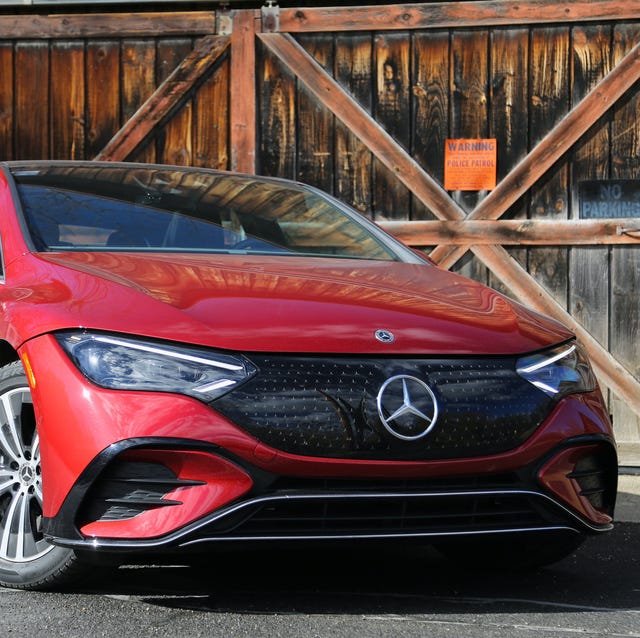 Every now and again, I find myself imagining how all those automotive executives, engineers and product planners really feel about the largely-mandated push to move over to electric vehicles over the next decade or so. It's not hard to think of them ruminating on one of the many iconic lines from Gladiator: Death smiles at us all. All we can do is smile back.
Mercedes-Benz, at least, has certainly chosen to smile back in the face of internal combustion's Grim Reaper. The German icon has launched an ambitious effort to offer EV equivalents of pretty much all its gas-powered models over the next few years, before ultimately phasing out internal-combustion propulsion altogether by some time next decade (assuming, of course, the buyers go along with this). The brand even has their own separate designation for this new EV family of models: EQ, which, the carmaker says, stands for "emotion and intelligence." (Yes, it's a play on "IQ." Yes, it makes no sense. Just move past it.)
Technically, the first model from the brand was the EQC crossover, but it was — let's face it — a bit half-baked. The first model that was truly representative of what EQ was meant to be was the EQS, an electric equivalent of the fabled S-Class. While it catered to a limited market — there are only so many people these days who want giant sedans, let alone electric ones — it was followed in short order by a trio of vehicles that offered broader appeal: the EQB, the EQS SUV, and the EQE sedan, with the latter being an electric alternative to the E-Class beloved by lawyers, dentists and other upper-middle-class professionals.
Having driven the E-Class plenty of times and been impressed on each go — there's a reason it's our recommendation for best midsize luxury car — and having liked what I saw with prior EQ models, I was keen to test out the EQE and see how this battery-powered mid-market Merc could hold up against both the electric competition and the gas-powered alternatives. Here's what I discovered.

What's Good About the Mercedes-Benz EQE 500 4Matic?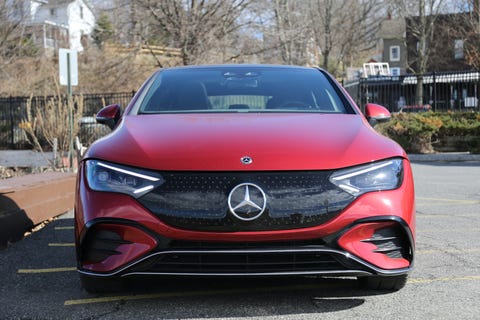 It rides and drives like a Mercedes-Benz should
The name Mercedes-Benz connotes certain traits: effortless power, solid build, a smooth yet firm ride ready for the autobahn. The EQE may be a departure in some ways from the cars that established that reputation, but it still delivers those same attributes. It rides smoothly and calmly, delivering a bit of body roll in turns and a dash of understeer when pushed hard but incredibly calm and collected in the sorts of driving that people actually do in the real world.
Note, however, that I specified the EQE rides and drives like a Mercedes-Benz should, not like a Mercedes-AMG. Anyone looking for the harder-edged ride and handling of Affalterbach's models would be better off looking at, well, an E 53 or an E 63 S (yes, it's back in stock). Or, of course, waiting a bit for the AMG EQE due to arrive later this year — although if the AMG EQS is any indication, it may still not quite have the edge that -63 buyers have traditionally sought.
Still, the forward thrust of the EQE 500 ought to be plenty enjoyable even to those used to a twin-turbo V8 under the hood. Dual electric motors — one front, one rear — combine for 402 horsepower and an even more impressive 633 lb-ft of torque, and as is always the case with EVs, all that torque comes the instant you flex your right ankle against the pedal we used to call "the gas." Mercedes claims a 4.5-second 0-60-mph time, and that feels accurate, if not conservative. What the brand doesn't mention is how, on the roll, you can dart and carve through slower traffic with the sort of responsiveness usually reserved for supercars.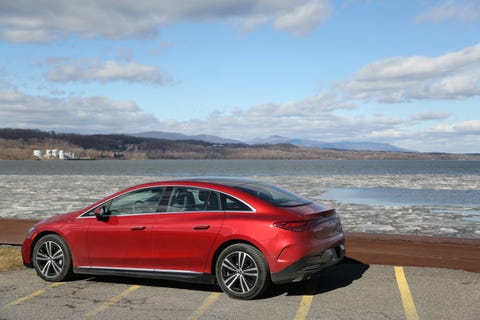 It looks good, though that may be subjective
Since Mercedes first launched their new electric car design language with the EQS sedan, opinions have been divided, to say the least. Some folks consider the slippery bar-of-soap looks futuristic and cool; others find it as sexy as, well, a bar of soap. Personally, I land in the former camp. It may not have the classic Mercedes looks of the W202 C-Class / W124 E-Class / W126–W140 S-Class, but the EQS and EQE arguably look unlike any other new car you'll see on the road today.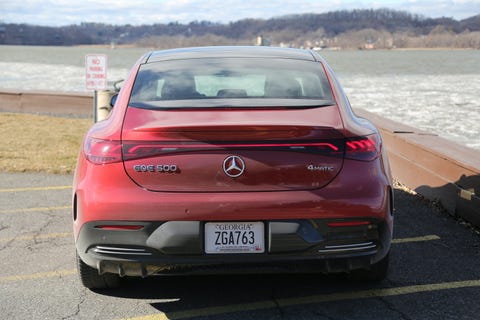 And like those cars of yore, the new EQ sedans all share a familiar resemblance. In 30 years, when most of us are being shuttled about in autonomous corporate-owned pods while having 3-D podcasts beamed into our cerebellums over 6G cellular networks, we may well look back on these first-gen electric Benzes with the same sort of nostalgia as those Mercs of the 1980s and 1990s.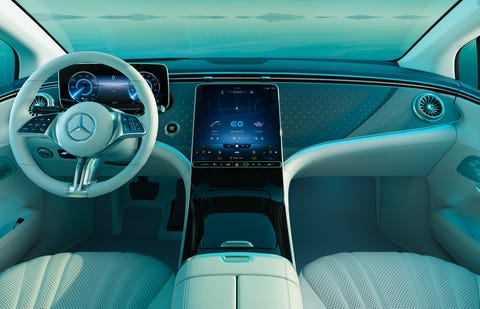 The interior is elegant, modern and appealing
If the EQE's exterior requires a double take to tell the difference between it and the EQS, the cabin might require a third look. That is, assuming the EQS cabins you're familiar with don't have the mighty Hyperscreen display found in many examples of the S-Class-sized EV. While Europeans can score an EQE with a Hyperscreen, here in the States, our EQEs are stuck with a portrait-style tablet mounted betwixt driver and passenger, at least for now.
That's not such a bad thing, however. The default display may be smaller, but it's hardly small; it's the same 12.3-in display found in the new C-Class and SL-Class, and it looks as large and clean as an iPad Pro mounted on the dash. The company's infotainment system is top of the class in terms of clarity and speed, and once you master the learning curve (as is required in any new car nowadays), it's easy to flip through the menus and find what you need. The only real weakness is the slightly plasticine hard controls at the bottom of the screen, but luckily, they're mostly controls you probably won't touch that much (drive modes, parking camera override) or have redundant steering wheel controls for (stereo volume).
The rest of the interior is also delightful to the eye, with a futuristic vibe that pairs nicely with the outside. A few pieces here and there feel a tad cheap, but that's the sort of cost-cutting measure that's afflicting much of the luxury car industry as brands are forced to make tough calls about where to direct their funds. Would I like better handfeel from the buttons? Sure. Is it a dealbreaker? Nope. On the rare occasion I noticed, I just wiggled a little further into that very comfortable driver's seat and forgot all about it.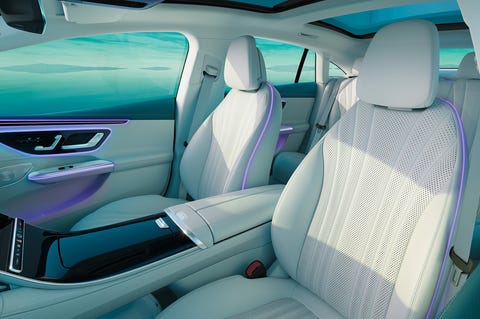 There's plenty of room inside for a midsize sedan
The swooping roofline of the EQE certainly seems designed first and foremost for aerodynamic function — certainly above the needs of those human heads that might need to find their way past it when climbing into the back seat. And indeed, folding my six-foot-four frame into the second row turned out to be a bit of a squeeze.
Still, once I was back there, I was pleasantly surprised by the amount of space. My partner is six feet tall, yet I was able to comfortably sit behind her back there. That said, the majority of my height is in my legs; those who are tall of torso instead may find that sloping roofline cramps their style. (Here's hoping Mercedes finds its way to making an EQE station wagon...)
What's Not Ideal About the Mercedes-Benz EQE 500?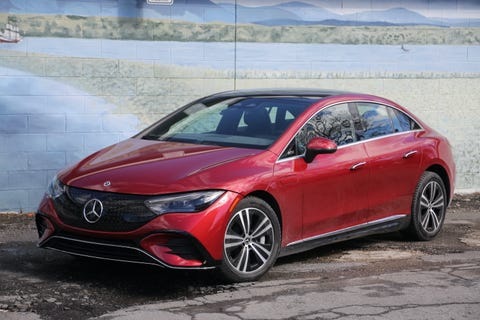 The brake pedal is far from ideal
The EQE's Achilles heel lies very close to your own: it's the car's brake pedal. In some ways, it feels like a throwback to the earlier days of electric vehicles, before automakers had learned how to properly gauge the balance of mechanical and regenerative braking that a press on the pedal should provide — which seems odd, given that Mercedes has now been selling mass-produced electric vehicles for half a decade.
For gentle inputs, it feels fairly normal; if you're constantly looking to make your driver's ed instructor proud, you might never notice any odd reaction. Press a bt harder, however, and it feels oddly disconnected, as though it needs to wire headquarters to find out whether it's time for the physical pistons and calipers to kick in. The first time I had to hit the pedal hard to avoid a New Jersey driver's sudden lane change in front of me, it gave me a moment of fright — it felt like it was heading to the floor with no reaction for a split second before it finally caught.
With time, I grew used to it, but the knowledge that the pedal's odd travel would be there to greet me if I pounded on it was always in the back of my mind, nagging me. Mercedes really needs to correct this if they're hoping to win over converts — either from gas-powered Benzes or other EVs.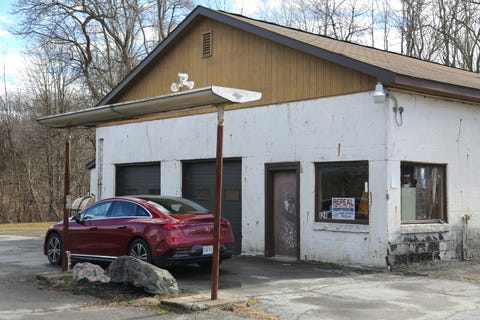 Range is okay, not great
Of the many positive impressions I came away with after driving the EQS sedan, one of the biggest was the car's range. Even in the deep, range-sapping December cold, it was capable of going more than 250 miles without trouble, and other independent tests have shown the more powerful EQS 580 capable of 350 miles at 75 mph and the entry-level EQS 450+ able to do 422 miles in mixed driving.
Unfortunately, the EQE isn't quite as impressive. That's not surprising on the facts; its 90.6-kWh (gross capacity) battery pack is significantly smaller than the EQS's 108.4-kWh unit. Still, it was a bit deflating to climb into the car for the first time and see its 98-percent state of charge translate to a claimed 233 miles of range.
That said, whoever was driving my test car before me must have been caning it hard enough to throw off the trip computer's algorithm, because after a day of driving — mostly on highways, but with some city and back road action mixed in — the maximum calculated range came in closer to 260 miles. (Then again, by the time I finally returned it, it was claiming around 240 for a full "tank.") Sure, this was in February, with temperatures floating just above freezing. Still, it was hardly what most of us would consider an extreme climate.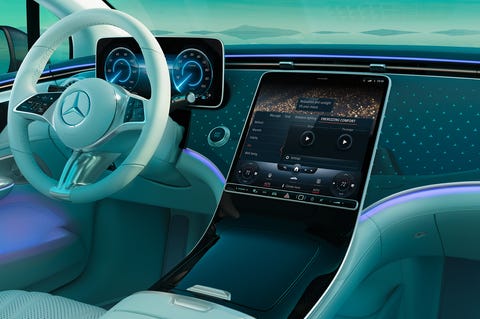 The EQE doesn't charge as quickly as some competitors
Before I dive into this: yes, I'm well aware that most owners are likely to charge most of the time at home via a wall-mounted Level 2 connector in their garage or on the side of their house, and for those circumstances, there's nothing to worry about here. As it's capable of slurping up AC current at 9.6 kW, the EQE can go from 10 percent charged to 100 in a shade over 10 hours.
Hook the EQE up to a DC fast charger, however, and it can't quite keep up with today's quickest-charging EVs. Mercedes rates its maximum charging rate at 170 kW; the Porsche Taycan and Audi E-Tron GT, meanwhile, can charge at up to 270 kW, while the Kia EV6 and Hyundai Ioniq 5 can do it at around 230.
And in my testing, the EQE couldn't quite come close to that rate. I plugged into a 150-kW Electrify America charger with the battery at 33 percent, but the car's intake only made it up to around 130 kW before leveling off. It began dropping soon after, too; by the time the car was at 50 percent, the charging rate was down to 90 kW. All told, it took half an hour to take the battery from 1/3 to 4/5 — which works out to adding the equivalent of about 200–215 miles of range in half an hour. More than enough for most cases, sure — but you don't buy a Mercedes to compromise. This is the company, after all, that uses "the best or nothing" as an advertising slogan.
What are some alternatives to the Mercedes EQE?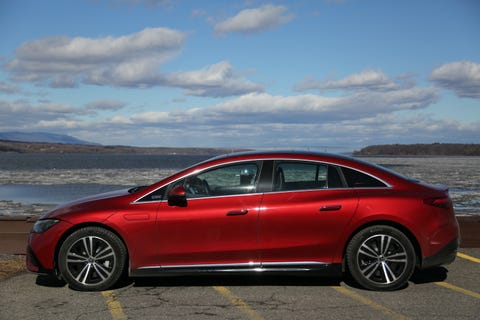 Benz and Bimmer are natural antagonists, so even though they compete in slightly different size brackets, odds are good many people will cross-shop the EQE against the BMW i4. Likewise, it may be down on torque in comparison, but the base Porsche Taycan offers sportier handling and greater range for similar money — and if you're willing to spend more, you can add almost as much power as you want. The Genesis G80 Electrified plays it close to the EQE in terms of size and price, too. If you have some flexibility about body style and are willing to consider crossovers that stretch the definition of the term, the Cadillac Lyriq and Genesis GV60 both could make compelling arguments for themselves. But in terms of ubiquity, features and vibe, the Tesla Model 3 is, of course, the most obvious foe.
The Mercedes-Benz EQE 500: The Verdict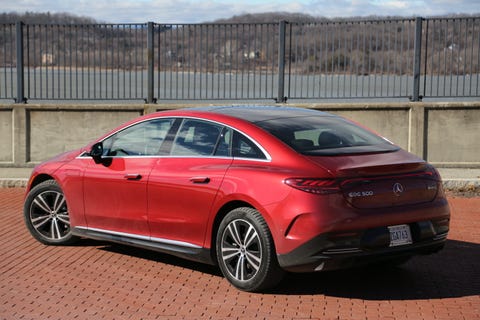 This is Mercedes-Benz's first attempt at electrifying its midsize sedan portfolio, and while it may not be perfect — details like the brakes and range suggest the EQE is still a tad rough around the edges — overall, it's a solid effort that does an admirable job distinguishing itself from the E-Class while still hitting similar marks in terms of size, power and price.
For many buyers, the simple fact that it's an electric car with a three-pointed star on the front that, unlike the EQS, they can afford to park in their driveway will be more than enough to convince them. While those of us who prefer AMGs to Benzes may still need some convincing before we're ready to trade in our love of V8 muscle sedans for electric gumdrops, if the EQE is any indication, buyers who prefer traditional Mercedes virtues like quiet, smoothness and a solid ride will probably have an easier transition to the new era.
The 2023 Mercedes-Benz EQE 500 4Matic: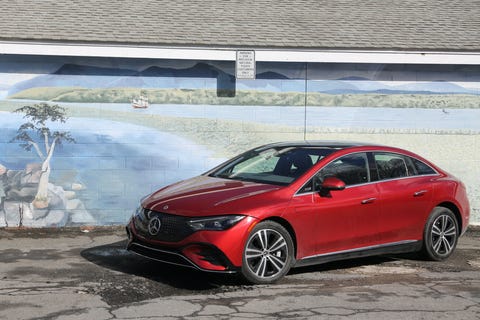 Base Price / Price as Tested: $87,050 / $102,550
Powertrain: 90.6-kWh battery + front and rear electric motors; single-speed transmission; all-wheel-drive
Horsepower: 402
Torque: 633 lb-ft
EPA Range: Not yet rated
Seats: 5
The 34 Electric Cars We're Most Excited to Drive in the Future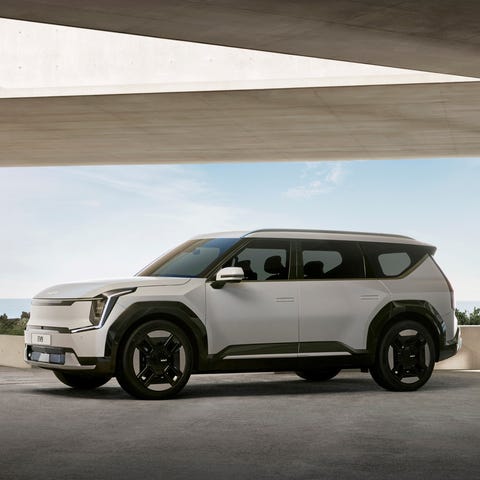 The next few years will be packed with new EVs. These are the ones that have us jazzed the most.