The 2022 Mercedes-AMG EQS Is a Whole New Kind of AMG
All the power and luxury, but with a fresh new sound.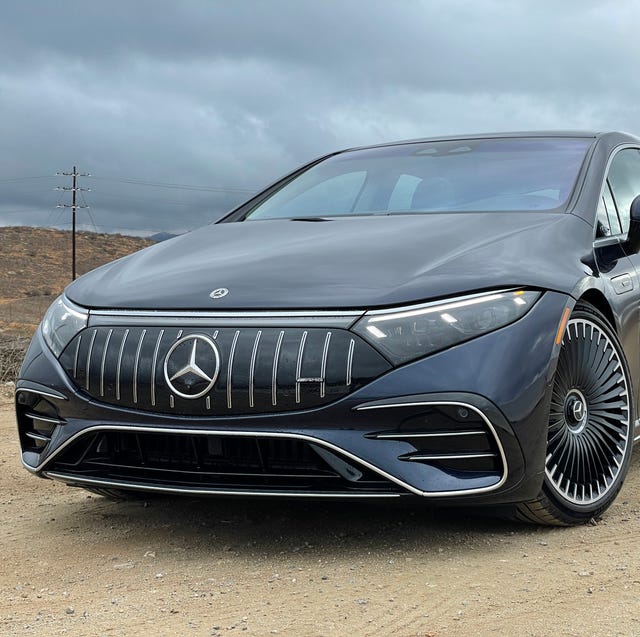 Let it never be said that Mercedes-Benz doesn't swing for the fences. When it came time to dive into the electric vehicle future, the Three-Pointed Star didn't tiptoe into the pool to test the temperature; they cannonballed into the deep end with the electric equivalent of their iconic S-Class, a slippery long-range cruise missile called the EQS.
Okay, sure, there were previous dalliances with electric mobility like the battery-powered B-Class and the batshit four-motor electric SLS AMG, but those were flings — proofs-of-concept or virtue signals designed to nod towards the future without actually forcing the company to give up on large-displacement naturally-aspirated V8s and twin-turbo V12s. The EQS, though, is the tip of the spear for an entire new lineup of Mercedes EQ models — ones that will mirror, and ultimately replace, the existing lineup of Cs, Es, GLSs, G-wagens and so forth.
And these days, wherever there's a Benz, there's an AMG not far behind. As Mercedes's models have proliferated across different categories, AMG's lineup has done so even more quickly, now offering not just one but often multiple Affalterbach variants of just about every car in the company's lineup. With the EQS sedan now on American roads...it wasn't going to be long before the AMG version followed.
What is the Mercedes-AMG EQS?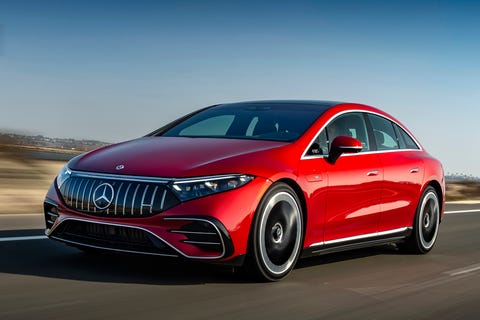 It's the high-performance version of the groundbreaking Mercedes-EQS sedan. In other markets, it goes by the more irritating name of Mercedes-AMG EQS 53 4Matic+, but much like the first Harry Potter book, the name needed to be dumbed down a tad for American audiences. (And if the 53 in the longer name has you wondering whether there'll be a more potent EQS 63 down the road, well, you're not alone.)
They may not be handbuilt by a single person the way AMG's V8s are, but the AMG EQS does score its own motors — a pair of AMG-specific electric motors, one for each axle to give it all-wheel-drive. Combined, they put out a maximum continuous output of 658 horsepower, but as is quickly becoming tradition for performance EVs, it can temporarily afterburner up to a higher number in short bursts — in this case, 761 horses, but only in Race Start (i.e. launch control) and only if you spend the extra money on the AMG Dynamic Plus Package.
Is the Mercedes-AMG EQS new?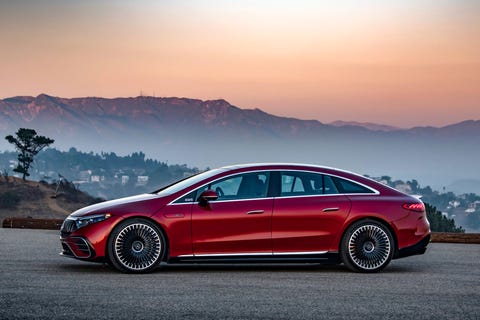 Extremely. It, and the EQS, are based on a clean-sheet EV design, so there's almost nothing shared with other Mercedes models that run on gasoline. And its slippery jellybean shape means everyone who sees it is liable to quickly understand just how new it is, so don't pick one up unless you're ready to answer questions.
What makes the AMG EQS special?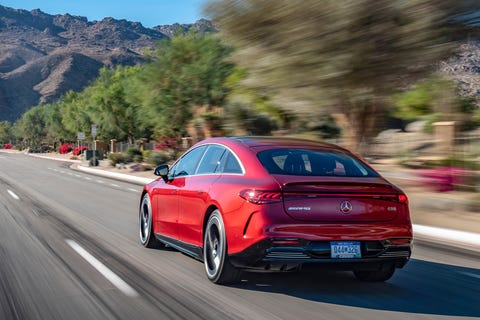 Well, it's the first electric AMG that's actually available for widespread purchase, so there's that. There's also the fact that the EQS is — for now, at least — one of the longest-range EVs you can buy in America. The non-AMG version is EPA-rated for 340 miles of range in AWD EQS 580 form, and 350 miles as the RWD EQS 450; that said, independent testing from Edmunds (under admittedly ideal weather conditions) revealed the rear-wheel-drive model capable of 422 miles on their real-world test loop.
The AMG almost certainly won't be able to quite equal that; the aerodynamic changes that make it more performance-oriented have dragged the Cd from 0.21 to 0.23, and the stickier performance tires likely suck some of the range potential out of the car, among other AMG tweaks. Still, Mercedes is promising the AMG EQS should deliver a 277-mile range on the U.S. drive cycle; if it can exceed its estimate in the real-world by as much as the lesser EQS 450 did, the AMG could be good for closer to 330 miles of driving when it's not too hot or cold outside.
What's this Mercedes like inside?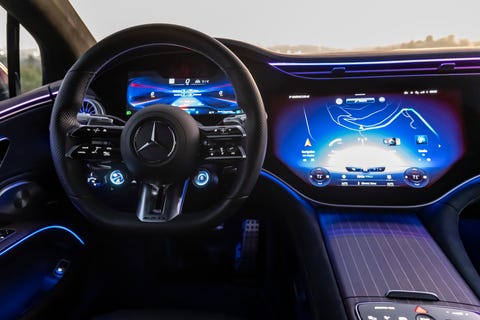 It kind of depends on what time of day you climb inside. Hop in during daylight hours, and you'll be shocked by how open and roomy the EQS is. Being able to design the car specifically around a low-slung battery means there are no vestiges of a big gearbox tunnel or driveshaft, so it feels even more cavernous than the similarly-sized S-Class, whether up front or in the rear.
Hop in after dark, however, and you'll be greeted by a lightshow that seems worthy of Tron: Legacy. The AMG EQS comes standard with the gargantuan Hyperscreen infotainment display that's an option on less-powerful EQS models, as well as the widescreen all-glass instrument panel that comes standard in them; add in the optional passenger's-side touchscreen display that my test car had and the LED ambient lightning that defaults to cool blue tones that match the hues of those screens, and the after dark vibes of the interior feel more 2051 — or 2251 — than 2021.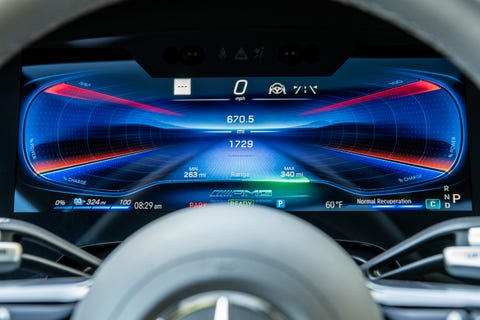 Admittedly, all those screens and colors and flowing animations can make the interior a tad...busy at times. Anyone who pines for the simplicity of classic analog gauges might yelp in shock at the AMG EQS's gauge setup, with one screen that looks like a representation of the Death Star trench run and features pulsating multicolored wave forms that represent the power being doled out or reabsorbed at any given moment. If you dig the look, though, you'll really dig it. There's no denying that not only does it feel futuristic, it's futuristic done well.
No matter whether you consider yourself a Luddite or Tony Stark, however, you'll be at least physically comfortable inside. As with the new S-Class, the EQS is equipped with supremely pleasant seats — thrones, really — that left me wishing my three-hour dalliance with the car was significantly longer. And considering how much room the trunk had even with my carry-on backpack in there, you could easily pack one adult into each of the very comfy seats and still have room in back for all four of their luggage.
What's this AMG like to drive?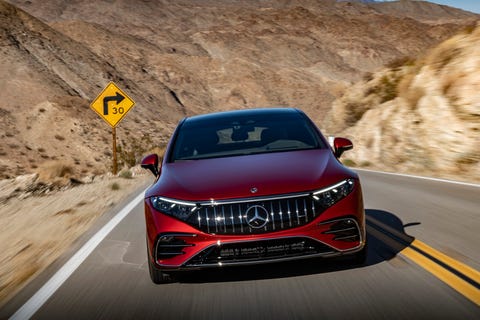 If you were worried that going electric would soften AMG's reputation for accelerative excellence, well, you can tell your therapist that's not a concern anymore. Even without activating launch control, flooring the accelerator at a stop will send unprepared heads back against the supple headrest hard enough to induce headaches. Hammer down at speed, and — as you'd expect from an EV with these sorts of stats — it lunges forward with an alacrity that'll astound anyone who hasn't tried, say, flooring a Lamborghini Huracan at a rolling 6,000 rpm. It's every bit as quick as you want an AMG to be.
There's no escaping that this is a big car. There's always a sense of considerable inertia in turns, even though the steering is direct and the suspension keeps it in check. My opportunities to test the limits of the AMG EQS in turns were hampered by damp roads and pea-soup fog, but on the several hundred turns I took winding up and down the mountains outside Palm Springs, the car felt well-planted, with just enough roll to let you know you're turning but not enough to make you queasy — the sweet spot for a gran turismo or giant sport sedan. And the brake pedals' slight softness at the top of its travel is less a bug than a feature, making them less grabby in the day-to-day driving that most owners will spend 99 percent of their time doing.
Not that you'll actually be using the calipers as much as in other AMGs; the EQS can recoup power at up to 300 kW, which Mercedes says translates to regenerative braking of 1 g. You can also choose between three levels of lift-off regen that offer very obvious differences; full-regen enables one-pedal driving, no regen lets the car sail along like it was in neutral, and the Goldilocks setting between them feels like driving a manual where you're constantly downshifting and using engine braking to help slow down.
The real adjustment, however, doesn't involve the face-smacking power or even the way it's delivered; it's the sound it makes. AMGs have long been defined by their expressive exhausts and roaring engines; their V8s sing internal-combustion symphonies that could make even the most die-hard Earth warrior get gooey inside. The AMG EQS, of course, has none of that — so Mercedes composed some noise instead. Unlike the Porsche Taycan, it's not just a remixed version of electric motor noise; it's an actual soundtrack, a composition of flowing electronic hums and whirrs designed to cram the idea that you're driving the future down your throat.
The result is that the EQS isn't as dramatic as I expect of a big AMG. Replacing the sturm und drang of the big V8 and the guttural shifts with synthetic sounds is far less satisfying than, perhaps, the Mercedes folks might have thought. Indeed, the audio track kind of detracts from the smooth, effortless power of the car that feels like magic from inside the silent cocoon.

What does the Mercedes-AMG EQS compete against?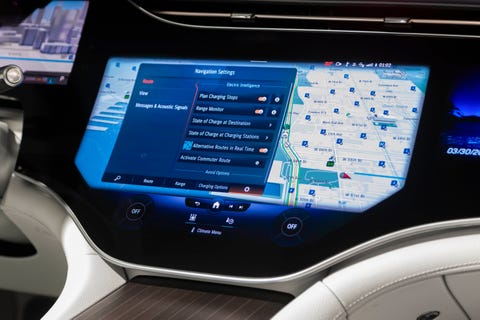 The closest competitor, at least until BMW builds an inevitable i7 M, is the Lucid Air; like the Mercedes, it's large, smooth-sided, unmistakably futuristic and very, very powerful. If you prefer something from a more established automaker, the Porsche Taycan Turbo S comes closest in power, but its smaller size and sharper focus on performance makes it a very different animal in most ways. The Tesla Model S — in either regular or Plaid form — might also tempt folks who want a fast, futuristic EV sedan, but if the Tesla's cult of personality and quirks (a steering wheel yoke! no shift lever!) don't put off cross-shoppers, the comparatively spare interior might.
For the immediate future, though — at least, through 2022 and 2023 — I'd expect that the biggest competitor to the Mercedes-AMG EQS might come from right across the showroom. Mercedes hasn't announced a new AMG S63 yet, but I'd bet all my molars that one's in the works — and I wouldn't be shocked if an AMG S63 S E Performance plug-in hybrid followed close behind, packing the same 831-hp, 1082-lb combo of a twin-turbo V8 and an electric motor as the GT 63 S E Performance.. That car, presumably, will be even quicker (and more vocal) than the AMG EQS, but also putter around on electric-only mode — giving it some of the same eco-friendly street cred.
Anecdote is no substitute for data, but in my experience, I've generally come across two types of people who want S-Class-sized AMG sedans. The first group — people who want the size and comfort of an S-Class, but also want to have the power and prestige that comes with an AMG — seem like they could well be convinced to come over to Affalterbach's take on the EQS. The second group — people who want an AMG for its boisterous, extroverted nature, and opt for the S-Class because it's the biggest version you can buy — probably won't be tempted by this smooth, potent beast. At least, not until it roars a little more loudly.
The 2022 Mercedes-AMG EQS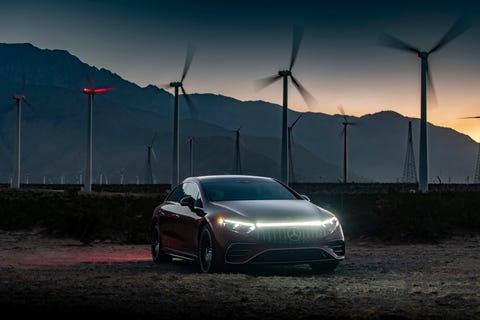 Base Price: $TBA
Powertrain: 108-kWh battery pack, dual electric motors; single-speed gearbox; all-wheel-drive
Horsepower: 658 (761 for brief spurts during launch control starts with option package)
Torque: 700 (752 lb-ft for brief spurts during launch control starts with option package)
EPA Efficiency: TBD
Seats: Four, very comfortably
The Future Electric Cars We're Most Excited to Drive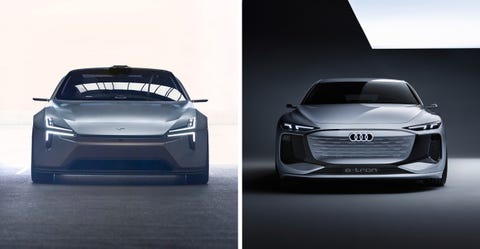 The next few years will be packed with new EVs. These are the ones that have us jazzed the most.