2023 Nissan Ariya AWD Review: Much Better Than You'd Expect
If Nissan wasn't on your radar for a new EV SUV...maybe it should be now.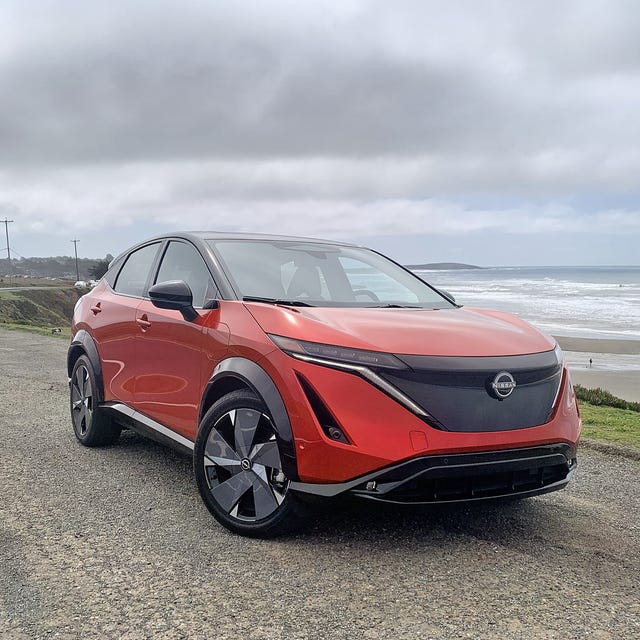 Nissan has been doing mass-market EVs longer than most; they launched the Leaf all way back in 2010. But it's been a long wait for that hit's follow-up act. Nissan unveiled the Ariya EV back in 2020, and at the time, it looked like the EV America was waiting for: bigger than a Leaf, cheaper than a Rivian and less self-important than a Tesla. But it's taken Nissan until 2023 to get the Ariya to market. And what had been whitespace in the market is now full with multiple World Car of the Year award winners.
I sampled the FWD Ariya briefly last fall. But the version we've truly been waiting for is the more exciting, more powerful e-Force AWD version, and recently, Nissan finally let us test it for a day in California.
The full-pelt Ariya is not as transformational as it would have been hitting the market three years ago. And it's not particularly sporty. But I still found it to be a surprisingly compelling EV option — and one that should appeal to a lot of people who currently are non-Nissan buyers.
What's the Nissan Ariya e-Force AWD like to drive?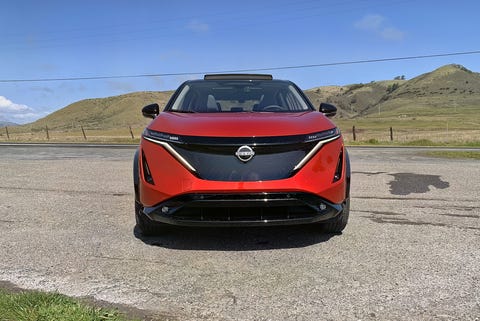 Nissan sent us off on a scenic few-hour loop around the Sonoma area. Our routes skipped the more tortuous mountain roads I've taken with vehicles like the Subaru WRX. But they did provide a decent sampling of situations and conditions for a non-enthusiast crossover.

The FWD Ariya felt like a Rogue. The AWD version — though it maintains that comfy crossover vibe — is substantially more capable. The dual motors put out 389 horsepower and 442 lb-ft of torque (twice the torque of the FWD). Nissan says it can scoot from 0-60 mph in just 4.8 seconds — a nice bump from about 7.5 seconds for the FWD version.
The Ariya isn't tuned for you to wield maniacally. And Nissan's "sport sound" in Sport Mode — which sounds like the spaceship noise my Hyundai Santa Fe Hybrid makes in EV mode — will dampen a lot of enthusiasm. But it's controlled and competent with a pliant ride, and it's quick on a highway pass (handy when I needed to extricate myself from behind the RAV4 Hybrid that cut me off in a roundabout).
AWD can be superfluous, but the Ariya's e-Force AWD system is a serious value add. Its grip was unflappable on public roads. Even in a controlled parking lot setup — wet track, deliberately botching a turn — it refused to slide. Nissan also deploys the e-Force system to flatten out the pitch and drive under braking, which should result in less motion sickness (I had a light breakfast and didn't have to ride in the passenger seat, so I can't say for sure). That said, the pitching and diving does come back if you're in stop-and-go traffic.
The Ariya also comes with Nissan's new "hands off" ProPilot 2.0 system. It's now hands-free while you're cruising in a lane, but you still need to hand hold it for lane changes. I gave it a whirl on the highway stretch of our journey. I found it well-labeled and intuitive to use, but it seemed to make more minor course corrections than I've experienced in GM's Super Cruise or Ford's Blue Cruise, which was not so relaxing.
What's the Nissan Ariya e-Force AWD like inside?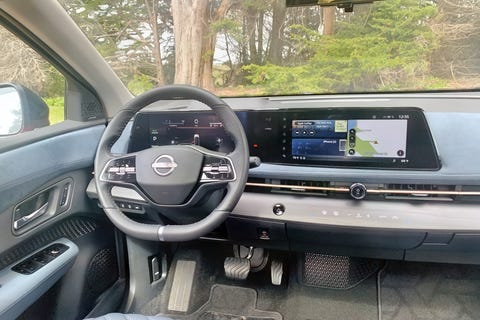 Nissan selling the Ariya as "timeless Japanese futurism" may be pushing it. But — at least in top-tier Platinum+ spec — it felt like Nissan put in a lot of effort. It didn't read like a typical Nissan rental car or a cheap "large touchscreen slapped on the dash and call it a day job."
The seats were supportive, and clothed in Nappa leather. I normally despise haptic buttons, but these were well-spaced for easy touching and integrated artfully into the dashboard paneling. The cockpit also includes nifty features like a power adjustable center console and a powered center glove box that can open out and serve as a tray while you're charging.
The passenger compartment felt cavernous; I was able to sit behind myself with an abundance of legroom. But there isn't much cargo storage. With the seats upright, the Ariya only delivers 22.3 cubic feet for luggage — compared to 36.3 cubic feet in the Rogue. And there's no frunk to supplement it.
On the smart tech side, the "Hey Nissan" voice commands felt a bit clunky. The opening to give the car an instruction was lengthy and tedious. And once you do make a command, the system moves to a new screen to make a change...then stays there. So you can't change the radio station in the background while using navigation; it switches to the radio, and then you have to switch back — thus negating the advantage of doing it by voice command.
How much range does the Nissan Ariya e-Force AWD deliver?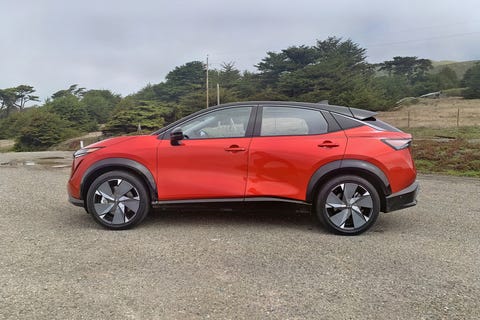 The Ariya offers up to 304 miles of EPA range in FWD form. For the AWD version, it tops out at 272 miles. The Platinum+ e-Force we drove with the Extended Range pack came out to 267 miles. That felt accurate in 40-60º Fahrenheit California weather.
Nissan says the Ariya can do a 10-to-80-percent charge in about 35 minutes on a fast charger. That's not the slowest....But its Hyundai/Kia rivals, on paper, can do it in about half that.
How much does the Nissan Ariya e-Force AWD cost?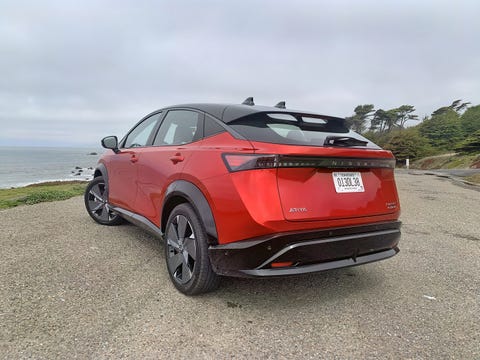 The Ariya starts at $43,190. The cheapest dual-motor version (Engage+ e-Force AWD) starts at $51,190. I drove the Platinum+ e-Force AWD trim, which starts at $60,190.
What are some Ariya e-Force AWD alternatives?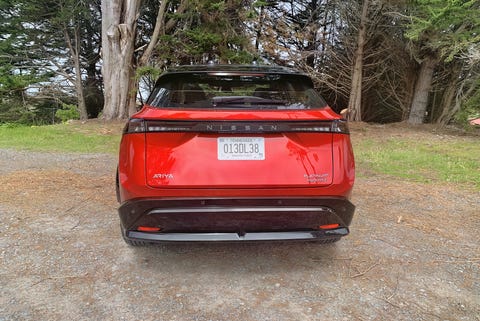 Nissan directly named the Ford Mustang Mach E, Hyundai Ioniq 5 and Volkswagen ID.4 as its direct competitors. Those quasi-affordable electric crossovers match up well on performance and price. I don't think the Ariya quite matches up with the Ioniq 5 as an all-around package, and Ford's crossover offers sportier handling. But the Ariya interior feels more premium than either the Ford or VW.
It's also noteworty who's not on that competitor list. Looking at Nissan's Japanese rivals — Toyota, Honda, Subaru and Mazda are all years away from delivering this good of an EV crossover, with this much range at this price point.
The 2023 Nissan Ariya e-Force: The Verdict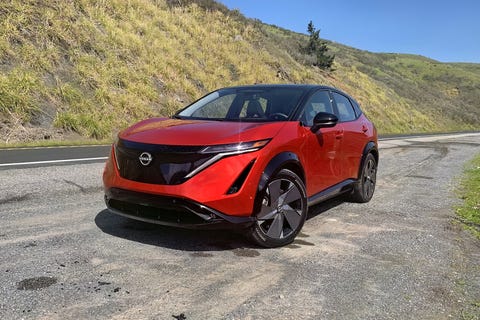 I think the Ariya e-Force AWD is a commendable effort. It's neither sexy nor thrilling. Bit the Ariya is pleasant and easy to drive. It feels nice on the inside. And it offers more than 210 miles of effective range on an 80-percent charge. That's a package many EV buyers are going to want — even if buying a Nissan will not have as much caché as buying a Tesla.
Within the Ariya-verse, I think upgrading to the e-Force AWD is a no-brainer. It only costs a few thousand more, and it doesn't require a dramatic range hit. It's so comprehensively better that one wonders why Nissan didn't launch it first.
2023 Nissan Ariya e-Force Platinum+ AWD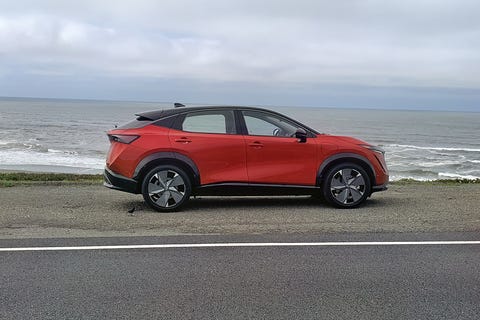 Powertrain: Dual-motor electric, AWD
Horsepower: 389
Torque: 442 lb-ft
EV Range: 267 miles
Seats: 5
The 34 Electric Cars We're Most Excited to Drive in the Future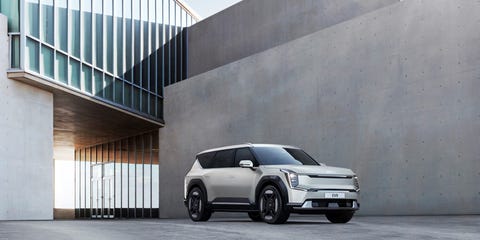 The next few years will be packed with new EVs. These are the ones that have us jazzed the most.