Every product is carefully selected by our editors. If you buy from a link, we may earn a commission.
The Best Hiking Socks of 2022
Keep your feet warm, dry and blister-free.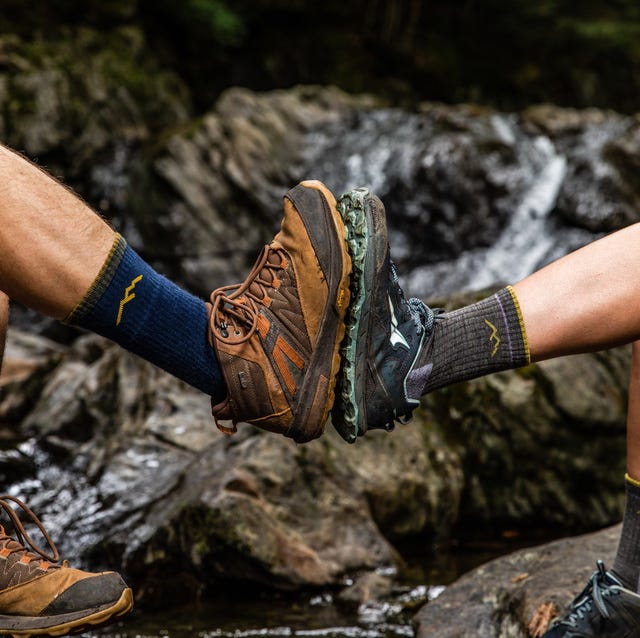 A quality pair of hiking socks can make or break a day on the trail. Your feet are your most important tool when hiking. They're your means of transportation, your method of travel and if they aren't cared for and kept comfortable, hiking can quickly descend into the realm of misery. Hotspots, blisters and frostbite are all legitimate concerns.
Thankfully, there's never been a better time to buy hiking socks — there are more companies applying careful consideration and serious tech to their knits than ever before, and warm, soft, breathable materials like merino wool have become standard. It doesn't matter whether you're headed up to the local overlook for an afternoon or making a ten-day trek through Patagonia; you'll need a good pair of hiking socks.
A Note on Price
At first glance, hiking socks can seem expensive, especially compared to the cotton socks you may buy in packs of 12 for less than $10. But like all pieces of outdoor gear, hiking socks are designed to perform: to keep your feet warm while letting them breath, to prevent blisters and, of course, to be comfortable.Sock makers employ technical materials such as merino wool and construct each sock with hidden seams and hybrid knit patterns in order to create different levels of stretch. They also take careful consideration in applying compression to different areas of the foot. All of these things factor into the price of a decent pair of socks that are ready to take on the rigors of trail use; if you're serious about getting outside, they're well worth the extra cost.
Materials to Look For
Merino Wool: Harvested from Merino sheep, it's quick drying, static resistant, breathable and naturally antimicrobial, which means it doesn't hold odors like polyester and cotton do. It's also softer than traditional wool.
Nylon: Fibers made from durable, lightweight, synthetic polymers.
Spandex: A synthetic polyurethane-based fiber known for stretchability.
Elastane: A variant of "spandex."
Polyester: A common plastic-based synthetic fiber that's strong, light and shrink-resistant.
Silk: A natural fiber produced by insects. Silk is strong, soft, smooth and cool, but not very elastic.