Every product is carefully selected by our editors. If you buy from a link, we may earn a commission.
The 14 Best Tequilas You Can Buy in 2022
This definitive guide to the best tequilas you can buy explores everything you need to know about the world's most popular agave spirit, including a list of the best bottles and brands to seek out.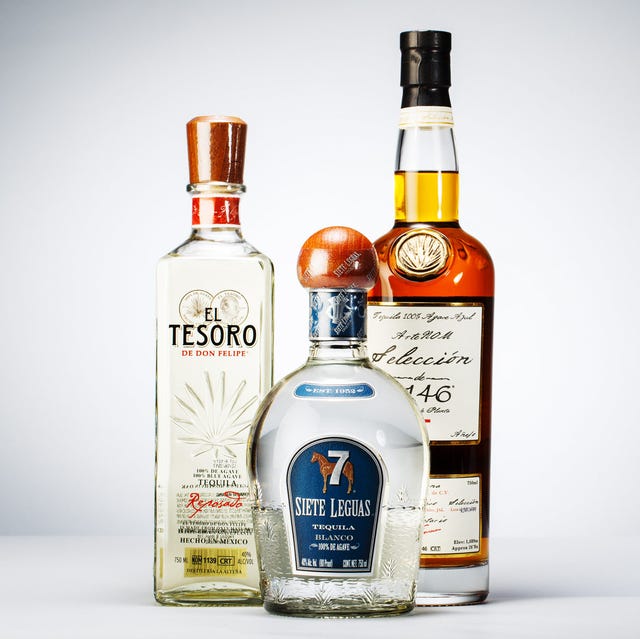 This definitive guide to the best tequilas of 2021 explores everything you need to know about the world's most popular agave spirit, including important tequila terms — such as blanco, reposado and añejo — how to drink it and a list of the best tequila bottles and brands worth tracking down.
There is perhaps no spirit as villainized or misused as tequila. In America, it's all about getting trashed; glugging with cheap margarita mix; doing shots that are so unpalatable you need to assault your own tongue with salt and acidic lime; toeing the line between lit up and throwing up. At least absinthe gets to be the bad boy.
Incredibly, that's just the tip of the iceberg for tequila's problems. Seven out of every ten bottles are exported out of Mexico, and 80 percent of those end up in the States. Our drinking culture, with its collegiate attitude toward the spirit, has reflected back on the way the spirit is now made, and its place in Mexican culture.

"Americans did fundamentally change the industry in Mexico," says Chantal Martineau, a spirits writer and the author of How the Gringos Stole Tequila: The Modern Age of Mexico's Most Traditional Spirit. "By the time official laws defined tequila in the 1970s" — it must be made using at least 51 percent blue weber agave, and only in five regions of Mexico — "the spirit had already gained popularity in the U.S., to the point where producers in Mexico were having trouble keeping up with demand. They had to change how they made the spirit, which modernized and mechanized it," Martineau says.
And so the bar for tequila was lowered. We became consumers, largely, of what's known as mixto — tequila made using only 51 percent agave and 49 percent non-agave sugars, usually cane sugars. If we broke tequila, however, we can also fix it. Made with 100 percent agave, our picks are affordable, expensive, subtle, aromatic and everything in between. These are the best tequilas you can buy.
Best Overall Tequila: Espolòn Blanco
Cutesy branding and bottle shape aside, Espolòn's blanco (and reposado, really) is among the best values in the agave spirit category. It's made without diffusers or additives (common tack-ons meant to make bad tequila palatable), it's available everywhere and it hovers between $20 and $30, depending on where you live. It's the ideal budget mixer, and it's fresh and well-made enough to drink over ice with a twist of lime.
Best Upgrade Tequila: Siete Leguas Blanco
"This is the brand that basically all tequila is based on," says tequila expert Chantal Martineau. "The distiller here back in the day was poached by Patrón, whose recipe is based on this one." A nastier characterization of that is that it was stolen. Its blanco is made using a blend of stone-crushed and mechanically shredded agave. "But what's really amazing," Martineau adds, "is that it's made like mezcal, using the fibers of the plant not only in the fermentation but also in the stills during distillation. That creates intense flavors and a rich, almost velvety texture."
Best Budget Tequila: Cimarron Reposado
"I love making a margarita with a reposado. It brings more spice and an extra layer of flavor," Martineau says. "This one is great for [cocktails], and it's only $22. I don't know why it's so cheap: it's very well made by a prolific distiller. Because it's so mellow, it's also the perfect pour for someone who thinks they're not into tequila because of that one bad experience in college."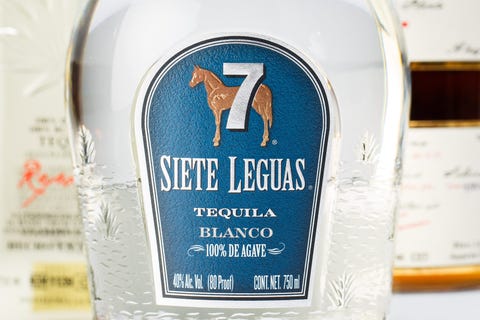 Of all tequilas, blancos offer the purest expression of agave, Martineau says. They are "unaged," though sometimes kept in a vat for several months to settle. "A really good blanco should have, above all, a very rich nose and body of cooked agave," she says. "Besides that, there are so many different flavor profiles. Some are really green and herbaceous. Some have chocolate notes. Pineapple in some, jalapeño in some. The best ones have really interesting finishes, too, like pepper or mint. You see why in Mexico they drink tequila with food."
"This is made by the great-great-grandson of Cenobio Sauza, Guillermo Erickson Sauza," Martineau says. "He's not allowed to use the Sauza name anymore –a Spanish corporation bought the distillery and its name in 1976 — but he still owns some of the original family lands. It's 100-percent tahona-milled. Guillermo was going to do the same thing Patrón does, where they make a blend using some agave that was tahona-milled and some that went through the more modern mechanical shredder. But then he tasted the 100-percent tahona-milled tequila and said, 'I have to sell this.' It's more labor-intensive. But there's something about the shredder — it shreds the fibers of the agave and introduces more bitter flavors, whereas the tahona more gently presses the agave."
Siembra Azul Blanco Tequila
"This is a relatively new brand, created by David Suro, who does a lot of grassroots agave activism. He came up with a tequila made in a very traditional way," Martineau says. "He is also known for putting so much info on the bottle. You can trace the bottle back to the individual plants used, what field they grew in. He started Siempre Azul to do tequila right, but also as another way to spread this awareness. It's a labor of love, and a way to put into practice this idea of making tequila sustainably and in a way that respects its history and its people."
Tequila Ocho "La Magueyera"
This is a collaboration between the Mexican Tequila Ambassador to Europe, Tomas Estes, and a prolific distiller in the highlands, Carlos Camarena. "The whole idea was to create line of tequilas that are approached the way wine is," Martineau says. "There are eight tequilas in the line, each one made from agave grown on a different estate. You can taste one next to the other and see what terroir brings to the table for tequila."
"There is a new distiller making this tequila, and a lot of people would agree that it's not the same as it used to be. But I still like it," Martineau says. "It's made in Tamaulipas, the one state that's completely separate from the rest of the tequila appellation. For that reason, it tastes really different. Its agave is also cooked in an autoclave for 12 hours, rather than the brick oven method."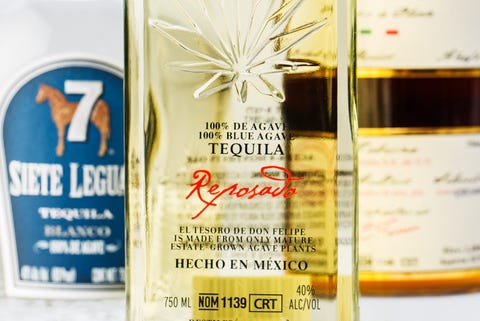 Reposado refers to tequila that's been aged between two and twelve months in oak barrels. "The amount of time makes a huge difference," Martineau says, and you can expect different flavor profiles to follow. It's also worth noting the color of the spirit. "I always raise an eyebrow when I see [a reposado] that's really, really dark," she says. "It suggests to me that maybe color was added. I don't mind seeing a light aged spirit because 11 months is not that long to spend in a barrel." A good reposado should maintain the agave-forward flavor of a blanco but it's going to show some barrel: sweetness, vanilla, spice. According to Martineau, however, the best examples are not overwhelmingly influenced by the barrel. "Reposado means rested, not aged," she says.
"This is also made by Carlos Camarena," Martineau says. "A lot of distillers are just happy to have a recipe that works; Camarena never stops coming up with new things. There are a couple ways to approach tequila, and he's wanted to do all of them. This one uses agave ground by tahona, and is aged up to 11 months in Kentucky bourbon barrels."
"Another brand that does some interesting projects," Martineau says. "This one is a twist on estates. Instead of switching where the agave comes from, they used the same agave but had three different distilleries make it. This one is from the distillery numbered 1414."
123 Organic Reposado (Dos)
While most reposados are rested in ex-bourbon barrels, this one is aged for six months in new American white oak. It's both USDA and EU certified organic. "That's important," Martineau says, "because some biologists and botanists are concerned about the high level of pesticide and herbicide use on agave, which have caused problems with the health of the soil in tequila regions."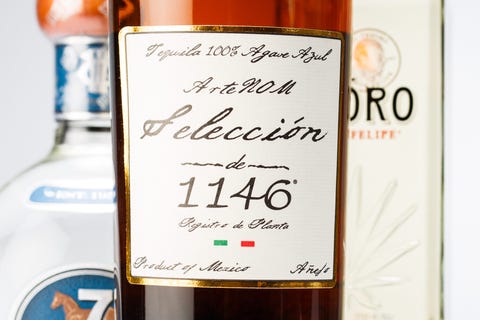 Añejos are tequilas that have spent anywhere from one to three years in barrels. After three years, the spirit becomes an extra añejo, which is a rather new category, Martineau says. "Maybe I'm biased here, but I think [some] añejos shouldn't be. A lot of distillers come out with one to complete their line but aging a spirit is a whole other ballgame, and not every spirit maker knows how to do it."
Still, there are good añejos out there. They'll have more color than a reposado, though Martineau warns that very dark ones could be doctored with additives. "I think of [añejos] as something you reach for with dessert," she says. "You still want that cooked agave, almost pumpkin flavor. But on top of that, you'll find other flavors, too." For example, the chocolate notes found in some blancos become sweeter, like milk chocolate, after aging.
Aging influences the weight and texture of a tequila, too. "Once it's been left in a barrel for this long, you should expect it to have an almost syrupy quality to it," Martineau says.
ArteNOM Seleccion 1146 Añejo
"Just like the reposado 1414, there's a wine bent [here]," Martineau says. "The añejo is aged in used Loire Valley wine barrels, then spends an additional year finished in bourbon casks. The Loire Valley is known for its white wines, and the tequila takes on a lot of dried fruit flavor from the wine barrels."
"This is a good standard for a robust añejo," Martineau says. "It's another Carlos Camarena brand. Though it's an 80-year-old brand, it's only been in the U.S. for a little bit." It's from the highlands, and it spends 18 months in bourbon casks.
"This is an undersung tequila for sure," Martineau says. "It's quite a good value for an añejo, considering it spends 18 months in Kentucky oak. It's brick oven cooked, and mechanical milled. You won't find it everywhere in the U.S., but if you can, it'll be very, very affordable."
ArteNOM Fuenteseca Extra Añejo
"This one's crazy," Martineau says. "It's aged nine years and is a blend of 85 percent liquid aged in American oak and 15 percent aged in French oak. It's super concentrated, and the kind of drink I'd need to have with a cigar."
This content is created and maintained by a third party, and imported onto this page to help users provide their email addresses. You may be able to find more information about this and similar content at piano.io