Every product is carefully selected by our editors. If you buy from a link, we may earn a commission.
The 7 Best Headlamps for Any Adventure
By providing hands-free light, headlamps are indispensable for any outdoor activity.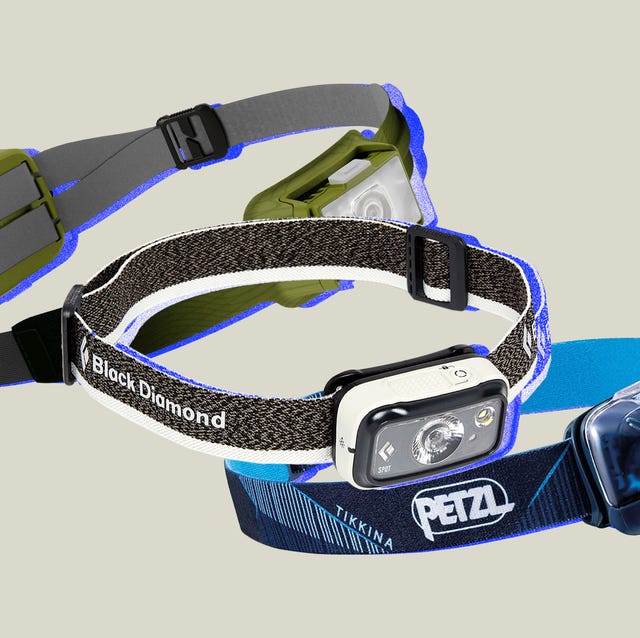 Keeping your hands free while lighting the trail on your next outdoor adventure (camping season is just about here!) is convenient at the least and could actually be lifesaving in certain dire situations (like losing your footing on a steep incline or cliffside). And while that flashlight duct-taped to your head might be a budget-friendly solution, there are much more elegant and functional products out there. When you're out on the trail at night, whether you planned to be or not, a headlamp can become the most important part of your kit. You could have the best backpack or the best hiking boots but, without a headlamp, you might be better off staying home. Whether you're a backcountry skier gearing up for your next heli-skiing trip or just looking to walk the dog at night, these headlamps will light the way.
Understanding Headlamp Specs
We've outlined the key specs for each headlamp in this guide, but it's important to know how to read them correctly. In a store, a headlamp will typically be displayed with its lumens front-and-center on its packaging. This is slightly deceiving, and you wouldn't be blamed for assuming that the number of lumens a headlamp is capable of emitting is equivalent to its overall power. This is true, to an extent.
To a further degree, the lumen output refers to light emitted by the headlamp at its most powerful setting. The catch is that many headlamps have a burst mode, which may only be operational for a short period. So, a headlamp claiming 500 lumens may only emit that much light for a period as short as 10 seconds. By contrast and without exception, the maximum runtime of a given headlamp is based on the lowest possible lumen output setting. The good news is, headlamp manufacturers are generally very transparent with this information, providing detailed charts and graphs on how long a light will last at a given strength.
Furthermore, our guide also outlines the total weight of a headlamp (which usually does not include the weight of the batteries needed to power them), as well as the power source (or the battery type and quantity) for each included lamp option. Together, these specs should give you a more complete idea of what to expect from these headlamps and will allow you to make the most informed decision regarding which is best for you and your adventures.
Now, on to the list.