Every product is carefully selected by our editors. If you buy from a link, we may earn a commission.
The Best Sun Shirts of 2022
These garments look good, feel great and keep you from getting very badly burned.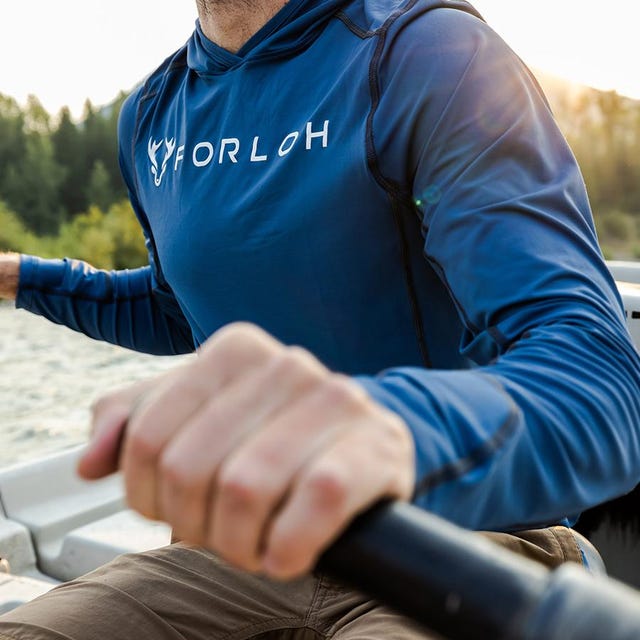 The very phrase 'sun shirt' is a shade oxymoronic, no? I, for one, would rather be bare-chested in the summer sun. Unfortunately, the rewards for going shirtless are agonizing sunburns, increased risk of skin cancer and refusal of service at all my favorite restaurants. Not exactly worth the fleeting feeling of freedom. Sun shirts are a necessity. And while they vary in style, weight, stretch, cut, fabric and intended use, they all have a single common goal: to protect the skin from ultraviolet rays.
It's worth noting that while experts still recommend the use of sunscreen in conjunction with protective clothing, it can be detrimental to your sun shirt over time. "Our UPF garments do not require any special care," says Corey Simpson, Patagonia's communication manager of product and sport communities. "But we do recommend washing them to keep any body oils, sunscreens and other contaminants out of the fabric in order to get the most out of the garment."
What should you look for in a sun shirt?
The most common acronym you'll run into when researching sun shirts is UPF: it stands for Ultraviolet Protection Factor, and you can learn all about it here. The UPF rating of a garment will tell you how protective it is, and will help you decide how long you're willing to stay in the sun for.
Other than UPF ratings, there are a few other considerations to make before buying your next sun shirt: What kinds of activities are you going to be partaking in? Will you opt for long sleeves, or short? For anything longer than a couple hours in the midday sun (from 11am - 4pm) it's recommended to wear long sleeves, and a sun hat. If you're road tripping, heading to your favorite outdoor patio for a brew or taking a short morning hike, you can get away with a short sleeve.
There are a lot of sun shirts out there to research — we've saved you some time by gathering all the best sun shirts around in this handy guide. Pick your favorites, throw them on, and have tons of (safe) fun the rest of spring and all summer long.
This content is created and maintained by a third party, and imported onto this page to help users provide their email addresses. You may be able to find more information about this and similar content at piano.io