Every product is carefully selected by our editors. If you buy from a link, we may earn a commission.
The 18 Best Board Shorts for Summer 2022
Board shorts and swim trunks are not the same.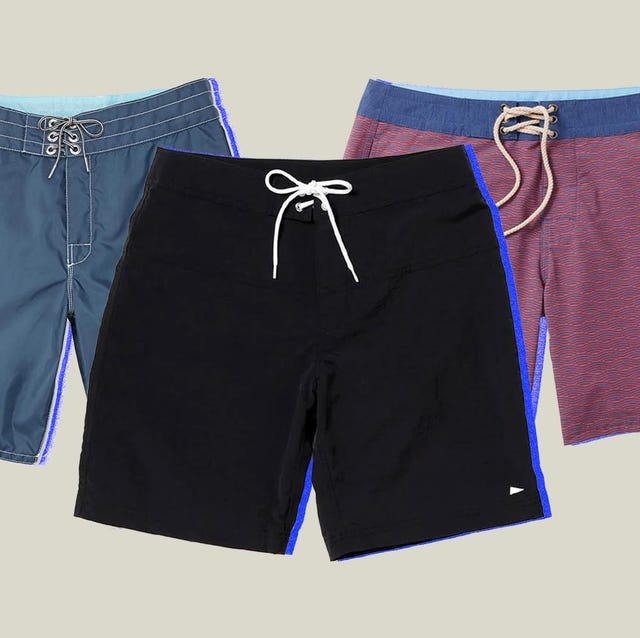 If catching waves (or even being strewn beachside) is your MO, then a pair of board shorts is all but necessary. The warm-water staple short provides coverage and protection in the water without adding unnecessary warmth or bulk. Plus, the right pair proves stylish — as much a short for lounging on land as they are for riding waves.
What to Look for

In 2022, classic nylon designs are still popular, but many of today's brands also offer more performance-oriented options as well. Look for pairs made from quick-drying fabrics with four-way stretch, laser-cut details and stitch-free seams. Pairs with intricate detailing or a dozen pockets might be practical for towing gear or showing off before you get in the water, but you want simplicity above all else.
It's also important to pick a pair with a sturdy waistband. There's nothing worse than losing your bottoms because of a particularly rough wave. Look for velcro and laces.
Board Shorts vs Swim Trunks
Board shorts and swim trunks... they're both bottoms you wear in the water. How could they be that different? Think of it this way: Board shorts are for water sports — surfing, jet skiing, wakeboarding and so on and so forth. Board shorts are typically longer to protect your legs (surf wax is sticky), and their waistbands can withstand tougher tugs. Plus, most board shorts come without mesh liners and other extraneous add-ons.
Swim trunks, on the other hand, emphasize style and put performance features on the back burner, if they're addressed at all. They're for leisurely laps in your backyard pool or plunging into a posh hotel's hot tub. While you could wear them interchangeably, you shouldn't.
How to Pick the Right Length
When buying a pair of board shorts, you've probably inspected their inseam — aka how long they are. What's the difference between a 5-inch, 7-inch and 10-inch inseam? Five-inch shorts are the most ambitious of the bunch. This length is typically reserved for swim trunks because you don't need protection from waxy boards or rough waves. For most men, this short will sit smack dab in the center of your hip and knee. High enough to be breezy yet low enough to ensure you aren't revealing too much. A 7-inch short will hang further down, essentially just above the knee. On most bodies, there will still be a little thigh showing, but this is the short short for men who don't like short shorts.
Most board shorts, though, are between 9 inches and 11 inches. Nine will be right at or slightly above the bend of the knee, meaning little to no real thigh exposure. This length will rarely, if ever, hit beyond the knee on anybody, even if you're all torso. Anything beyond 9, though, is long. You'll find 10-inch board shorts aplenty, and that's sort of the point, because, again, they're designed to protect your legs.
Simply put: 5-inch shorts are too short for board shorts; 7-inch shorts are the sweet spot for landside wear; 9-inch shorts are the sweet spot; 10-inch shorts (and beyond) are a more classic fit.
Board shorts are mostly measured via their outseam though. As far as the difference between an inseam and an outseam, think of it this way: The inseam accounts for the length between the crotch and bottom hem. The outseam measures from the top edge of the waistband to the bottom hem. An average board short outseam is 18 inches. An average inseam is 7-9 inches.

The Best Board Shorts for Summer 2022
This content is created and maintained by a third party, and imported onto this page to help users provide their email addresses. You may be able to find more information about this and similar content at piano.io