Every product is carefully selected by our editors. If you buy from a link, we may earn a commission.
Believe It or Not, You're Overlooking Overalls
Before jeans were jeans, they were overalls, a pair of bottoms with a bib. It's time to give the original a go again.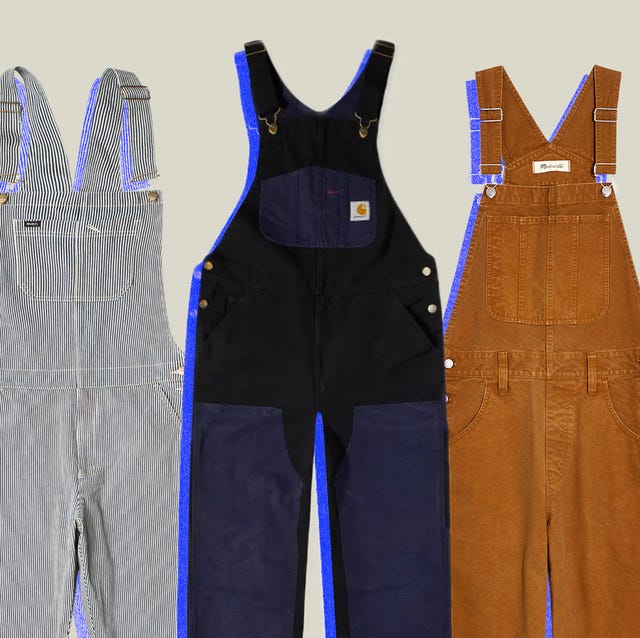 Who it was that invented overalls depends on who you ask. While Levi Strauss trademarked "waist overalls," which he eventually labeled the 501 and called jeans, in 1873, they are mentioned in literature dating back to 1776, and always as a functional garment for the worker (which, prior to 1865, largely meant enslaved people). In 1911, Harry David Lee — you guessed it, the founder of Lee Jeans — designed the first bib overalls. Lee's, instead of using buttons and suspenders like Levi's did, had additional fabric that stretched up over the torso, looped over the shoulders and fastened to the rear of the pants with fabric that fell down the back.
In my opinion, those were the first overalls. They're the ones most similar to overalls you see worn today by infants, farmers, factory workers and fashion designers. But you don't have to be a toddler or today's top model to sport them. If you're shy about showing them off but like the protection they offer, slip them beneath a big knit or heavy overcoat. No one will ever know. Should you want people to see — which you should, don't be shy — they pair nicely with a thermal, heavy T-shirt or a simple sweater. If you buy a vintage pair they'll play particularly nice with both patinaed boots and a broken-in sweatshirt.
If you're a practical person, you could buy overalls for actual work. The bib — what the fabric that extends from your waist up is called — protects against splashes, stains and slices (if they're canvas). Plus, the pant part usually proves a whole hell of a lot heavier because there are suspenders there to support the extra weight, meaning you can scuff them up and bend around without worrying that your knee will bust through.
There are, as expected, more fashion-forward ones that feel a lot lighter. These offer the usual functionality — to cover the shirt you have on underneath — but with added versatility. If they're lighter, maybe you wear them in the dead of summer while tending to your garden or gather produce from a farm stand. Who cares: It's the built-in functionality that, as it is with workwear, makes them fun.
Try these on for size.
Overalls for Men
This content is created and maintained by a third party, and imported onto this page to help users provide their email addresses. You may be able to find more information about this and similar content at piano.io