Every product is carefully selected by our editors. If you buy from a link, we may earn a commission.
These Cargo Shorts Don't Look Like Your Old Ones
10 options that prove change is indeed possible.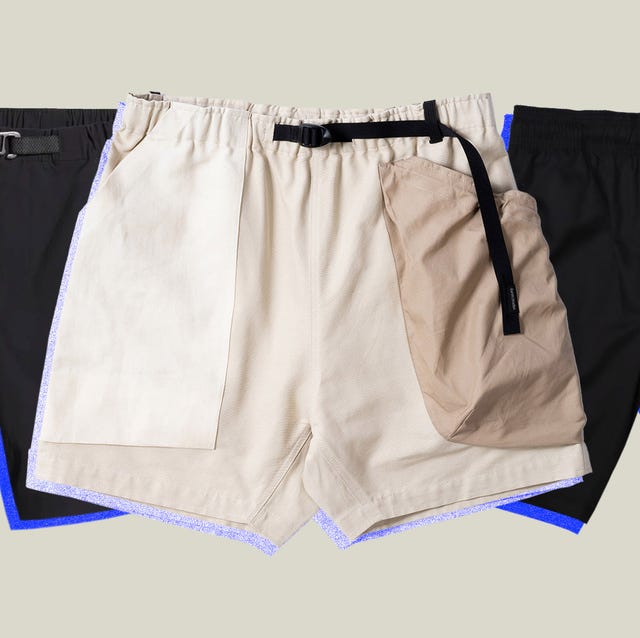 Like a pair of airy and comfortable sandals, shorts are a spring and summertime essential. And yes, that includes cargo shorts. Though birthed from a utilitarian need during World War II, today's breed is either tastefully relaxed or sleek and tapered, and in both cases, a far cry from the overly baggy styling of the late '90s and early aughts.
What to Look for
Cargo shorts, as the name implies, are built for cargo — they're shorts equipped with gusseted pockets on the sides of the legs that can hold extra goodies you may want close by. Those side pockets can make or break a cargo short, however. When searching for a pair, take note of how bulky and billowing those pockets may appear while empty. If you dislike how they look unoccupied, you're likely to not be a fan of their stockiness on your body.
If you've sworn off cargo shorts since middle school, good news: Today's brands lean more tapered and sleeker than the pairs your dad may still favor. You'll be hard-pressed to find a pair in a shorter inseam length, however, as most cargo shorts still start at around an 8 inch inseam, reaching just above the knee and up to an inch or two below them. If you want to slim down that figure, go full outdoorsman mode and pull them up, tucking your T-shirt into the waistline.
Throwing on cargo shorts emits a much different signal than a pair of chino or board shorts — they can convey a more rugged look, giving a utilitarian edge to your outfit. Seeking a versatile pair of cargo shorts? Reach for ones that adapt well from the trail to the streets. If you need something more technical, grab them in a water-resistant polyester or nylon for some element guarding. Many modern cargo shorts are made with ripstop fabric, which reinforces the material with nylon using a crosshatch pattern, making it tougher and tear-resistant.
Are Cargo Shorts Out of Style?
They've surely been considered tasteless in the past but today you'll find more contemporary cuts and flavors. So no, they're not out of style. They've gotten better. Modern iterations may recall the streetwear trends from decades past and not so much fratty Woodstock goers of the early aughts (or mid-2000s dads) — they're still practical and offer plenty of pocket space, but lean trimmer, tapered and less clunky. Still, even the baggier cargo shorts of today look as intentional as your typical relaxed, wide fit styling.
---