Every product is carefully selected by our editors. If you buy from a link, we may earn a commission.
The Best Sandals for Summer Vibes
We've picked out the 14 best sandals for men to wear this summer that are suitable for both the city and the beach.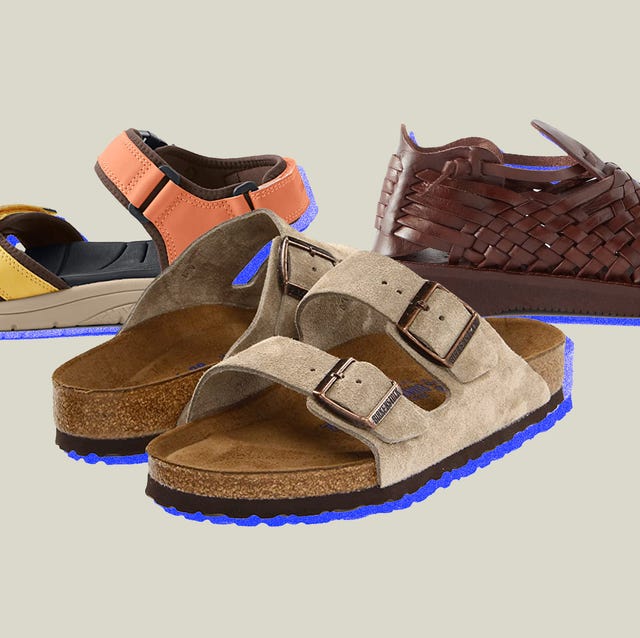 Sandals are the unofficial shoes of summer. They're easy to pack and quick to slip on, and they protect against hot sand — just don't get caught wearing them to the office. From flip-flops to slip-ons, sport sandals to strap-ins, there are probably more options for your feet this summer than you thought.
But no matter whether you're going to the beach, having a relaxed weekend in town or vacationing on the other side of the world, sandals are an essential element of any good summer wardrobe. Sure, they aren't totally appropriate as part of a business outfit but that's just the point. They provide a well-ventilated, comfortable experience for your feet during the hottest months of the year.
Types of Sandals
Flip-Flops
By definition, flip-flops are flat soles that the feet grasp via a Y-shaped strap, also known as a toe thong, between the first (big) and second (index) toes.
Slides
Slides, by comparison, have a strap that goes over the instep to hold the feet in place. Said strap is typically thick to give you proper support, and there can sometimes be a rear support strap too.
Sandals
Tevas... Chacos... these are sandals. Most are feature several straps and wear like shoes, meaning they won't slip off when wet or while you're in motion.
Slip-Ons
Anything open toe or open weave that slips on is a sandal. That means huaraches and other native designs count.
Huaraches
A huarache is a sandal of Pre-Columbian Mexican origin traditionally made from leather and wood, but nowadays rubber. It's assumed that farmers in rural communities wore them because of the region's abundance of natural materials.
Hiking Sandals
The best hiking sandals available today are robust: In fact, they're about as substantial as they can be without losing the light and airy qualities that make them formidable summer footwear to begin with. Think: sticky rubber soles with heavy lugs, platforms molded for arch support and anti-blister soles.
---