The 2022 Bentley Flying Spur Hybrid Review: All the Luxury, Just With Less Emissions
A plug-in hybrid powertrain gives the Flying Spur a dash of green street cred.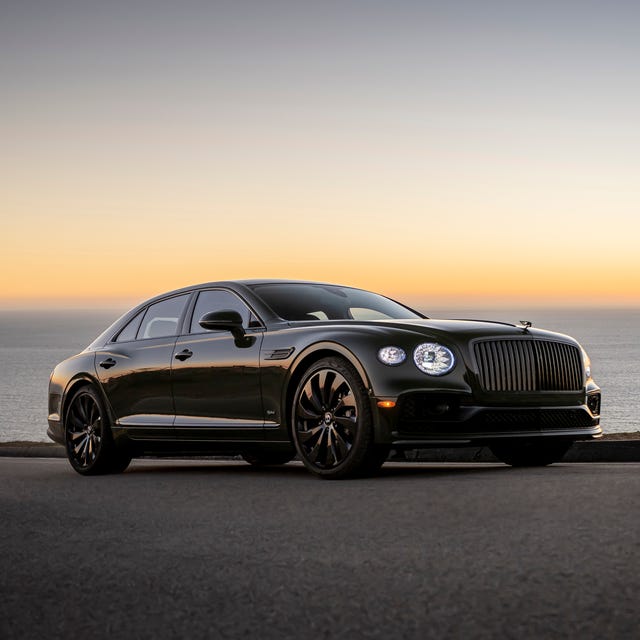 Bentley is on a mission to ditch emissions. The company announced back in 2020 that it planned to disavow gasoline power within 10 years, switching to EVs only by 2030 as it goes carbon-neutral from soup to nuts. They're not jumping straight there, however. As a stepping stone along the way, Bentley plans to go all electrified first — which is to say, offering only EVs and plug-in hybrids by 2026.
And considering the brand's first electric vehicle won't hit the streets until 2025, that means PHEVs will have to do some serious work along the way. A plug-in hybrid Continental GT will arrive in 2024, but for the next couple years, Bentley buyers have two ways to dip their feet into the PHEV pool: the Bentayga Hybrid, which has been around since fall 2019 (which feels like 16 years ago); and the new Flying Spur Hybrid, which brings PHEV advantages to the company's sedan lineup.
Is the Bentley Flying Spur Hybrid new?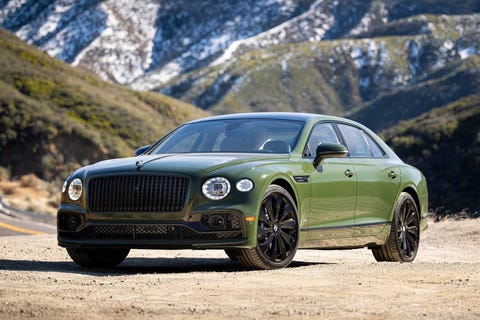 Indeed it is. Announced just last year, the Flying Spur Hybrid is new for the 2022 model year, the second PHEV member of the Bentley family after the aforementioned Bentayga Hybrid.
What makes the Flying Spur Hybrid special?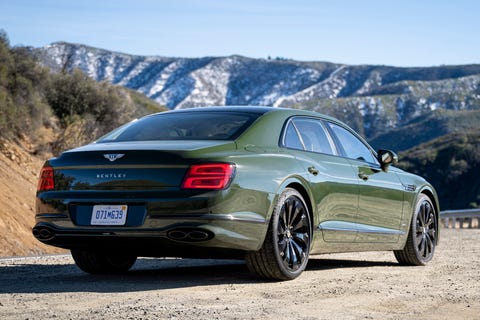 It's a Bentley, which makes it pretty damn special all by itself. But the Flying Spur Hybrid is also a Bentley that can average more than 30 miles per gallon over a 100-mile journey, even when being driven, shall we say, spiritedly.
The Flying Spur Hybrid marks the first time in decades that there's a six-cylinder engine under the hood of a Bentley sedan — specifically, a 2.9-liter twin-turbo V6. Between the gas engine and the eight-speed dual-clutch automatic gearbox sits an electric motor making 134 horsepower and 295 lb-ft of torque, which is fed by 18-kWh of usable capacity from the lithium-ion battery mounted far in the back. If all that sounds familiar, well, that's because it's basically the exact same setup as the Porsche Panamera 4S E-Hybrid — not all that surprising, as the Panamera and Flying Spur share a basic architecture beneath the skin.
From outside, however, you'd be hard-pressed to tell the Flying Spur Hybrid from the V8 version. The only external difference is the appearance of a second fuel filler door at the root of the C-pillar, where the female end of the plug lies ready to accept Level 1 or Level 2 chargers — the latter of which can fill up the battery in as little as two and a half hours.
What's this Bentley like inside?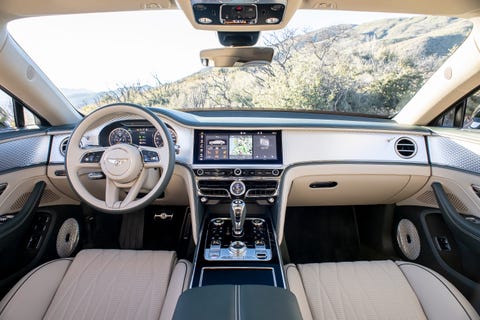 Just like the V8 and W12 Flying Spurs. Which is to say, very much like a four-seat version of the Bentley Continental GT. Which is to say, utterly spectacular.
These days, automotive interiors are better than ever, especially in the luxury set — but even so, few can match the sheer quality and attention to detail found in one of Bentley's new models. It's an interior so nice, you'll find yourself studying the nuances and materials with your gaze and your fingertips when you're stuck in traffic rather than flicking open your phone to check Instagram or refresh your emails. It's a damn impressive car that can break you away from the draw of the little black mirror, but a Bentley does it with ease.
As in the Conti GT, the driving position feels made for crossing continents, with an expansive view of the massive hood (that Flying B looks miles away from the driver's seat), a well-balanced array of both physical buttons and touchscreen controls, a steering wheel that's a pleasure to hold and seats so soft, you might wish you could drive bare-bottomed.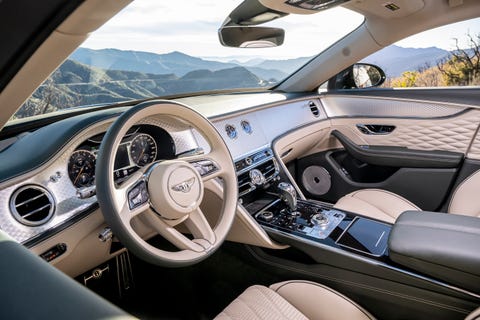 In a nice touch, Bentley also gave the assembled media a chance to appreciate the Flying Spur Hybrid from the back seat, where many a customer will spend some time. (Most Flying Spur customers like to drive themselves, Bentley says, but around half also employ a driver at least some of the time.)
The back seats themselves are as comfortable as the ones up front, with cosseting bolsters to hold you in place, ample legroom even for Lincolnesque individuals and ample adjustments to make sure you can always find your sweet spot. If I had to find a fault, I might argue that forward visibility is rather lacking — the scooped-out seat bottoms give the second row the opposite of stadium seating — but that's generally an issue with any sedan.
What's the Flying Spur Hybrid like to drive?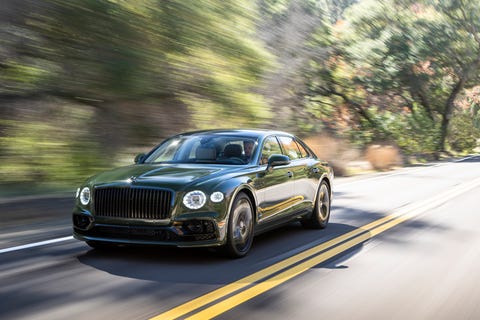 With an overall max output of 536 horsepower and 553 lb-ft, the Flying Spur Hybrid is more than capable of making its hefty mass — 5,523 pounds before you climb aboard — seem largely theoretical when you floor the gas pedal. Bentley claims a 0-60 mph time of 4.1 seconds — just one-tenth behind the Flying Spur V8 — and there's little reason to doubt that, given the remarkable way it picks up and goes.
While there's no escaping the fact that PHEVs are usually heavier than strict ICE vehicles – batteries are heavy, man – it's easier to mask that when you're already dealing with a heavy vehicle like a Bentley, as the percentage of weight gained is less. Unless you knew what was under the hood beforehand, you'd be hard-pressed to tell the difference between it and the V8 on a straightaway.
Unlike the strictly combustion-powered versions, however, the Flying Spur rewards gentle driving by offering up near-silent motoring under electric driving. At 50 mph in EV mode, Bentley says the Hybrid is 50 percent quieter inside than the ICE Flying Spurs; I can't confirm the difference in decibels, but I can say that it's about as quiet a car I've ever been in at that speed.
And even once the battery's range is ostensibly depleted, there's always enough power for the full whammy of horses and torques if needed, but there's also enough to let the V6 occasionally fall silent for a few seconds at a time when cruising under light load, helping squeeze a dash more distance out of every tank of gas.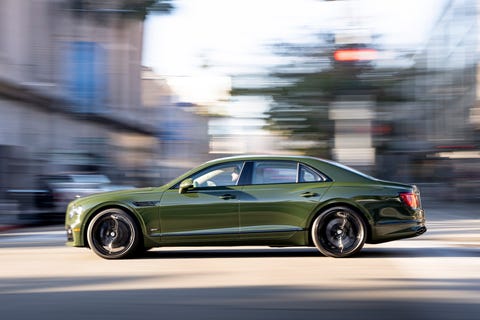 Dial it into a turn, and the Flying Spur reveals itself to trend more towards softness than sportiness. Body roll is noticeable at lower speeds than you'd expect if you're used to the modern crop of aggressively-sprung, sportiness-is-king luxury sedans.
Still, it's more than capable of holding its own in the twisties once you learn how far it can go; it builds progressively and predictably towards its limits, never leaving you feeling like you're at risk of suddenly losing your head (or the line). And that soft suspension helps deliver a stunningly comfortable ride on all road surfaces, even on the low-profile tires standard on every Flying Spur.
How far does the Flying Spur Hybrid go on electricity?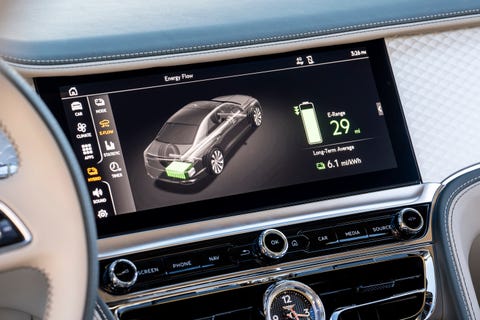 Official results aren't in just yet, and Bentley merely quotes it as offering "25-plus miles" of EV range — but based on my own experience, drivers can expect somewhere between 25 and 40 miles of driving on the battery pack before the gas engine is forced to come alive.
As always with electrified vehicles, that can vary based on all sorts of factors. The first of my two stints with a charged battery involved a lot of freeway climbs, which sucked the juice out of it quick enough to drain the almost-full battery to zero in around 27 miles. On the second leg that took place almost entirely on flat terrain, I managed to rack up around 37 miles of EV driving before the car passed things off to the V6.
While you have to keep a gentle foot on the throttle in order to make the most of it — remember, if you need more than 134 horses or 295 lb-ft, the gas engine will kick on — the Flying Spur Hybrid can reach speeds exceeding 85 miles per hour on battery power alone. And as with Porsche's PHEVs, switching over to Sport mode will help pass electrons back into the battery more quickly while on the road; a couple dozen miles of gas-powered driving will dump several miles of range back into the lithium-ion unit, which comes in handy when stop-and-go traffic rears its head.
What does the Bentley Flying Spur Hybrid compete against?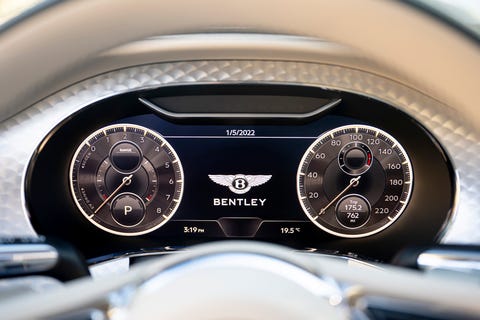 If you're winnowing it down strictly to "ultra-luxury PHEV sedans," well, there aren't really any direct competitors. Widen your parameters a little, however, and there's a few options that might compete for those one-percenter dollars. The Rolls-Royce Ghost isn't as efficient and is a good bit pricier, but it's the only similar car that can match the Flying Spur for imperiousness. The Mercedes-Benz EQS and Tesla Model S exceed the Bentley's eco-friendly bonafides, but they can't match the levels of luxury (although the Merc comes close) — and their strictly-electric nature means they're liable to be less appealing to road trippers than the hybrid Bentley.
The closest competitor would likely be the Mercedes-Benz S 580 PHEV, which packs all the luxury and comfort of the S-Class but pairs a twin-turbo inline-six with a 29-kWh battery to deliver nearly as much power as and far more EV range than the Flying Spur Hybrid; unfortunately, it's not coming to America just yet. Same goes for the plug-in hybrid Audi A8. BMW does offer a PHEV 7 Series, the 745e xDrive, but it's significantly down on power, packing a maximum of 389 horses.
For many a shopper, however, the main buying quandary may simply be between the hybrid and another version of the Flying Spur. By the brand's own admission, most buyers (in America, at least) don't really care what powers their Bentley — they just care that it's powerful. (That's part of the reason the company isn't as worried about going all-electric as other carmakers.)
The Hybrid may lack the deep-throated growl of its fellow Flying Spurs, but otherwise, it offers better fuel economy and less emissions while delivering the pace and power owners expect. Hard not to see that as a win, no?
2022 Bentley Flying Spur Hybrid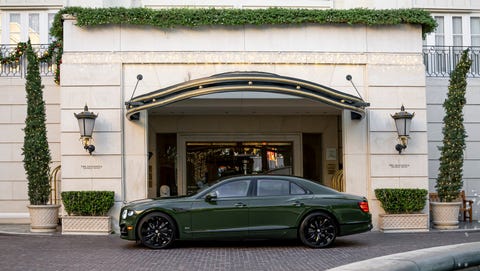 Base Price: ≈ $205,000
Powertrain: 2.9-liter twin-turbo V6 + 14.1-kWh battery + electric motor; eight-speed automatic; all-wheel-drive
Horsepower: 536
Torque: 553
EPA Fuel Economy: Stay tuned
Seats: Four, quite nicely
Rolls-Royce's Black Badge Ghost Is Made for the Cool Kids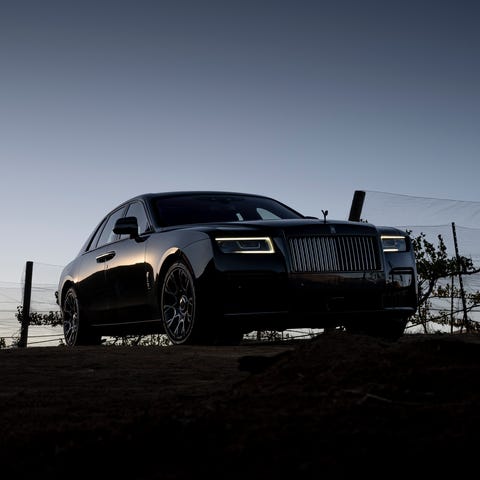 The Rolls-Royce you'd buy if you could.