The 2022 Hyundai Santa Cruz Is a Pickup for People Who Aren't Truck People
It's not a substitute for a regular truck, but it's great for folks who don't need all that.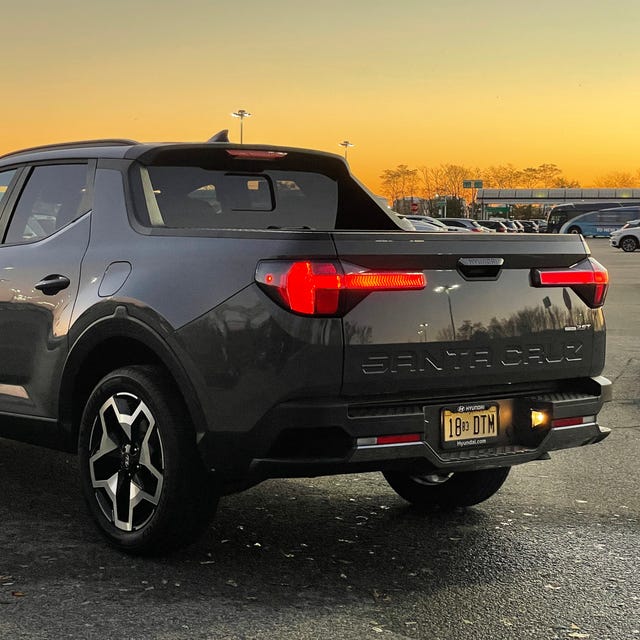 Hyundai would like it very much if we didn't call the new 2022 Santa Cruz a pickup truck.
Sure, it has an open bed in the back for cargo that's separated from the cabin...and sure, it rides up higher than a car...and sure, you can have it send power to all four wheels...but it's not a pickup, they swear. It's a Sports Activity Vehicle.
If that sounds like a euphemism for Sport Utility Vehicle, well, it basically is. (Indeed, you could argue that Sport Utility Vehicle would be a much better term for what Hyundai wants people to think of the Santa Cruz as, were it not taken.) But that's in large part because the Santa Cruz isn't meant to compete with the Silverados and Tundras of the world; it's meant to be an alternative for people who live the cliché of the active outdoor lifestyle, people who normally shop Subaru Outbacks and Foresters but want something where they can throw their muddy crap in a bed, rather than constantly wind up with a dirty interior.
The Santa Cruz is, in effect, a crossover with a cutout in back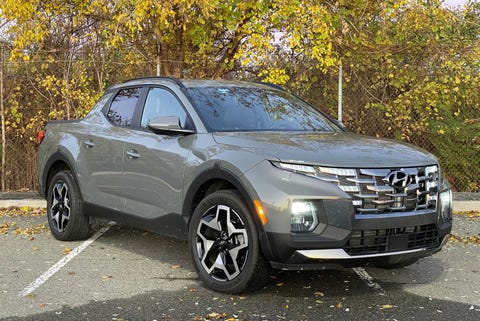 If the Santa Cruz looks familiar, it's not necessarily because you've seen one before; you might have just seen a new Hyundai Tucson. The two share the same light-packed front end, dominated by an array of LED daytime running lights that help define the look of the vehicle. (The headlights are the geometric forms at the lower corners of the gray bodywork in the above picture.)
The three-box shape makes the Santa Cruz look a bit more aggressive than its crossover counterpart, however; the angle of the bed's sheetmetal (and the lack of metal above it) make the rear wheels seem to jut out further, helping give it a squat stance. The Santa Cruz isn't conventionally beautiful, by any means, but it's certainly attention-getting — like a warthog in a tuxedo.
While it may seem aggro outside, beneath the skin lies something much more conventional. Like the Tucson and all crossovers — and unlike most pickups — the Santa Cruz uses a unibody chassis, which gives it a more car-like ride at the expense of some raw hauling capability. For upper level trims, power comes from Hyundai's turbocharged 2.5-liter inline-four making a zesty 281 horses and 311 lb-ft, which moves this Hyundai around with impressive zeal. Scooting along New York's parkways, the Santa Cruz had no trouble zipping through gaps and accelerating into fast-moving traffic — and unlike conventional pickups, it took turns in utterly composed, even car-like fashion. If, for whatever reason, you're looking for a brand-new stock pickup to attack Tail of the Dragon with, this is probably your best bet.
The Santa Cruz's bed is convenient, if small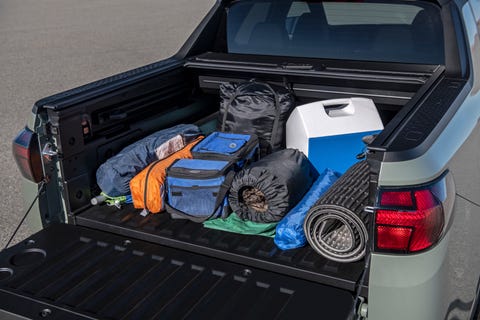 Should anyone ask you what separates Santa Cruz from Tucson, you now have two correct answers: "825 miles" or "what's behind the B-pillar." The pickup boasts a longer wheelbase to make room for its defining feature; the change becomes noticeable when your vision reaches the rear doors, which lack the wheel-well cutouts seen in the crossover.
At its floor, the bed stretches 52.1 inches from front to back, making it that rare truck bed that's actually wider than it is long. (It's 53.9 inches from left to right, except between the wheel wells.) Add up all the measurements, and you get just shy of 30 cubic feet of bed space — about two-thirds as much as a Hyundai Palisade set up in two-row configuration. (That measure matters more here than in most trucks, as the Santa Cruz comes with a handy retractable cover for the bed to keep stuff secure and out of sight.)
While it's certainly handy for carrying all sorts of items (as pickup beds are), its size may leave something to be desired for anyone coming from — or expecting — regular truck capability. A mountain bike, as seen below, has to flop awkwardly over the tailgate to ride along without a bike rack.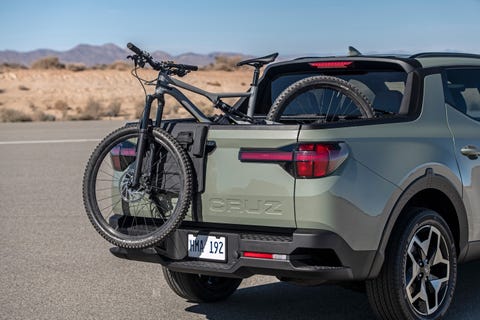 Still, with a payload capacity of 1,609 pounds, you have comparable load-lugging capability to midsize pickup trucks like the Ford Ranger and Toyota Tacoma. And while it can't tow quite as much as a traditional body-on-frame pickup truck, it can still lug up to 5,000 pounds – enough to haul a couple snowmobiles or ADV bikes on a trailer, for example.
Confession: This is not the Santa Cruz's cockpit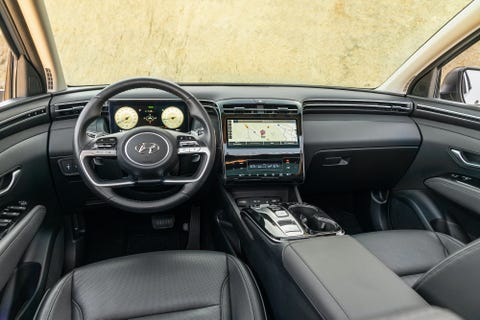 This is actually a picture of the interior of the Tucson. I post it here because a) the two are almost identical, and b) Hyundai's media website doesn't have any pictures of the Santa Cruz from this angle, perhaps because of a). The most notable difference between them is the shifter; while the Tucson uses an in-vogue button selector, the truck sticks with the tried-and-true T-shaped lever that slides back and forth like a boat throttle.
Like every new vehicle to roll out of the dealerships of the broader Hyundai juggernaut these days, the Santa Cruz is a very nice place to spend time behind the wheel. The digital displays are clear and intuitive, even if the instrument panel looks a bit tacked-on; the buttons may be haptic feedback models buried in piano-black plastic — including, regrettably, buttons for volume and tuning — but at least they're upright and easy to see at a glance. And the seats are plenty comfortable.
If rear-seat space is a priority, you might look elsewhere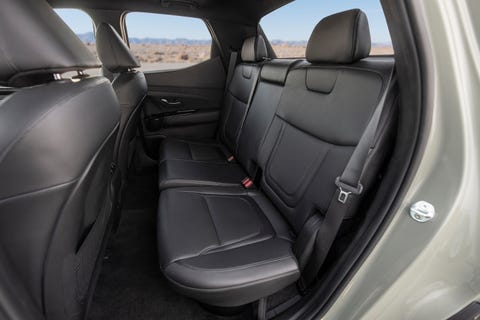 In back, however, things are a bit tighter. With the front seats pushed back for tall-person comfort, the second row's legroom wound up bordering on unusable for adults. For adventure-minded couples, it likely wouldn't be a problem — the rear seat works damn well as a place to store items you don't want in the bed, and the seat cushion even flips up for added space — but for anyone with kids, be they in child seats or otherwise, it might a tough squeeze.
Which, if this were a second vehicle — a weekend car, like , that might not be much of an issue, but the Santa Cruz is very much priced to be the sole car for many a household. Sure, it starts at $25,385, but that's for a front-wheel-drive SE model with the anemic base engine. To score the desirable larger engine, you have to level up to the $37,075 SEL Premium trim. For roughly that much, you could score a Ford Ranger XLT with the FX4 Off-Road Package. (Further bittering the deal: the solid lease deals automakers often offer on full-size pickup trucks, which can match the lease offers on far cheaper vehicles.)
There's a bigger threat to the Santa Cruz than conven keep in mind, if you really don't need body-on-frame truck capability, there's also the Ford Maverick — which offers an equivalent mid-range-big-engine-AWD model for $10,000 less. Even built out with all the options, the Maverick XLT rings up around $32,000. And if you're looking for a front-wheel-drive model for lower-impact tasks, the Maverick's base model packs a hybrid engine — one that, in practice, can almost double the base-motor Santa Cruz's 23 miles per gallon combined.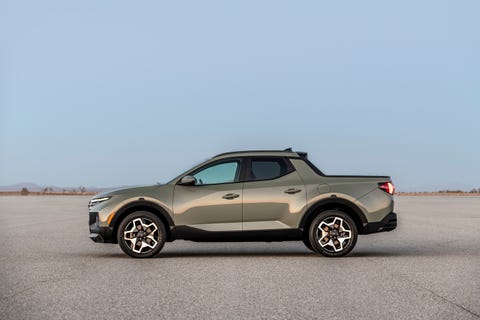 Base Price / Price as Tested: $25,385 / $41,115
Powertrain: 2.5-liter inline-four / 2.5-liter turbocharged inline-four; eight-speed automatic; front- or all-wheel-drive
Horsepower: 191 / 281
Torque: 181 lb-ft / 311 lb-ft
EPA Fuel Economy: 21 mpg city, 26 mpg highway / 19 mpg city, 27 mpg highway
Seats: Five
The 2022 Ford Maverick Is the Small Truck You Didn't Know You Needed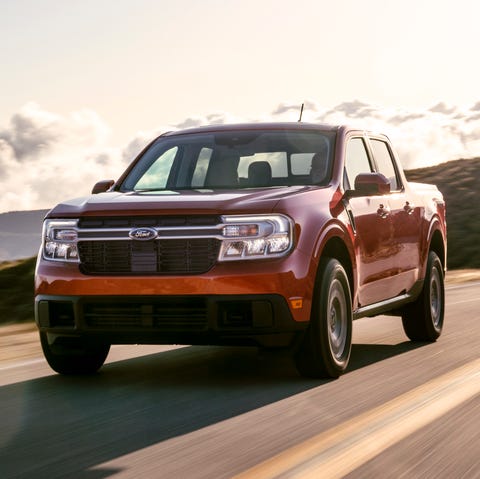 As with its big brother, the F-150, just about anyone can find a reason to buy a Maverick.