Every product is carefully selected by our editors. If you buy from a link, we may earn a commission.
What's It Like to Drive a Corvette in Winter? We Found Out
Chevy's icon may not be an obvious winter ride...but it does better than you might expect.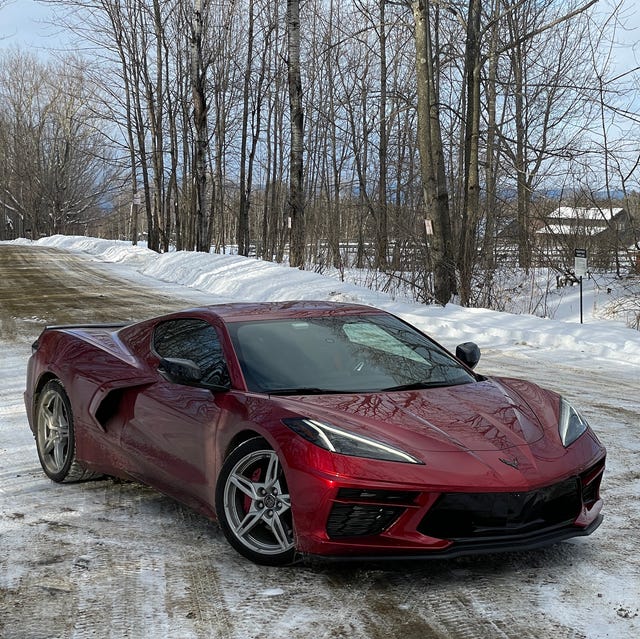 The Chevy Corvette is many things to many people, but it's not the sort of car most people would consider a good car for winter driving. Dealing with the cold usually also means dealing with ice and snow, of course — two states of water that, when placed on the ground in the path of a moving vehicle, generally leave its driver hoping for as much traction and as much space between the vehicle's body and the elements below as possible. That means four-wheel-drive or all-wheel-drive are generally preferred, as is a lot of ground clearance.
The Corvette, of course, has neither.
Every Corvette ever to roll out of a GM factory has sent its power to the rear wheels alone, and every one has sat low enough to the ground to scrape squirrel boogers off the pavement with its front bumper. That may change at some point — future hybrid and EV 'Vettes seem likely to offer AWD to make the most of their power, and a Corvette-branded SUV may well be in the works — but here in early 2022, every Chevy with that famous flag logo sits low and send power to the stern.
Still, the latest-generation version does offer one change that could alter its behavior in the snow: the engine now sits between the driver and the rear axle. Does pushing the weight distribution closer to the driven wheels make it better in the slick stuff?
Is anyone actually crazy enough to risk driving their precious Bowtie baby through the shit of winter to see for themselves? Maybe, maybe not. But I figured I owed it to anyone who might be curious to find out, so I scooped up a C8 Corvette with snow tires and headed north to Vermont.
This content is created and maintained by a third party, and imported onto this page to help users provide their email addresses. You may be able to find more information about this and similar content at piano.io