The 2023 Toyota bZ4X Is Unconventional, in All Sorts of Conventional Ways
Toyota's first EV is weird — but Toyota-weird, not electric car-weird.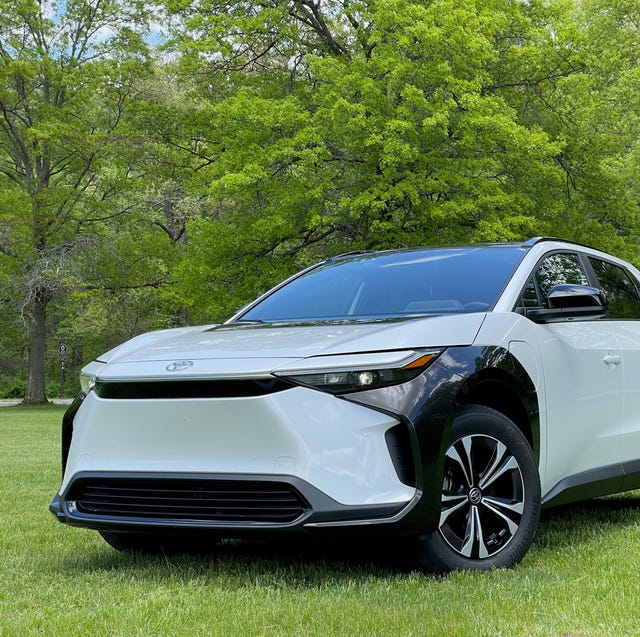 For a company that's almost synonymous with hybrids and their equivalent efficiency, Toyota has had a surprisingly light portfolio of vehicles featuring electric plugs. Then again, that might be exactly why Toyota hasn't really danced with the lithium-ion battery in the pale moonlight very much; they've spent decades convincing people that what they really need is the ease and simplicity of a mild hybrid system that helps their car's mpg eke more m out of each g.
And in all honesty, they've had a point. For the vast majority of average automotive buyers in America, hybrids – both plug-in and the more traditional plugless variety — have been the best choice for many years, combining efficiency with convenience in a way neither pure internal-combustion nor battery power alone can match.
Here in 2022, however, that tide is finally starting to turn. With brands like Tesla proving the value (for both customers and shareholders) of EVs, and countries pushing hard to do away with new gas-powered cars within not just our lifetimes, but even a dog's, even Toyota has no choice but to give the world — including America — a chance to choose a car powered by electrons alone. Which is where the bZ4X comes in.
What makes the Toyota bZ4X special?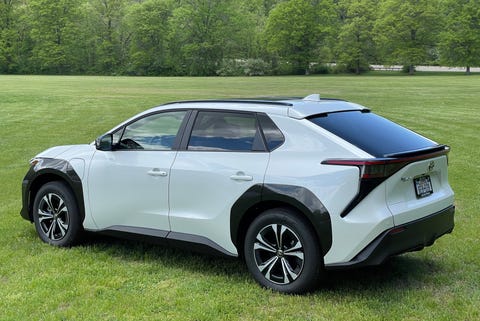 As mentioned, it's Toyota's first true electric vehicle meant for mass consumption. Like the Toyota GR 86 — and perhaps the only way in which it's like that gas-powered, rear-wheel-drive, manual gearbox-equipped sports car — it's been co-developed with Subaru, which sells a near-identical car as the Solterra.
The design is extroverted and outgoing, with a rakish rear hatch that almost seems more suited to a sedan than an SUV, sides that exaggerate their wheel openings through black paint and a front that makes little secret about its lack of need for a grille. It seemed almost too weird for a traditionally conservative carmaker like Toyota, at least to me...until I caught a glimpse of a new RAV4 driving by, wearing the same colorway (white body with black fender flares). In a vacuum, it looks pretty much just as odd as the bZ4x, albeit with a slightly more conventional roofline.
That said, the name is odd enough to make up for everything else. According to Toyota: the bZ stands for "beyond zero," the cutesy phrase for the company's future of zero-emissions vehicles; the 4 stands for its size, the same as the RAV4; and the X stands for SUV. But it all just comes across as an alphanumeric salad sure to leave some wondering if a product planner fell asleep on their keyboard. I'm sure Toyota salesfolks will soon be spending their lunch breaks swapping stories about customers' mangled attempts to pronounce it. ("Bizzy-forks"? "Buzz-Forex"? "Bee-Zeforks"?)
What's the bZ4X like to drive?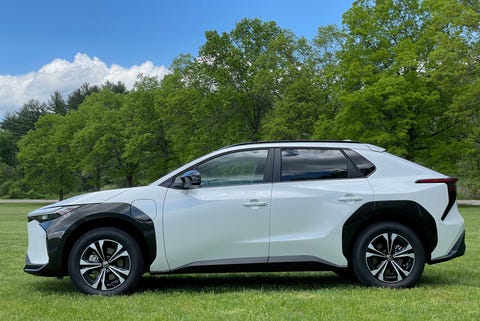 Ultimately, unremarkable — which, presumably, was the mission brief from the get-go. Anyone hoping to make the jump to Ludicrous Speed in this EV will be more disappointed than Han Solo trying and failing to make the jump to hyperspeed with Darth Vader on his tail; the bZ4x makes just 201 horsepower and 196 lb-ft in base two-wheel-drive form, and 214 hp and 248 lb-ft if you opt for all-wheel-drive.
The torque, however, does do the driver the favor of showing up instantaneously, making the Toyota feel more potent at around-town speeds. Once you're on the highway, though, it feels more like the 4,400-lb vehicle with only economy car power that it is.
Handling and braking, meanwhile, are not particularly worth writing home about; they're certainly acceptable for the category, and the low-slung battery gives the bZ4X a slight edge in turns over gas-powered crossovers with higher-mounted, nose-heavy engines throwing off their center of gravity, but the bZ4X won't be keeping up with a Porsche Macan on a tight country road. This is an EV made for the way most Americans live and drive, not one seeking performance glory.
If going light on power brought great benefits in terms of range, it might make sense — but here, the bZ4X also falls a little flat. While many, if not most, new EVs here in 2022 are set up to deliver between 250 and 300 miles of range in their most efficient configuration, the Toyota's maximum claimed range is just 252 miles for the most efficient version, the two-wheel-drive XLE. The 2WD Limited trim delivers a claimed 242 miles of range; the AWD XLE serves up a claimed 228 miles; the AWD Limited just 222.
My test car revealed a range in the low 200s when it was dropped off at my home with a battery charge of around 90 percent. Granted, my car was a pre-production version, so the battery software may not have been finalized — and Toyota, being Toyota, may well play it super-conservative on the displayed range, in order to keep folks from winding up stranded on the side of the road. Still, given the car's novelty, it was a tad disappointing to see such a low range — especially as it was late spring, with temperatures near the ideal for EV batteries.
What's the Toyota bZ4X like inside?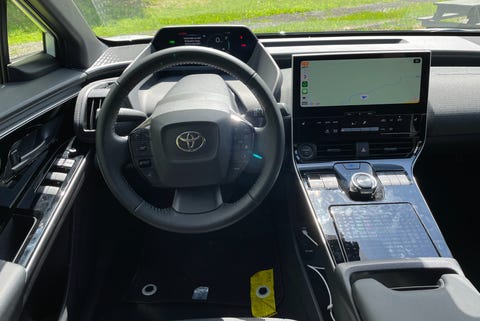 Quirky — but again, in a way that will likely feel familiar to many a Toyota driver. The instrument panel sits in a pod above the rest of the dashboard; the steering wheel looks like something out of a ride from Blade Runner. Neither will likely seem all that odd to anyone who's ever owned a Prius.
It's certainly spacious enough for a family of four, however, so long as they don't bring too much luggage with them. While the back seat is decently roomy for adults, the cargo bay is only moderately usable, at least for an SUV. As you can see below, my two Yeti coolers of around 30 liters each took up a good chunk of the cargo space; a family of four would be hard-pressed to bring more than a weekend's worth of luggage.
What does this Toyota compete against?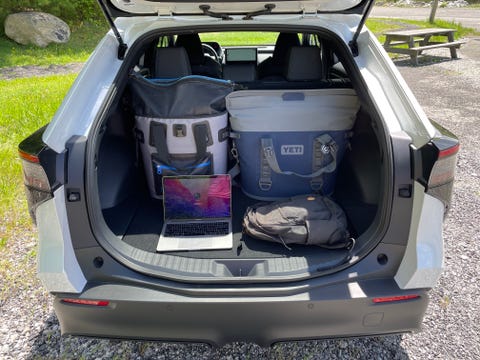 Its Subaru Solterra twin is sure to court many a potential buyer; after all, it offers very similar looks and almost all the same virtues, and costs just a hair more for an equivalent all-wheel-drive model. (The bZ4X's option to offer a cheaper front-wheel-drive variant is one of the few features separating the two.) The VW ID.4, Hyundai Ioniq 5, Kia EV6 and Ford Mustang Mach-E also will no doubt woo many buyers who simply want an electric high-riding two-box.
But unless buyers are virulently excited about EVs, some of the more compelling alternatives may lie in a Toyota dealership. The bZ4x is still eligible for the $7,500 non-refundable federal tax credit, which brings its $43,215 base price down to $35,715. Still, that's more than $6,000 more than the price of its gas-powered equivalent, a front-wheel-drive RAV4 XLE; it's also $1,700 than a RAV4 Prime PHEV after tax credit, a car that packs way more power — enough to slap a grin on your face when you floor it — as well as 40 miles of electric range and the versatility of gasoline power for long trips. (Also, if you don't buy one soon, you'll miss out on that tax credit; Toyota is set to trip the threshold of 200,000 EVs and PHEVs sold that cuts off the tap from Uncle Sam to buyers.)

The bZ4X is a solid crossover, sure, one that checks all the boxes for what most people want and need. But playing to the base at this price, with this amount of range and power, and with no killer app or fun feature — no Gear Tunnel, no Super Cruise, no Ludicrous Mode, no wild design — it's hard to make a truly compelling case for it.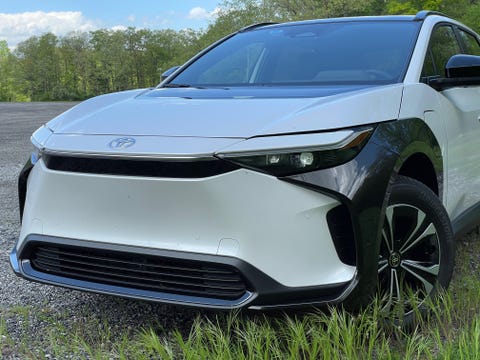 Base Price: $43,215
Powertrain: Front- / front-and-rear electric motors; 1-speed transmission; front-wheel-drive / all-wheel-drive
Horsepower: 201 / 214
Torque: 196 / 248
Claimed Range: 252–222 miles
Seats: Five
The 2023 Subaru Solterra Is a Little Bit Toyota, a Lot of Subaru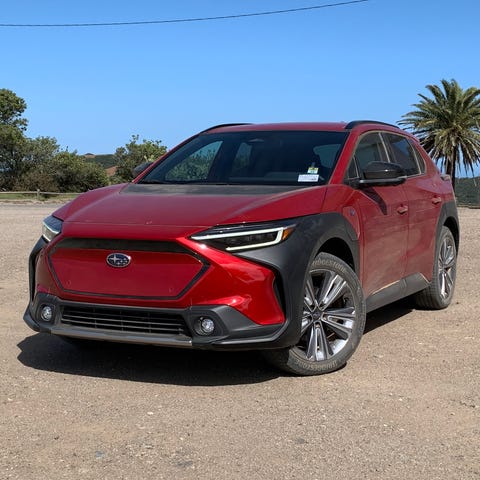 Subaru's new EV is surprisingly impressive. But you may need to look through Subie-tinted glasses.