2023 Cadillac Escalade-V Review: More of an Escalade+
It's no XXL CTS-V, but the hottest Escalade ever still has its charms.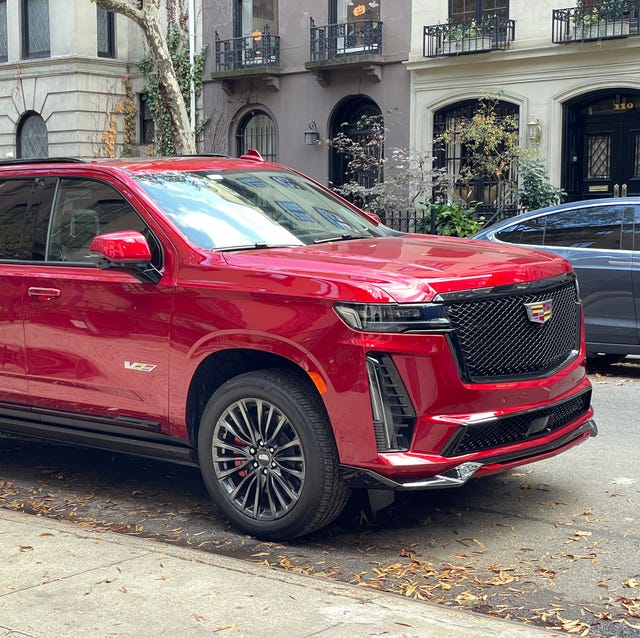 Among people who give a damn about cars, in recent years, Cadillac has been known for two things: the Escalade sport-utility vehicle, and the V-Series line of performance vehicles. Yet while both of these names have been around for (automotive) generations — the first V-car bowed in 2004, while the Escalade first showed up in 1999 — Caddy never thought of pulling a Reese's and putting these two great tastes together until the year 2022, even though luxury competitors have been cranking out full-size SUVs with performance-tuned engines for some time now.
Nevertheless, with electrification looming (remember, Cadillac has promised to go all-EV in the next decade) and the most powerful version of its supercharged 6.2-liter V8 ever made now available under the hood of the CT5-V Blackwing, the time was right for the V badge and the Escalade nameplate to finally meet. Revealed last year, the Escalade-V packs the most potent engine ever outfitted to a production Caddy, with 682 horsepower manifesting under its hood at the flex of the driver's ankle.
Having spent quite a bit of very joyful time behind the wheels of various Cadillac V-cars over the years, I was fairly excited to clamber behind the wheel of the largest and largest one. So when General Motors offered me a chance to put it through its paces in my daily life, well, that was a very easy yes. Here's what I learned.