Every product is carefully selected by our editors. If you buy from a link, we may earn a commission.
The Cadillac CT5-V Blackwing Is a Triumph of American Engineering
Most car companies wouldn't dare put this much power and a stick shift into a luxury sedan. GM dared.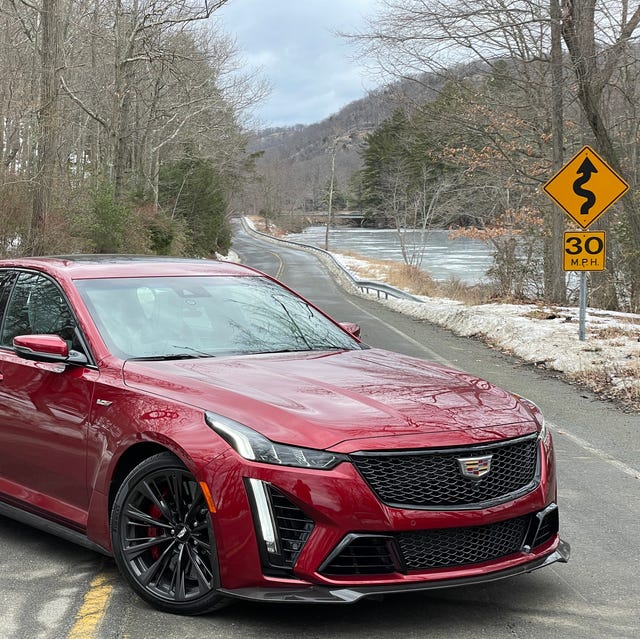 Suffice it to say, I had high hopes stepping into the Cadillac CT5-V Blackwing for the first time. After all, name aside, it's effectively the fourth generation of the CTS-V — a car that wormed its way into my heart just as it did many automotive journalists and driving enthusiasts. The first-gen version redefined what a Cadillac could be; the second-gen reset the bar again, bringing edgier style and a much-beloved station wagon body style to the party; the third-gen lost the manual transmission but upped the level of performance once again, bringing a handsome new face to the party as well.
Better yet, the CT5-V Blackwing combines many of the best parts of its predecessors — a six-speed manual gearbox, a supercharged Corvette-based 6.2-liter V8 — with the latest electronic features whipped up by General Motors, making it properly outfitted for sale here in 2022. I've been salivating over it ever since the first rumors began to fly about it; I begrudgingly handed over the first drive opportunity to my colleague; and I've sat and waited as supply chain shortages and other issues kept it from my hands.
Until, finally, this February, it showed up at my door.
The CT5-V Blackwing's performance is almost beyond compare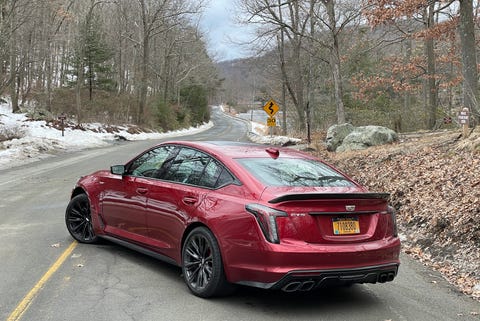 Not long ago, 668 horsepower would have been the sort of output seen mainly in supercars. And by "not long ago," I mean "when you started reading this article;" the Lamborghini Huracan STO makes 630 horses, the Ford GT 660. The CT5-V Blackwing's not-an-actual-Blackwing V8 makes more power than any of its competitors: the BMW M5 or M8 Gran Coupe, the Mercedes-AMG E63 or GT 63 S, the Audi RS 6 Avant or RS 7. Only the Porsche Panamera Turbo S E-Hybrid manages to surpass it, with a bit of hybrid help — at more than twice the price of the Caddy.
And while all those competitors have outfitted their super-smart automatic gearboxes and power-maximizing all-wheel-drive systems, the engineering wizards at General Motors decided they could find a way to make this level of performance work with rear-wheel-drive and a good old-fashioned stick shift.
One key to doing so: the Performance Traction Management system, which regulates the car's network of electronic stability and powertrain management systems with the skill of a virtuoso conductor directing the New York Philharmonic. In previous V-cars, it was hidden away in the drive mode selector in a fashion that made discovering its facets something of a crapshoot; I'm sure many an owner spent years driving without even knowing it was there.
For the new Blackwings, Cadillac moved the PTM controls to a small toggle switch on the steering wheel — the size, purpose and placement of which owes more than a little to Ferrari's manettino. Clicking it progressively loosens up depending ostensibly on surface and driving style — Wet, Dry, Sport, Race 1 and Race 2. And while there are a bevy of present drive modes, the CT5-V Blackwing also offers two customizable ones: one called My Mode, found in the regular settings, and one called V-Mode, summoned via the round button at the 8 o'clock position on the wheel.
Given the conditions I was driving under — more on that in a bit — I only loosened up the PTM past Dry once, twisting it to Race 1 for a blast on an uphill on-ramp. The result felt rather like throwing reins on a Titan missile and letting it rip: the computers kept everything just well enough in check to keep the nose pointed in the right direction, while still feeding enough power to the wheels to cause the car to balance on the edge of fishtailing. It only lasted a few seconds — by the time I reached the actual highway, I was doing well over 80 mph — but the sheer fun of those few seconds will stick with me for years.
Indeed, the CT5-V Blackwing's performance is so ludicrous, you'll be hard-pressed to find ample opportunities to use it. Even half-throttle makes it leap forward more quickly than most cars on the road. Thankfully, it's still rewarding to drive at lesser speeds, especially with the involvement of the stick shift. Leave it in second or third, and you can explore the nuances of the torque curve as you unwind a stretch of winding road, feeling the road through the wheel and seat as the suspension — which, like Boyz 2 Men, manages to be neither too hard nor too soft — keeps the car firmly planted. Sure, the quicker you go, the more fun you'll have — but this car is still rewarding at (or at least near) the speed limit.
This Cadillac has the space and comfort of a great daily driver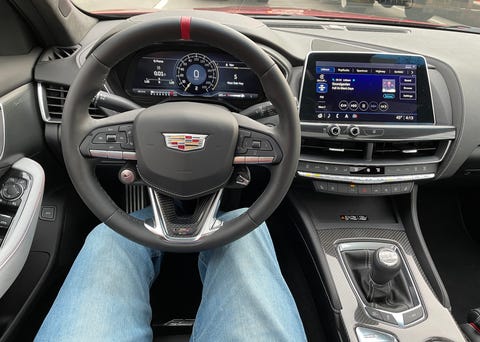 When the CT5-V Blackwing launched, Cadillac somewhat laughably tried to pitch it as a BMW M3 / Mercedes-AMG C63 competitor, rather than one aimed at the M5 and E63. From a price and branding standpoint, it almost made sense — for a luxury brand, it's better to say "we offer more power and performance for the money than our competitors" than to say "we're equal on performance, but hey, we're cheaper" — but any such illusions fall apart quickly under not just the weight of its mighty engine, but the ample room of its cabin.
Like the 5 Series and E-Class, the CT5 is roomy enough for four larger adults to spread out inside; it was easily able to accomodate a five-foot-nine person behind a six-footer with both sitting comfortably, while on the driver's side, moving the seat back all the way to its stop meant even my 36-inch-inseam legs couldn't stretch far enough to properly work the clutch. And the performance-oriented seats might look aggressive, but they're also long-haul comfortable, even packing heating and ventilation into their carbon fiber frames.
The infotainment system may not be the sexiest screen setup found in a car today, but it's certainly practical, complete with two physical knobs (for volume and menu selection) and plenty of physical buttons for important features, like climate control. It's a marked improvement over the old CTS, which used damnable touch-sensitive strips of plastic that were hard to manipulate even when sitting still, let alone at speed.
The CT5-V Blackwing isn't completely perfect, mind you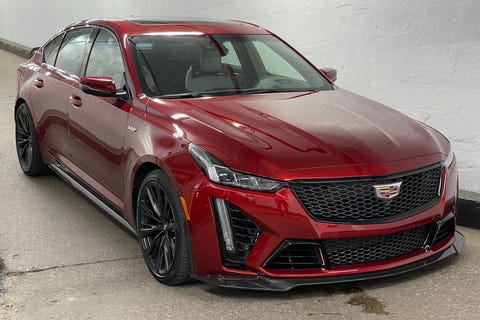 I wish I could wrap things up there, leave you with only the sunshine and roses about my time with the Blackwing. Unfortunately, well, one or two quibbles came up along the way.
The biggest problem wasn't Cadillac's fault; it was Pirelli's. As one would hope, the local fleet management company that handles the loans of GM press cars in the NYC area insists on cladding all their vehicles in winter tires during the cold months; however, instead of the excellent Michelin Pilot Alpin snow tires found on my Corvette Stingray and Cadillac CT4-V Blackwing test cars this year, the CT5-V B'wing was wearing Pirelli Sottozeros.
To be honest, though, they might as well have been summer tires, because the mighty Caddy wound up slipping and sliding over even the slightest bit of semi-slick road. Granted, channeling this much power and torque through the rear wheels alone is a recipe for wheelspin and sliding — but the Pirellis caused the CT5-V Blackwing to fishtail on slippery roads at the slightest inputs, even when my foot was barely feathering the gas.
That might not have been such a big deal...had my time with the car not coincided with the second-worst snowstorm of the winter. Which, coincidentally, came during a holiday weekend where I was driving to Vermont, resulting in nerve-wracking whiteouts and monstrous traffic jams. The latter was where the manual Caddy's weakness reared its head; 30 minutes in two-mile-per-hour traffic left my clutch leg shaking, my demeanor grump and the car little happier. If you're going to be dealing with frequent, lengthy bouts of stop-and-go traffic — for example, if you plan on regularly commuting in Los Angeles or New York City — you might want to opt for the automatic.
Finally, the carbon fiber packages — two separate options that, combined, add more than 10 percent to the car's base price — look damn good, but the front splitter that adds much aggression to the car's looks also has a habit of scraping on curbs, ramps and all sorts of other obstacles.
Not only is it lower than you'd expect the front of a sedan to be, but it also sticks out farther. Unless you're actually planning on tracking your CT5-V B'wing — more than once — save the $9,330. You'll need it to keep that supercharged V8 swilling expensive premium, anyway.
Still, the CT5-V Blackwing is worth the compromises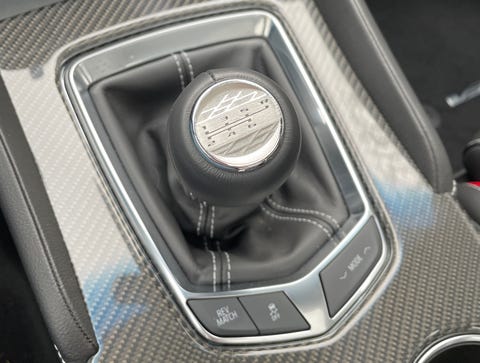 In an alternate reality where carbon dioxide and pollutants miraculously disappeared, the CT5-V Blackwing would be followed by a long series of further improved, Detroit-made, V8-powered sport sedans. Sadly, that's not the world we live in. Cadillac is the tip of the spear for GM's push into electrification, so as a result, every all-new Caddy after these will be an electric vehicle. In other words, the CT5-V Blackwing is all but assuredly the final V8-powered sedan of any form to bear the Wreath & Crest, let alone one with a manual gearbox and supercar-rivalling performance.
There will, of course, be future V-Series beasts to emerge from Caddy's doors; in a decade, we'll likely be staring at the likes of a 1,000-horsepower all-wheel-drive EV super-sedan that takes the best bits from the electric C9 Corvette and bears a goofy name like "Speedtastiq." But the engagement, the visceral thrill, the rush of a rear-wheel-drive, stick-shifted, V8-powered performance car that doubles as family transport will be gone.
So with that said, well, here's hoping I'll have another chance to drive the CT5-V Blackwing in better weather, on better tires. Whaddya say, Cadillac?
2022 Cadillac CT5-V Blackwing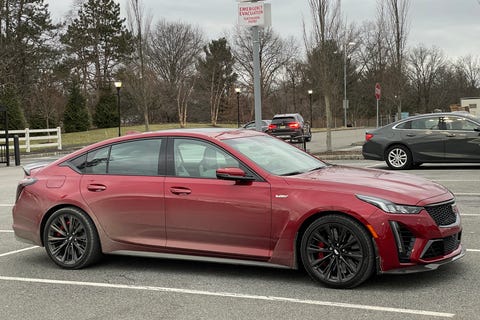 Base Price / Price as Tested: $84,990 / $109,765
Powertrain: 6.2-liter supercharged V8; six-speed manual or 10-speed automatic; rear-wheel-drive
Horsepower: 668
Torque: 659 lb-ft
EPA Fuel Economy: You're not thinking about this the right way
Seats: Five
Cadillac's CT4-V and CT5-V Blackwings Are the Ultimate Sleeper Cars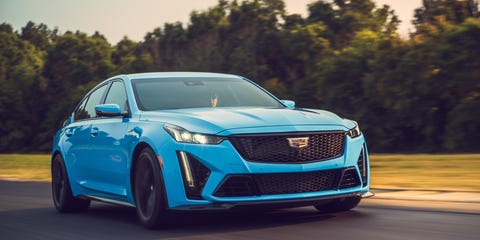 And those in the know aren't sleeping on them.