2023 BMW X7 Review: A Better Big Beast of a Bimmer
A gentle refresh keeps Bimmer's biggest beast near the front of the large luxury SUV pack.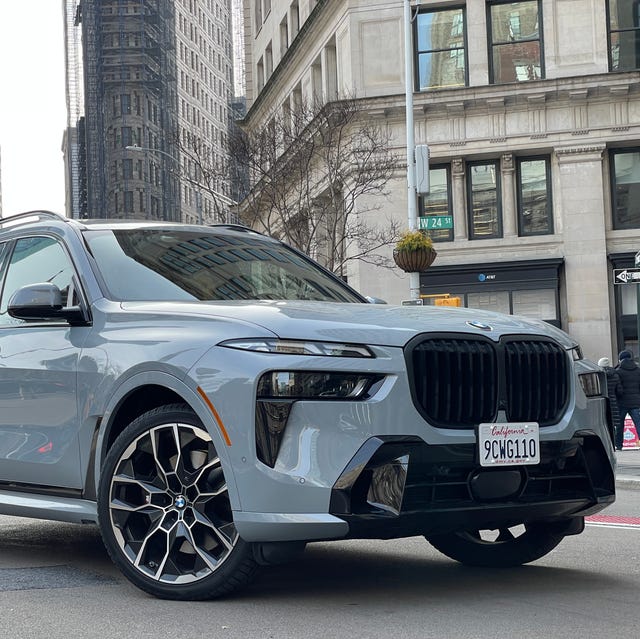 It wasn't all that long ago that the idea of BMW building a giant, eight-passenger SUV would have seemed downright heretical. Sedans, coupes, wagons and convertibles have been Bimmer's stock in trade most of its existence; it waited until the very end of the 20th century to jump on the sport-utility bandwagon, even though manufacturers had been using the term for the fast-growing category for more than a decade and models like the Ford Explorer, Chevy Tahoe and Jeep Grand Cherokee had proven the immense demand for family cars that combined four-wheel-drive grip and a civilized ride.
Of course, to paraphrase Mr. Zimmerman, the times have been a-changing. Here in 2023, the X7 isn't even the most controversial model BMW builds on this platform; that honor would have to go to the plus-sized plug-in-hybrid performance SUV called the BMW XM, the M division's first unique car since the M1. But the X7 has been around long enough (and sold enough copies) to earn a mid-life-cycle refresh, clearly demonstrating that, while true Bimmer believers may still cry fowl, the market says otherwise.
So with the X7 freshly updated for the 2023 model year, I took it for a spin in and around the greater New York area to see how it would handle the urban and suburban chores that the vast majority of these big BMWs will spend their lives performing. Here's what I found.
2023 BMW X7: What We Think
The X7 is one of the best choices in the large luxury SUV category, especially if that third row of seats will be used more occasionally than regularly. Its car-like (at least for a large SUV) performance, ride and handling make it easy, even fun to drive for such a big beast. While 2023's updates are on the milder side, and the facelift's visual appeal is very much a matter of taste, the interior upgrades have overall made it an even more comfortable and enjoyable place to occupy while driving.
The 2023 BMW X7: Testing Notes
The X7 is big, but not overwhelmingly so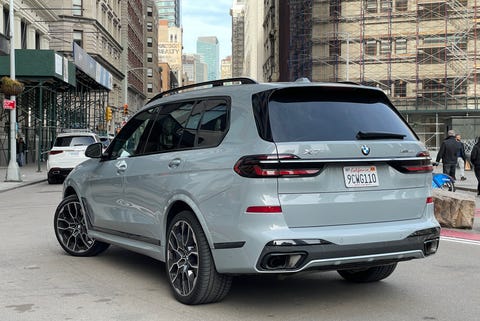 Technically, the X7 competes in the same three-row SUV category as the Lexus LX 600, Cadillac Escalade, Infiniti QX80, Jeep Grand Wagoneer and Lincoln Navigator, but it doesn't quite feel on the same scale. Part of that is due to its car-like unibody construction, versus the pickup truck-based body-on-frame build of those other vehicles; it lends the X7 (and the Mercedes-Benz GLS-Class, which also goes unibody) a bit more of a nimble feeling. But it's also because, well, it is smaller. At 203.6 inches long, it's nearly a foot shorter than an Escalade — even though the Bimmer's wheelbase is two inches longer.
Granted, that makes the third row less usable than the equivalent of larger SUVs; it's fine for occasional use, such as the ever-cliché duty of being pressed into transporting a couple extra tweens to soccer practice, but the toll it takes from the cargo bay means you won't be able to carry many balls or bags back there. (And on the flip side — if you really use your third row often, odds are good you're looking at an extended-length SUV from one of Detroit's automakers, anyway.)
The six-cylinder X7 xDrive40i is all the power you'll need here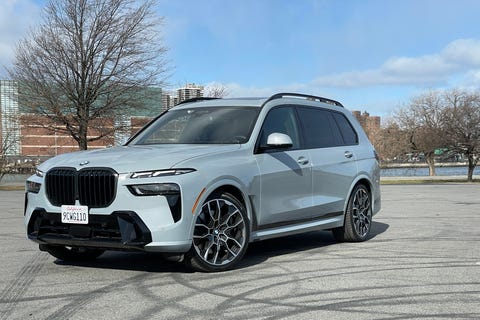 The X7 offers three choices of powertrain — a six-cylinder and two V8s – but you can stop at the base model. BMW's 3.0-liter turbocharged inline-six is so creamy-smooth and potent, you'll never want for more power. BMW quotes a 5.8 second 0-60-mph time for this beast, but their estimates tend to be conservative; if you're the type who enjoys launch-control-starting their big SUV, my butt-ometer suggests it'll do the naught-to-60 in a the low five-second range.
With just shy of 400 lb-ft of torque available from 1,850 rpm all the way to 5,000, there's a noticeable shove on the roll at any speed — and if the 375 horsepower seems a little low compared to some competitors, keep in mind BMW usually underrates their outputs. Add in the mighty $25,250 upcharge needed for eight-cylinder power, and arguments for choosing any other engine in the X7 become damn hard to make.
The interior is so nice, you won't even miss leather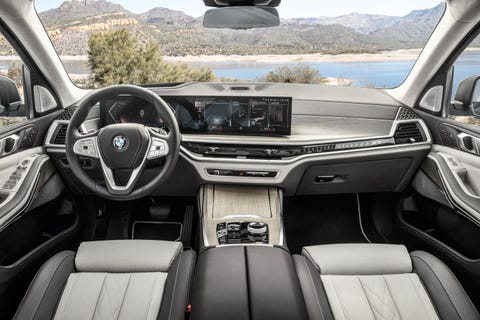 True story: it wasn't until I checked the window sticker halfway through my test that I realized the supple material coating the seats of my test car wasn't leather. It was actually "Sensafin" — BMW's new vegan leather, which comes standard in the X7 xDrive40i. I'm used to seeing other types of fake leather trim in BMW products, but usually it's in the likes of 3 Series sedans and Mini Coopers, where buyers would be more apt to choose leatherette to save a buck. The X7, though, sits alongside the 7 Series at the top of the range, where customers have more disposable cash and, presumably, want nicer rides. The fact that Sensafin feels good enough to be worthy of such a high-end model— and one look around the cabin will make it very clear you're in a high-end model — is impressive, indeed.
Unlike the upholstery, you won't have such issues noticing the giant split-screen landscape display that curves halfway across the dashboard, with one side serving as instrument panel and the other as infotainment screen. BMW is implementing this design far and wide across its lineup these days, while simultaneously swapping out shift levers for electric switches and ditching most of the physical buttons. It's a bit of a mixed bag, ergonomically; the larger screen is more legible and easier to operate, perhaps, but the disappearance of handy features like the preset buttons and tactile climate controls is irksome, at least to me. (Then again, I still don't get the whole appeal of ChatGPT, so maybe I'm just becoming a dinosaur.)
The 2023 facelift...kind of works for it?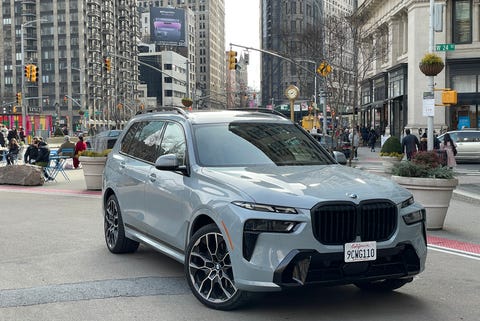 Generally speaking, I — and many other folks — haven't been a huge fan of BMW's recent design language. Epitomized most clearly by the likes of the M3 / 4 Series and 7 Series, it's a complex mish-mash of sharp creases and elements, some oversized, some undersized — a far cry from the simple lines of the BMWs of the 1980s and 1990s, or even the oceanic ovoid designs of the Chris Bangle era.
Yet while the aforementioned cars might force buyers to choose black paint simply to disguise some of those design traits, the X7, arguably, almost looks decent after its 2023 facelift. Part of it stems from the sheer size of the front fascia; as one of the biggest cars in Bimmer's line, there's a lot of room to fit the mega-grille and all those other design elements. But part of it is simple aggression: compared to the pre-facelift model, the latest X7 simply looks far tougher. Slower traffic that might have paid the previous one no mind in the rearview will be way more likely to move over when this face shows up on their six.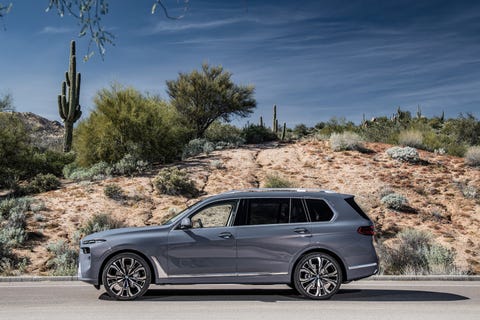 Base Price / Price as Tested: $78,845 / $93,745
Powertrain: 3.0-liter turbocharged inline-six; eight-speed automatic; all-wheel-drive
Horsepower: 375
Torque: 398 lb-ft
EPA Fuel Economy: 21 mpg city, 25 mpg highway
Seats: 8
2022 BMW i4 M50i Review: An Electric 3 Series by Another Name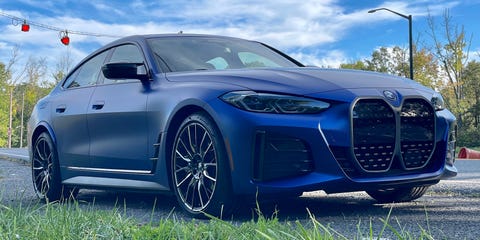 Bimmer's first stab at electrifying one of its core models is a solid one.