The Land Rover Defender 90 Is Ready for Everything, Except Big Families
If you don't need room for many people or too much stuff, it's the Defender to get.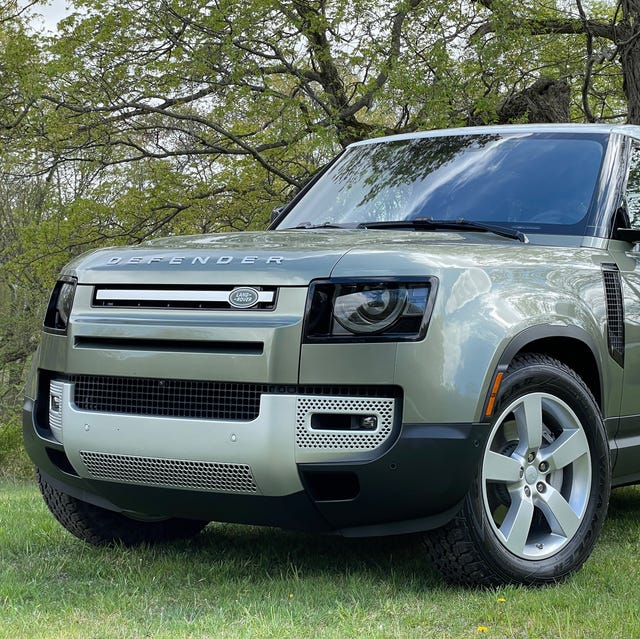 By now, you're presumably familiar with the story of the new Land Rover Defender: the controversy over its looks, the debate over whether its unibody construction makes it unworthy of the Defender name, the fact that it's become a pillar of the lineup with more variants planned. It was our choice for one of the most important vehicles to go on sale last year, and we stand by that decision with pride.
All of this, however, has largely been spearheaded by the four-door version that Land Rover rolled out first – the Defender 110. Getting that variant on the road (and off it) first makes sense; after all, two-door vehicles have been largely outré for Americans for some time, with coupes and convertibles drifting away year by year and even the original two-door Jeep Wrangler now being vastly outsold by its four-door sibling.
Still, for many people, the word Defender sounds best only when followed by the word Ninety. The Land Rover Defender's ancestor, the original Series I, started out as a two-door short-wheelbase vehicle; the Defender 90 has carried on that tradition through the decades. And while today's version might be vastly different from prior ones, it's still very much true to that basic template of being a boxy two-door Land Rover.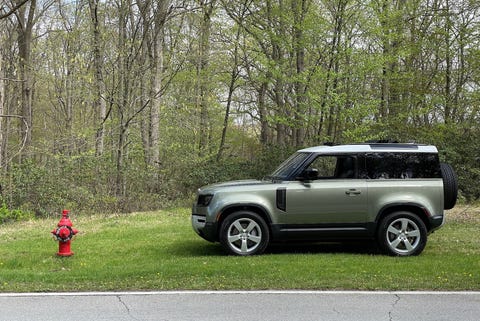 More or less. The Defender 90 is the shorter, two-door version of the 110 that went on sale last year, but apart from the missing length, it's effectively identical to that SUV — mechanically, electronically and design-wise in equal measure.
How does this new Defender drive?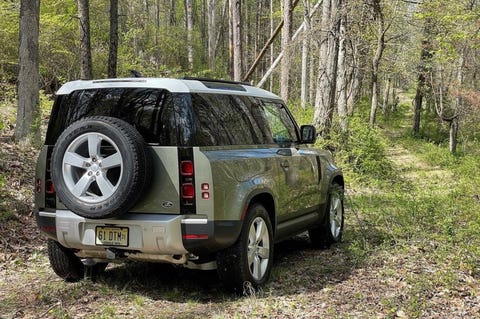 It's more entertaining than you might expect. The 90's smaller size means it's both lighter and shorter of wheelbase than the likely-more-popular 110, which makes it a bit more fun to drive. You'll never confuse it with a Mustang, let alone a 911, but the twin-turbo inline-six's ample power slings it forward with more than enough verve to punch through holes in traffic or power up short on-ramps. (There's also a turbo four version, but realistically, you want the six. It even gets better highway fuel economy.) Likewise, the suspension may be soft as whipped cream compared to a sports car, but if you embrace the body roll, you'll find this Land Rover capable of carrying a surprising amount of speed through a corner.
Land Rover's brief first drive event didn't include any formal off-roading, but while testing it, I stumbled across a trail that ran under a set of power lines cut through the New Jersey woods and darted up it long enough to at least try and test the 90's off-road prowess. (For the record, I'm 90 percent sure I wasn't trespassing.)
Land Rover's Terrain Response 2 off-road powertrain management system offers a bevy of different selections tailor-made for different types of, well, terrains, but past experience off-roading with Land Rover's experts has shown me that, in all honesty, the system is smart enough that you can just leave it in Auto and let it sort itself out. It was a short dalliance past the pavement, but that mile or so packed enough rocks, mud and articulation-testing angles to prove the Defender 90 more than capable of leaving crossovers behind when the going gets rough. Which, again, is hardly a surprise — this is Land Rover we're talking about, the company that doesn't bother with "trail rated" badges or special off-road editions because they're all off-road-ready. Still, it's always nice to see for yourself.
What's the Defender 90 like inside?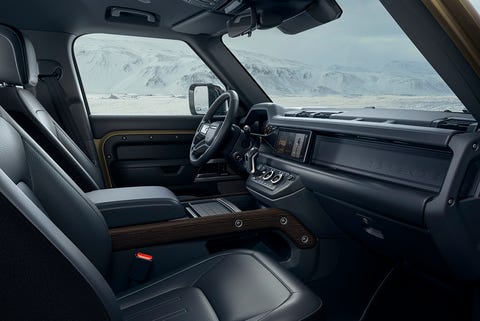 For the folks in the first row, it's just like the Defender 110, so I'll refer you to what I wrote in my first drive of that SUV:
"The interior is a delight of usability, with ample storage space for phones, snacks and the like. Leaving the dashboard's structural cross-member exposed frees up a ton of added room, as well as giving the interior a rugged feel — one complemented by the burly grab handles and other well-considered elements. And the new Pivi Pro infotainment system is a definite upgrade over previous Jaguar Land Rover setups, if still not quite as intuitive or quick as the best out there. (Pro tip, though: use Apple CarPlay or Android Auto instead of the built-in navigation system; it proved hopelessly buggy during my drive.)"
Room in the Defender 90's second row is a bit tight, however, as you might expect of a vehicle with a 102-inch wheelbase. (That's five inches less than a Honda Civic.) Still, I was able to wedge my six-foot-four frame into all three of the rear seats; it wasn't comfortable, but it'd be livable, at least for short journeys. And if you spec out your Defender 90 the way my test car was, with the flip-up third seat in the front, you can in fact safely squeeze six adults into a vehicle less than four inches longer than a Jeep Wrangler two-door...even if doing so will likely lead to some grumbling in short order.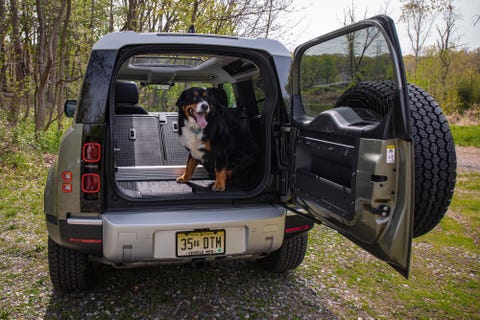 This adorable Bernese mountain dog, however, is a classic example of misdirection. When you see Rosie sitting back there, your mind likely defaults to aww look at that sweet puppers, what a good doggo! Which means you're not noticing, for example, that that large dog basically takes up the entire cargo area even with the seats folded down.
With the second row upright, the cargo bay is less than two feet deep from portal to seat back. You'd be hard-pressed to carry any suitcases or even hard-sided carry-on bags back there; indeed, a week's worth of groceries for even a childless couple would probably be too much for it. You can, of course, fold down part or all of the second row, as seen here — but that necessitates restricting yourself to one or two passengers. Bottom line: if you plan on ever driving with two or more people and letting them carry more than a wallet each, you're better off opting for the 110.
What are the Land Rover Defender 90's main competitors?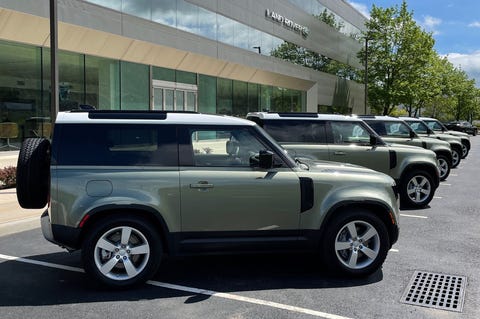 The ranks of two-door SUVs aren't particularly thick these days, so direct foes are a little hard to find. The new Ford Bronco and the venerable Jeep Wrangler both come in two-door form, but both slide in at a lower price point; even loaded up with options, their price tags more or less level off where the Defender 90 starts. There are plenty of other versatile, utilitarian SUVs in the 90's $50K-to-$80K price range — but they're either significantly larger, packing room for seven people or more, or much more performance-oriented (your BMW X3 M, Mercedes-AMG GLC 43 / 63, etc.).
The 90 makes more sense, however, not when compared to similar vehicles of shape and price, but when viewed through the lens of a lifestyle. Defender 90 buyers are much more likely to be the sorts of folks who choose their vehicles not so much based strictly on practical features, but on a combination of usability and visibility — as much about making the right sort of impression as zipping from A to B.
Anecdotes aren't the best of evidence, but I can provide one that helps paint a picture of the somewhat unorthodox position the Defender occupies. A good friend of mine recently decided to take advantage of the absurd trade-in value for his four-year-old F-150 Raptor after moving to New York City; he wanted something smaller and easier to park, but still stylish and capable of handling whatever crap he might encounter. He considered a used Mercedes G-wagen, then a Porsche Macan…only to finally decide on the Defender 90. For an unmarried car enthusiast who digs 4x4s, standout design and a city-parking-friendly wheelbase, it's just about perfect; if your lifestyle aligns with those sorts of ideals, it'll probably be just about perfect for you too.
2021 Land Rover Defender 90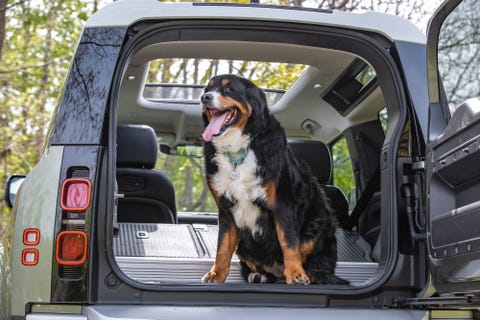 Base Price: $49,050
Powertrain: 2.0-liter turbocharged inline-four / 3.0-liter turbocharged inline-six; eight-speed automatic; four-wheel-drive
Horsepower: 296 / 395
Torque: 295 lb-ft / 406 lb-ft
EPA Fuel Economy: 18 mpg city, 21 mpg highway // 17 mpg city, 22 mpg highway
Seats: Five to six, if you pack them in
The New Land Rover Defender Is Exactly the SUV It Needs to Be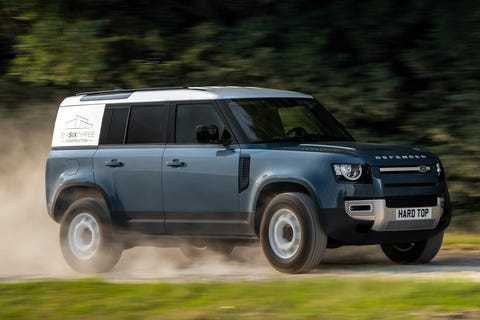 It might not be exactly what you wanted, but the new Defender is what Land Rover needs right now.