Every product is carefully selected by our editors. If you buy from a link, we may earn a commission.
The 50 Best Menswear Stores in America
From Milwaukee to Miami, these are the brick-and-mortar shops you should highlight on your map.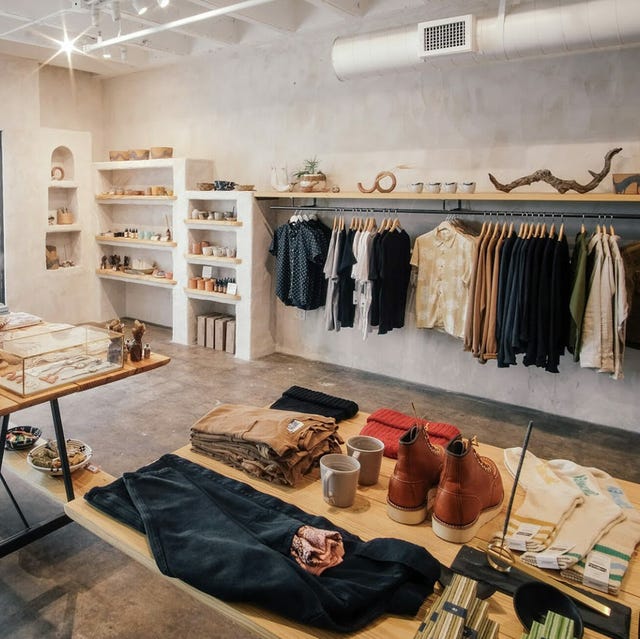 You can purchase anything you want from your phone. Flicking through webstore after webstore, there's essentially nothing you can't buy with a few taps, swipes or Face ID scans. As satisfying as it may be to peruse your way through offerings from your favorite stores online, the true, full experience of your favorite brand, store or designer can only be had at a brick-and-mortar location.
Sure, there are lookbooks and behind-the-scenes Instagram stories to give you a better sense of a brand's ethos and personality — probably an influencer walkthrough or two, too — but, brick-and-mortar stores appeal to the senses. Look, touch, listen, smell — they offer a way to actually connect with brands (not to mention physically try on their clothes) and the worlds they build around their products.
From menswear meccas, hidden hypebeast gems, avant-garde garment galleries and must-see mono-brand flagships, we've compiled 50 of the best menswear stores in America. If you find yourself traveling — safely, of course — make sure to carve out time to visit IRL (that's in real life). But, before you go, you'll find an address, the year the business opened and a sampling of the brands each store stocks below.
The 50 Best Menswear Shops (#-Z)
18 East (New York, NY)
3Sixteen (New York, NY)
Aime Leon Dore (New York, NY)
Billy Reid (Florence, AL)
BlackBlue (St Paul, MN)
Blue in Green (New York, NY)
Bode Tailor Shop (New York, NY)
Bodega (Boston, MA)
Buck Mason (Los Angeles, CA)
Canoe Club (Boulder, CO)
Corridor (New York, NY)
Eames NW (Seattle, WA)
East and West (St. Louis, MO)
Filson (Seattle, WA)
Franklin and Poe (Philadelphia, PA)
Front General Store (Brooklyn, NY)
General Admission (Los Angeles, CA)
Glasswing (Seattle, WA)
Hatchet Outdoor Supply (Brooklyn, NY)
Imogene and Willie (Nashville, TN)
Independence (Chicago, IL)
Indigo & Cotton (Charleston, SC)
J. Mueser (New York, NY)
Knickerbocker (New York, NY)
Manready Mercantile (Houston, TX)
Milworks (Milwaukee, WI)
Mohawk General Store (Los Angeles, CA)
Notre (Chicago, IL)
OlderBrother (Venice, CA)
Portland Dry Goods(Portland, ME)
RTH (Palm Springs, CA)
Reliquary (San Francisco, CA)
Self Edge (San Francisco, CA)
Service (Austin, TX)
Sid Mashburn (Atlanta, GA)
Somewhere (Washington, DC)
Stag Provisions (Austin, TX)
Standard & Strange (Oakland, CA)
Steadbrook (Denver, CO)
Stoffa (New York, NY)
Supply & Advise (Miami, FL)
Tabor (Charlotte, NC)
Temple of Offering (San Antonio, TX)
The Armoury (New York, NY)
The Brooklyn Circus (Brooklyn, NY)
Todd Snyder (New York, NY)
Totem (Philadelphia, PA)
Union (Los Angeles, CA)
Vestis (Pittsburgh, PA)
Westerlind (Millerton, NY)

---
This content is created and maintained by a third party, and imported onto this page to help users provide their email addresses. You may be able to find more information about this and similar content at piano.io