Every product is carefully selected by our editors. If you buy from a link, we may earn a commission.
The 10 Best Shoes to Wear to the Beach
Flip-flops are great, sure, but some of us like the stability standard shoes offer. These are healthy hybrids.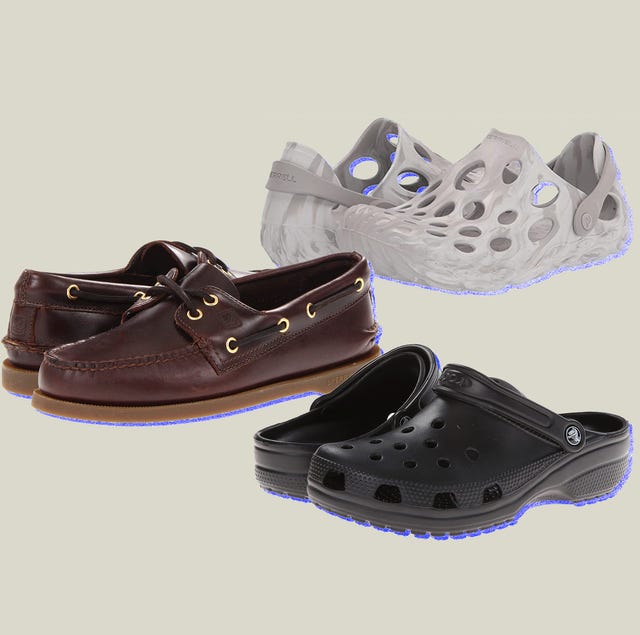 Like travelers, there are several types of beach-goers: the well-prepared, the overpacked, the beach bum. And each archetype approaches the activity a little differently.
The first may bring games, snacks, a cooler full of drinks, an umbrella and several chairs. The overpacked do that and then some. The beach bum tows little more than some sunscreen and a towel in their tote bag. For the latter, shoes might even be too much. If they live close by, they could maneuver their way to the water without ever touching pavement.
For the vast majority of beach-goers, however, shoes are required. Here's everything you need to know before your next trip.
How to Pick Shoes for the Beach
Which shoes you wear to the beach depends on what time of year you're going, what the weather is like, what you plan on doing and how far you'll have to walk back to wherever it is you're staying or parked before walking to the water.
Rubber shoes might seem like the obvious choice, but they don't make much sense if you're planning to go straight to dinner after your day in the sun. They also are not the most comfortable when sand gets inside them. The combination of wet feet and sticky sand can cause quite the rash in rubber shoes.
On the other hand, you can't just wear your canvas sneakers. You have to wear shoes that can both get wet — you know how waves are — and then be machine washed once home to remove the sand from within them. Leather shoes are a tricky call, too, because they aren't technically waterproof. Shoes like Sperry Topsiders, however, can totally get wet. In fact, they were made to withstand exposure to water. You just have to let them dry.
How to Wash Your Shoes
Rubber Shoes
To clean these, you simply run them under a faucet or spray them off with a hose. You can even carry them into the shower with you, washing off the sand from inside them while you wash the sand off you. They can air dry or be wiped down while still wet.
Canvas Shoes
It's not smart to wear shoes to the beach that can't be washed in a machine. Truthfully, washing machines are the best at getting fine sand granules out of footwear. You should of course shake them first, but a hard rinse will remove most of the remaining sand.
Leather Shoes
Leather shoes aren't hard to wash, but they're definitely more difficult to clean than canvas or rubber shoes. Follow our guide to cleaning leather sneakers for full instructions — and what to avoid.
More Shoes You Can Wear to the Beach
---