The Ford F-250 Tremor Is Made for the Wild West
Large enough to count as a residence and capable of going almost anywhere, the Super Duty Tremor belongs out west.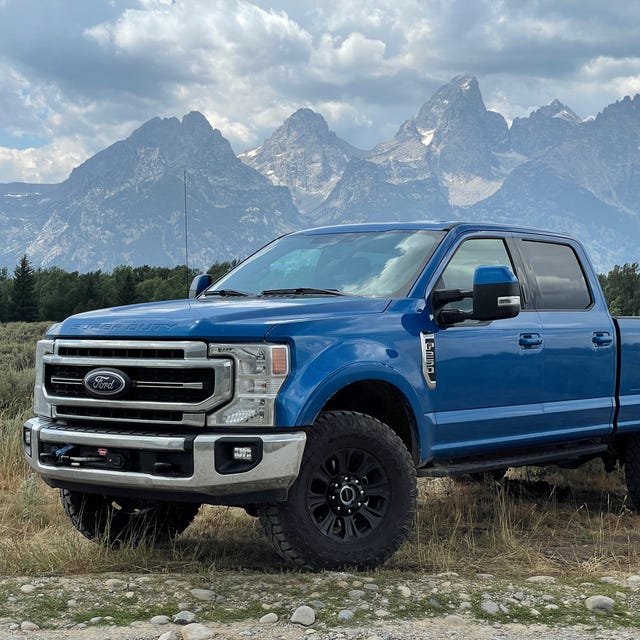 The Ford F-250 Tremor is big. Really big.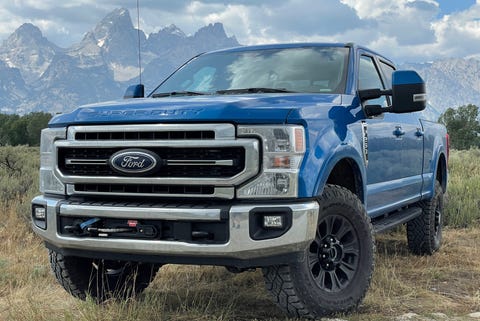 Sure, pickup trucks have been getting larger and larger over the years, but the F-250 Tremor is, well, big. Really big. Sofa King big. Yuge. It's named after shifting tectonic plates, and its engine is called "Godzilla," for heaven's sake.
Even stacked up against the likes of an F-150 Raptor or Ram 1500 TRX, the F-250 Tremor stands tall. From the bottom of its tires to the top of its roof is a span of almost exactly six feet, eight inches — a fact I know because I had to drive it through a parking garage with a six-foot-nine-inch clearance. Unless you play in the NBA, you're gonna need to use the running boards and grab handles to climb aboard. (The two-inch front lift that Tremors receive over regular F-250s certainly doesn't help.)
This rig is also pretty damn long. My tester, like all F-250 Tremors, came with a crew cab packing S-Class-level rear legroom and a 6.75-foot bed — a full foot longer than the bed found on most half-ton crew cabs. Pop a bed cap on there and an air mattress in the back, and you could have a car camping rig on the cheap. Hell, you could rig up a nightstand at the head of the bed and still have room to stretch out.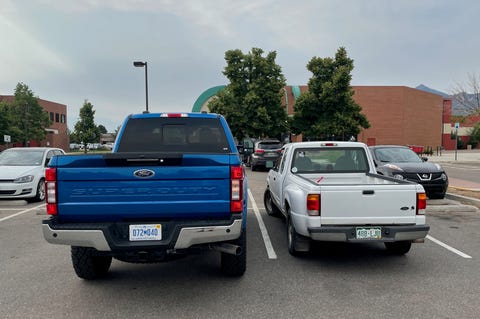 The cabin is appropriately enormous, as well. Speaking of the NBA: the Knicks' starting five could all sit together inside the crew cab rather comfortably. At six-foot-four, even with my long limbs, I needed to keep the seat closer to the wheel than its limit — something that almost never happens. It's almost hard to reach the person sitting across the cabin from you.
Mad there's no trunk? No worries; flip up part or all of the rear bench and you have a crazy amount of storage. Hell, you can even slide a good bit of stuff under the rear bench. Between that and the ridiculous number of cubbies, hidey holes and other spots to slot gear, you'll rarely need worry about having to throw items you'd rather keep dry and hidden into the bed.
Of course, Brobdingnagian proportions comes with their issues, too. In urban and suburban confines, the Tremor's size becomes something of a liability. Parking spots that seem suitable in just about any other vehicle suddenly seem inadequate; drive-thrus suddenly require careful calculation; rolling up to gas pumps requires wider angles and clearer shots than you probably expect.
In the vast open spans that make up most of the American West, however, the Tremor feels right at home. On the interstate, it feels almost tiny amongst the endless herd of semi-trucks rolling across the plains; on the two lanes that connect tiny towns 20-plus miles apart, the Super Duty seems Goldilocks-sized. From the Tremor's seat, you tower over even Suburbans and Rams and Land Cruisers, let alone Camrys and Civics and Boxsters. It's easy to understand why people dig giant pickups. You feel, well, invincible.
The F-250 Tremor still drives like a truck (and it's proud of it)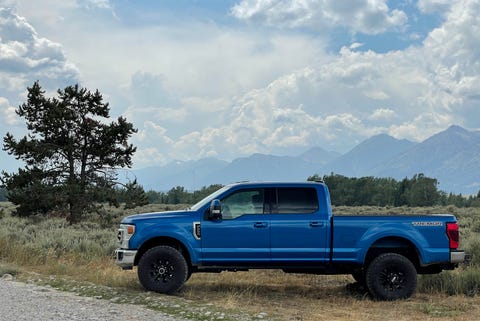 Since it's one of the newest pieces of the current Super Duty lineup, let's start with the engine. "Godzilla," as the 7.3-liter naturally-aspirated V8 is known, is a dynamite fit for the truck. Even when driving around at altitudes well above 6,000 feet, where the air is thinner and forced-induction motors gain an edge, the 7.3 feels more than potent enough to push the truck along with confidence. We've gotten kind of numb to it, but 430 horsepower and 475 lb-ft is a ton of power — even for a truck that weighs in at close to 7,000 pounds. The 10-speed automatic also plays a key role, helping keep the engine spinning near its power peak. Unless you're planning on doing serious towing on a regular basis (more on that in a second), there's really no reason to spend the extra $8,450 on the 6.7-liter turbodiesel.
If most of your recent pickup truck experiences have been in modern half-tons like the lastest F-150, Ram 1500 or Chevy Silverado 1500, the F-250 Tremor's ride will feel, well, truck-y. Heavy duty trucks are made for serious duty, which means stiffer springs, extra-strength frames and other mechanical moves to help them tote around more mass more frequently; even with the off-road mods of the Tremor package that help mitigate some of the worst behaviors, this big rig rides harder than other trucks. Still, it's no covered wagon or Model T; it never rises to the level of being uncomfortable.
In spite of the recent mid-life refresh, the Super Duty feels a little dated compared to some of the other state-of-the-art pickups today — particularly in terms of tech. I'm not one of those people who argues that modern trucks are too big to be safe, but any vehicle this size really should have a standard forward camera as well as a rear-view one; better for parking, better for safety. (Or at the very least, have some parking sonar.)
It's hard to argue with the F-250 Tremor's breadth of capability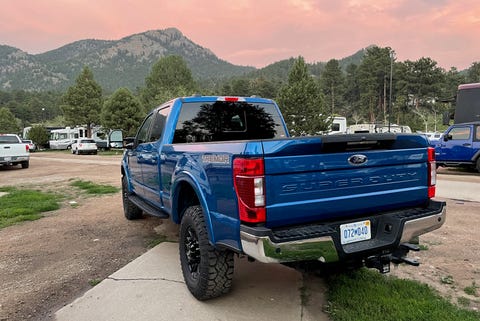 Sure, there are plenty of arguments why another vehicle might be a better choice for most people — but there are also plenty of arguments you could make in favor of this beast. After all, the F-250 Tremor packs: off-road capability that's comparable in some ways to the likes of a Bronco or Jeep Wrangler, with a 53:1 crawl ratio in 4Lo, 31.6-degree approach / 24.5-degree departure angles, 10.8 inches of ground clearance and the ability to drive through water a full meter deep; interior volume comparable to a full-size sedan; towing capability fully twice that of a Jeep Grand Cherokee; and, of course, the ability to carry more than a literal ton of people and cargo on board without breaking a sweat.
Sure, it has its its downsides; its width and length mean tight trails will be even more tricky than parking is, first and foremost. But if you're looking for something that can traverse all sorts of terrain but has more space / payload / towing capability than just about any other off-roader, the Tremor is a solid play.
The Tremor can tow, but if that's your focus, you might want the diesel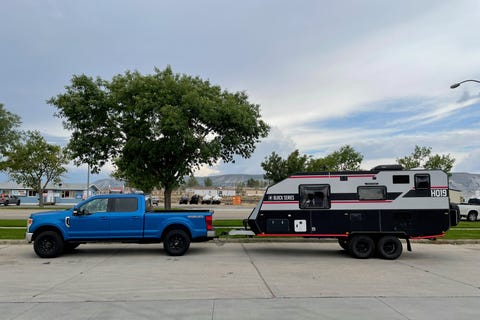 One of the main reasons to opt for a heavy duty pickup truck, of course, is if you're planning on doing some serious towing. Which is, in fact, exactly why I was driving the F-250 in the first place: in order to tow the Black Series HQ19 off-road camping trailer I had for a week out west.
You can read more about the tribulations of towing out West in our story about the Black Series here, but in summation: while the rest of the towing experience went easy as pie, the Godzilla motor proved a less than ideal companion for hauling a rather non-aerodynamic trailer at Wyoming highway speeds. At 70-75 miles per hour, fuel economy dropped to below eight miles per gallon as the engine was forced to downshift often to handle the drag of the trailer and the thin air — about half the mileage the Tremor made when unladen. Again, as noted above: if you want a giant off-road truck and you're planning to tow on a regular basis, consider the oil-burning engine.
The 2021 Ford F-250 Tremor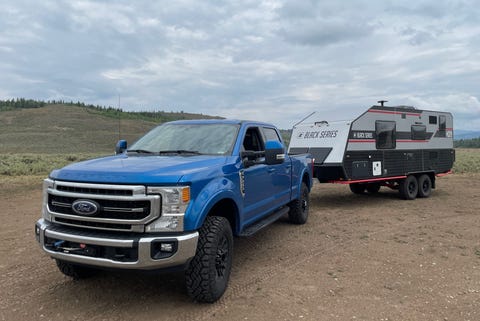 Base Price: $61,545
Powertrain: 7.3-liter V8; 10-speed automatic; four-wheel-drive
Horsepower: 430
Torque: 475 lb-ft
EPA Fuel Economy: That's a good one
Seats: Five
The Rivian R1T Is Everything You Hoped It Would Be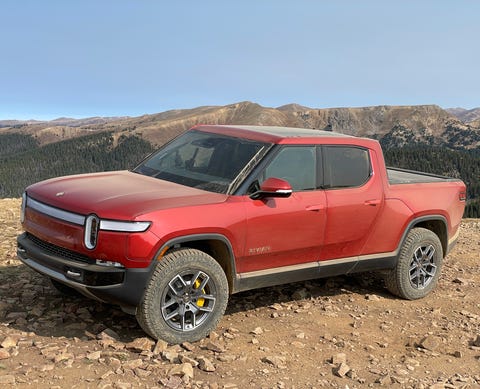 Capable on- and off-road and loaded with clever ideas, Rivian's new pickup redefines what a truck can be.