The 2021 Lexus LX 570 Is a Solid, Dependable Dinosaur
The outgoing LX may be ancient, but it still has its charms.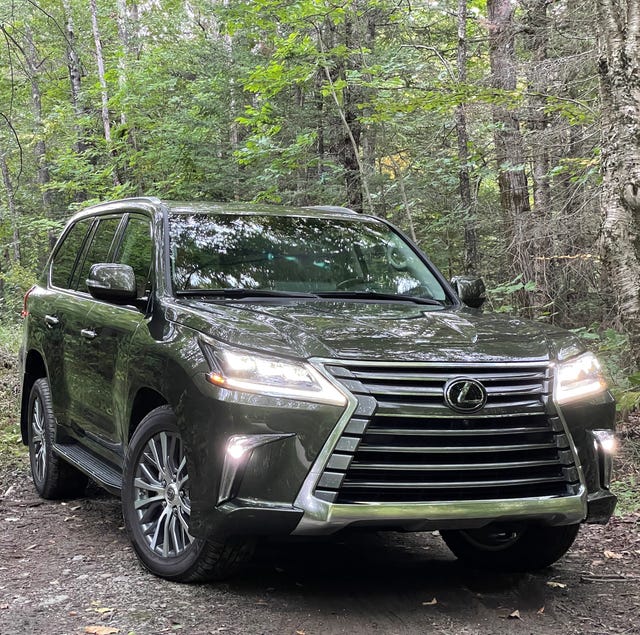 Something important happened between the time I drove the 2021 Lexus LX 570 and the time I sat down to write this review: Lexus revealed its replacement. The 2022 LX 600, based on the new 300-Series Toyota Land Cruiser, will be the only way to score the new version of that off-road legend here in the United States, a fact that's sure to send plenty of buyers who previously purchased Land Crushers into the soothing showrooms of Lexus dealerships in America. Up 'til now, the LX was the fancy Land Cruiser; nowadays, it's the only Land Cruiser.
We all knew there was a new LX coming, of course, and we even had a fairly good sense of what it would likely be like before Toyota even revealed the new Land Cruiser. But now that we've actually seen what it's bringing to the table, it's easier to place the outgoing model in context. Most of us will probably want to wait for the new version...but for those who prefer tried-and-true to new-and-flashy from their luxury cars, the LX 570 still packs plenty of appeal.
Is the Lexus LX 570 new?
To quote Edna Krabappel, ha! The current 200-Series LX first arrived on the scene back in 2007, debuting at the New York Auto Show the same week the Shia LaBoeuf movie Disturbia hit theaters and Akon's "Don't Matter" topped the Billboard 100. Since then, it's received not one, not two, but three facelifts that updated the looks inside and out, but the mechanicals have remained the same: a 5.7-liter V8 and full-time four-wheel-drive. (The automatic gearbox did receive an extra two cogs along the way, jumping from six speeds to eight.)
What makes this Lexus special?
Well, for starters, it packs just about everything that makes the Land Cruiser special: incredible reliability (remember, Land Cruisers are 12 times more likely to reach 200,000 miles than the average car), impressive off-road capability, a capacious interior and a comfortable ride, just for starters. The Lexus version builds on that mostly by adding a dash more finery inside, as well as a mug so intimidating, it just might make left-lane slowpokes piss themselves when they see it in the rear view mirror.