The 2022 Genesis GV70 Throws Down a Gauntlet to Other Luxury Crossovers
A bold statement of intent from a now-mature Genesis.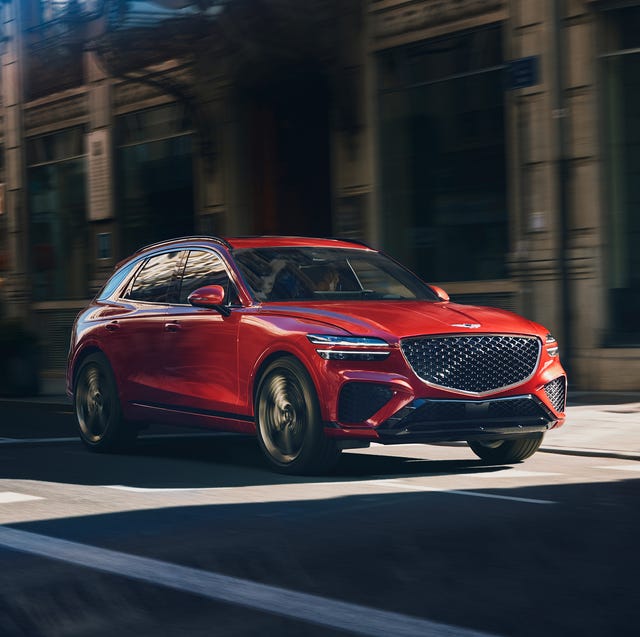 Crossovers try to satisfy everyone. As a consequence, they can turn out sort of bland and featureless — competent at everything, but great at nothing particular. The Genesis GV70, however, is different: it performs every task well, without cutting any corners. The GV70 looks spectacular, drives superbly, feels fancy — and does it all at a relatively affordable price point.
Genesis is still a luxury upstart — the brand did not launch its first standalone vehicle until 2017, and only branched out into SUVs last year — but the GV70 is a bold, bar-setting statement of intent from a mature automaker. The GV70 doesn't just offer better value than the rivals like the BMW X3 or the Audi Q5. It's just better, and is rightfully getting big-time recommendations and being considered for major awards.

What is the Genesis GV70?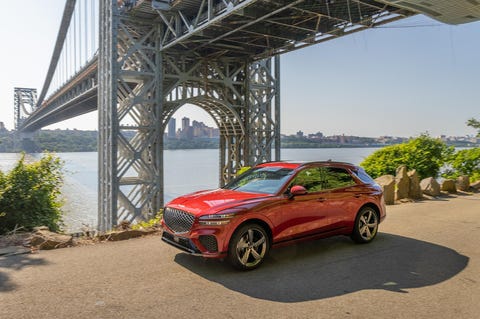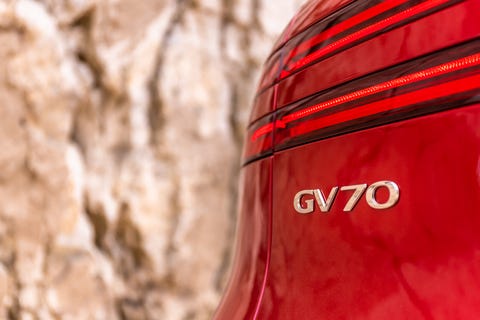 Yes. The Genesis GV70 is a brand-new model for the 2022 model year.
Why is this Genesis special?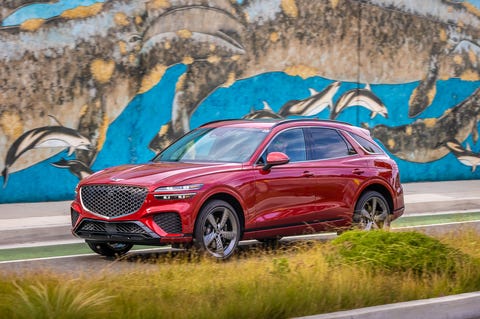 The GV70 flat-out refuses to be a boring crossover. The exterior is eye-catching and sophisticated, even if the viewer has no idea what a Genesis is. The GV70 engages the driver with excellent (by crossover standards) quickness and handling. And it's interesting to experience on the inside with its high-design interior. Note that those with four-year-old children may wish that swapping the ambient lighting colors was a bit less interesting.
How does the Genesis GV70 drive?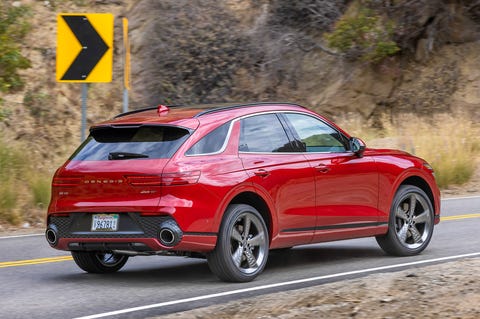 Very well. Even the base engine is potent. I drove the base 2.5T engine, a turbocharged four-cylinder with 300 horsepower and 311 lb-ft of torque. That's more than 50 hp up on what you get with a base BMW X3. It's the same base engine from the GV80, but placed a vehicle that's more than 500 pounds lighter. And that engine is paired with a smooth-shifting eight-speed automatic.
The GV70 is not quite the rabble-rouser that the flaming lance graphic on the sport mode tachometer would have you expect, but it provides a strong balance of tranquility and comfort with performance. It's eager in the corners. It weathers the bumps. The steering has a pleasant feel. There just isn't much to quibble with in everyday driving, and the GV70 can even handle a bit beyond that.
What's the GV70's interior like?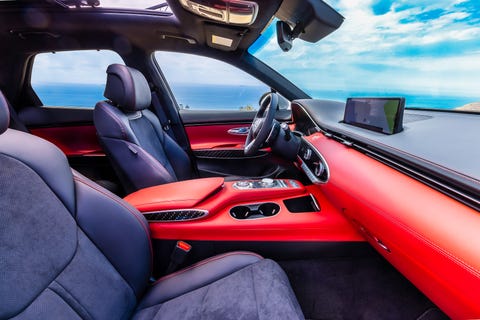 Everything looks and feels high-end. You get soft-touch and textured materials almost everywhere in the GV70. My test vehicle added the Advanced package with leather seats. It's bold, with sweeping, airplane wing-inspired design elements — but also simple, driver-focused and usable.
The rear seating area can be a bit tight with car seats or adults requiring leg room. (Maybe level up to a GV80 if that's a space you plan to use regularly.) The infotainment knob and shift knob have a similar size and feel and are located right next to each other, which can create confusion if you are fumbling around blindly with your eyes on the road.
How much does the Genesis GV70 cost?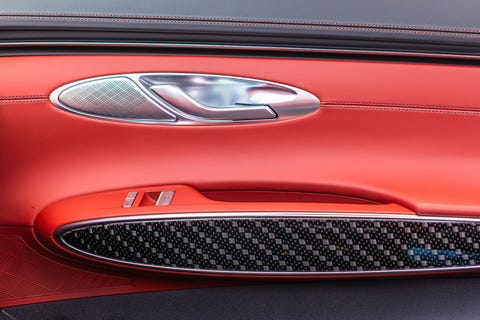 The GV70 starts at $41,000 with standard AWD and 300 horsepower. My test vehicle with the Advanced Package, the Select Package and fetching Adriatic Blue paint came out to $50,695 with the inland freight and handling charge. You can lux it up and ramp up the performance from there, but that reasonably well appointed might be how I would spec the GV70.
What are some GV70 alternatives?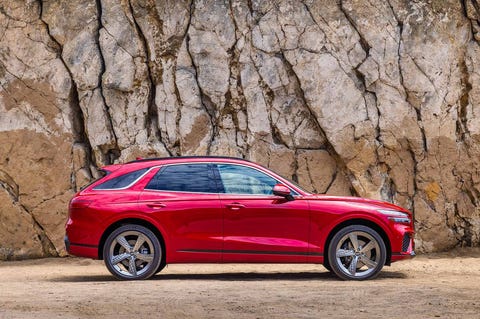 Luxury compact crossover options are plentiful. The BMW X3 ($43,700), Audi Q5 ($45,600) and Mercedes GLC ($43,850) are probably the closest GV70 competitors. The Volvo XC60 ($42,650) and Acura RDX ($40,100) would be right there as well, if you aren't as brand-snobbish. One might also cross-shop the GV70 with the midsize Lexus RX ($45,320). And if you're looking for a cheaper (and more fuel-efficient) alternative, stay within the Hyundai family and consider the all-new Tucson Hybrid.
The 2022 Genesis G70 2.5T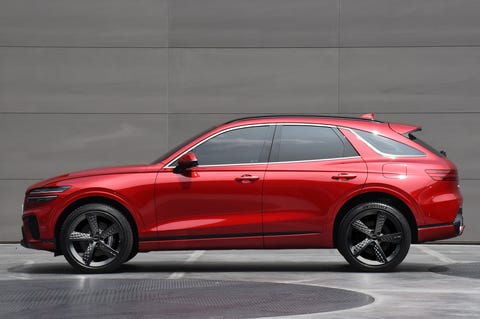 Powertrain: Turbocharged 2.5-liter inline-four, 8-speed automatic, AWD
Horsepower: 300
Torque: 311 lb-ft
EPA Fuel Economy: 22 mpg city, 28 mpg highway
Seats: 5

The 17 Best Cars to Buy in 2022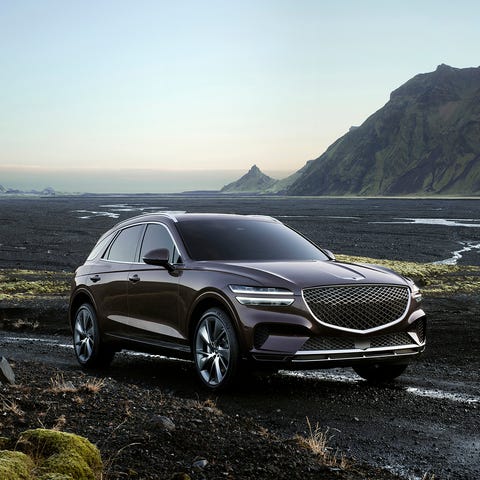 The results may surprise you.