The 2022 GMC Hummer EV SUT Is the Audacious Supertruck of the Future
We crab-walked, used "Watts to Freedom"...and came away impressed.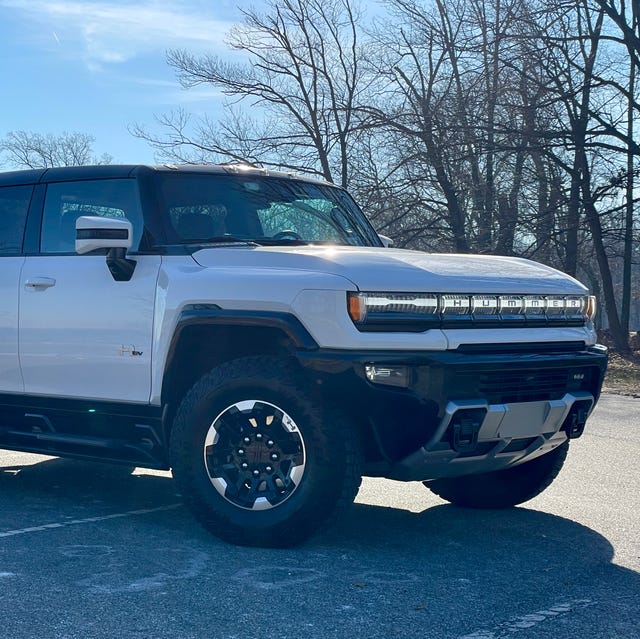 General Motors revived the Hummer brand for the GMC Hummer EV SUT, their new flagship electric vehicle. It was a curious decision. Hummer, under GM stewardship, produced garish military cosplay SUVs most remembered for their — even by comparatively carefree 2000s standards — wasteful fuel consumption. It was about as far from electric cars as one can get. And Hummer is not a natural fit for GMC — a luxury brand that builds the sleek Yukon and Sierra Denalis your boss drives — either.
What the Hummer name does, though is resonate and grab attention. It primes you to expect something big, noteworthy and aggressive — which is precisely what GMC is going for with the Hummer EV SUT.
The Hummer EV SUT is ultimate Ultium. It's the showcase vehicle for the heights GM can achieve with its new electric vehicle platform. You don't change skeptical minds with a milquetoast crossover, which is why GMC opted for the moonshot — the new Hummer First Edition's lunar design theme isn't a coincidence — instead. They threw everything into a 1,000-horsepower electric beast of a truck to take on anything combustion-powered and let the price tag soar into the six figures.
GM's new flagship truck is finally here. And, after some COVID-related delays, GMC finally let us behind the wheel of one for a day at a media launch event outside Phoenix. Even if it's not something I would personally spend $100,000-plus 0n, it was hard not to come away impressed and excited for (hopefully cheaper) Ultium things to come.
What is the GMC Hummer EV SUT?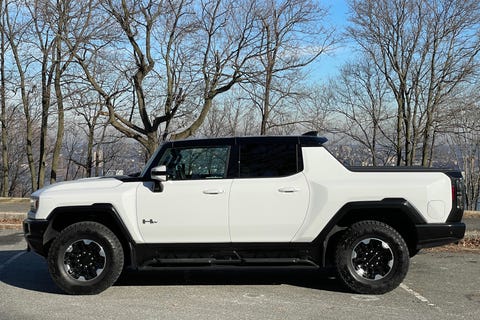 When I told family members I was heading off to drive the Hummer, they understood I would be driving a big, wild new utility vehicle. But — even after the LeBron James marketing blitz — they were hazy on the specifics. And even if you're enthusiastic about cars, the Hummer EV SUT can be a hard vehicle to grapple with.
First off, the Hummer EV SUT is a pickup truck; T stands for truck. There is a shorter Hummer EV SUV coming down the road, but for now, the Hummer EV is a truck, powered by a boatload of batteries.

GMC describes the Hummer EV SUT as a supertruck. That's an apt description. If you imagine creating the most outrageous sport truck you could imagine, you'd end up with something close to the Hummer EV SUT. You would outfit the truck for off-road supremacy. You would tune it for uncompromising, supercar-like on-road performance. And you would give it the preeminent powertrain, which in 2022 is neither a V8 nor a V12. It's a tri-motor electrical system pushing out 1,000 horsepower and 1,200 lb-ft of torque.

The Hummer EV SUT can rock crawl with a Jeep Wrangler Rubicon or Ford Bronco Badlands. It can accelerate like a Porsche sports car off the line. It can do a little towing. It can dutifully drop the kids off at school. It can pilot itself on the highway for a bit. And it won't use a drop of gasoline while doing it. Oh, and it's basically a convertible, if you want to pop the roof panels off.
How big is the Hummer EV SUT?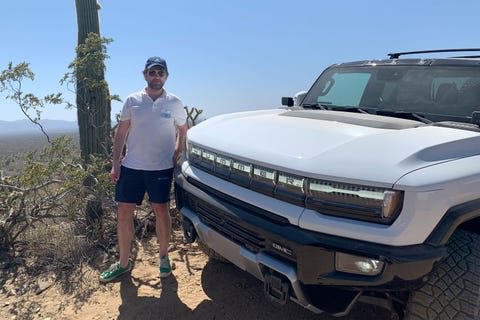 If I were to describe the Hummer EV SUT's shape with one word, it would be stubby. Length-wise, the Hummer EV SUT is a midsize truck. It's a hair shorter than the Rivian R1T and eight inches shorter than the biggest GMC Canyon. It comes with the same length bed as the Toyota Tacoma and Jeep Gladiator.
Width and height-wise, the Hummer EV SUT is a large full-size truck. It's about an inch taller than the Sierra 1500 and 5.5 inches wider — almost the same exact width as the Ford F-150 Raptor. Where things get uncharted is the curb weight. The Hummer EV SUT checks in at a mindboggling 9,063 pounds, roughly as much as two Sierra 1500s.

How does this Hummer drive off-road?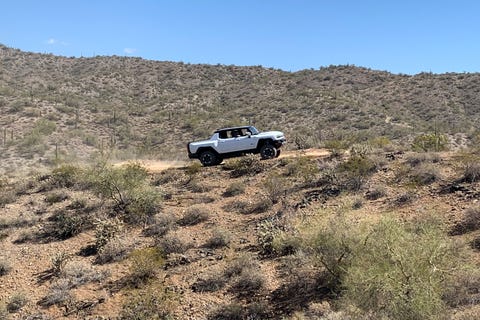 I'm starting with the off-road impression because the trail is where we spent most of our time in the Hummer EV SUT. GMC used our on-road stretch to get us to the trailhead.
Extract mode juices the off-roading angles to numbers that — for approach and breakover — exceed the Wrangler Rubicon Xtreme Recon. But in Terrain mode — the standard rock-crawling mode — you're getting 11.9 inches of ground clearance and 13 inches of front and rear suspension travel. You also get a low center of gravity from the batteries and up to 1,200 lbs of instant electric torque.
The game-changing feature for the Hummer EV SUT — on and off-road — is the four-wheel steering. You get up to 10 degrees of rear-wheel movement, and the system becomes progressively more active in Off-Road and Terrain modes. And it makes the Hummer feel almost shockingly athletic and agile in tight corners. Pair that with a torque vectoring e4WD system, and you get an obstacle-conquering monster.
Our trail up the mountain was not a masochistic Wrangler route. The lead truck did the course in normal mode with 10.1 inches of clearance. GMC did not have us air down the tires or lock the diffs. But we still hit a range of ascents, descents, rocky impediments, tight turns and events that got wheels off the ground. The Hummer EV SUT handled all of it without sweating. To be honest, I'm not sure I would want to go on the trail that would make this thing sweat.
The only issue was consistently scraping cacti and branches along the way because the vehicle was so wide. And either the paint was very resilient — I was on the last of many media waves — or white is an optimal color choice. The trucks cleaned up nicely afterward.
How does the Hummer EV SUT drive on-road?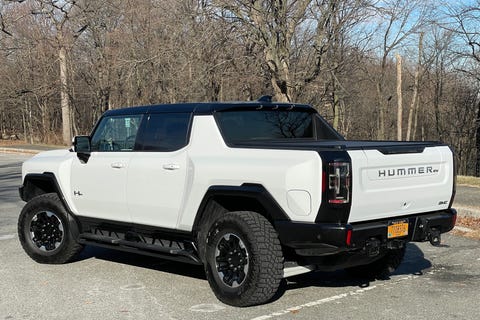 My on-road time in the Hummer EV SUT was about an hour. I drove a straight Google Maps route from the trailhead back to the hotel. It was 50 miles of mostly straight highways and straighter suburban roads with a hornet's nest of speed cameras.
Like on the trail, the four-wheel steering helps the Hummer feel exceedingly nimble and maneuverable for its size. One of my media counterparts compared it to driving a hot hatch. I didn't get to test the body control in the corners, and the Hummer does not have a Sport Mode to tighten things up for that. We didn't do much urban maneuvering. But we did have to navigate the Hummer EV SUT through a narrow bridge in a parking lot course, which proved far easier than anticipated.

Having 1,000 horsepower on tap sounds like it would overwhelm you. That power number approaches that of an F1 car. But the Hummer EV SUT also weighs five times as much. In everyday driving, the vehicle feels perky, with plenty of pop for a highway overtake, but not maniacal.

I did get a fair amount of road noise above 70 mph. With the chunky mud-terrain tires and the Hummer's boxy physique, you would expect that. And it's still a remarkably stable and competent cruiser for a supertruck.

More recently, senior editor Will Sabel Courtney had a chance to drive the Hummer EV 1st Edition in and around New York City. Here's what he had to say:

"The Hummer EV is, honestly, surprisingly good-natured on the road — even in Manhattan. Its width is certainly an issue (good luck finding an indoor parking garage that'll take it), but once you adapt to that, you'll be fine. The four-wheel steering does wonders for around-town maneuverability; meanwhile, the combination of air suspension and gargantuan off-road tires gives it a surprisingly creamy ride, so even the gnarliest of New York potholes barely phase it.

On the open road, the Hummer seemed quite content to cruise along at highway speeds without a care in the world. Steering feel is nonexistent, but that's no surprise; what is shocking, though, is the acceleration, which seems to defy physics even without Watts to Freedom mode engaged. (I did try one WTF launch, which was as notable for the theatrics around it — the fancy graphics, the vibrating seat — as the sudden forward progress. The road noise I've heard some reviewers criticize didn't seem overly annoying, although I was traveling solo, and never drove for more than an hour without stopping; trying to converse while doing 75 mph for several hours at a time might be a different story.

At the end of the day, this is a 9,000-pound truck that can launch from 0-60 mph in three seconds, pretty much drive itself on the highway, carry five people in comfort and off-road like a Wrangler — all without ever using a drop of gasoline. Say what you will about its looks or its name, but that combination of features is pretty damn cool."
What's the Hummer EV like inside?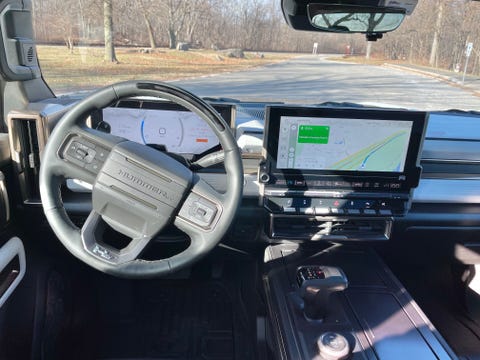 The Hummer interior won't be throwing a luxury gauntlet down to the Cadillac Escalade. GM took a more practical, Ford Bronco-like approach with the interior rather than opulent or exciting. The materials are utilitarian and durable. The screens are attached but not integrated into the dash. (There are a few flourishes, like the Sea of Tranquility on the speakers.)
The cabin is spacious enough without being cathedral-like. You get natural light (and strong EV protection) from the Infinity Roof. Our car kept the roof panels shut and the air recirculation active for dust-related reasons. I wasn't a massive fan of the light grey interior color. But the same interior looked better in a darker color in a Hummer EV SUV that GMC had on site.
GM used the Unreal gaming engine for infotainment graphics, which leads to awesome video game-like drive mode displays. However, that can feel a bit laggy if you just want to switch to Normal Mode and get on with your day. Deploying the arsenal of tech features and cameras at your behest felt relatively intuitive.
What kind of range does the Hummer EV SUT get?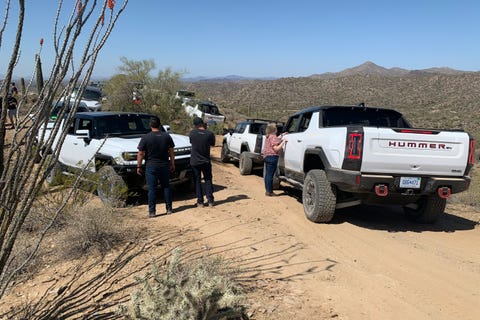 The Hummer EV SUT is an EV, so we must talk range. The official EPA testing result for the Hummer EV SUT is 329 miles. That's a bit off from GM's 400-mile target but more than enough. Other, less heavy EVs would achieve far more range with 212.7-kWh of battery cells; the Hummer is no sleek, low-slung sedan. But it's better than using gasoline.
In real life, we started our drive at 91% full. The dry Arizona day in the 80s was more or less optimal conditions for battery function. After two hour-long highway stints and two hour-plus-long trail climbs, the Hummer EV SUT had about 36% of its charge remaining when I returned it. The Hummer's Google Maps integration shows you how much charge you'll have left after various routes.
We didn't charge the Hummer EV SUT. But per GM, it's equipped for both 400V and 800V fast charging. At the top rate, the Hummer EV SUT would add 100 miles of range in about 12 minutes and take 42 minutes to charge from 20%-80%. It would add about 16 miles of range per hour on a Level 2 home charger.

Wait, what about the Hummer EV's party tricks?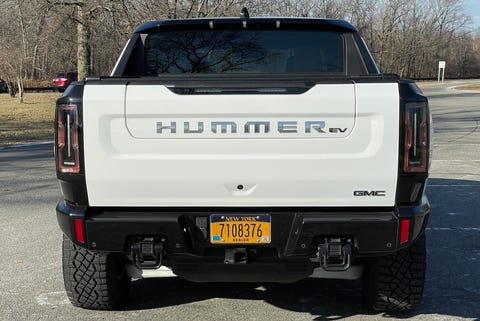 Hummer EV advertising has latched onto cool features like the sideways "Crab Walk" via the four-wheel steering, and Watts to Freedom (yes, WTF) mode, which lets you do a 0-60 mph drag run in approximately three seconds. These were the first features I tested — on a closed course in an empty football stadium parking lot. And that's about the only place one would use them.
Watts To Freedom works like most launch modes. You set it to WTF, then follow instructions to mash the brake with the left foot, mash the throttle with the right and lift the brake. The Hummer EV SUT lurches forward with impossible quickness and, just as stunningly, stops. And it's not something that seemed to stress the car inordinately. GM had a Hummer doing that repeatedly, all afternoon, with journalists doing runs in the passenger and driver's seat. I got more worn down listening to tires screeching and squealing for hours.
We did the Crab Walk as a cool-down strut back to the WTF starting line. It was straightforward to use, and looked a lot like this. GMC says they have found situations where Crab Walk has some trail utility. But we didn't experience them.
Can the Hummer EV SUT do truck stuff?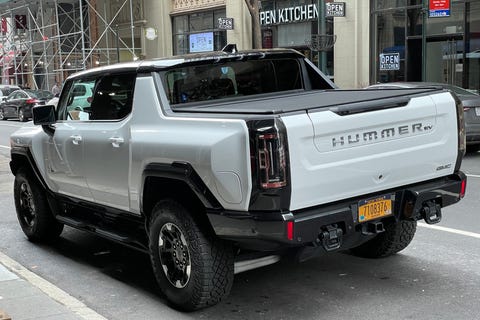 To an extent. The Hummer EV SUT is rated to tow up to 7,500 pounds. That's less than the Rivian R1T's 11,000-pound rating and both the Ram 1500 TRX and Ford F-150 Raptor can tow north of 8,000 pounds. And GMC did not let us tow or expound about how towing would affect the truck's range.
The Hummer EV SUT's massive weight doesn't leave a lot of room for payload either at 1,487 pounds, which is less than the Ford Maverick. It's not primarily a work truck. But that's okay. If you can afford a $110,000 trophy EV, you're probably not hauling your own mulch.
How much does the Hummer EV SUT cost?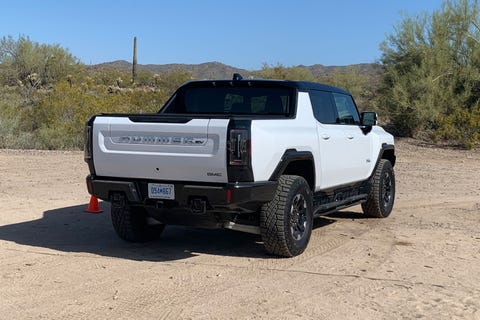 We drove the first-available and most expensive Edition 1 Hummer EV SUT, which started at $110,295 — about $30,000 more than the Sierra 1500 Denali Ultimate. I use the past tense because Edition 1 is sold out. Though you can pick up one for almost triple the price on the resale market.
You can still reserve a Hummer EV3X — starting MSRP $99,995 — though an order placed now may not be fulfilled until 2024. 2024 is also when the dual-motor base model Hummer EV2 starting under $80,000 is supposed to be available.

What are the Hummer EV SUT's competitors?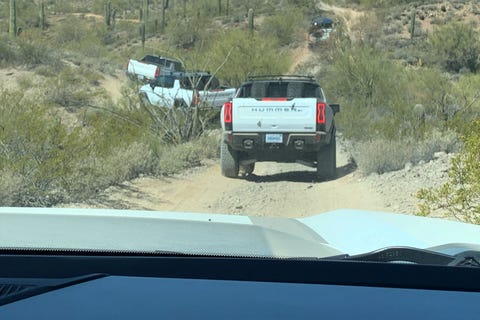 There aren't that many electric trucks available yet. One is the Rivian R1T, a supertruck in its own right, which can tow more and starts under $70,000. The other is the dramatically less capable (but also less pricey) Ford F-150 Lightning. Saving $30-$40K and getting more conventional truck styling will appeal to a lot of buyers.
There's no law against cross-shopping with combustion. And the Hummer EV SUT buyer could be looking at something like the gasoline-swilling Ram 1500 TRX.
2022 GMC Hummer EV SUT 1st Edition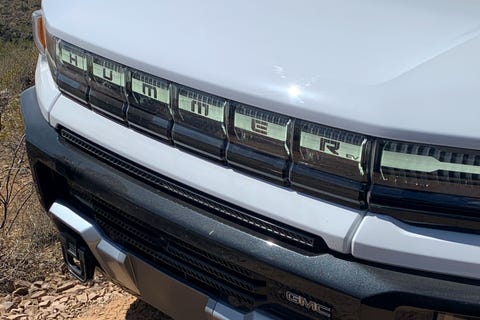 Starting MSRP: $110,295 (but it's sold ouy)
Horsepower: 1,000
Torque: 1,200 lb-ft
EPA Range: 329 miles
Towing Capacity: 7,500 lbs
The 34 Electric Cars We're Most Excited to Drive in the Future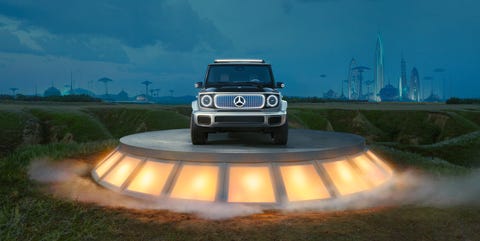 The next few years will be packed with new EVs. These are the ones that have us jazzed the most.