5 Things I Learned During 800 Miles with the Ford F-150 Lightning
Ford's electric pickup truck proves every bit worthy of its high praise.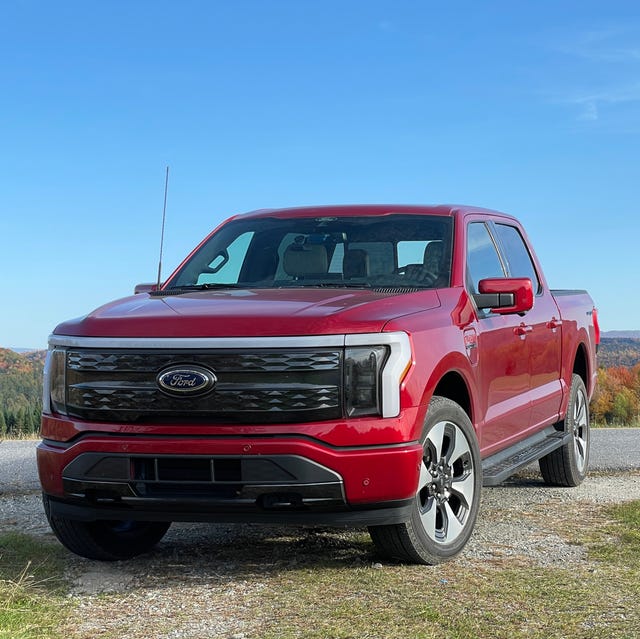 It's not hyperbole to say that the Ford F-150 Lightning is one of the most important new passenger vehicles of the 21st Century.
After all, the Ford F-150 is the best-selling such passenger vehicle — i.e. cars, trucks, SUVs, vans, basically anything street-legal that you buy and drive yourself without a CDL — in America, and has been pretty much consistently for decades. (If you add sales of the Chevy Silverado and GMC Sierra together, GM would have taken that title in many years, but since they don't, Ford skates away with it). While it may be the first electric pickup from a legacy manufacturer, it's sure not to be the last. Its electrification is the distillation of the shift in the automotive industry that's just begun, revealing how long-running nameplates can transition to future power and — in theory — become even better for it.

And as far as the early results go, Ford's electric truck appears to indeed be quite impressive. The first round of reviews — including our own Tyler Duffy's — all but sang the praises of the pickup, and demand amongst buyers has exceeded Ford's initial expectations; trucks last an average of just eight days on dealer lots, and FoMoCo has already had to ramp up production targets from 40,000 Lightnings a year to 150,000 in order to handle the backlog of more than 200,000 reservations.
Still, to mangle a metaphor, the proof of the pudding is in the driving. So to find out what the Lightning is like in the real world — where long drives are a regular part of life — I took it for an 800-mile journey from New York City to Vermont and back again over the course of three days. Here's what I found after spending some time behind the wheel of Ford's trend-setting EV.
The F-150 Lightning feels shockingly quick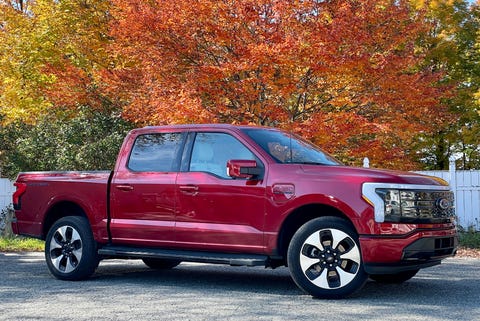 With 580 horsepower and 775 lb-ft of torque on tap, the Lightning is the second-most powerful F-150 you can buy, playing second fiddle only to the recently-introduced F-150 Raptor R. But those figures don't prepare you for the sheer force with which that power arrives. 60 miles per hour comes in four seconds flat from a dead stop, with no need to rev up the engine or build up boost; just punch it and hang on.
It's arguably even more exhilarating to punch the gas throttle accelerator on the roll. Take a peek at Car and Driver's acceleration figures: the Lightning blitzes from 30-50 mph in 1.6 seconds, and from 50-70 mph in 2.2. Those figures are each just three-tenths of a second off from an Audi E-Tron GT RS.
In practice, that means you can zoom by slower-moving traffic with shocking ease, taking advantage of short passing zones the way sports car drivers can. Except, of course, you're doing it six feet off the ground in a body-on-frame pickup that weighs around 7,000 pounds with one person.
The Lightning isn't cheap, even by truck standards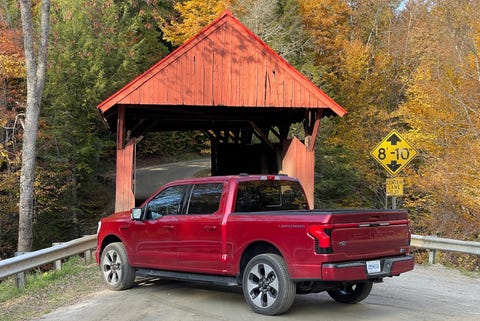 Look, it's almost 2023 at this point; complaining about the cost of new pickup trucks has long since grown wearisome. My Lightning Platinum's $94,004 price tag, ridiculous as it might seem to someone unfamiliar with modern truck trends, isn't as insane as it might sound for a top-shelf half-ton. (And that was for a 2022 model year vehicle; a 2023 Lightning Platinum outfitted the same way would cost you $99,309.)
What is a bit harder to wrap the noggin around is the price of the ostensibly more accessible models. Assuming you want the extended-range battery — and unless you're using this as a fleet vehicle or farm truck, you want the extended-range battery — the most affordable XLT version of the F-150 Lightning starts at $83,914 before the potential $7,500 tax credit. Even if you spring for the most powerful engine (the 3.5-liter twin-turbo hybrid V6) to match the EV's power, an equivalent gas-powered crew-cab 4WD XLT starts at $58,245. Even after the feds give you that seven and a half grand back, the gas-powered truck is still more than $18,000 cheaper.
The F-150 Lightning offers reasonable range, but less than you might expect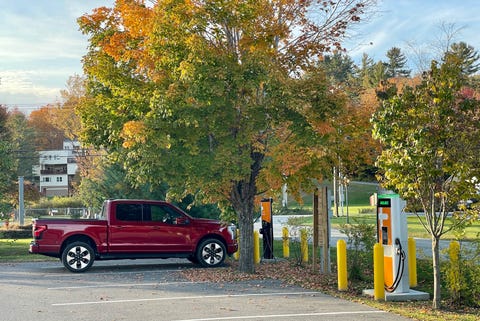 Ask the EPA, and they'll tell you the F-150 Lightning Platinum can do 280 miles on a single charge of its 131-kWh battery pack. In my testing, I found that figure closer to 240 miles — though my driving also included a fair amount of 70-75 mph cruising along the New York Thruway. As is always the case with EVs, if your driving habits include more city commuting and around-town cruising, expect to do better; if you're driving around a lot in cold weather, expect to do worse.
Keep in mind, though, that the logistics of fast-charging — best practices generally encourage you to stop charging at or before 90% charge, and it takes a bold driver to let it drop below 10% if you're uncertain exactly where your next charger is and if it works — mean your road-trip range between powerups is closer to 200 miles in the real world.
People are damn curious about this electric truck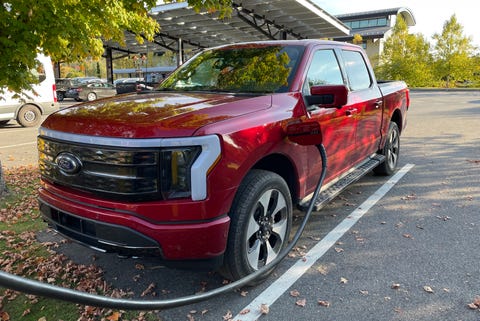 At three of my four fast-charging stops, I had bystanders swing over to ask questions about the Lightning. For the most part, they were fellow EV drivers; many hadn't seen the Lightning in the wild yet, but they were all aware of what it was — and as interested as you'd expect for a truck that's already sold out for its second model year.
I even had somebody wander by while I was packing my deflated Flated Air Topper into the front trunk, drawn over by the sight of the open hood. "I was wondering what could be wrong with such a new truck until I realized what it was," he said. "Gonna take a while before I get used to seeing that."
Fast charging is getting better, but still not great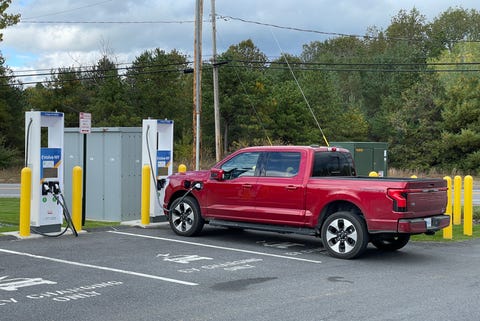 For my trip to and from Vermont, I wound up using chargers from a bevy of networks: Electrify America, EVolve NY (New York state's network of fast chargers set up in conjunction with Shell Recharge), FLO, and ChargePoint. As with previous trips, the PlugShare app proved super-helpful in figuring out which to use; and, as with previous trips, I ran into hiccups at nearly every Level 3 charger I used. The Electrify America one stopped charging for no apparent reason twice early in the process; the Evolve NY one did the same, albeit only after the truck reached 90 percent charge; the FLO charger proved difficult to connect to.
Still, it was a far easier experience than my past EV road trips, thanks to a combination of both hard-won experience (such as learning not to stray far from the charger and monitor the output constantly) and plotting an EV-specific course. Instead of taking the shortest, quickest route, which only offers one convenient fast charger around the midway point, I took a more circuitous one, which added half an hour to the trip but served up a feast of fast-chargers at the metaphorical 50-yard line. Someday, perhaps, route planning with an electric car will be as simple as it is with a gas-powered one, but that day isn't today.
And while this is true of any EV on a road trip, it's even more so of one like the Lightning, which has an utterly ginormous battery pack: it's important to latch onto Level 2 chargers wherever you can find them, even just for an hour or two. The Lightning's pack being so large, even a Level 2 charger only adds around 13-15 miles per hour, so even charging for 12 full hours on such a plug won't completely restore the battery. For most users, that won't be an issue most of the time. If your plan is to knock out 800 miles in three days, however, scoring every erg you can whenever you can becomes a timesaving strategy.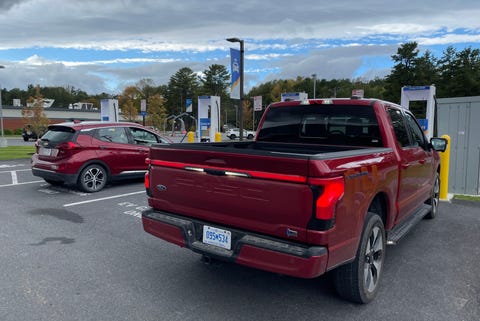 Of course, human foolishness can also play a role in making the charging experience sub-optimal. When I rolled into an EvolveNY station at the south end of the Adirondacks, I found the sole 350-kW charger was being used by a Chevy Bolt — a car that can only charge at 50 kW — forcing me to use the 150-kW fast chargers instead of being able to take full advantage of the truck's 200-kW charging capability.
Overall, it was a far easier experience than my drives to and from Vermont in electric cars less than a year earlier. (That said, those were conducted in range-sapping cold weather, so I'm waiting until winter strikes to render a final verdict about how improved the EV experience really is these days.) The proliferation of fast chargers even in the last year has already made long trips easier, and things stand to continue improving in the next few years as federal funds start flowing en masse to states to boost the infrastructure — at least, unless EVs start selling in such great numbers as to overwhelm those chargers.
The F-150's interior remains a remarkable place to spend time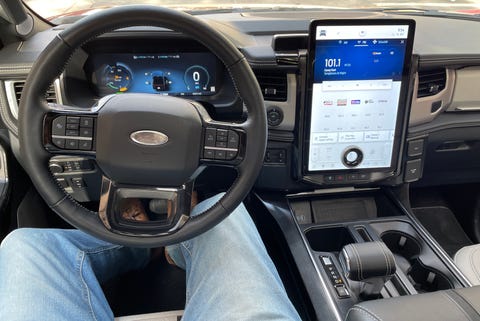 My test truck was a top-shelf Platinum model, outfitted with just about everything short of the kitchen sink: a crystal-clear 18-speaker Bang & Olufsen stereo, BlueCruise semi-autonomous hands-free highway driving assist, a 15.5-in touchscreen (the same one found in the Mustang Mach-E), a 9.0-kW onboard power system capable of running a house, the ability to start the truck and control many features via iPhone app, 360-degree parking cameras, and plenty more. Hell, the front seats alone offered heating, ventilation, massage and a lie-flat function for power naps.
All those features certainly improve life in general, but more specifically, they can also help fill the time during charging stops. I used the on-board Wifi and the flip-down work surface to knock out some work on my MacBook Air while the truck powered up at one charging stop; I used the tailgate's on-board work surface to measure the hero sandwich I bought for lunch during another. (I didn't say they were all constructive uses of time.)
Unless you tow or go off-road a lot, the Lightning is probably the best F-150 for you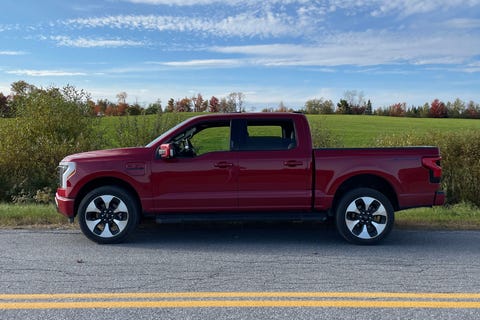 The Lightning isn't perfect, of course. If you're looking for a dedicated overlander or off-road-focused pickup, you'd still be better off with a Raptor or a Ram Rebel or a Sierra AT4. And if the Lightning has a true Achilles' heel, it's towing. While it's officially rated to haul up to 10,000 lbs, doing so will drastically eat into your range, especially at highway speeds. I didn't have a chance to tow with it, but tests from a bevy of sources — Motor Trend, CNet Cars, Hoovie's Garage, etc. — have generally found that its range falls to half or less of what it can do with a full battery.
That's not exclusive to Ford's EV; that's true of any electric car or truck on sale today, from Hummer to Rivian. It's not just a question of added weight, but added drag; while the former only causes much of an effect during acceleration, the latter is constant, and increases with the square root of your speed. Hell, that's even true with gas-powered vehicles; while towing a Black Series camping trailer out west with an F-250 Super Duty, I saw the truck's range drop from an unladen 450 miles or more to just over 200 miles per tank.
The difference, of course, is that since EVs offer far less range to begin with than gas-powered equivalents, halving that or worse means you'll have to stop an arguably prohibitive amount for long-distance travel; a 45-minute charging break for every 90 minutes of driving is a frustrating way to cross a state or two. Plus, fast charging stations really aren't designed for trucks towing trailers, so odds are good you'll wind up blocking half the parking lot with whatever's hitched to your rear.
If your towing needs tend to be more modest, though — say, taking the boat to and from the nearby lake a few times a year — the Lightning will likely suffice just fine. Same goes for casual off-roading; you wouldn't want to drive the Continental Divide in it, but it can certainly scramble up an old logging road to a hunting spot or campsite. Just the same way the F-150 Lightning will do all the other things you do with your truck: driving to work, shuttling around the kids, lugging crap around in the bed, or just good-old fashioned hauling ass down a dirt road with the windows down and the radio up loud.
It just does it cleaner, quicker, and better.
2022 Ford F-150 Lightning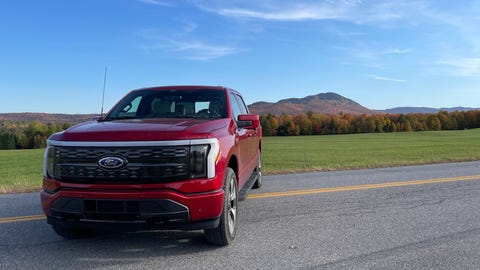 Base Price / Price as Tested: $41,669 / $94,004
Powertrain: 131-kWh battery pack and dual electric motors; single-speed transmission; all-wheel-drive
Horsepower: 580
Torque: 775 lb-ft
EPA Range: 280 miles
Seats: Five
The Rivian R1T Is Everything You Hoped It Would Be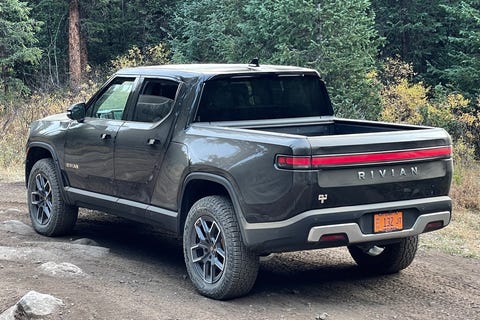 Capable on- and off-road and loaded with clever ideas, Rivian's new pickup redefines what a truck can be.