2022 GMC Sierra 1500 Denali Ultimate Review: Where Luxury Car Meets Pickup Truck
General Motors throws its hat into the fancy-pants pickup truck ring.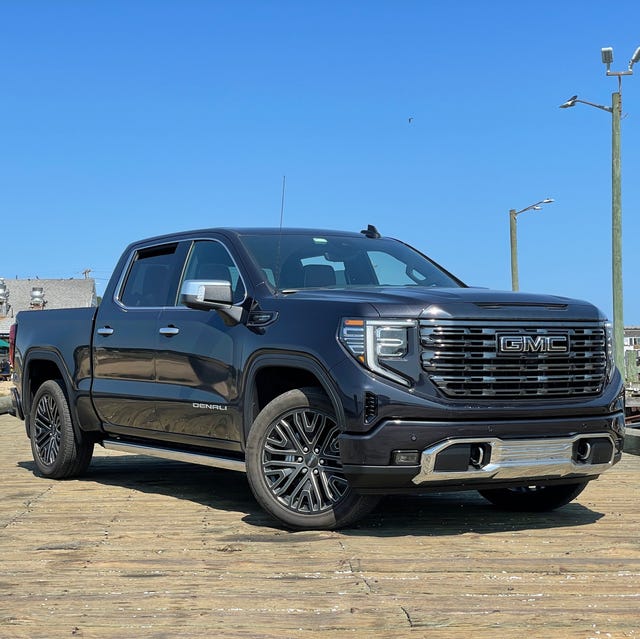 Quick, potentially hypothetical question: what new car would you buy for $85,000? Not a second car or a weekend plaything, mind you — your main vehicle, a ride you'll use every day for everything you do.
For those of us who prioritize luxury above all else, that price point means you could swing something along the lines of a BMW 5 Series or Mercedes-Benz E-Class — or, if you need luxury and space, something in a fancy SUV. But for many of us, we need something with a bit more flexibility — something with serious four-wheel-drive capability, something that can tow an Airstream or boat without trouble, something that can lug anything from muddy mountain bikes to mulch to our buddy's new couch without concern.
In other words, we need one of America's best-selling passenger vehicles: a pickup truck.
Luckily, in recent years, carmakers have become more than happy to cater to your wants and needs for luxurious pickup trucks. Ford has escalated the top-shelf offering of their F-Series models from Lariat to Western-chic King Ranch to glitzed-up Platinum to city-chic Limited; Chevy and GMC have elevated their Silverado and Sierra models up to fancy High Country and Denali trims; Toyota, which once capped their Tundra lineup at the Platinum trim level, now offers their own Western-chic 1794 trim and an even fancier Capstone level; and perhaps most notably, Ram redefined the lux-truck genre with the most recent generation of the Ram 1500 Limited, which is basically a full-size American luxury car with low-range 4WD and a truck bed.
For 2022, the ball has rolled back to General Motors, which has found a way to yet again up the ante of the Sierra by adding more features, more frippery, and more words to its name. I spent two weeks with the 2022 GMC Sierra 1500 Denali Ultimate to see just how this boss truck stands up to real life — and the competition.
This GMC still delivers all the capability you'd expect of a full-size truck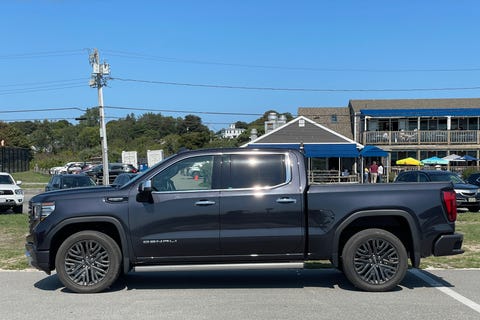 Here's the thing about full-size pickup trucks that it seems many of the, for lack of a better term, haters often don't understand: they're good at doing a lot of things. In increasingly-popular crew cab form, a truck like the Sierra can haul five adults in comfort, crawl up a mountain, carry the equivalent of two horses in its bed or tow the equivalent of a dozen more. Try doing any that in your Prius.
As with any motor vehicle, the heart of this truck's capabilities is its motor. The Sierra Denali comes with a pair of engine choices: a 3.0-liter turbodiesel inline-six and the tried-and-true 6.2-liter smallblock V8 – close kin to the engines found in the Camaro SS and Corvette Stingray. My test vehicle had the gas-powered eight, and quite frankly, after testing out the Duramax diesel in the similar Yukon Denali SUV, I'd be hard-pressed to see why anyone would choose otherwise; the oil burner's tow ratings are similar, and any advantages in efficiency will be negated by the higher price of diesel fuel. (Also, well, it's not ideal in cold weather.)
The smallblock, by contrast, is an absolute sweetheart of an engine, especially with the 10-speed automatic GM and Ford co-developed for their pickup truck, SUV and muscle car offerings. Even in spite of the GMC's brick-like countenance, there's always plentiful passing power on the highway and ample get-up-and-go from a stop. Hell, with 420 horsepower and 460 lb-ft of torque on tap and ready to send to the rear tires, you could burn rubber all day long if you really wanted.
Outside, the Sierra Denali straddles the line between tough and tasteful
Suffice it to say, no full-size truck on sale today is exactly subtle. (Indeed, subtle might be a four-letter word to your average big truck buyer, at least in terms of design.) But the Sierra Denali Ultimate manages to be, at the very least, the most understated of the current batch of overstated luxury rigs.
Some of that comes down to the (Darth) Vader Chrome treatment that subs in classy darkened metallic trim for what would normally be brightwork — especially when paired with the Titanium Rush Metallic paint as seen here. The bold LED headlights that bracket the front end also help, seemingly encapsulating the (admittedly giant) grille — a feature that received an arguably-unnecessary size boost during the Sierra's most recent refresh.
Overall, though, it's a matter of balance; once you're used to that grille, the truck's proportions are tuned well enough against each other that it's easy to forget just how large the Sierra is until you're standing next to it. It's a much-appreciated turn of events, especially when viewed against the trend of other truck makers to make their trucks look even more exaggerated with each generation.
The Sierra Denali Ultimate's interior is what really sets it apart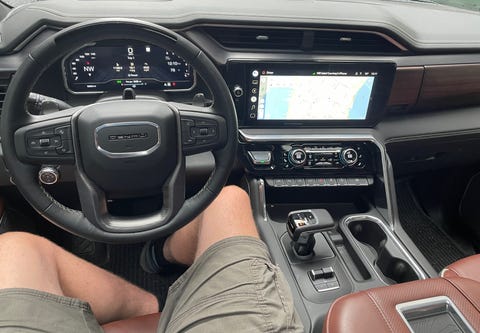 It's inside where the Ultimate really aims to justify its $11,000 upcharge over an equivalent version of the regular Sierra Denali, however. GMC describes it as the Deluxe Alpine Umber Interior, and it's certainly the nicest guts you'll find in a GM product this side of a Cadillac.
The umber-colored full-grain leather brings to mind sturdy jackets and riding saddles, while the wood finish looks nice enough for a Crate & Barrel coffee table. (The topographic map designs of Denali itself etched into the wood are a delightful touch, although I don't suggest trying to use them to navigate should you find yourself driving on Alaska's highest peak.) Hard-touch plastics aren't completely absent, but they're largely in places you won't notice, or where you'd want something easy to clean (i.e. the center console), or masquerading as something fancy (the piano black trim around the climate control buttons).

Those heated/ventilated/massaging leather seats up front proved every bit as comfortable as they looked over the course of 1,200 miles in the saddle. The second row isn't nearly as nice, but it's certainly no penalty box — especially in terms of space, where there's ample stretch-out space for even lanky limbs. And as is common in crew cab trucks, the bottom of the bench flips up to free up added cargo space, effectively giving the cab of the pickup the cargo space of a Honda Civic hatchback — so long as you're only carrying two people.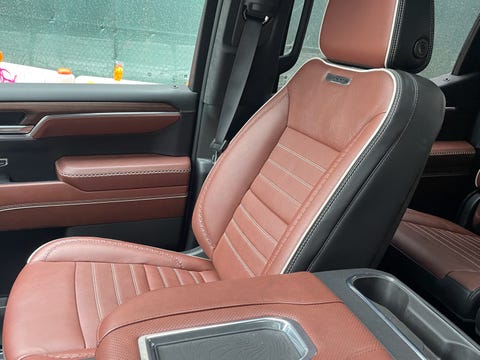 It's exceedingly nice, for sure; I'd rank it above the top-level F-150 interior, but just below the Ram 1500 Limited's truly opulent insides in terms of luxury. (To be fair, the Ram Limited's guts are comparable to a modern Maserati's in terms of quality, so I'm not sure how they pull it off.)
There's more to a high-end interior than leather and wood these days, of course — you need tech, too. On that front, the Sierra Denali Ultimate packs a heavy infotainment punch — a 13.4-inch widescreen touchscreen powered by Google software, which also syncs with the 12.3-in glass instrument panel and the massive 15-inch color head-up display. The resulting system is smoother and more responsive than many automaker-developed infotainment setups; surprise surprise, it turns out software giants know better than car companies how to make touchscreen computers work well.
It also boasts the ability to sync up with your Google account via the truck's integrated cellular connection, with three years of service included when you opt for the Denali or AT4 versions. Sadly — or perhaps thankfully — you can't check your Gmail on the screen or hop in a Hangout using the instrument, but it does allow you to stream your music via Google Play, ask questions via Google Assistant and — perhaps most conveniently — navigate via Google Maps directly.
The system works so well, I found myself leveraging Apple CarPlay far less than I usually do when testing a car. The voice recognition is excellent, and the integrated Google Maps is miles above trying to use it via phone mirroring; you can input text via the screen's keyboard when stopped, it's easy to add stops along a journey, it remembers and restarts your directions even after you turn the car off, and it even lets you know how much time you'll be able to use SuperCruise during your drive. And speaking of SuperCruise...

Super Cruise is the Sierra Denali's killer app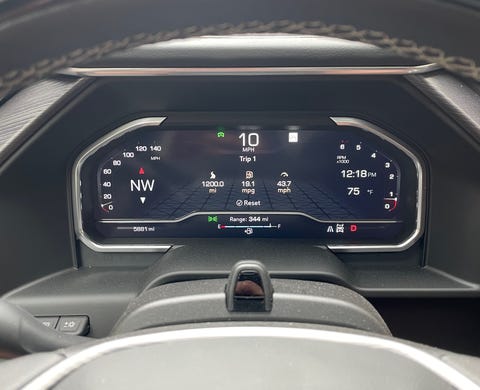 Of all the features that the Sierra Denali Ultimate boasts, it's one that's not exclusive to the truck that really makes it stand out; in fact, it's one that's available on everything from six-figure Cadillacs to the humble Chevy Bolt. Of all the active driving assistance technologies out there today, Super Cruise remains the most intuitive, the easiest to use and the most accurate. It's a true road trip game changer.
The latest version found here is more capable than ever, even allowing drivers to use it while towing trailers. I didn't have a chance to test that particular new function, but I was offered ample opportunities to see the automatic lane change feature in action. It executes lane changes to pass slower-moving traffic with the care of a driver's ed instructor, always being sure to give the driver a courtesy vibration of the seat or an audible beep to let them know a move is coming. It's one of those features you don't realize how handy it is until you use it, and then you can't imagine going without it.
Super Cruise is also the most consistent of the fleet of hands-free driving aids, at least in my experience. Over the course of 1,200 miles with this GMC, I spent about a third of my time Super Crusin', and in that time it only lost the plot three or four times — a much better success rate than, for example, Ford's BlueCruise / ActiveGlide. And when it does, it gives you plenty of warning — the seat shakes, the steering wheel flashes red, and the instrument panel blares an alert that you need to take over. It's a bit jarring, sure — but considering you need to be ready to take the reins of a three-ton hunk of metal traveling a mile a minute, that's probably for the best.

The Sierra Denali Ultimate brings tech to the bed, too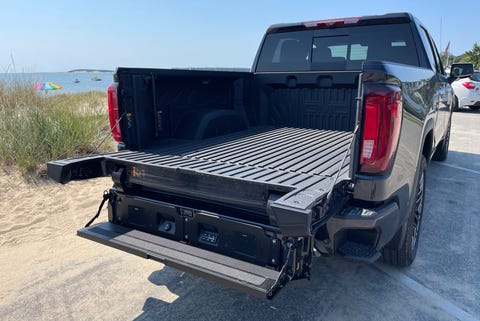 As has become tradition among the Big Three, GM has whipped up a bunch of fun add-ons designed to boost the usability of its full-sized truck — and they're pretty much all here on the company's top-shelf pickup. The bed box itself is what GMC calls "Carbon Pro" — in other words, carbon fiber composite. Using the strong, lightweight composite material in lieu of steel or aluminum means the bed walls can be thinner, providing an extra cubic foot of space versus the metal equivalent. (Granted, that's not a ton, all things considered, but hey, more is more.)
The tailgate itself, which GMC calls MultiPro (see a trend here?) is also replete with features. Of course, it does the usual tailgate thing, but it also boasts a second, smaller folding section at the top. Fold it down when the tailgate is still up, and it's easier to reach into the bed; fold it down when the tailgate is down, and you can deploy a step from inside that makes clambering up and down a snap. (It even has a big Bluetooth speaker built into it, although none of my tech-savvy friends could get it to work.)
As someone who, due to my urban lifestyle, rarely has the chance to put a pickup to proper use, seeing just how much the Sierra could lug was a relief. I used the Denali Ultimate to haul what felt like half the contents of my apartment — two weeks' worth of luggage, a half-dozen giant-sized bins, my entire family and more — and the truck's bed was able to swallow everything. Even with my long legs, using the MultiPro's step to climb in and out while loading and unloading was much easier than having to scramble up and down the old-fashioned way. The multi-role tailgate isn't the only version of this feature out there — Ford also offers a pop-out step in its tailgate, for example — but GM's version is certainly the easiest to use.
That said, one pro tip: if you're going to buy a truck and not use the bed for agricultural or industrial tasks on a regular basis, buy a bed cover — ideally a hard, lockable one. With that and a few bungie cords, there's little you can't carry around safely and securely.
2022 GMC Sierra 1500 Denali Ultimate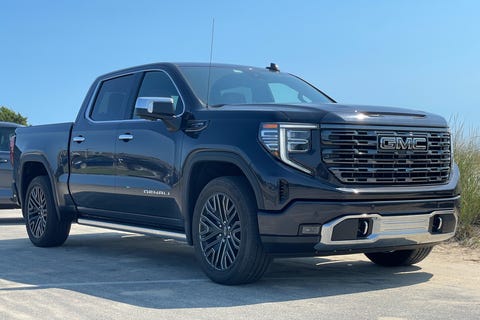 Base Price / Price as Tested: $79,145 / $80,840
Powertrain: 6.2-liter V8 / 3.0-liter turbodiesel inline-six; 10-speed automatic; four-wheel-drive
Horsepower: 420 (gas) / 305 (diesel)
Torque: 460 lb-ft (gas) / 495 lb-ft (diesel)
EPA Fuel Economy: 15 mpg city / 20 mpg highway (gas); 22 mpg city, 26 mpg highway (diesel)
Seats: Five
The Ram 1500 Laramie G/T Packs 2 Features All Rams Should Have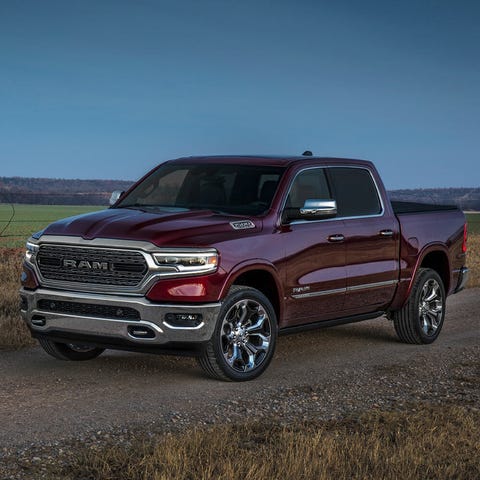 Making a good truck better.