2024 Porsche Cayenne Review: Sugar, the V8's Going Down Swingin'
Electrification may be the future, but Porsche's top-dog SUV is doubling down on V8s.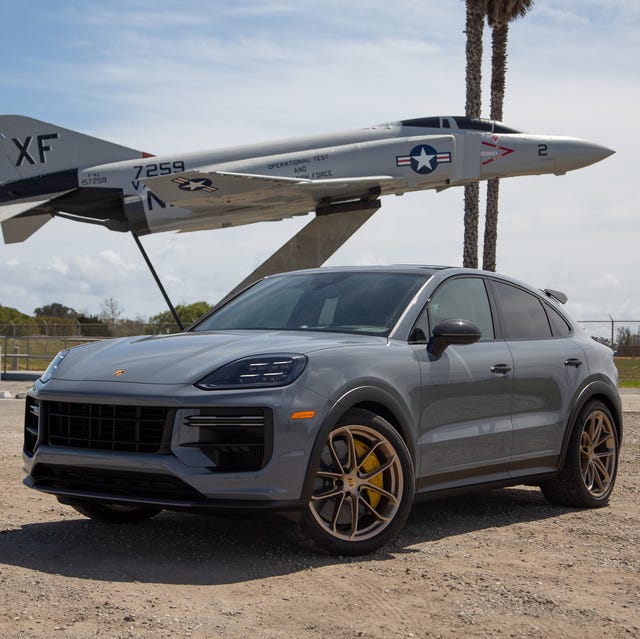 Porsche's Cayenne has made enormous strides since it first debuted roughly two decades ago. Not in performance, refinement or driving excitement — although it's certainly come a long way since then in those fields — but in simple respect and admiration. When it debuted, after all, the idea of Porsche building an SUV was downright heretical. This was 2002, remember; enthusiasts were still pissed about the 911 going from an air-cooled engine to a water-cooled one. The idea of a Porker sport-ute nearly prompted mobs with pitchforks and torches at the gates of Castle Ferdinand.
Since then, however, Porsche's decision has been proven correct many times over. The buckets of cash the Cayenne printed enabled the brand to concentrate on improving its legacy sports cars and to whip up amazing special rides like the 918 Spyder. And, of course, the brand made sure that the Cayenne always held onto its Porsche-ness. From that awkward first model known as "E1" through the vastly more attractive E2 version that followed in 2009 to the third-gen E3 that arrived in 2017 and is being facelifted for calendar year 2023, the Cayenne has always been among the best-driving vehicles in its class. It wouldn't be a Porsche otherwise, right?
Normally, mid-cycle updates for Porsche come a little past the halfway point in a model's life cycle, but this one — internally code-named E3.2 — may linger on a bit longer than most. Like many carmakers these days, Porsche is pushing hard towards electrification, and while the 911 may not go all-electric for a long time (if ever — thanks, e-fuels), the rest of the lineup is destined to switch over to battery power before the decade is out; a Cayenne EV will follow the electric Macan to market in the next few years. Still, Porsche isn't one to abandon profits, so like the Macan, the current gas-powered Cayenne is liable to stick around as an alternative for as long as people keep buying them in serious numbers.
2024 Porsche Cayenne: What We Think
The Cayenne has long been one of, if not the best, choices in the SUV space for buyers who value an engaging drive on top of all the other benefits of crossover ownership — and this update, while far from extreme, only builds on that. The new Cayenne is tighter, more tech-laden, and more rewarding for enthusiasts. While I only had the chance to test the two V8-powered variants available for the new model year, that was more than enough to prove that Porsche's work to refine their SUV has paid subtle yet appreciable (and appreciated) dividends.
In a nutshell: If you don't need serious off-road chops or room for more than four or five people, the Cayenne is just about the ideal crossover — especially if you love to drive.
The 2024 Cayenne S is the V8-powered sweet spot of the line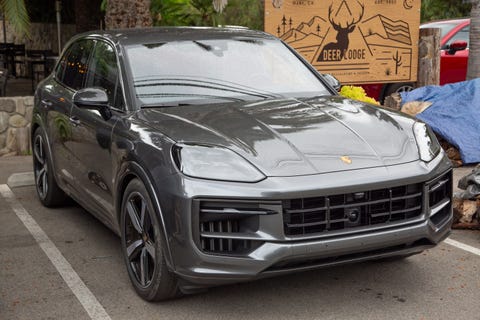 The biggest news of the '24 Cayenne refresh — at least for those of us who like driving, which presumably is the reason you're reading about a Porsche instead of searching for lease deals on a Lexus RX — is the return of the V8 to the Cayenne S model. In a sharp 180 from the industry's trend towards engine downsizing, Porsche cast aside the 2.9-liter turbocharged V6 found in the old Cayenne S in favor of a 468-hp, 442-lb-ft variant of the brand's stellar 4.0-liter twin-turbo V8. This, keep in mind, is an engine that feels worthy of the quarter-million-dollar Bentleys and Lamborghinis it's also used in; scoring it here feels like a minor coup.
The eight-pot isn't just great as a statement of intent, however; also changes the driving characteristics of the car for the better. The previous Cayenne S had a bit of a Jekyll-and-Hyde powertrain; it was either sedate and borderline sluggish when driven normally, or eager and aggressive when dialed up to the top half of the tach. The V8-powered successor suffers no such awkward duality; it's torquey and potent at any point on the dial, building its power smoothly but with increasing fury as it nears redline. It makes for a much more controllable, pleasurable driving experience.
But of course, it's also objectively quick. I didn't have the chance to properly time my launch control start, but my trusty butt-ometer says the Cayenne S goes from naught to 60 mph in right around four seconds flat. Slam on the brakes, and they bite like you through an anchor out the back — or a spike strip out in front. And of course, it wouldn't be a Porsche if it didn't handle the turns with panache, either; equipped with Porsche's arsenal of sporty tech like active suspension, active anti-roll systems and torque vectoring, it carves up turns with precision and ease, all aided by a steering wheel that delivers the trademark directness and communication modern Porsches have trained drivers to expect from the brand. How you take to the way it transmits other input may vary; another journalist felt the ride was a bit too flinty in Sport Plus mode, but to my spine, it felt just fine. But hey, if it's too harsh for you, just dial the drive mode back.
The most apparent visual tweaks are up front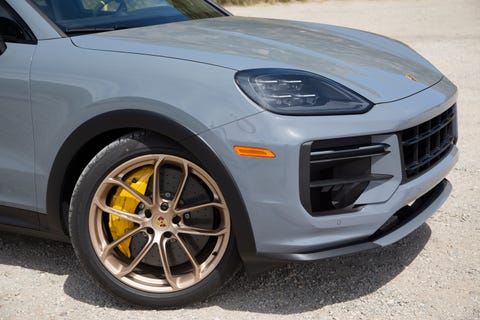 I'd considered sticking an image from under the hood here to show off the V8, but well, there's no point — it's covered under so much plastic, it might as well be a Star Wars prop, not an internal combustion engine.
This picture, however, does highlight one of the most immediately apparent changes Porsche made for the new model year: the updated headlights and front fascia. (The fact that it's not that apparent speaks to the subtle nature of the tweaks.) The lamps, in particular, have shifted, with their tops flattening out to more closely resemble the angular, angrier look of the brand's latest non-911 models. Out back, the tail lamp strip is now of uniform thickness across its entire breadth, making the stern seem wider; the license plate bracket has also migrated south, landing down below the hatch and cleaning up the look a dash. Subtle changes, sure, but ultimately positive ones — which is not something you can say about every redesign these days.
The 2024 Cayenne's interior scores a decent upgrade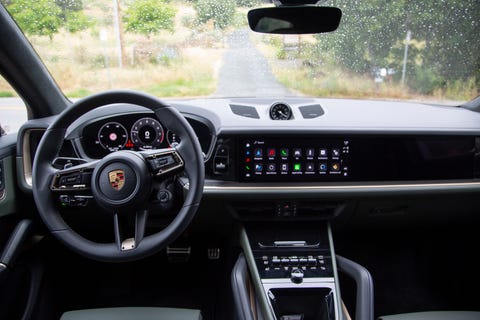 Much of what you see here will be familiar to folks who've been in a recent Porsche, especially if said Porsche was a Taycan. Still, Porsche is seemingly quite proud of the updated Cayenne's revised interior; the brand not only teased it prior to the model's debut in May, but also asked the journalists invited to the drive to attend a virtual briefing beforehand dedicated to the new guts, something that carmakers usually only do for major changes.

Still, while the tweaks may ultimately feel more modest than the hullabaloo might have led people to believe, it's still an improved interior. The loss of the shift lever in favor of a toggle behind the steering wheel's 3 o'clock position is a bummer for both tradition and usability, but it frees up plenty of space on the center console — which blessedly means the removal of the cursed old volume control drum in favor of a simple, easily accessible knob. It sits next to the simple, accessible climate controls, which mix physical switches with haptic touch pads for a largely satisfying experience.
And the revised-for-2024 trim choices can either dress up or dress down the inside. My test Cayenne S boasted a surprisingly fetching black-and-green leather look, accented by brass-toned "Neodyne" accents, but buyers can choose from seats surfaced in pale white, crisp crimson, sandy tan, even gentle purple, then set that off with eucalyptus, brushed aluminum or carbon fiber trim buts. Granted, most Cayennes on the lot will be found with boring old, resale-friendly black-on-black insides, but hey, the options are there if you want them.
And, of course, more screens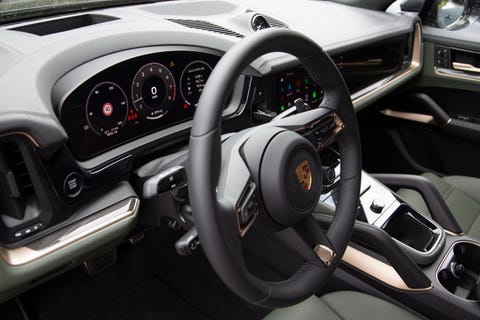 Much as it may not be ideal, Porsche isn't exempt from the customer demands and production cost issues that are pushing much of the car world towards screen-dominated interiors.
The new Cayenne packs up to three: there's the curved instrument panel, which is highly configurable but is also best left in default tach-centric mode, because, duh, it's a Porsche; there's a 12.3-inch touchscreen in the center stack for the PCM infotainment system, the brand's most recent revamp of a system that, as with all infotainment systems, will largely be ignored in favor of Apple CarPlay and Android Auto; and rounding out the black mirrors is an optional 10.3-inch passenger's-side touchscreen display. Whether it's worth the $1,490 outlay is up to you and your shotgun rider; I can say, however, that the brand did such a good job tinting it to not be distracting from the driver's seat, I didn't even realize it was on when sitting behind the wheel.
The Cayenne Turbo GT sits farther from the rest of the range, remains remarkable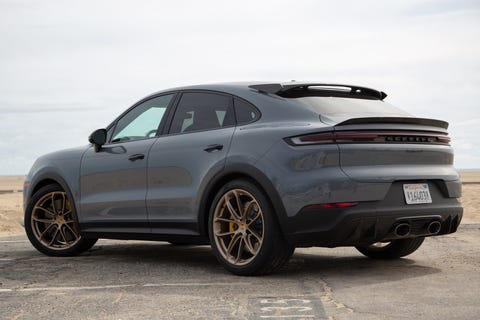 Porsche, as you may be aware, is known for its flotillas of trim levels within any given model line. Want a 911 these days? As of this writing, you can choose from 26 versions. Fancy a Panamera? Help yourself to one of 25 options. A 718 Boxster or Cayman? There's 12 to pick from.
For 2024, however, the Cayenne lineup has been greatly simplified — at least for Porsche. There's only four versions to be found: the base model, the aforementioned Cayenne S, the Cayenne E-Hybrid (which roughly matches the V8-powered S in power but also delivers significant enhancements in electric range over its predecessor)...and then, another $100,000 or so up the ladder, lies the Cayenne Turbo GT. There's no Cayenne GTS, no Cayenne Turbo, no Cayenne Turbo S E-Hybrid or anything else in there — it's just straight from the volume models to the supercar-slaying crossover coupe.
And believe me, it is indeed a supercar slayer – or at least as close as you'll find in a vehicle that stands as tall as an average-sized adult and weighs as much as 4.21 Secretariats. The acceleration is stunning; independent tests of the previous model saw it crack off sub-three-second 0-60-mph dashes, and the new one has an extra 19 horsepower. But even more impressive is the body control in tackling the turns; it makes even the well-composed Cayenne S seem like a Honda Accord by comparison. The Turbo GT feels downright pacific even when cranking along winding two-lane country roads at speeds capable of causing any law enforcement officers to take a blowtorch to your license in front of you.
The Cayenne Coupe sells well, but it's still a little funky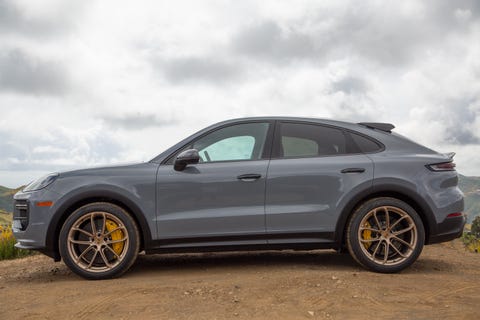 If there's one strike against the Cayenne Turbo GT — well, assuming you don't take one look at its $200,000 price tag and immediately balk — it's that it only comes in the four-door-coupe body style. While it's certainly one of the more visually appealing members of that still-vexing class — why people choose the X4 or GLE-Class, for example, coupe still confuses me after all these years — it's still a bit of an awkward design
Still, that's clearly a subjective opinion; Porsche says around 30 percent of buyers consistently opt for the Cayenne Coupe in one trim or another, so plenty of customers clearly prefer it to the more conventional body shape.
2024 Porsche Cayenne: Alternatives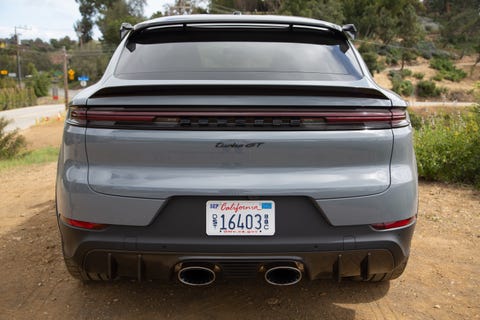 The clearest foes to the Cayenne also hail from Deutschland. Between the Mercedes-Benz GLE-Class, the BMW X5 / X6 lineup and the Audi Q7 / Q8 / SQ7 / SQ8 / RS Q8 array, odds are good most buyers will find at least something similar to whichever version of Porsche's larger crossover they're considering. On the American side, the Tesla Model X is really the closest thing to a rival, even though it's electrically powered; Detroit's best luxury SUVs like the Lincoln Navigator, Cadillac Escalade and Jeep Grand Wagoneer all fight in a heavier class.
Level up to the Cayenne Turbo GT, and you also open the door to rivals like the Aston Martin DBX and DBX 707, the Lamborghini Urus, and even potentially the Ferrari Purosangue (although Maranello would certainly blanche at the suggestion their V12-powered high-riding hatch has any competitors, not least one from Zuffenhausen). Some folks who love character above all else may consider a Jaguar F-Pace SVR, too, but that cat's age and comparative inefficiency (even for a fast SUV) makes it hard to recommend against its newer foes.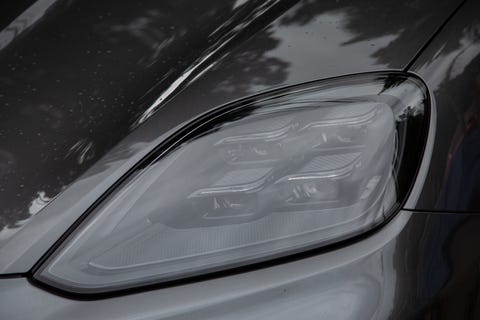 Base Price: $97,350
Powertrain: 4.0-liter twin-turbo V8; eight-speed automatic; all-wheel-drive
Horsepower: 468
Torque: 442 lb-ft
EPA Fuel Economy: Not yet rated
Seats: 5
2024 Porsche Cayenne Turbo GT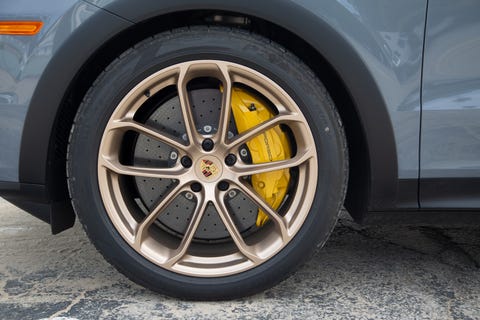 Base Price: $197,950
Powertrain: 4.0-liter twin-turbo V8; eight-speed automatic; all-wheel-drive
Horsepower: 650
Torque: 626 lb-ft
EPA Fuel Economy: Not yet rated
Seats: 5
The Porsche 911 Hybrid: Everything You Need to Know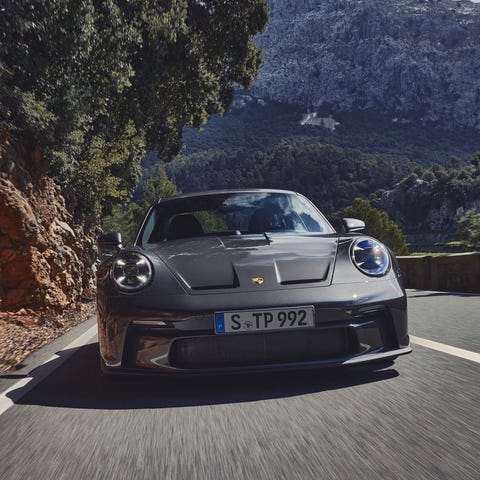 It could be the wildest road-legal 911 yet.