The Complete Guide to Hybrid Trucks on Sale Today
These pickups aren't just efficient. They are the best ones to buy.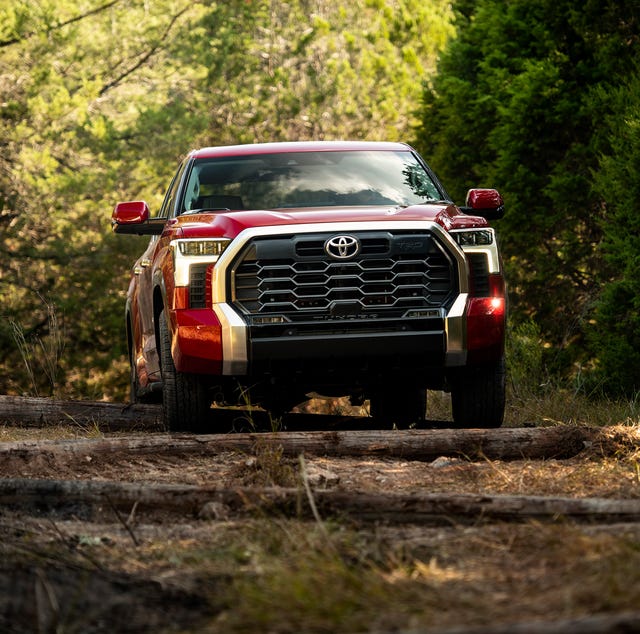 Times change quickly in the modern automotive world. Even a few years ago, if you were driving a hybrid, it was a conspicuous eco-sacrifice. Your car probably looked weird and had aggressive blue branding. The driving dynamics were lumbering and unpleasant. You did it for the gas mileage. Today, hybrids have markedly improved. Even enthusiast vehicles offer them. And the hybrid may be the preferred option for performance, whether or not you want the increased efficiency. That's even true with pickup trucks.
Ford and Toyota launched new generations of their full-size trucks with hybrid options this decade. Expect to see their competitors follow suit. And the Ford Maverick, with its base hybrid engine, has reawakened the dormant small truck segment.
Why You Should Buy a Hybrid Pickup
Efficiency: Hybrid trucks can be markedly more fuel-efficient than their combustion counterparts. Fuel economy can improve into the mid-20s — on par with much smaller crossovers.
Towing: Hybrid trucks offer ample low-end torque and can tow on par with their combustion counterparts. Ford ditched the diesel option for the F-150 because the PowerBoost hybrid made it unnecessary. Electric trucks struggle to match combustion trucks and have their range limited when towing.
Affordability: Electric trucks are just coming to market. But the non-fleet versions are going to be pricey. EV startup Rivian just increased its prices. And it will be a while before Chevy can offer a Silverado EV for below $100,000. Hybrid trucks tend to be more expensive than combustion ones, but the cost is far more reasonable.
Availability: Electric trucks have proven far more popular than expected, which has resulted in backlogs. Ford has had to ramp up production plans for the F-150 Lightning multiple times over and shut down reservations. Hybrid trucks are far easier to find.
The Best Hybrid Trucks We've Driven